We're spending some time this summer exploring Alberta to find family-friendly attraction right here at home. I had never spent much time in Red Deer before and was pleased to find  out that it is full of great things for families and only 90 minutes away! Here are 10 great reasons to add Red Deer to your Summer bucket list this year.
4200 Hwy 2 Red Deer, AB    http://ashfm.ca/
With easy access from the QE2, the Alberta Sports Hall of Fame and Museum makes a great stop coming to or from Calgary. The museum will be a sure hit with the kids with tons of hands on opportunities. You can try your hand at putting, compete in wheelchair races or climb an endless climbing wall. They also have cool sports related artifacts and of course the Hall of Fame.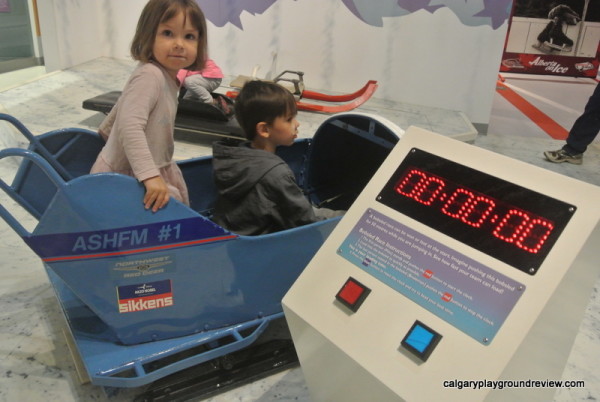 2. Heritage Ranch
6300 Cronquist Dr, Red Deer   http://www.heritageranch.ca/
Easily accessible from the parking lot of the Alberta Sports Hall of Fame and Museum, Heritage Ranch is also a good stop if you are travelling along the highway. Here, you can find walking paths and horse stables as well as two great playgrounds. One of the playgrounds is located right nearby the stables – you can actually see the horses while you hang out at the playground.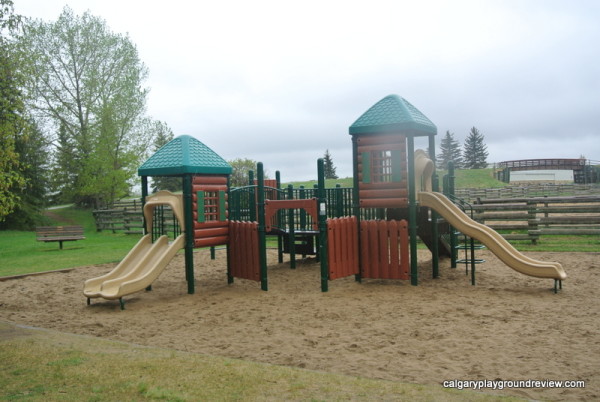 You can also find Westlake Grill at Heritage Ranch. The restaurant is rustic upscale featuring locally sourced food. If you have been longing for the kind of food you used to have before you had kids, lunch at Westlake Grill is just the spot. They are kid friendly with a short kids menu including chicken fingers and fries and grilled cheese. They also offer Sunday brunch.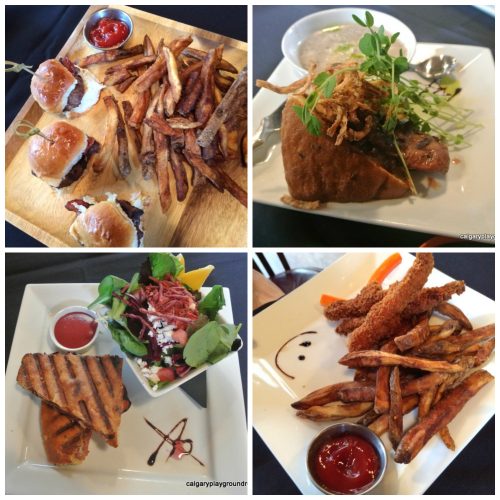 3. Kerry Wood Nature Centre
6300 45 Ave, Red Deer  http://www.waskasoopark.ca/Kerry-Wood-Nature-Center.html
Located in Waskasoo Park, the Kerry Wood Nature Centre has a lot to offer. They have a natural playground that is unlike any playground you can currently find in Calgary. The is a particularly great place for city kids who have less opportunities for walking on logs and jumping from stump to stump. The features will challenge your kids in a different way than the more traditional playgrounds. You can also learn about nature in the Red Deer area inside the Kerry Wood Nature Centre and walk along a 1 km loop through the nature preserve. This is a very popular spot for bird watching.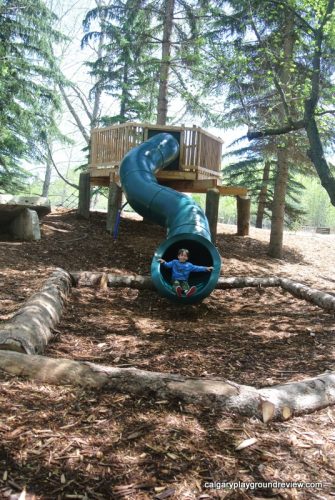 4. Bower Ponds
Bower Ponds, Red Deer    Bower Ponds website
Located on a former sawmill, Bower Ponds is now one of Red Deer's most popular parks. In the winter you can rent skates, helmets and skating aids and skate on the ponds. In the Summer you can rent paddleboats, kayaks, canoes and even waterballs. The kids were choked that we didn't have time to ride one of the paddleboats this trip. We will be making a point of doing it on our next trip!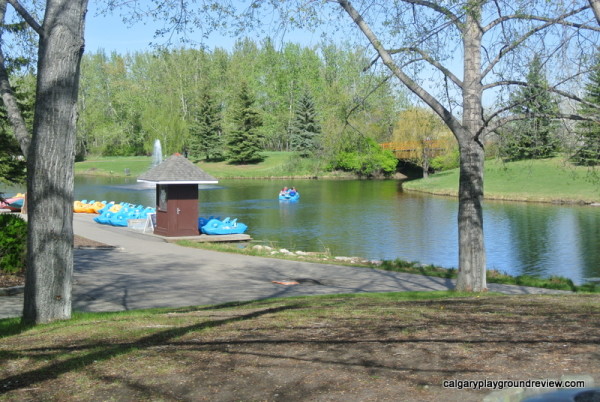 It is also home to an excellent playground great for all ages. You have to walk a bit to get to the playground but it is definitely worth it. There are also plenty of picnic spots and walking paths.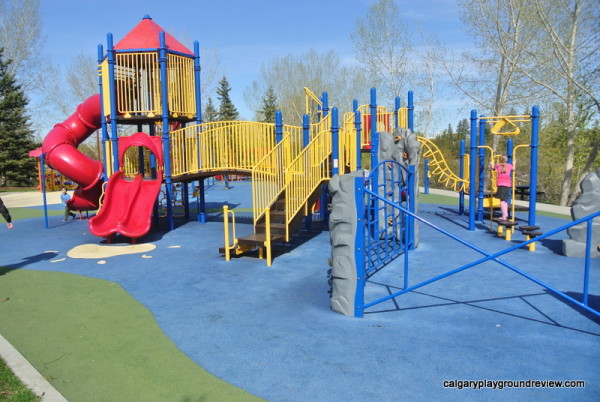 4500 Womacks Road  Blackfalds, Alberta   http://www.blackfalds.com/abbey-centre-home
The Abbey Centre is a family rec centre located in Blackfalds just 20 minutes North of Red Deer. Just outside you'll find a dinosaur themed playground.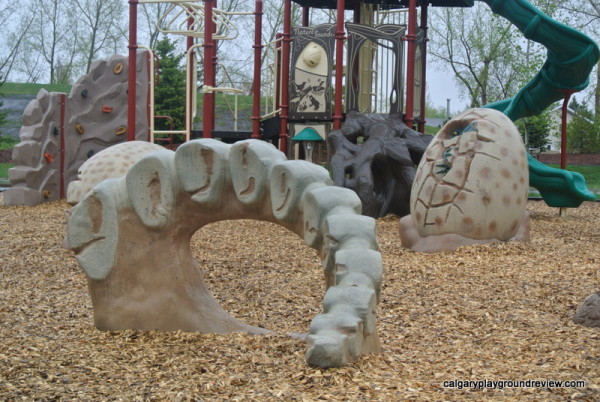 Inside, you can access the Kinsmen Club of Red Deer Indoor Play Space. The climber is 6 levels tall with two giant slides and a separate area for little kids.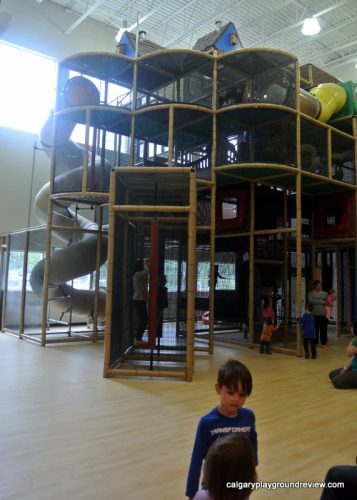 In the warmer months you can also enjoy their aquatic centre with includes a spray park and water slides.
6. Downtown/Rotary Park Area
Downtown Red Deer is easy to access and has some great places to eat including Famoso Neapolitan Pizzeria. At 43rd St and Spruce Dr, you'll find the Rotary Picnic park. It's a lovely park with large trees, plenty of picnic tables and a great playground.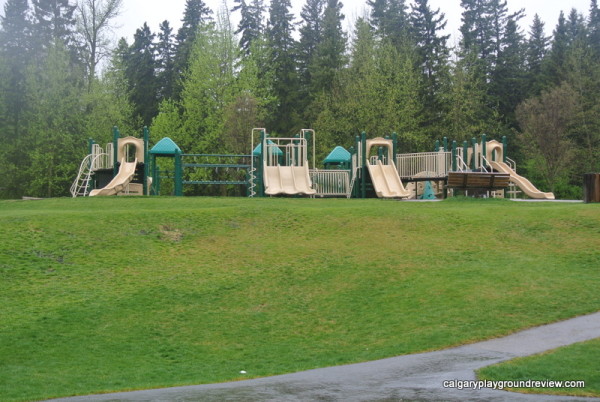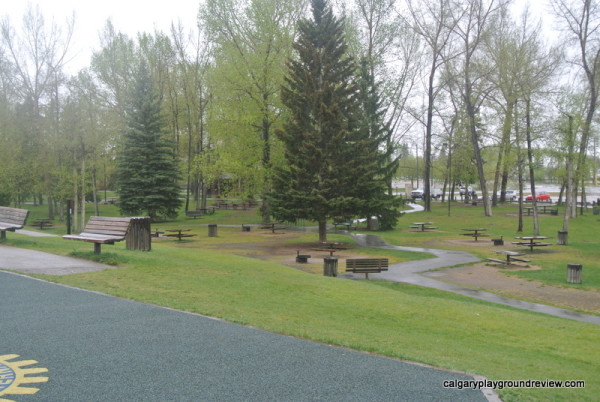 Just a little to the North and on the East side of 48th Avenue is the Rotary Recreation Park. The Red Deer Market is open on Saturday mornings from May to October to the South of the Red Deer Rec Centre.
On the North end of the Rotary Recreation Park is an awesome spray park. The Red Deer and District Museum and Art Gallery can also be found in the Rotary Recreation Park. We were to see the Remarkable Red Deer exhibit which was engaging to look at with a small area with toys for kids to play with as well as a cafe where kids can play restaurant.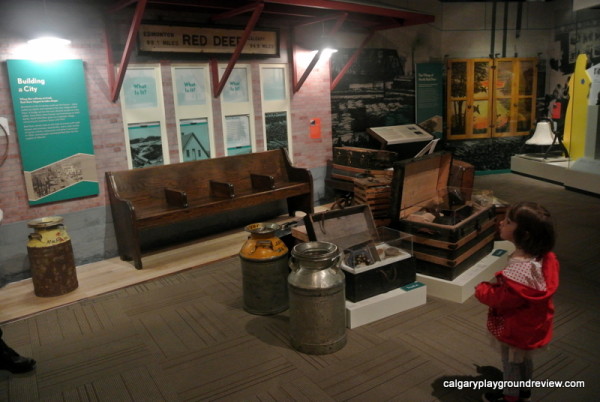 Note: from June 1 – 21, 2015 the museum will be presenting Walking with Our Sisters: A Commemorative Memorial for the Missing and Murdered Indigenous Women of Canada and the United States. During this time the Remarkable Red Deer exhibit will be closed and the museum is considered a sacred space. 
7. Sunnybrook Farm Museum
4701 – 30 Street, Red Deer, AB   http://www.sunnybrookfarmmuseum.ca/
Located right inside Red Deer, the Sunnybrook Farm Museum shows visitors what rural life was like in Central Alberta in the early 1900s. The farm is located on part of the original homestead of pioneer farmer James Bower. It includes many original buildings and thousands of artifacts that have been gifted to the museum. Seasonally, you can visit farm animals, get wagon rides and see farm equipment demonstrations. They also have a nice playground with a wooden locomotive nearby that kids who love trains will love to play on.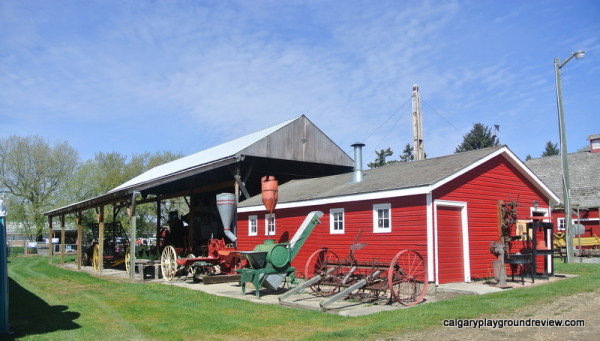 8. The Donut Mill
http://www.donutmill.ca/
123 Leva Ave, Red Deer
Located in Gasoline Alley on the south side of Red Deer, The Donut Mill is definitely worth a stop. They specialize in cream filled yeast donuts and have some creative options including orange creamscicle, Rolo and apple pie. We picked some up on the way into town and liked them so much we grabbed some more on our way home. My favorite was probably the Rolo but they were all good. They also have a cafe which serves things like soup and sandwiches.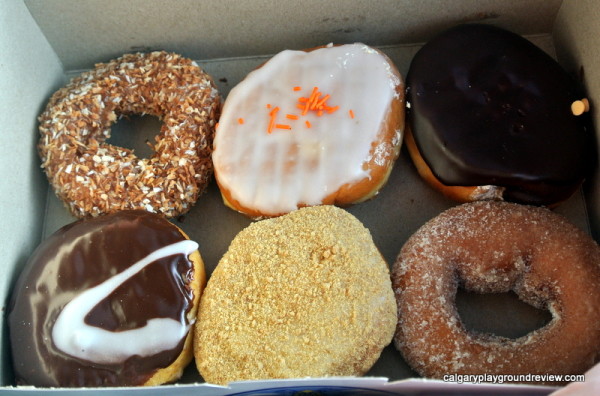 Red Deer has many beautiful parks and some great playgrounds too. There are more than 100 kilometres of trails within the city connecting the various parks and communities. I've put together a list of 10 of Red Deer's Best Playgrounds too.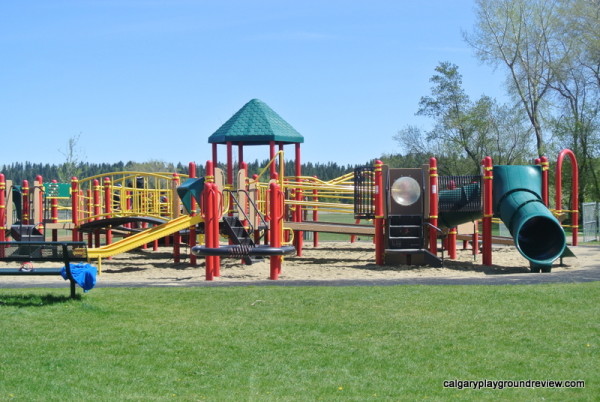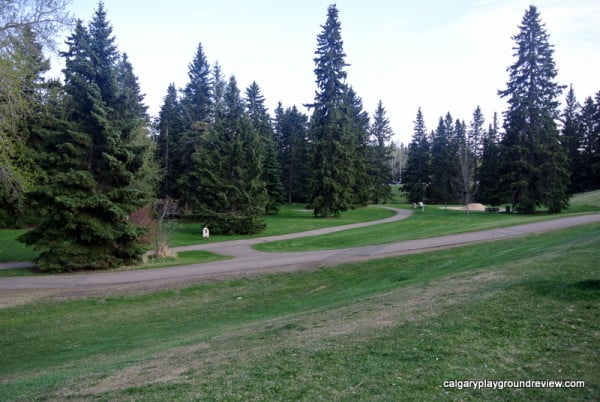 10. Discovery Canyon – closed for 2016
http://www.rbgra.ca/discovery-canyon/ – River Bend Golf & Recreation Area
Discovery Canyon is closed for 2016 for enhancement work and is expected to reopen in 2017 – Discovery Canyon wasn't open for the season while we were in Red Deer, but it is one of the reasons we can't wait to go back. The area is free to use – you can bring your own inner tube or rent one at the concession for a small fee. Water is pumped up from the lake below and you can ride along until you get to the spray pool at the bottom of the canyon. The water is never deeper than 18″ making it a fun experience for all ages.  You can also play in the spray pool at the bottom of the canyon.
Hotels & Accommodation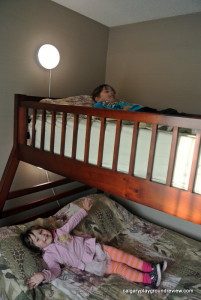 We stayed at the Holiday Inn Express – Red Deer for our trip. It includes a swimming pool with a slide, a hot breakfast and it has Family rooms with bunk beds for the kids.  It's also right across from Bower Place Shopping Centre which is handy in case you forgot something (we had to run into the Toys R Us and buy extra drool bibs). It's walking distance to downtown and Sunnybrook Farm Museum.
The family rooms cost slightly more than regular rooms at the Holiday Inn Express, however, it was a great set up for our family. The kids thought the bunk beds were awesome (you wouldn't think they had bunk beds at home too). There's a divider wall between the queen bed and the bunk beds which I found helped the kids fall asleep without having to be in a separate room.
We had an amazing trip to Red Deer – my son asked when we would be able to go back before we even left! I was also amazed about how much we were able to do in just one weekend. I highly recommend it for a quick stop, day trip or even a weekend away.
Disclosure: In order to facilitate these reviews, we were provided with accommodation in Red Deer, and some free admission to attractions. Thank you to Red Deer Tourism for facilitating our trip!