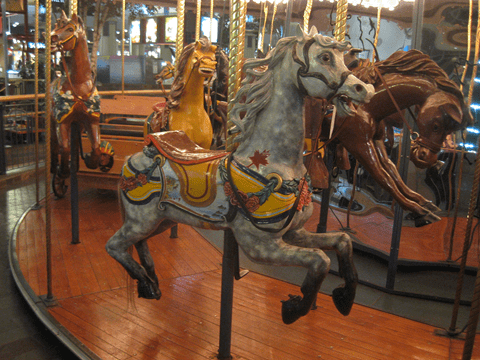 Location:          http://www.chinookcentre.com/
Address: 6455 Macleod Trail SW  (Macleod Trail & Glenmore Trail)
Chinook Centre has a surprisingly limited number of family friendly features compared to other malls in the Calgary area. For instance, they don't even have a play area to for me to review. But Chinook is Calgary's largest shopping mall, so it's not easy to ignore. So instead of one of my regular reviews, I'm going to suggest things to do with kids at Chinook and list the family friendly features that I know about.
The Food Court
When the renovated Chinook food court was first opened it was amazing and it still has a lot to offer. It has a full sized carousel which costs $3 per rider (standing adults do not have to pay) and you can often get a photo for $2 more. There is also a track that runs along the ceiling featuring imaginative flying machine art that slowly circles the food court. There are also family washrooms inside the food court.
Escalators and Elevators: One of Gordie's favorite things to do when we're at Chinook is to go up and down the escalators. My favorite spot is in front of Zellers. It has an up and down escalator reasonably close to each other and a glass elevator in the middle. Sears, The Bay and Zellers also have pretty good ones inside their stores but you have to run around to the other side to go back up. The best ones are actually inside Jacob (near the Bay) but I feel a little conspicuous when we use those ones just for fun.
Scotiabank Cineplex: The theatre has an arcade and also hosts Stars and Strollers so parents with babies can still see a movie.
Chapters: Like most Chapters/Indigo stores in Calgary, there is a play area inside their kids books section. This one is smaller than most but it still has a train table and some other toys that kids can play with. Oh, and books.
The Lego Store: The Lego store has well, Lego, but also a kids play are in the centre of the store. Gordie is too young for it, so I haven't taken a good look but the Lego website describes it as follows: "The 'Living Room' is an interactive play area positioned in the center of the store designed for hands-on, minds-on play."
The Discovery Hut: Not only do they have great toys for kids, they also have a train table which had tons of trains when we were there.
Have you been to Chinook with your kids? What things did they enjoy? Do you know of any family friendly features I've missed? Write your thoughts in the comments below!