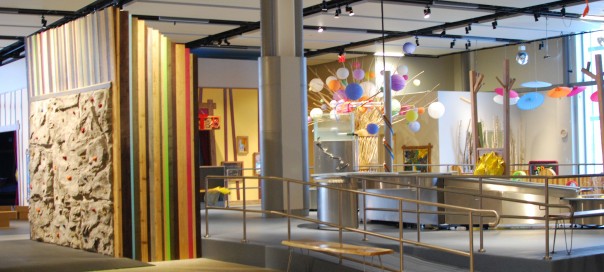 Location                  http://www.sparkscience.ca
Address:  220 St. George's Drive NE
Gordie's Review: What was your favorite part? "Playing!"
Day Pass Cost: General – $20; child(3-12) – $13; Youth(13-17) – $15; ( Senior (60+) – $18; infant (2 and under) – free.
Membership Break Even point (basic pass): Child & Youth – if you expect to go more than 3 tiems, you're better off getting a pass; Adult and Senior – if you expect to go 3 or more times you are better off getting a pass.
Parking: $5 daily parking, free if you have a Gold level pass.
Food Services: There is a Cafe on the 2nd floor.
Age Range: All ages.
Stay Length: Expect to spend a minimum of 2 hours. You could easily spend most of a day if your kids were interested in really engaging with the hands on exhibits. (Without seeing any traveling exhibits or theatre presentations)
Overall: I wasn't sure what to expect for our first visit to the science centre. I had only been a few times to the old science centre (as a child and as a class volunteer) and didn't remember much. With Gordie only being 2.5, I wasn't sure whether he would be old enough to really appreciate the experience. I was pretty sure that we would only go a couple times a year at the most. As it turns out, we had such a great time that we bought annual memberships and went 3 times in November alone.
The new Telus Spark Science Centre recently opened at the end of October in 2011. Since opening it has been subject to some discontent over the increased rates and particularly the cost for annual memberships. Whether the cost of going to the science centre for a day or getting an annual pass is the right choice for your family is not something I can determine. But hopefully I'll be able to provide some information to help you make that decision yourself.
Immediately below I've highlighted the different areas of the science centre including  pictures, descriptions and our experience. Some of these areas I go into a little more depth than others as some are more appropriate for a 2.5 year old.  The Feature Gallery will host travelling exhibits, which will sometimes require an additional fee. There is also a presentation theatre where live theatre programs and science demonstrations can be viewed, often to school-groups but there is also some programs open to the public – look here for details. The HD Digital Dome Theatre should be opening in Spring 2012, and will provide a full-immersion experience with its planetarium system. There is also quite a bit of space that is not currently in use that could be used for future expansion.
Creative Kids Museum
For younger kids, the highlight of the science centre is likely to be the Creative Kids Museum. We were really impressed by it. We decided to buy our membership largely due to this area alone. If you have a membership, you can treat this area like an indoor play place and pop in at any time making the membership surprisingly cost-effective. There is lots of opportunity for kids to learn about science (and art) through play. The centre is not afraid to let kids make a mess and they've set up the space so that it is unlikely to be the same twice. They may not be big changes, but you can expect to see different things to build with, different objects in the water table and different kinds of art projects even if you were just there. The Creative Kids Museum is split up into 6 spaces which are described below.
Water Play Area
This is a large area in the centre of the Creative Kids Museum so be prepared, your kids will want to check it out. There are water smocks available for the kids to wear, but we have decided to always pack an extra set of clothes. Sometimes even while playing pretty nicely, Gordie manages to get his clothes wet while wearing the smock. One time, he needed a new shirt, pants, socks and shoes!
They add different objects to the water for the kids to play with like boats, blocks and balls. On one side of the water table is an area with loose objects (rocks) that can be moved around. At the bottom is a lower level that even quite little kids can access easily. On the other side there are rocks that are fixed in place that you can use to manipulate the water flow. There is another lower level at the bottom of that with little water sprays. There are also some wheels that move water through tubes, a water drip where you can move around pieces on the side of the water tank to watch the water travel in different ways and a chalkboard that can be 'painted' with water. This area is one of Gordie's favorites, he comes back to it again and again.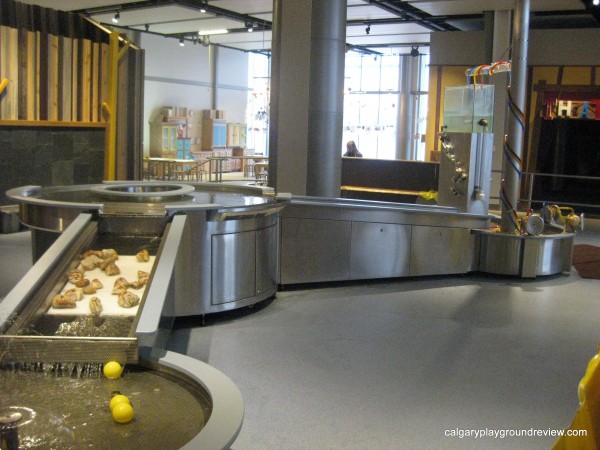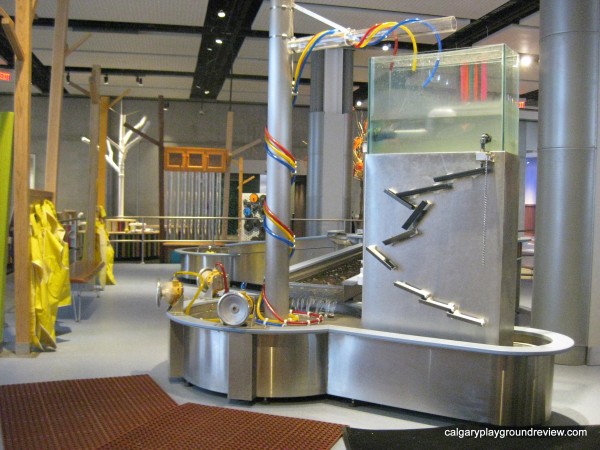 Experimental Space
The experimental space has a number of different stations where kids can play with things like magnets, gears and gravity. There is a small piano that is connected to water tubes with LED lights so when you play it, bubbles go up the tubes and the tubes change color. Gordie really enjoyed sliding the different kinds of 'hockey pucks' down the three different ramps to see what would happen.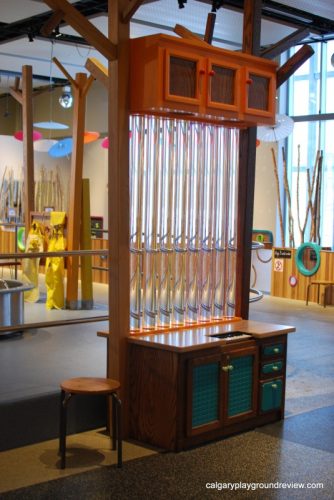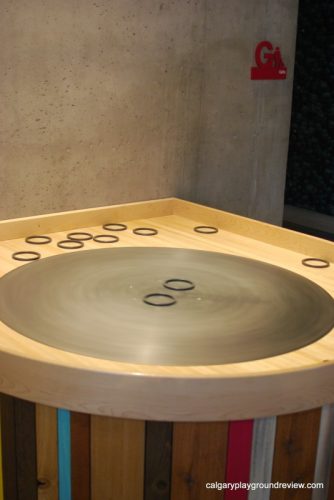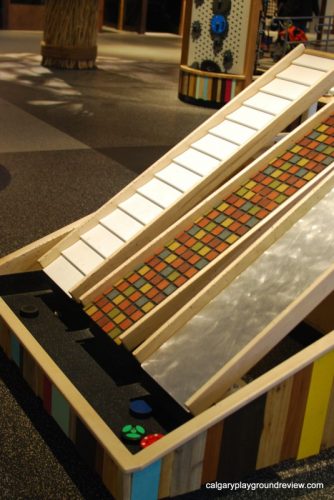 Climbing Structure
This was Gordie's other favorite activity. I had heard that the climber was set up like a maze, so I was a little concerned about letting him loose at first. The climber is accessible to adults if necessary, but it's really for kids 8 and under and not particularly comfortable for grown-ups. It isn't actually a maze in that it is difficult for kids to find their way back out, but more of a 'you can't get there from here' kind of maze. So if you want to get to a particular spot, you may have to back track and try another route.
On one side of the climber there is a couple bags on pulleys that kids can use to pull up blocks or balls and a couple of tubes where balls can be dropped down. Some of the tubes pieces are magnetic so the balls can drop down different paths. Kids at the top of the climber have to co-operate with others at the bottom to move the objects back and forth. This is very popular, particularly with the older kids.
There is also a climbing wall across from the climber for older kids.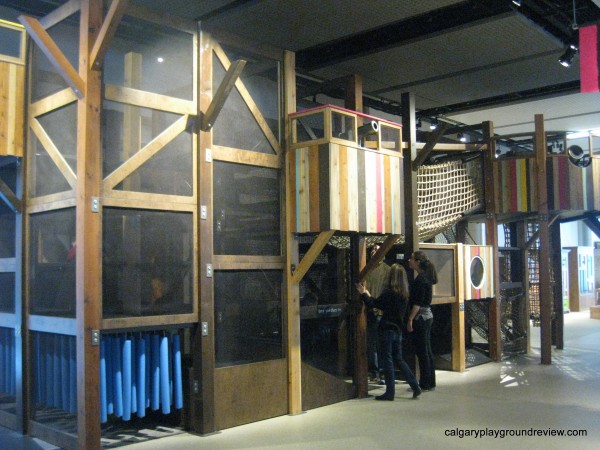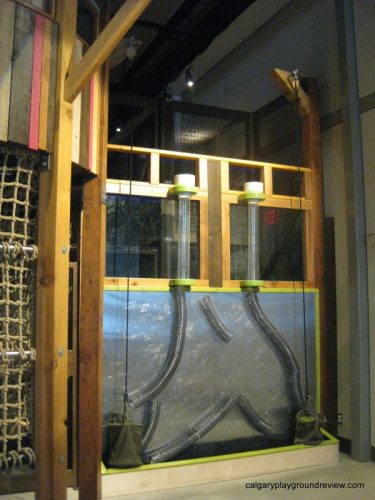 Toddler/Baby Area (ages 3 and under) and Reading Nook
I didn't expect this area to hold much interest for Gordie but there were some things that he really enjoyed. There is a little 'crawling track' area for babies and the toddler area has things including a velcro alphabet, soft blocks, mirror tunnels, a light table and a ball centre. Gordie really enjoyed putting the balls into the holes at the ball centre. On one side it's like a plinko board and on the other the balls come out of a different hole than you would expect them to.
Beside the Toddler area is a reading nook with books benches and big cushions.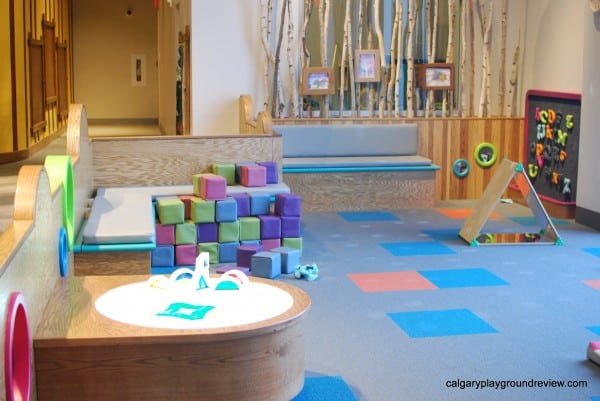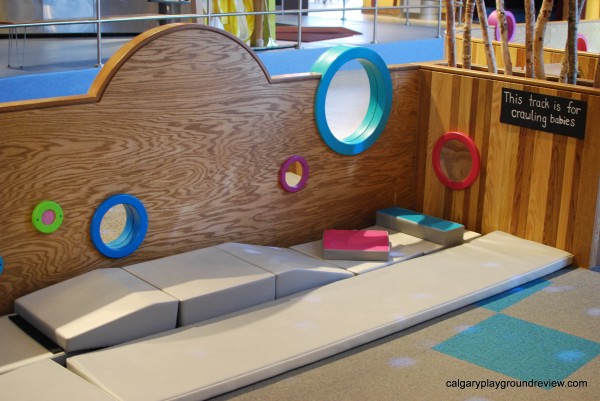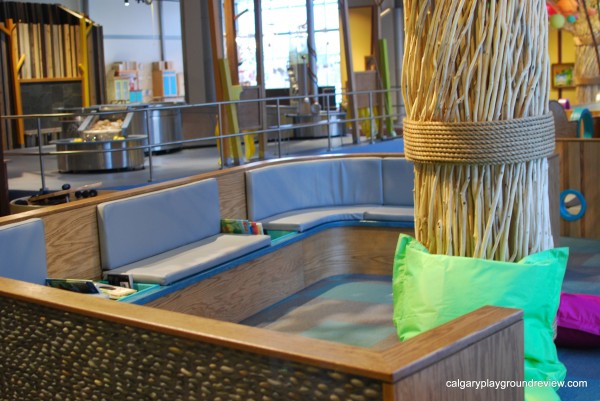 Theatre
The theatre is another free play area. Kids can play up on the stage to a small audience and change the lighting, backdrops and use a spot light. When we were there they also had some kid sized blankets that could be used as props.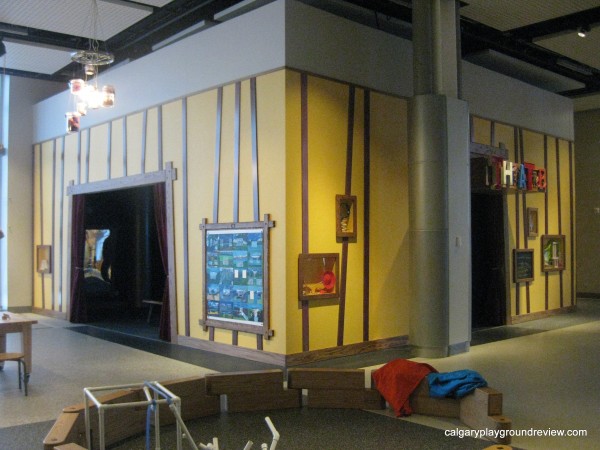 Maker Space
The Maker Space is where you are most likely to see change from one visit to the next. There are two circle spaces that each have a different thing to build with. The circle itself also doubles as seating for parents. There is also a light table with translucent building materials and a few tables with smaller objects. One of the tables near the back is typically used for some kind of art project some of which you can see displayed by the window.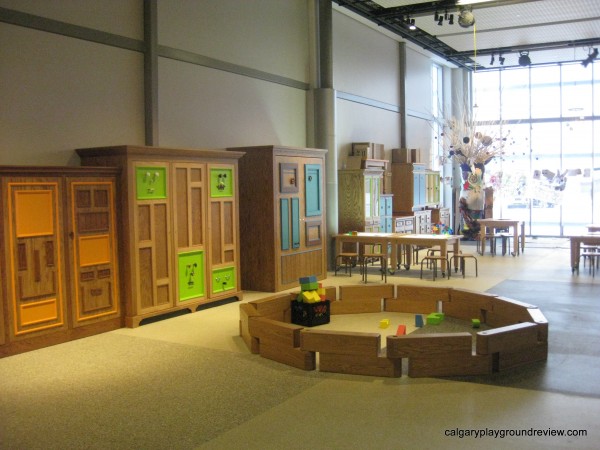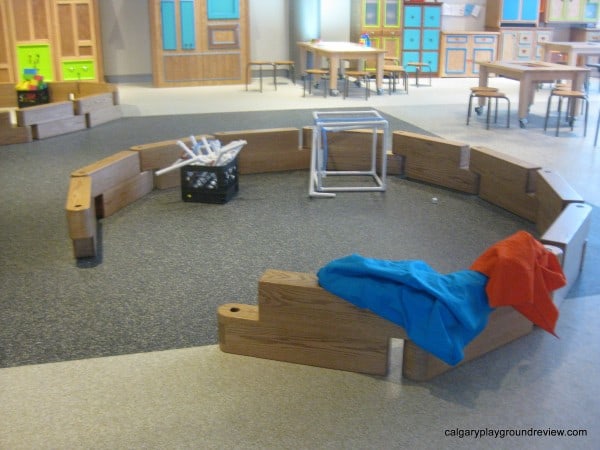 Energy and Innovation
If you were going to the science centre with a young child and only had time for one gallery this would be the one to see.  Located on the main floor of the science centre, it has the most things that can be touched and manipulated by smaller kids.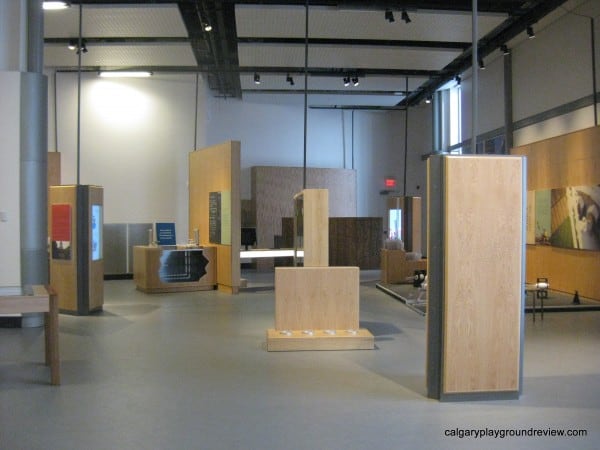 There are multiple different centres set up that allow exploration of concepts such as different forms of energy, electrical circuits, potential and kinetic energy, the connections between different forms of energy and pipeline construction.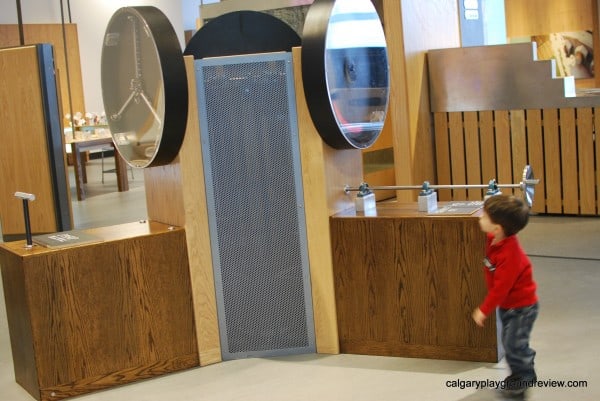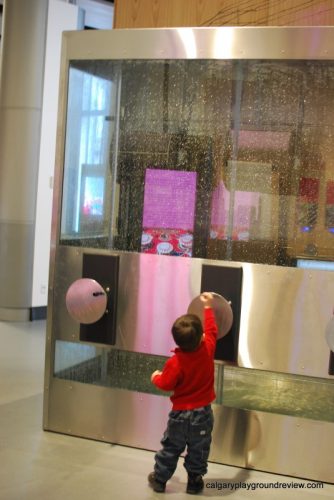 This area had Gordie's attention pretty well, as there was a lot of things that he could reach and move, but there were still many things that we had to lift him to up see or touch.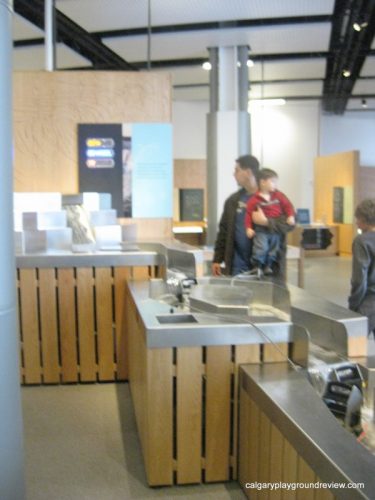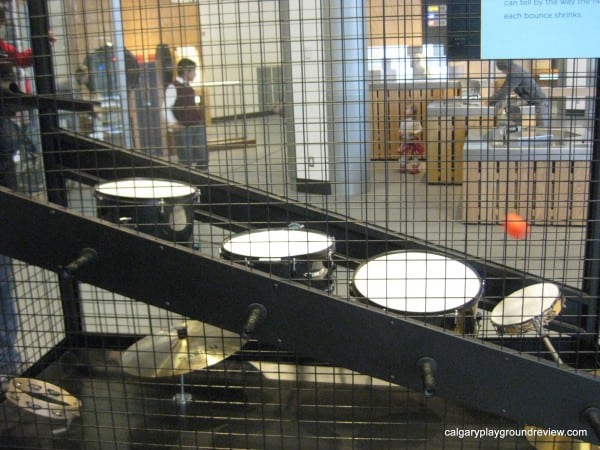 Earth and Sky
Also, located on the main floor, the Earth and Sky gallery has different centres that explore concepts such as the weather, erosion, mud slides and avalanches.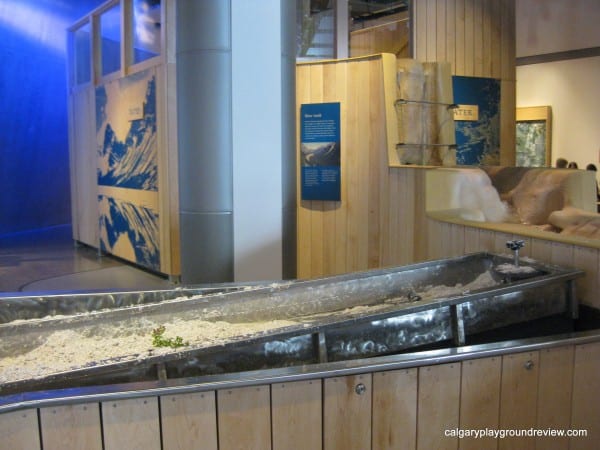 I found much of this area to be too high up for Gordie which made it more difficult for him to engage with the exhibits. However, for kids a little bit taller there is a lot of opportunities to explore geology concepts with their own hands.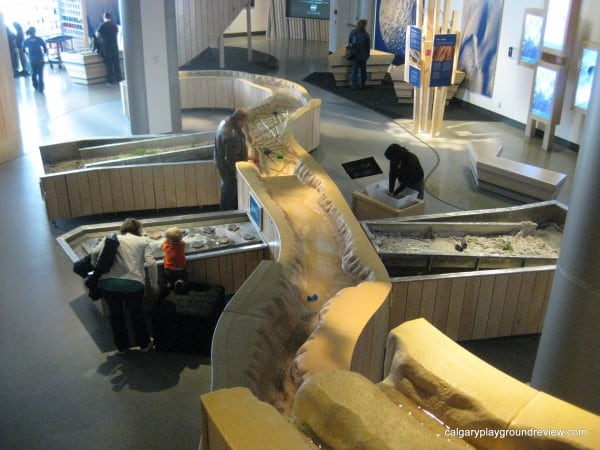 Open Studio
This area aims to be similar to the Creative Kids Museum but for older kids. It's located on the 2nd floor by the Cafe. There are lots of opportunities for older kids to create making things like toys and clothes out of recycled materials, painting with light and sound and a lot more. There are more computer screen here than anywhere else, that the kids can use to make digital creations. I think I read that some of these can even be sent home.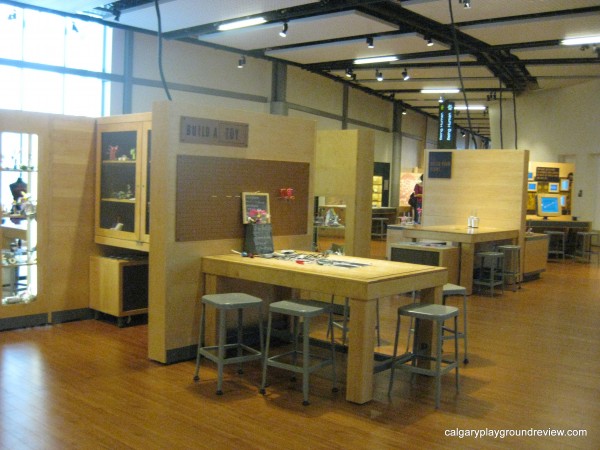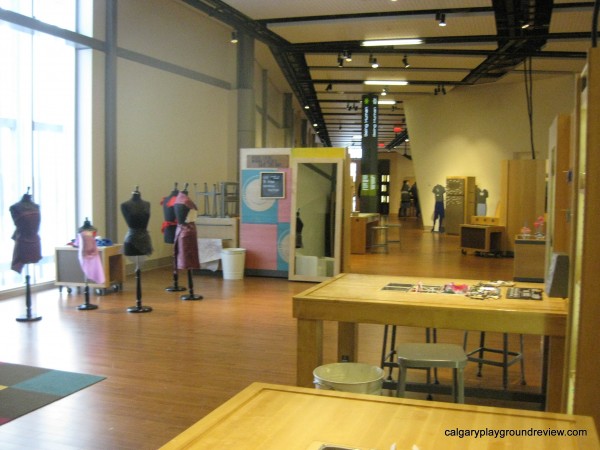 I knew this wouldn't have a lot to offer a 2.5 year old, but there was a few things that he did enjoy.  The Paint.Hear. station has cups of light that correspond to different instruments. You can dip the 'paint brush' into the cup and paint on the board. It paints the board in the color you've chosen and makes the music of the instrument while you do it.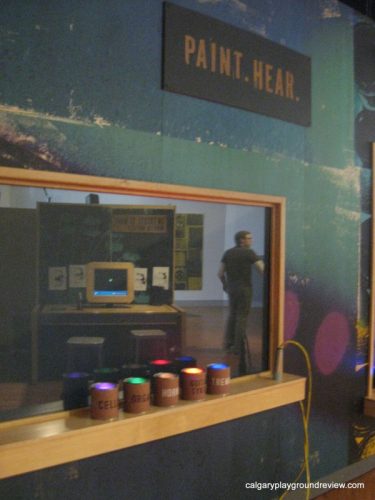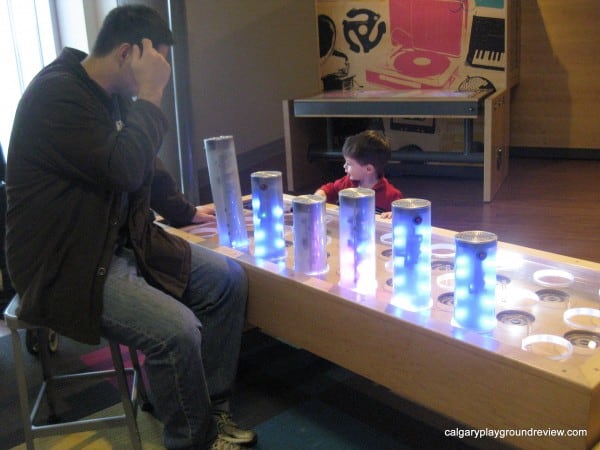 There's also a station where you can record sounds in different tubes and hear them played back. We had a lot of fun recording Gordie's voice saying different things.
Being Human
Also located on the 2nd floor, the Being Human exhibit has the least to offer for young kids. Most of the exhibits require you to read the instructions and play along to get the experiments to work. There are some neat things, but I wouldn't bother with it unless your kids are at least school-age. Here, you can explore concepts such as falling in love, how your body reacts to stress, memories, and emotions.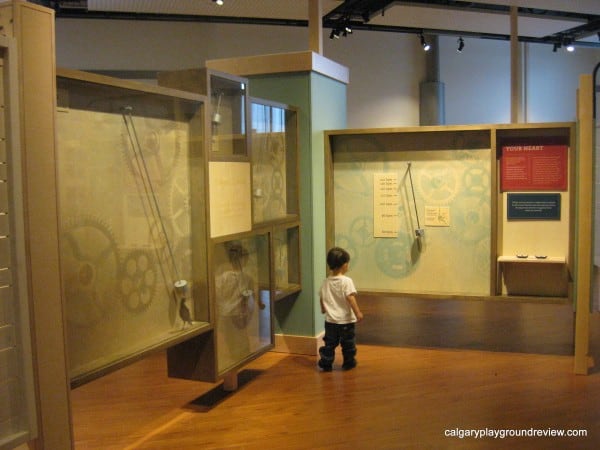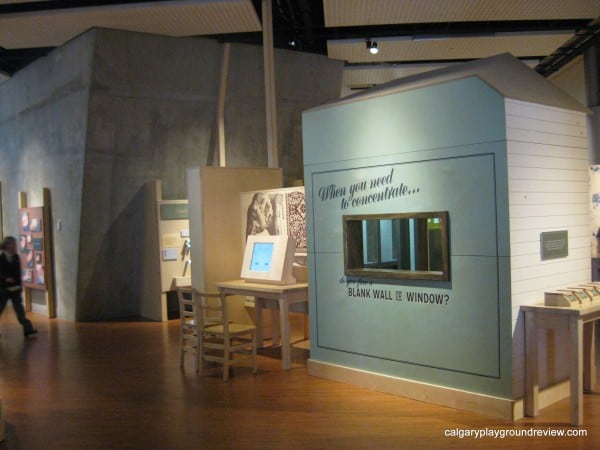 Atrium
In the centre of the science centre is this wide open area. They often have something for the kids to play with which they also use for their indoor recess program. One day while we were there they had this Imagination Playground (pictured below) and another they had hula hoops. You can also pack a picnic lunch and eat it the tables on the North side of the Atrium.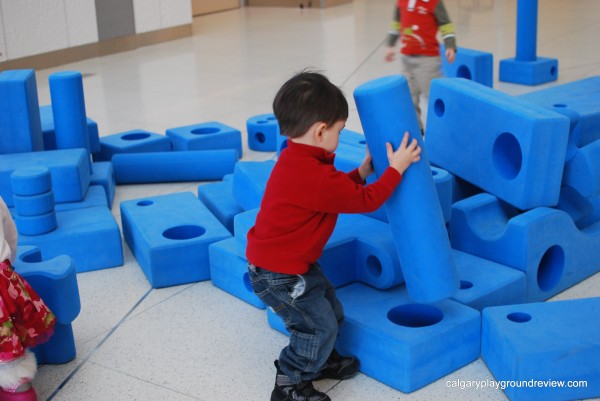 The Cafe
The Cafe is on the 2nd floor of the Science Centre and offers typical cafeteria type food. Lunch service begins at 11am. I found the prices fairly reasonable, with a hamburger being $3.99. The food was fine, but nothing special.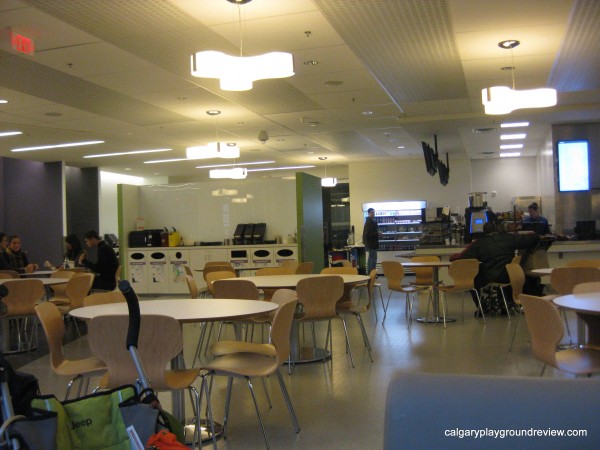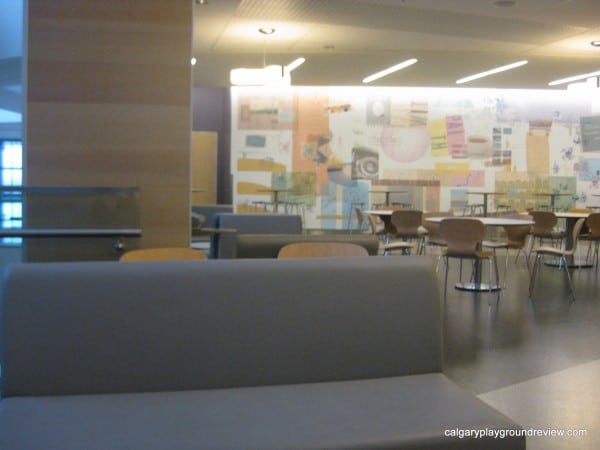 For us, getting memberships this year made sense. At the moment, we only have one kid, who is still free until his birthday in the Spring so that keeps the total cost down. It's also fairly close to where we live. One of the biggest selling features for me was how much my husband enjoyed taking Gordie to the Science Centre. Another selling feature for us is that it is open at 9am Sunday morning when many things are still closed.
Have you been to the Telus Spark Calgary Science Centre? Have a suggestion for a review? Would you like to write a guest review? Write your thoughts in the comments.