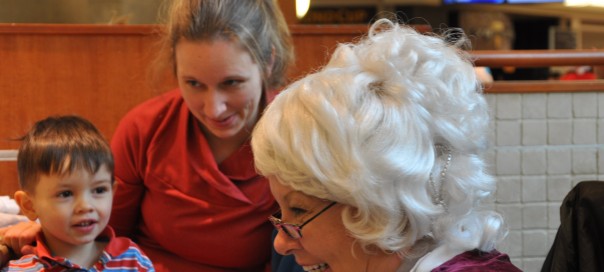 Breakfast With Santa
Location: Market Mall
Date: November 18, 2012
Tickets: $15 per adult, $10 per child
To kick off Santa's arrival at Market Malll, every year they host Breakfast With Santa. When Market Mall offered me tickets to this year, I figured it was high time that I go and check it out.  I wasn't really sure what to expect. We got there a few minutes late which wasn't a huge deal, we still had to wait in line for a little while to get in anyway.
The event is hosted in the food court prior to the mall opening. They provide you with food and drinks and a little craft bag for the kids. You also have the opportunity to see Santa, and Mrs Claus. The A&W Root Bear and an ice cream cone from Marble Slab were also there.
Santa is obviously the headliner. He camped out at a spot  near the centre of the food court and there was a short line for the kids to say Hi and take a picture. The line seemed consistently pretty short with a few kids in it most of the time. He's there the whole time so there's no need to rush to see him right off the bat, especially if there seems to be a bit of a line-up. We went near the end of the breakfast and waited for probably 2 minutes (Nicole was still eating her blueberries). The Market Mall Santa has been at the mall for years and is quite popular.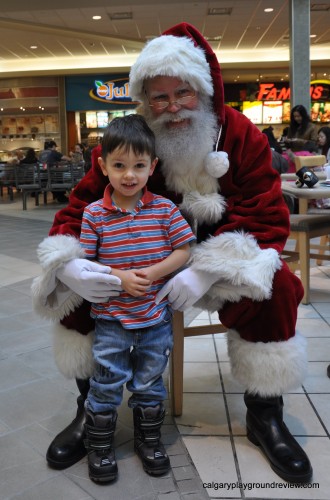 Mrs. Claus wandered around the food court and stopped by the different tables to chat with the kids. Gordie had really wanted to see Mrs. Claus last year but we didn't mange to see her so he was pretty happy to be able to this year.
The A&W Root Bear also wandered around saying hi to the kids and handing out root beer lollipops.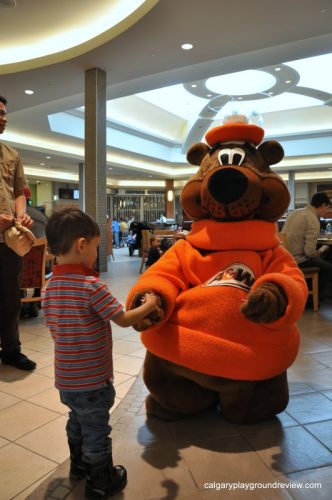 The Marble slab ice cream cone also made the rounds and handed out a coloring sheet or something (we missed that).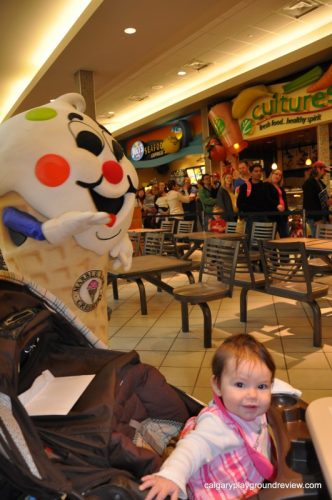 I found it a little confusing when we first entered the food court having never been to the event before. There are basically 3 stations, cookies and drinks, breakfast, and the craft bag. You find your own table where ever you want. I've heard that it can be a good idea to pick your seats first because they can fill up but there seemed to be lots this time. I'd probably recommend that as your first step anyway so you have a place for the kids to go if they get restless and a spot to put your things.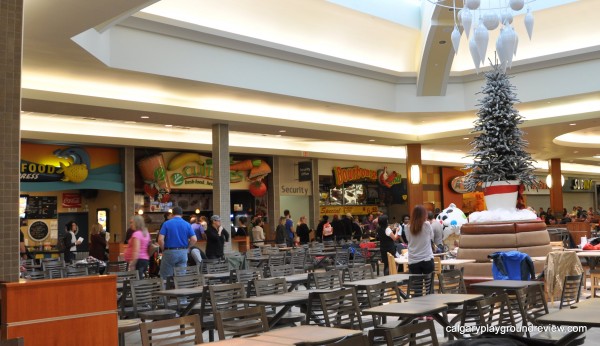 I tried to get a picture of the line-up but it didn't really work. Anyway, the line-up for the breakfast was pretty long. If you were going with two people I'd  get in that one right away and have the other person take the kids two the other two stations. If you were the only adult I'd get in line for the food first.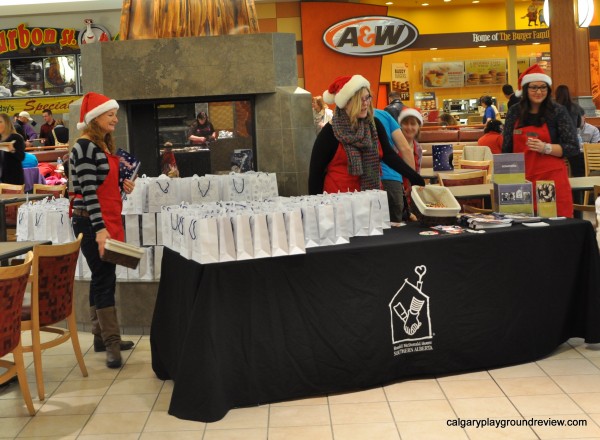 The craft station was in the centre of the food court. They were also taking donations for the Ronald McDonald House.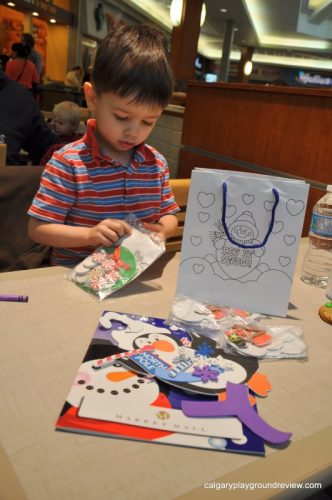 You got a gift bag that you can color filled with a number of little crafts and a coloring book too.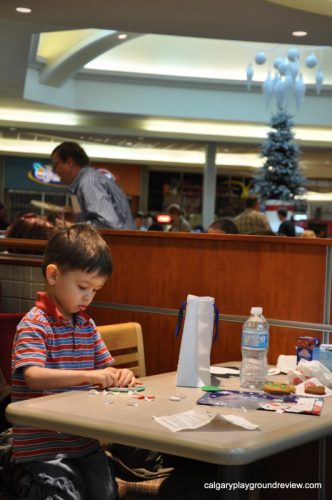 Gordie isn't really much into crafts these days but he really liked these ones. Most of them were set up so you put the craft together by peeling off the backing and sticking the pieces on.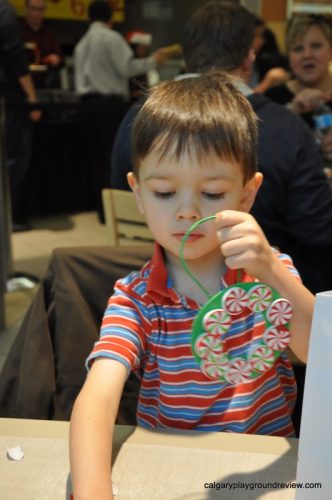 He was pretty proud of the wreath he made while we were waiting for our food.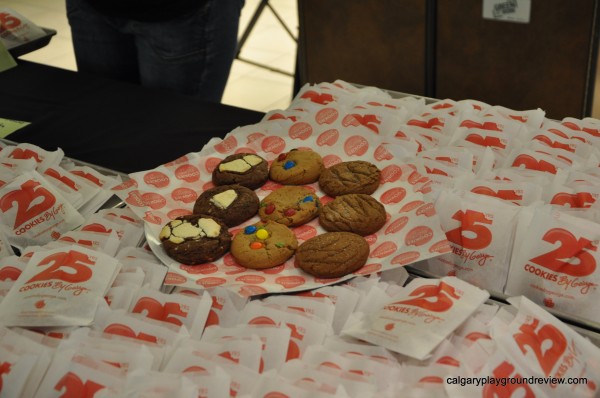 Over by Second Cup was the drinks and cookies station. There were three kinds of cookies you could get from Cookies by George.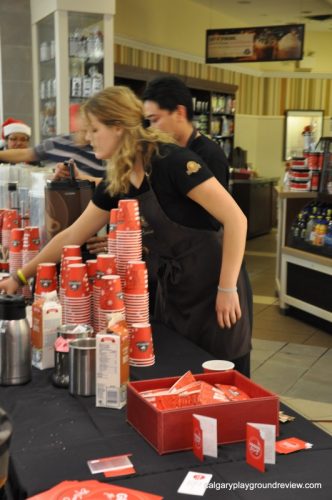 As well as coffee and cider from Second Cup and water and juice boxes. This line was generally fairly short.
A&W supplied the food. There was a line up going around on each side. The lines were pretty steady in length for most of the time we were there. They had french toast with syrup, berries and candy for toppings, a breakfast sandwich (with egg, cheese and bacon), and hash browns. They had bacon too but they had run out by the time we got to the front of the line. They weren't stingy with the food though and we had lots to eat.
We had a really nice time at Breakfast with Santa.  I asked Gordie was his favorite part was and he told me seeing Mrs Claus and Santa. It was a nice casual environment to see Santa. If you had a kid who  was a little shy about meeting Santa this would be a really great option. The food covers most of the cost of the tickets to get in and you can take your own picture. It would also be easy to watch Santa with your kid for a while before trying to get a picture and taking a few runs at it if they balk at first.