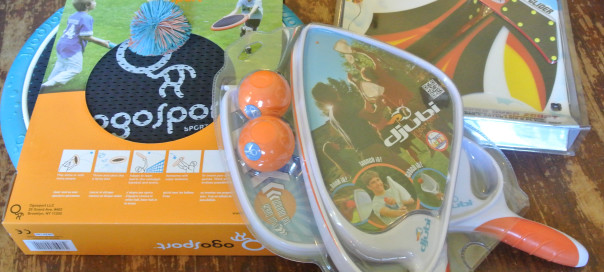 Park Toys – Djubi, Ogosport and Sky Trix!
I don't often to giveaways but when Mastermind Toys gave me the opportunity to review and giveaway some park toys I jumped at the chance. Mastermind Toys is new to Calgary, their first location is in the Westhills Shopping Centre and they have plans to expand further. I love the philosophy of Mastermind Toys – their focus is on quality toys with high play value. Their focus is on fun and learning through play – there is nothing pretentious about this toy store even though you'll find few licensed toys than your typical toy store.
Mastermind Toys gave me three toys to review which are perfect for taking to the park. In the giveaway below, one person will win their choice of either one of each of the three park toys I reviewed (approximate value $80) or a $50 gift card (can be used online or in store).
One of the things that I loved about these toys is their universal appeal. My kids were on the young side for these toys (at 1.5 years and 4 years) but we had a ton of fun playing with them as a family. Older kids and even adults will love playing with these toys too.
Djubi
The Djubi is basically a cross between a slingshot and a game of catch. You launch the balls on the side of the racket and your partner tries to catch it in their net. You can also use them side by side (it comes with two balls which is handy) and just see how far you can launch the ball. They also make a Jr version which is a bit smaller and easier for younger kids to use. Gordie had to balance the racket on the ground to shoot it but it worked just fine. We were playing with the Djubi at a wading pool in the photos below. They are also great water toys because Djubi balls float and then you can scoop them out of the water with the net.
Gordie's Review: Good! 150 pounds good.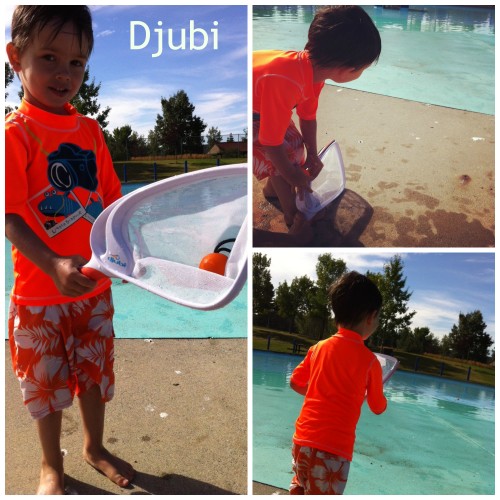 Ogosport – Ogodisk-Mezo
The Ogodisk-Mez0  is surprisingly versatile. It is composed of two disks with a trampoline like membrane across the middle and it's own koosh ball (which we promptly lost – I'm sure it's somewhere in the house). You can use it with a koosh ball, other light balls or even water balloons. You can play by yourself and see how many times you can bounce it up and down, play catch or use it to play modified games of tennis, badminton or baseball.  You can also throw it like a frisbee and the disks float so it make a good water toy too. Gordie is just starting to be able to pass back and forth – both he and Nicky spend a lot of time running after the ball laughing.
Gordie's Review: I liked all you can do with it.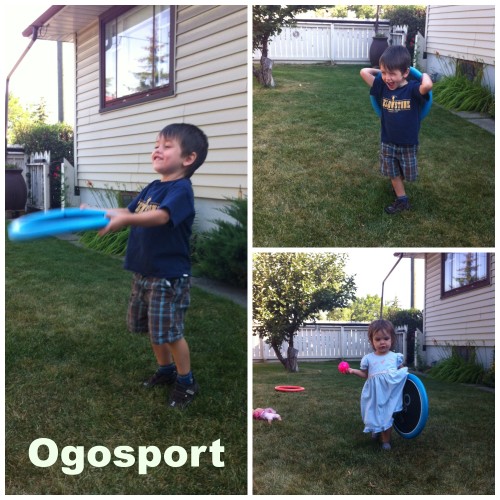 Sky Trix
The SkyTrix Stunt Glider is a Mastermind Toys exclusive. It is basically a plane on a tether, but you can use it to play catch, soar like a kite on the wind, glide like a plane or even do tricks. This was too hard for my kids to use by themselves, but they loved watching it go and running it back to me. The first time I tried it out I was near a popular playground. After I pulled it out, within minutes the playground was empty and I was very popular. I had a crowd of kids around me all eager to retrieve the plane.
Gordie's Review: I loved it!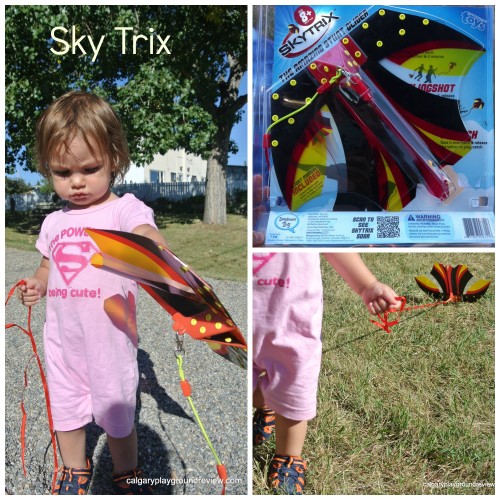 To enter this giveaway please use the Rafflecopter app below to enter and leave a comment telling me what your family likes to play with at the park.
Note: you must leave a valid email address so you can be contacted if you win.  Winners will have 24 hours to respond to notifications or another winner will be chosen.  Email addresses will never be sold or shared. Canadian residents only. 
Mastermind generously provided the toys I reviewed and the toys for the giveaway but I was not otherwise compensated. All opinions are my own.