One of my favorite things things to do around Christmas time is to go look at the lights. There are some pretty spectacular displays in (and around) Calgary. Here a list of 4 of the best. We've been to all 4 of them (3 this year).
1. Lions Festival of Lights
http://www.lionsfestivaloflights.ca/
Location: Confederation Park: 14th Street and 24th Avenue NW
Cost: Free
Parking: Street parking
Start Time: 7pm-Midnight
2012/2013 dates: Dec 1 2012 – Jan 8 2013
I'm surprised how many people don't know that the you can walk through the Lions Festival of Lights display, not just drive by. It's perfect for walking through with the kids in a sled and many people toboggan down the hill on the west side. There are also a few ice sculptures at the South East corner and you can cross a bridge (behind the shed), and see some more of the lights closer to 14th St.
We've gone to see the lights here for the past 3 years, the lights are lovely, it's free, and it doesn't take up a lot of time. The one downside is that there is nothing in the way of amenities and the parking is really just neighborhood street parking.
This year we met up with a friend of mine who has a three year old boy. Although Gordie preferred to ride in the sled, my friend's son walked the whole way. We took Gordie down the toboggan hill and he loved it. He went way faster than when I take the kids to the little hill up the street.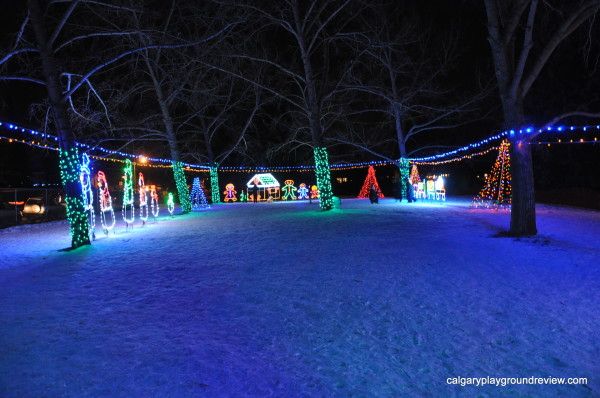 This is the area right by the entrance. It is a good spot to meet up with people.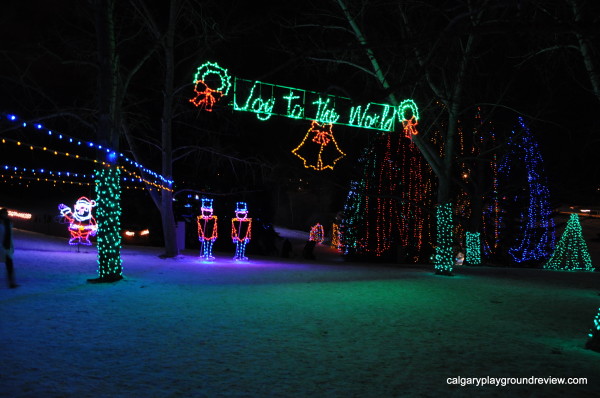 If you go under this sign you'll find yourself walking past the toboggan hill. If you look to the east (right) you'll see a shallower slope that will take you past the ice sculptures and then past the toboggan hill.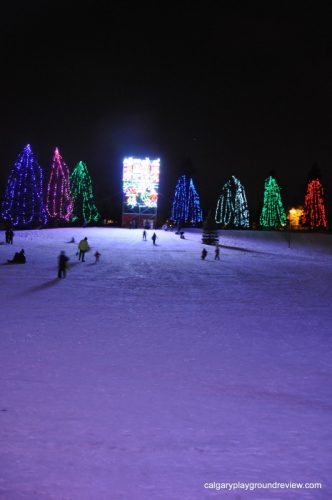 View of the toboggan hill.
The lights to our right are the ones you can see from 14th St. The toboggan hill is to our left.
2. Spruce Meadows
http://www.sprucemeadows.com/
Location: Spruce Meadows – 18011 Spruce Meadows Way SW, West Entrance
Cost: Free
Parking: There is parking inside the facility if you want to walk around the central area
Time: 5pm-10pm
2012/2013 dates: Nov 28 2012 – Jan 6 2013
This year was the first I had heard of the lights at Spruce Meadows. It's not particularly close to us, but I was watching a couple of my friends small kids overnight and the evening was looming long so we packed everyone out and made the trip. It is primarily set up as a driving tour but there are places to park if you would like to walk around the centre area. There is also a skating rink at the East entrance. The lights here are less varied, than some of the other spots on this list, but they are plentiful and you can drive right though. If you live in the area I would put it on your must do Christmas list.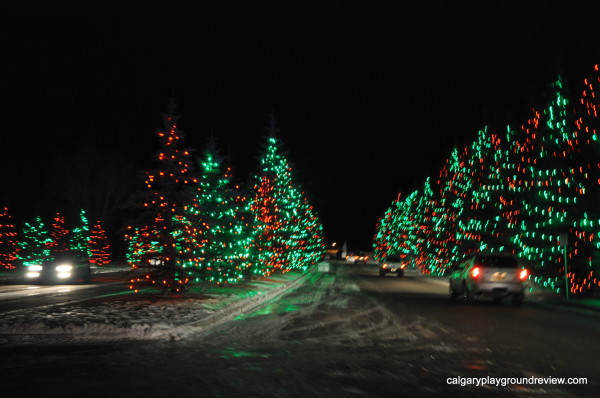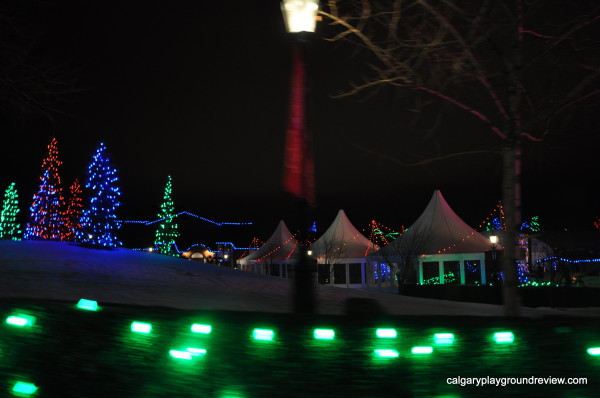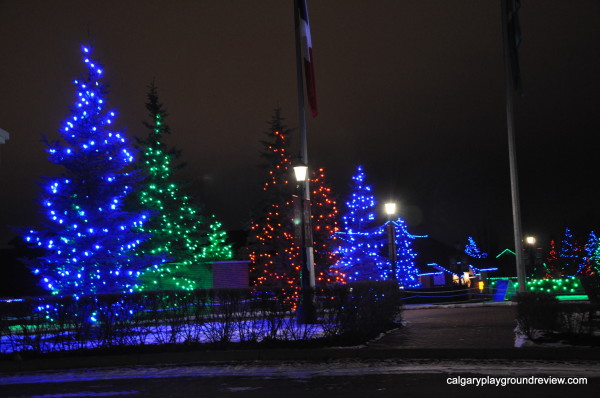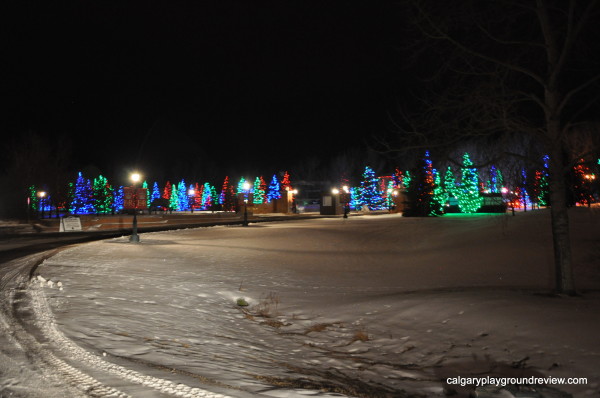 3. Airdrie Festival of Lights
http://airdriefestivaloflights.com/
Location: Airdrie – Nose Creek Park
Cost: Free – donations are accepted ($10 per family suggested), train rides are $2
Parking: Free Parking lot
Time: 6pm-9pm
2012 dates: Dec 1 2012 – Dec 31 2012

The Airdrie Festival of Lights is a real community event. The walk through light festival features two bonfires (you can even bring your own marshmallows, a miniature train the whole family can ride and several food vendors serving meals, snacks and drinks. They also have special nights including things like crafts, visits with Santa and free hot chocolate. Check out their events calendar for specifics. The pond is also used for skating. We went this year just before the closed for the season. The lights are plentiful and in lots of different shapes. There are lots of pathways to walk around and strollers or sleds will probably work most days.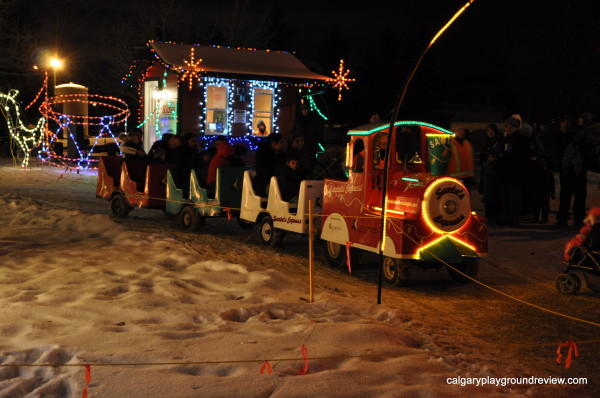 One of the two trains running while we were there.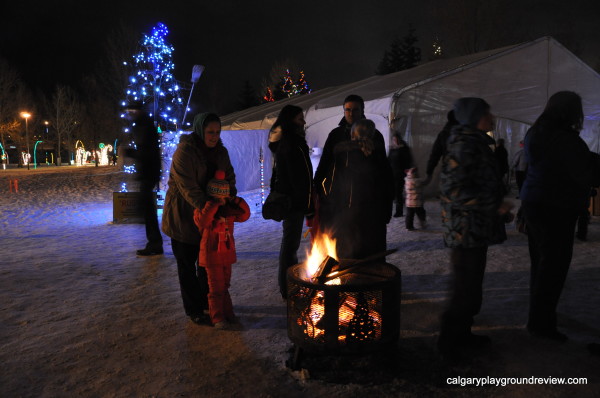 Bonfire.
They also have some photo-ops set up like this sleigh and a number of those cut-outs where you stick your head through. I would absolutely recommend making the trip up. It has become my favorite of the ones on this list.
4. Zoolights
http://www.calgaryzoo.com/zoolights/
Location: Calgary Zoo – North gate entrance only
Cost: Adults(16+) – $10 +gst (ticket includes free parking), kids(3-15) – $7+gst
Parking: Parking is included with your ticket
Time: 6pm-9pm
2012 dates: Nov 23 2012 – Jan 5 2012 (excluding Christmas Day and New Year's Eve)
If you like Christmas lights, zoolights really is something to see. Not only does it have a lot of lights, they are shaped into amazing (often animal themed) decorations. In addition, they have  bonfires, SantaVision (where your kids can talk directly to the North Pole), a new Water Wonderland Kids Zone as well as Ice Carving and local Calgary choir performances on Friday and Saturday nights.
You also may be interested in looking at family fun Calgary's tips for getting the most out of zoolights.
Here's some pictures I took a few years ago. This is only a small portion of what you'd see there.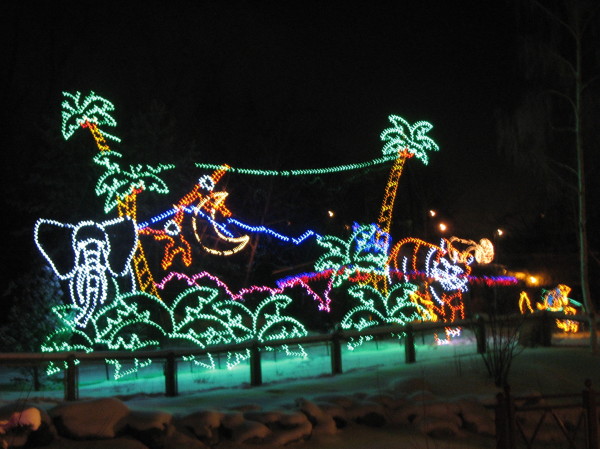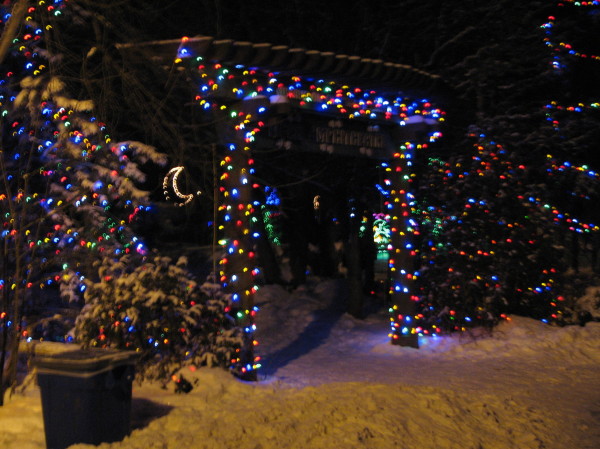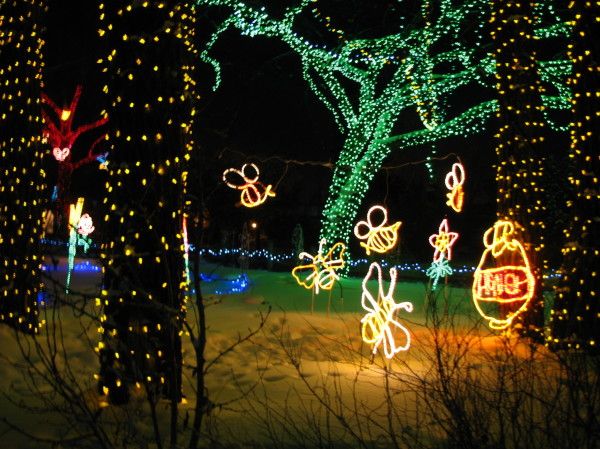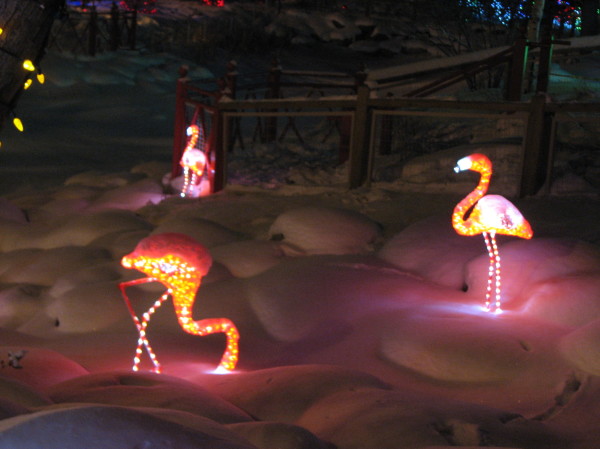 You can also find some other great Christmas Light displays at http://www.lightenupcalgary.com/
Where is your favorite place to see Christmas lights?