Location            http://www.glenbow.org
Address: Downtown – 130 – 9 Avenue S.E.
Gordie's Review: What was the best part? "Going in that train car"
Day Pass Cost: General – $14;Youth (7-17) – $9; Student – $9Senior (65+) – $9; child(6 and under) – free, Family (2 adults up to 4 youth) – $32.
Annual Pass Break Even point: Adult – if you plan to go more than 4 times you are better off getting a membership,  Family – if you plan to go more than twice you are better off getting a membership. Other membership types are also available.
Parking: There are a number of indoor and outdoor spaces you could park downtown. The Civic plaza parkade (322 9 Ave SE) is probably your best best if you are looking for indoor parking for the Glenbow. It is run by the parkplus system and has $5 parking evenings (beginning at 6pm, weekends starting at 11am on friday and holidays. It is otherwise $2.75 per half hour. You can travel the entire way to the Glenbow inside from the parkade – it is a significant walk.
Food Services: There is a restaurant just outside the Glenbow with snacks, beverages, pre-prepared sandwiches as well as sandwiches and hot meals made to order.
Age Range: preschool – adult.
Stay Length: Expect to spend at least 2 hours, you could easily spend all day depending on your child's attention span.
Overall: This was the first time that I've taken Gordie to the Glenbow when he wasn't just a baby and we weren't able to visit nearly all of it in one trip. We spent about 2 hours there and if we had arrived a bit earlier I think Gordie might have lasted another half hour at the most. That gave us enough time to go through 2 exhibits at a toddler pace and do a quick craft at the children's Discovery Room.
The Glenbow really tries to find ways to engage kids in the exhibits and uses a variety of methods to do so from things to look at, touch, smell and different electronic and non-electronic games in addition to the Discovery Room.  At only two and a half, I wasn't sure if enough of it would be at his level, but I'm actually looking forward to taking him back so we can see more of the exhibits.
Watch Me Move: Animation  – Oct 8-Dec 24, 2011
This travelling exhibit has 111 different animated works ranging from full feature length films to clips and shorts. You don't have a hope of watching everything in one trip, especially not with kids in tow. As you walk through the exhibit there is animation everywhere. Nearly each animated work has a spot to sit and either speakers or headphones so you can listen as well. No photographs or videos are allowed of the displays.
If you are thinking of going to this exhibit, I highly recommend checking out the exhibition guide (which can be found online here) before you go. Take a look at what you might want to see, including the features films shown in the Second Floor Cinema (different each day of the week).
It would also be wise to consider the ratings of the films shown when planning your trip. Although this exhibit will hold the attention of even small kids, some of the films are of a mature nature and may be inappropriate or even scare your kids. The works that have been rated are all listed in the exhibition guide and those that aren't but may still be questionable are marked in the guide as well. 'Rabbit' has parental guidance suggested as it looks like a children's cartoon, but the kids proceed to prepare the rabbit for dinner. Jurassic Park is only PG but is on a fairly big screen and has roaring dinosaurs so that may scare some young kids as well.
In addition, some of the areas are pretty dark and one section (I think it's Apparitions) there are semi-transparent panels that you have to go through. Gordie wasn't bothered by this, but it may be something to think about if you have a sensitive kid.
The ARC Discovery Room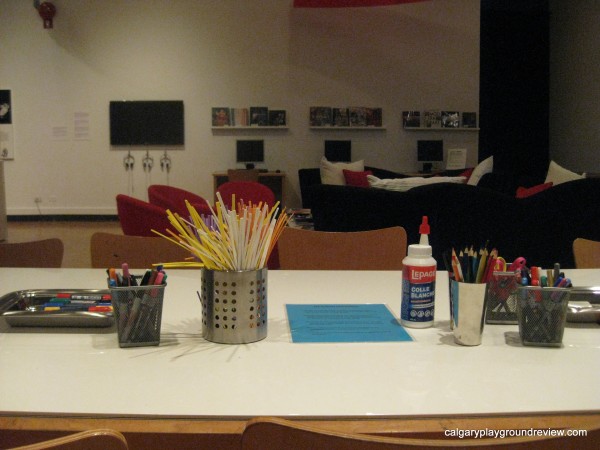 The Discovery Room changes theme along with the travelling exhibits. They strive to provide an opportunity for people of all ages, but particularly kids to interact with the theme of the main exhibit at their own levels. There are often themed books crafts or other related activities that kids can try out. In general I would say that they aim at school-aged kids but that doesn't mean your preschoolers or toddler won't find something to interest them as well. While we were there there were two different animation themed crafts. Gordie enjoyed coloring and gluing one of the crafts but the goal was a little over his head.
Mavericks: An Incorrigible History of Alberta
Permanent Exhibit
I knew we'd only have time for one other exhibit, so I decided to take Gordie to the Mavericks exhibit. It's relatively new and is great for kids because of its focus on dynamic exhibits and hands on experiences. Although I tacked it on to the end of our trip, it's good enough to be the focal point of your visit. There's no need to wait for a travelling exhibit that you think is interesting in order to go.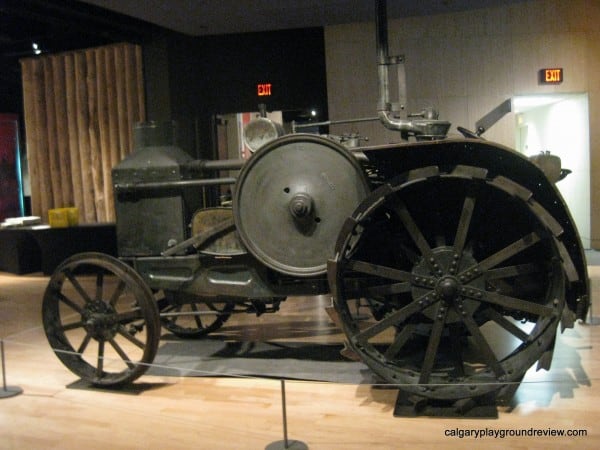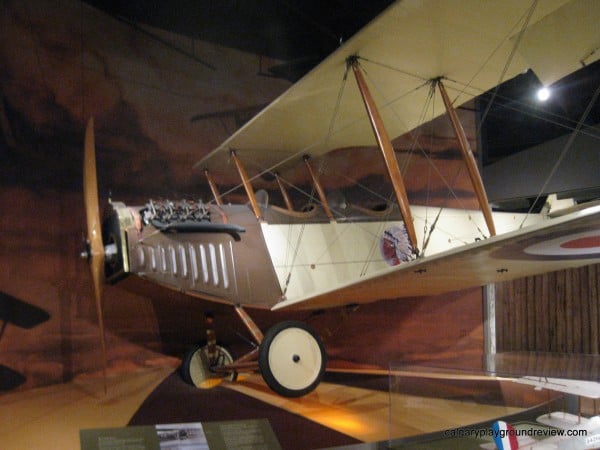 One of the things I particularly like is that is has so many 'real' things that kids can relate to.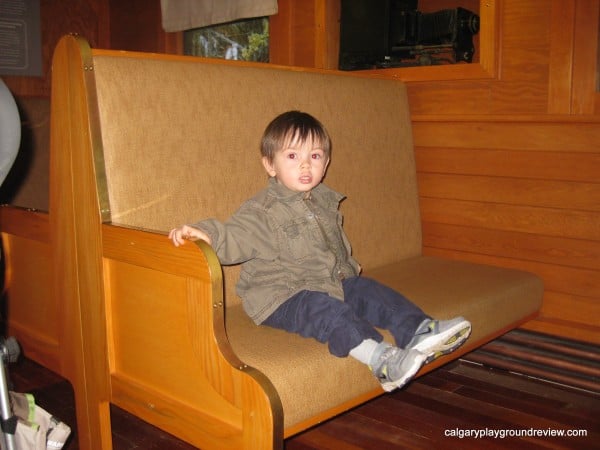 There is also things that you can sit on or move like the train car  and press a 'detonator' shown above.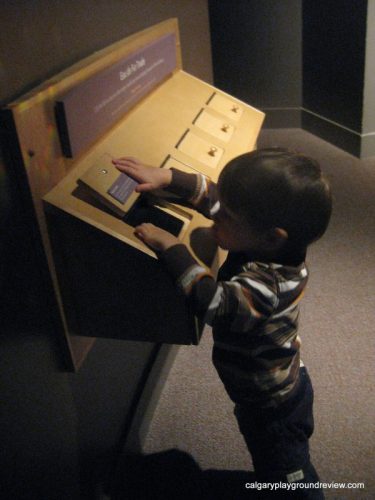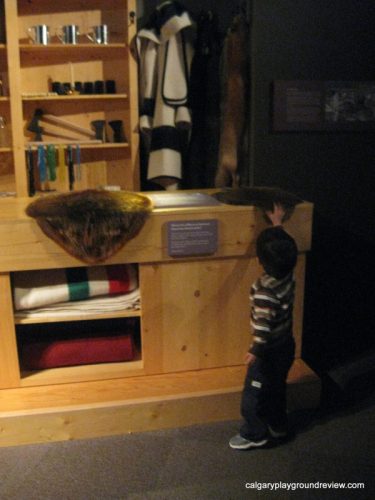 There's also many things that kids can touch or even smell!
The Mavericks exhibit is very comprehensive, although it has many features that will appeal to kids, it's anything but juvenile. Each room will have appeal for everyone in your party, just in different ways.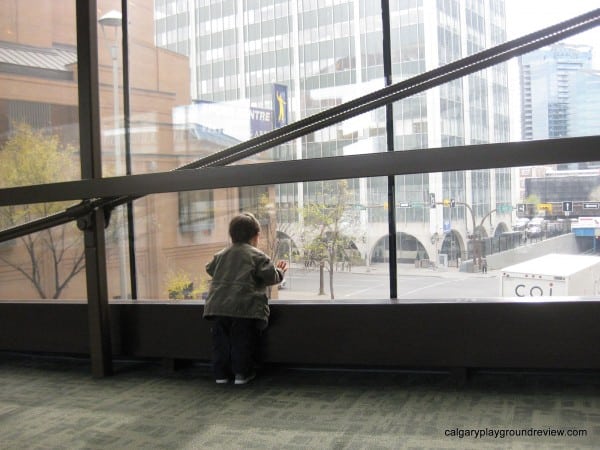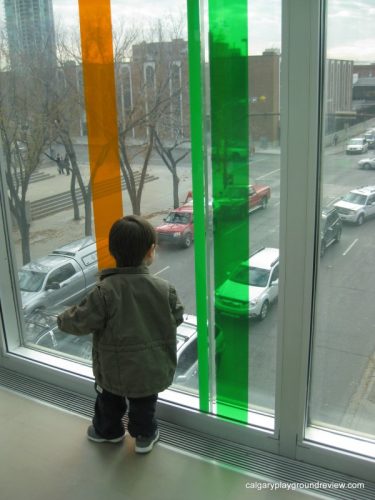 We had a great time at the museum, but I think Gordie's favorite part of our trip may have been watching the traffic go underneath the plus 15s we used to get to the Civic plaza parkade. He was also really taken with the colored stripes in one of the plus 15s because when you looked through them everything outside was the color of the stripe.
Have you been to the Glenbow Museum? Have a suggestion for a review? Would you like to write a guest review? Write your thoughts in the comments.