My updated 2013 review of Joso's Play Centre
Location       map    http://www.josos.ca/
Unit 100 – 12018 Symons Valley Road, NW
Gordie's Review (21 months)– I liked climbing!
Cost: $6.99 for the first child 12 months and older; $2.99 for first child under 12 months; $4.99 for additional children; additional children under 12 months and adults are free.
Age Range: 8 and under.
Surface: rug with extra mats where needed in the play area; smooth industrial flooring in the eating area.
Footwear: Socks. If you forget they can be purchased at reception.
Safety Features/Concerns: The gate locks and you have to be buzzed out by the person at the counter.
Play Area Features: Large 4 level climber with a ball pit and a double slide; 2 Plasma cars; Baby area with exersaucers; books; large foam blocks; and plastic toys.
Seating: There is an eating area at the front with 5 tables and a bench goes along one side of the play area.
Additional Services: Small cafe with drinks, snack items and a short lunch menu; preschool; childcare; birthday parties.
Overall Assessment: My husband Stephen and I took Gordie to Joso's on a Saturday morning. Joso's also runs a preschool and day care program in this space so the atmosphere has a bit of a school feel around the perimeter. Although seating was at a bit of a premium, the play area itself wasn't uncomfortably crowded.
Stephen had a bagel there for breakfast and found it to be a little underwhelming. It was also a difficult to find a spot to sit in their small eating area. We could only find one available chair, so it's a good thing I had breakfast at home! I probably wouldn't recommend planning on having lunch there as that's obviously not a major focus for them, but they do have a nice variety of healthy snack choices.
There were a few things that I really liked about Joso's. Their climber allows kids to get up pretty high, but it's still really easy to keep track of them as it's not particularly deep and you c an walk right into the middle. This allows for great independent and adventurous play even for pretty little kids. Gordie loved it. His absolute favorite thing was running through the hanging 'punching bags'. He's still pretty little so I went up with him, but I wouldn't really say it was set up for parents to play with your kids, it's more just parent accessible.
Gordie didn't want to try the Plasma cars, but they were so popular it was hard to get a picture of them without kids on them!
The other thing I really liked is their baby area. Even babies who are still working on sitting or pulling up have toys to play with. This is great for parents with a new baby and an older sibling. You could sit in the baby area while still monitoring your older kid(s) playing on the climber.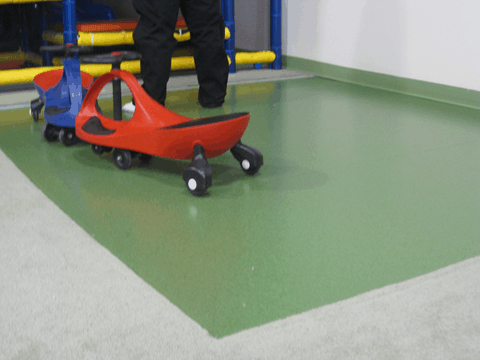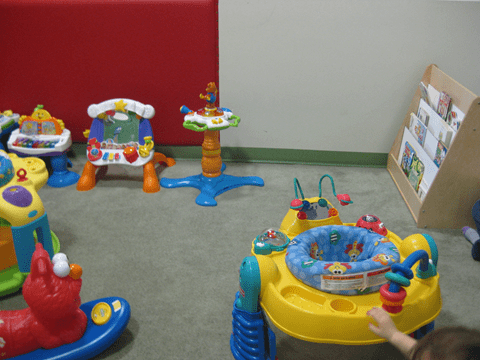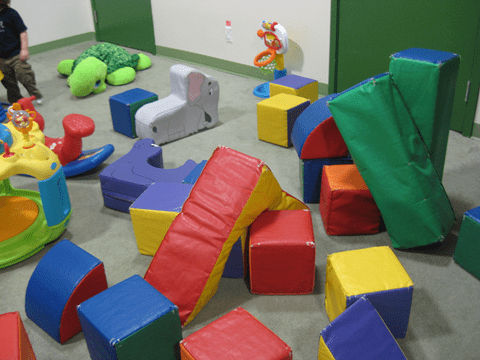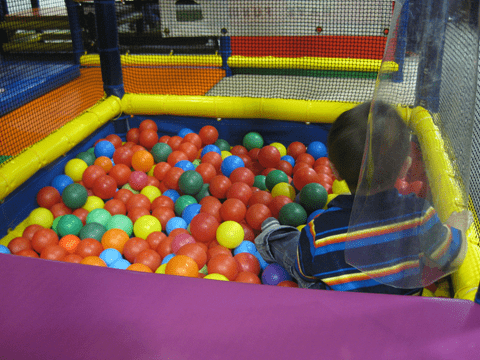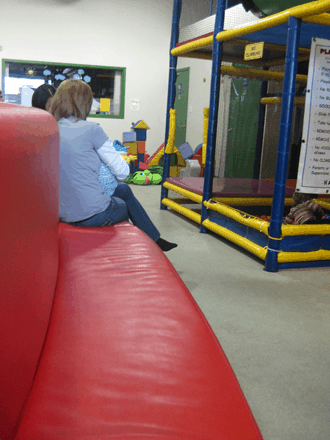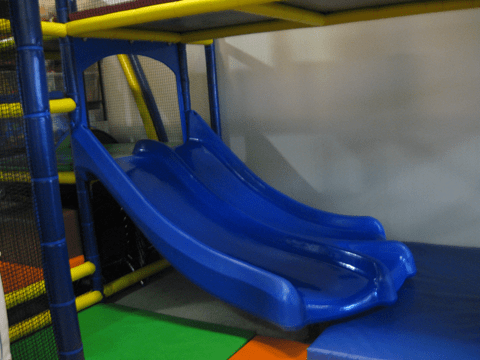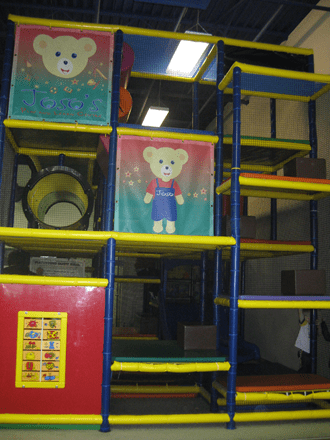 Have you been to this play place? Have a suggestion for a playground review? Would you like to write a guest review? Write your thoughts in the comments.