Santa has started making appearances at Calgary Malls again this year. There are a lot of different options for photos with Santa this Christmas – some are free, some have professional photographers and there is a wide variety of activities and waiting areas. To help you decide where you want to take your kids this year, I have listed below, (in alphabetical order) the malls in Calgary that have pictures with Santa this year, a bit of a description and my experience where I can.  I'll continue to update the information on this page to keep it as current as possible. You also may be interested in my humorous but informative post on my personal blog about  Getting Better Photos with Santa: Learning from the mistakes of others.
Note: I have decided to post Santa's hours this year, but please use this information as a guide only and double check with the mall itself as it is possible these hours may change. I'll provide links to the Santa's hours and info at each mall as they become available.
Chinook Centre
This year, Santa will arrive at Chinook Centre's Christmas castle (in front of the Bay on the main floor) on Nov 29 at 10am. Last year, they added a ramp up to see Santa so strollers and anyone unable to use the stairs will be able to access Santa much more easily. This is a very popular place to visit Santa and it can often be quite busy. In previous years there has been a waiting area with a few things to play with so you don't actually have to stand in line while you wait. Santa sits in his sleigh for the pictures and there is a video of Santa's reindeer that the kids can see while getting their picture taken. Chinook suggests trying to visit on Sunday or weekday mornings and in the evening as they are quieter times for Santa. There is a professional photographer on site. Packages started at $22.
A friend of mine loves taking her three young kids there. She finds that they are great at getting the kids to smile and the elves don't mind being in the photo if that's what it takes. I've seen her picture from the last few years and they were awesome! She loves the Santa display as well as the giant telescope and the living statues.
Monday – Saturday: 10:00 am – 1:00 pm, 2:00 pm – 5:00 pm, 6:00 pm – 8:30 pm
Sunday: 11:00 am – 2:00 pm, 3:00 pm – 6:00 pm
December 24th: 10:00 am – 1:30 pm, 2:00 pm – 4:00 pm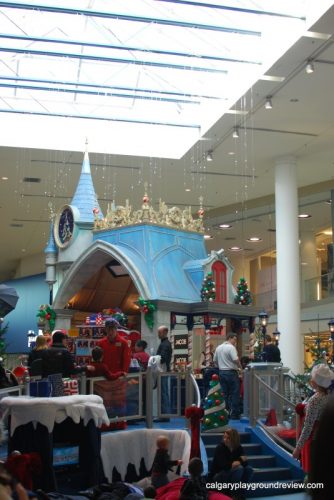 CrossIron Mills
Santa's Wonderland  located inside at Bass Pro Shops opened Nov 10 and offers – a free 4×6 photo with Santa (and one of his reindeer) with the option of purchasing picture packages in store or when you get home, free crafts,  games and activities. Last year you could access the activities before or after the line to see Santa. The crafts and Santa letter writing were to the left of the line and the games and activities were to the right of the line-up. Like last year, if the line is longer than 30 minutes they will be offering a Bass Pass, where you can come back at a specified time instead of waiting in line. They state that Monday-Thursday are slower days for Santa. I found the area a little bit difficult to find the first time. It was on the side with the doors to the outside in the Southern most corner. I came in the outside doors and still didn't see it! It hard to believe because it takes up quite a bit of space. I took Gordie again last year (because I  can't resist a free photo with Santa) in mid-November so there wasn't much of a line-up. Santa was engaging and realistic but fairly soft spoken which worked well for Gordie. He even managed to coax a smile out of him for the picture.
Monday-Friday 3-8pm
Saturday 10am-8pm
Sunday Noon-5pm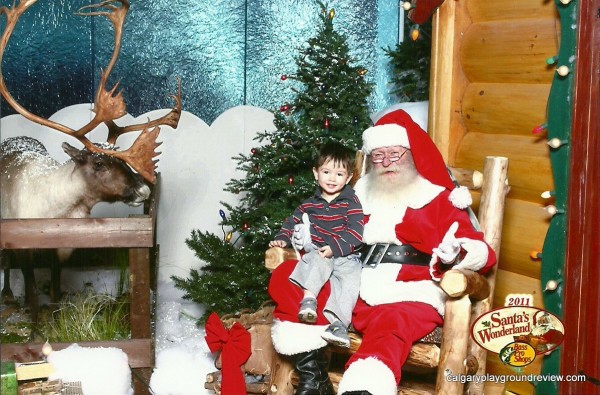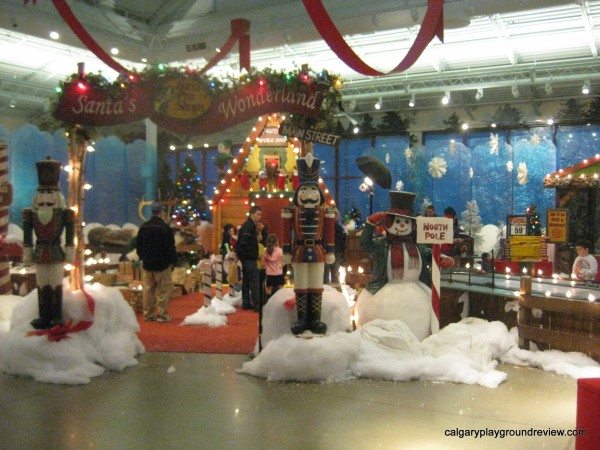 Deerfoot Mall
Santa will be arriving in the Mall's Centre Court on Nov 15th. They will not be doing pet photos this year, but will still be donating to the Calgary Humane Society.  Like last year, there will be a craft area with a TV playing Christmas cartoons.
I took Gordie to see Santa at the Deerfoot Mall three years ago. We went just after Santa arrived at noon and at that point there was just one person in front of us. Santa was really great with the kids and he really seemed to love what he was doing. He handled Gordie bursting into tears without a blink and helped me help Gordie regain his composure. He even flipped Gordie's cuffs down so they'd look nice in the picture. My friend's 3 year old was pretty adamant that she did not want to go up to Santa at first, but he gently coaxed her up and by the end of it she gave him 2 hugs!  I thought it was a great option if you wanted professional photos without a long wait.
Monday-Friday 11am-2pm, 3pm-7pm
Saturday 10am-2pm, 3pm-6pm
Sundays 12pm-4pm
Dec 24, 10am-3pm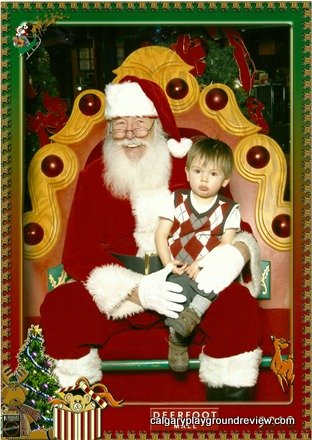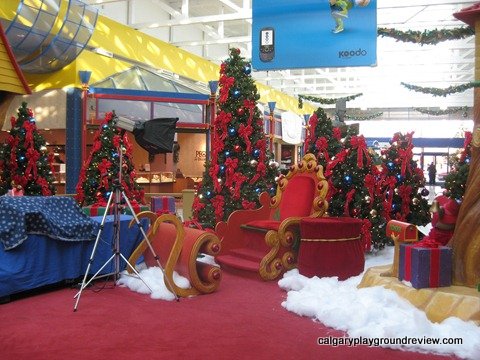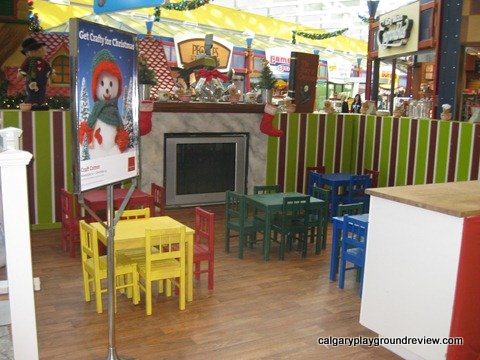 Market Mall
Santa arrives on November 24th this year at Market Mall just in time for their annual Breakfast With Santa. Santa's Playland (Photo area) is getting upgraded this year with new vibrant colors and a brand new entrance. They are also using a new photo company    (http://www.believeimaging.com/). To see Santa, you would check in at the front and then wait in their waiting area (which had activities for the kids) until your name is called so you don't have to wait in line. It is a very popular location and can get very busy. The Santa is different from previous years, but they do not use multiple Santa's to ensure a consistent positive experience for your family.
Nov. 24 to Dec. 2
Mon. – Sat: 10:00 am to 12:00 pm, 1:00 pm to 4:30 pm, 5:30 pm to 8:00 pm
Sunday: 11:00 am to 1:00 pm, 2:00 pm to 5:00 pm
Dec. 2 to Dec. 23
Mon. – Sat: 9:00 am to 12:00 pm, 1:00 pm to 4:30 pm, 5:30 pm to 8:00 pm
Sunday: 10:00 am to 1:00 pm, 2:00 pm to 5:00 pm
December 24
9:00 am to 12:00 pm, 12:30 m to 3:00 pm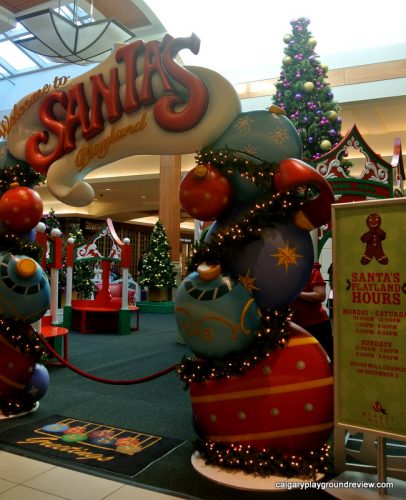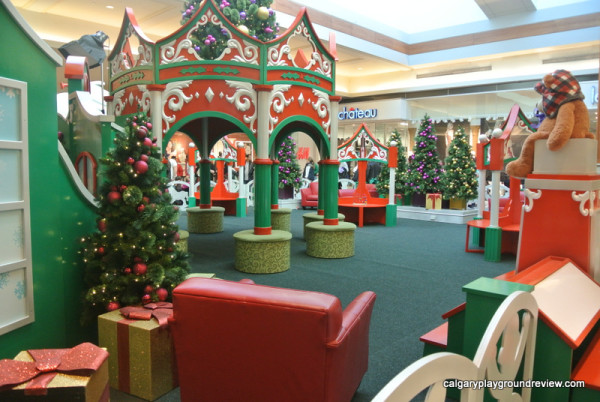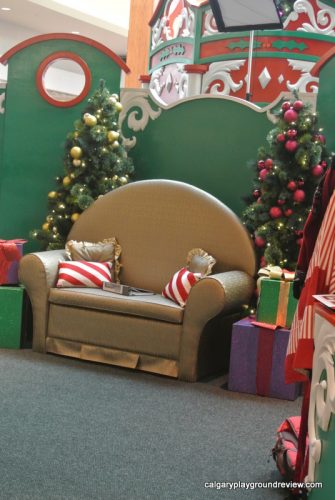 Marlborough Mall
Santa arrives at the Family Park (by Sears) on November 23. They have a professional photographer offering photo packages and Santa will be handing out holiday blankets.
Saturday November 24-Dec 8 Thursday-Saturday 12noon-3pm, 4pm-7pm,
Sunday 12noon-4pm,
Dec 9-23 Monday-Saturday 12noon-3pm, 4pm-7pm
Sunday 12noon-4pm,
Christmas Eve 10am-3pm
North Hill Centre
Santa will begin making appearances for photos and story time on Dec 7th. Photos are free but you need to bring your own camera as there is no professional photographer.
Dec 7, 8, 14, 15, 21, 22, 23
11am-3pm
Story time with santa at 1pm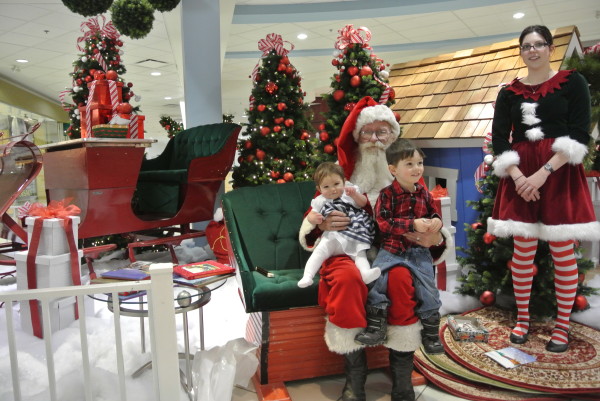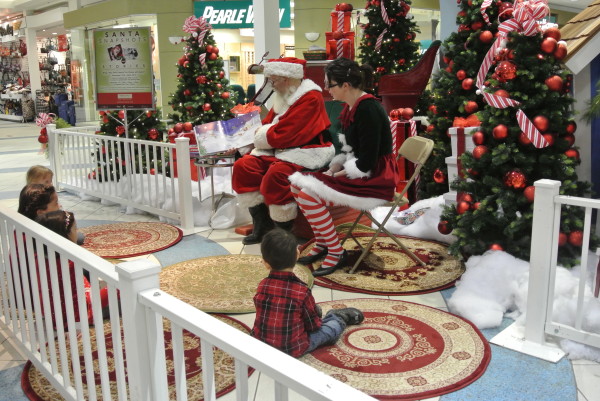 Northland Village Mall
Santa arrives at Sugarplum Lane on December 1st this year. Like last year, kids can do a craft,  have a cookie, write a letter to Santa and of course, visit with Santa. Children went through in groups in 30 minute intervals which you can book in advance (with 24 hours notice) by calling calling Customer Service at 403.247.1393. There is no professional photographer on site so you need to bring your own camera and take your own photos. The entire experience is free but there is a suggested donation of $5 per child that goes directly to Habitat for Humanity Calgary.
I took the kids to see Santa at Northland last year mid-day on a Monday morning (Dec 10) last year. There was no line and we were able to get in right away even though we hadn't reserved our spot.  It was a very relaxed way to visit Santa. If you wanted to just take your photo and run, the line is only a few kids long at the most, and if you are willing to go to one of the other stations first, you could walk right up. Nicole was a little suspicious of Santa but Gordie wanted to go see Santa right away. They had a number of different little tree ornament crafts and a gingerbread cookies from Cookies by George for a snack. Gordie 'wrote a letter' to Santa and promptly handed it to him (it's actually supposed to go in the mailbox which he did afterwards). If you are willing to take your own photos, I think this is a great way to see Santa. The lighting is really good by Santa too so getting good photos should be fairly easy.
December 1st to 23rd: 11am to 1pm and 2pm to 4pm
December 24th: 10am to 1pm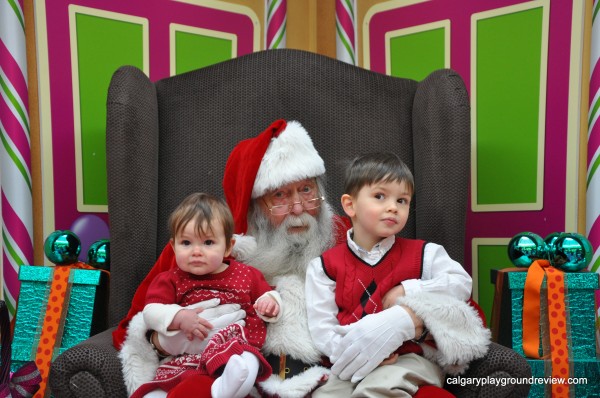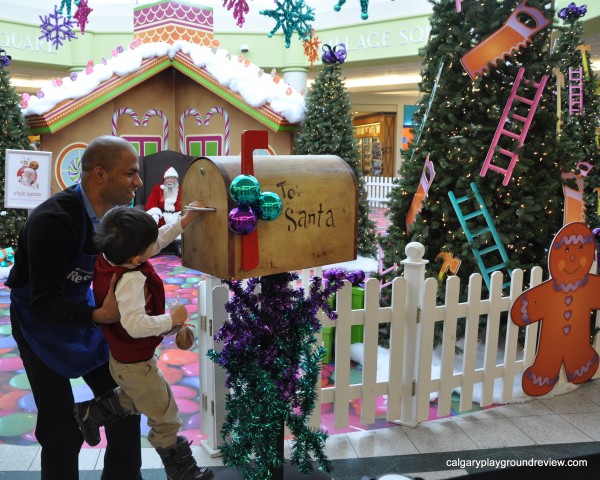 Sunridge
Santa will arrive at his Mountain Village the Centre Court of the Sunridge Mall on November 30 in time for their annual tree lighting celebration. Like last year, photos with Santa are free but there is no professional photographer so you needed to bring your own camera. They are asking for a non-perishable food item or donation to the food bank. Last year, I took the kids to see Santa on a Monday afternoon in late November. The line was quite short while we were there which was nice because there isn't much to distract the kids in the line-up. Gordie didn't want to get his picture taken at first so we got a few photos with just Nicole and then came back a little while later for the photo below. The kids got a candy cane after visiting with Santa.
November 30-Dec 4th
Monday -Saturday 11am-3pm, 4pm-8pm
Sunday and Christmas Eve 11am-4pm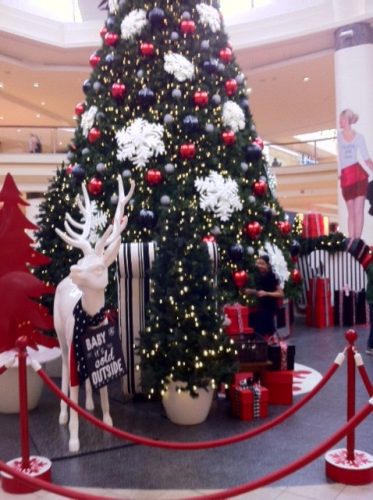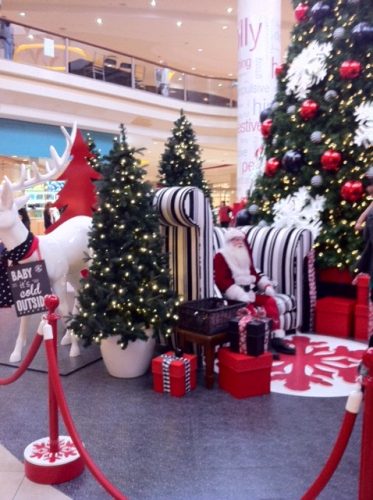 Southcentre
Santa will be arriving on Nov 16 at his Enchanted Forest in the centre court area. There are games and things to see while waiting for Santa and  also a Cookie kitchen where you can decorate your own cookie which is not connected to the line so you can do it without seeing Santa if you wanted. Last year, photo packages start at $23. The Santa this year is the one who used to be at Market Mall. Santa will be handing out small stuffed characters this year. The Nutcracker and Sugar Plum Fairy are back on Saturdays and Sundays in December from 12-4pm.
Like last year, on November 24, and Dec 8nd (9:30am-10:45am) they are offering Santa visits for families with autistic children before mall hours by reservation only. The will also be adjusting the Santaland to better suit their special needs. Interested families can contact Krista @ 403-225-5348 to reserve your spot.
Last year, Tammy commented about the Southcentre Santa – "The Santa at Southcentre is the real deal, I found myself comparing the other pictures to him, and there's a clear winner. Also, we went on her birthday, and when the cookie supervisor found out, all the elves made sure he knew- imagine how incredible it is when Santa tells you happy birthday!"
November 16-Dec 24
Monday to Saturday 10am-8pm
Sunday 11am-5pm
Christmas Eve 9am-3pm 
Santa takes 15 breaks at approximately 1:15pm and 5:15pm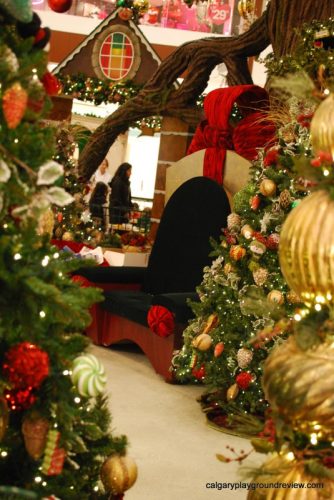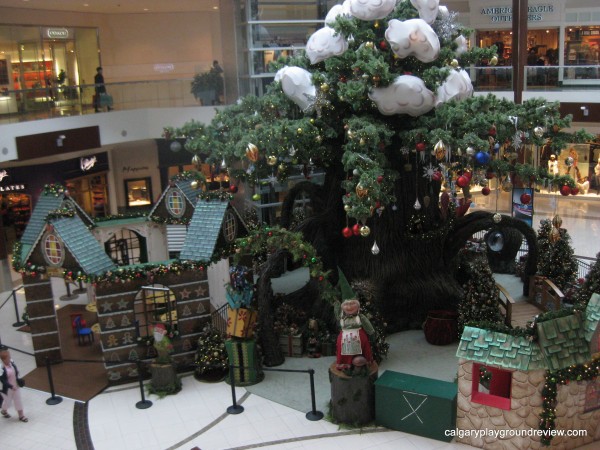 Westbrook Mall
Santa will be arriving on Nov 26.  They have a professional photographer offering photo packages and Santa will be handing out holiday blankets.
November 23-Dec 15
Thursday-Sat 12pm-3pm, 4pm-7pm
Sunday 12pm-4pm
Dec 16-23
Monday-Saturday 12pm-3pm, 4pm-7pm
Sunday 12pm-4pm
Christmas Eve 10-am-3pm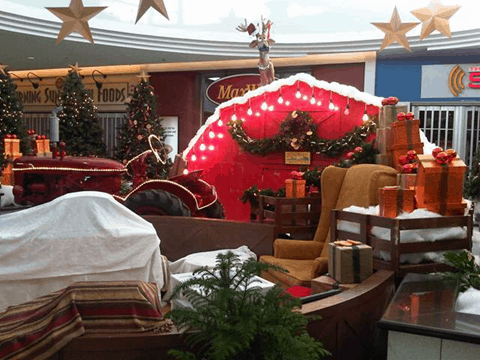 Where is your favorite place to take your kids for photos with Santa? Do you have any additional tips or information about these mall Santas? Write your thoughts in the comments below!