Location   map
Prince's Island Park (Just North of downtown) (Playground is in the Centre of the Island near the bridge on the North side).  It is not possible to get to the playground without a bit of a walk.
Eau Claire Plaza 3 St. & Riverfront Ave. S.W. (by Eau Claire market – 200 Barclay Parade S.W.)
Parking: At and around Eau Claire market (Eau Claire parkade has $2 parking on the weekends) or in the parking lot off Memorial Drive just East of 3rd St. NW.($.050 per 30 minutes for the first 4 hours).
Eau Claire Wading Pool and Toddler Playground
The wading pool is typically open from June 1 until Labor Day. Open 9am-9pm.
Gordie's Review (2 years old): It was cold.
Age Range: all ages.
Ground Cover: recycled tire tiles in the playground and painted cement in the pool areas.
Features: 2 Wading pool areas. Pool A has a small sprayer in the centre. Pool B has shallower and deeper areas, a small water sprays and 3 water sprayers that can spin. The toddler playground has a toddler climber with 3 slides, 4 seater bouncer, 2 dinosaur climbers and 2 mushroom seats. Washrooms, water fountains and treat concessions are open seasonally.
Accessibility:  Pool B would be accessible from the west side of the pool. The playground has accessible flooring, but nothing that could be accessed.
Shade: There are a number of large mature trees that provide good shade.
Surrounding Park Area: The surrounding area is more of a plaza than a park. It has has outdoor festival area, amphitheatre, eau claire market (great indoor playground). It is just a short walk across the bridge to get to Prince's Island Park.
Seating: there are a number of benches as well as concrete walls you can sit on.
Overall assessment: This was a lot of fun. The flooring in the wading pools isn't slippery and only gets to be about knee height for a 2 year old so Gordie felt comfortable walking around by himself (once we had been there for a little while). The playground is right next to the pools so the little kids can easily switch from one to the other. The area is fairly compact so unless your kids are quite young you can probably comfortably supervise them from one spot.
The water features are not phenomenal, but there are a couple of small water features and 3 (there used to be 4) sprays that you can spin around and try to use get your friends wet. They are set up sort of like a water cannon, but are a lot more gentle than that would imply. Gordie was even tall enough to spin them around.
If you are thinking of going here, I'd highly recommend planning on taking the short walk across to Prince's Island too (more on Prince's Island Playground below).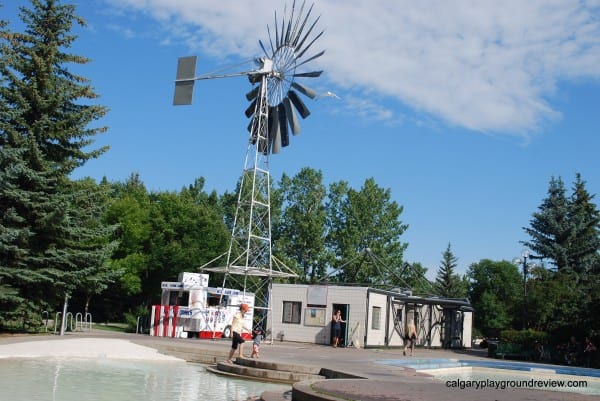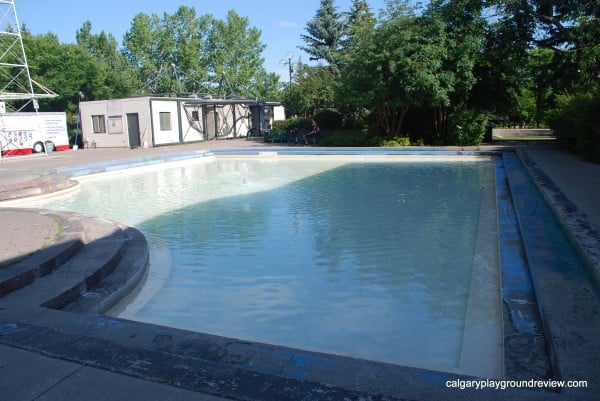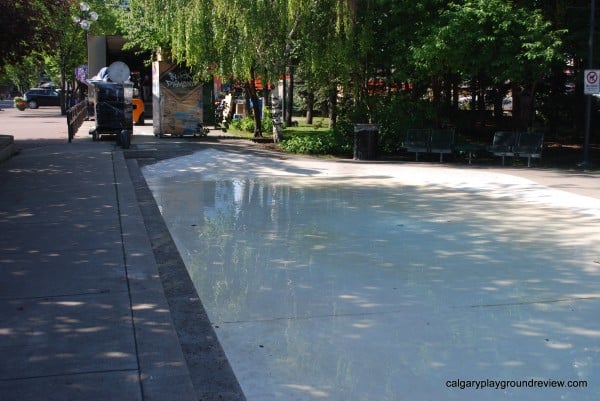 Prince's Island Park Playground

Gordie's Review (2 years old):The train!
Age Range: 2-12.
Ground Cover: Recycled tire matting underneath the toddler play structure and gazebo; pea gravel by the older kid play structures and swings.
Features:  Toddler play structure with 2 slides; Small Gazebo for imaginative play; Train with two cars play structure with 3 slides; large Fort play structure with 3 slides; Monkey bar area; 2 medium size spinners and 1 extra tall spinner; 6 swings (3 infant swings); three bouncers (2 toddler).
Surrounding Park Area: Prince's Island Park has some rolling hills and lots of grassy area with mature trees. Great duck and goose watching along the south side of the river. To the East of the Island is a wetlands area where you can sometimes see beavers. Easy access to Eau Claire Water Park and Eau Claire Market.
Shade: Well shaded by the spinners and swings, as well as in the grass surrounding those areas. Great if you have a child too small to play on the playground or bigger kids who can play independently.  Small amounts of shade in the rest of play areas.
Accessibility: Okay access to the play area; can go right up to the play structures on the recycled tire flooring, but not too much available for play on the ground level except for the gazebo. There are a few things that bounce, swing or spin for kids who benefit from vestibular stimulation. The river is close by and there is no barrier, so this would not be a good choice for a child who wanders.
Seating: 5 benches, many picnic tables in the nearby park area.
Overall assessment: This is a great place to spend a day at the park for kids of all ages. I would definitely suggest you consider making the short trip over to the Eau Claire water park (described above) while you are there.
Built in 2003, the playground has a Calgary theme which I love – and is one of the biggest playgrounds in the city. Last year Gordie spent more of his time walking around the perimeter of the playground, but this time he had a great time on the train and fort climbers.
The downside to this park is that you can't get to it without going for a bit of a walk and you pretty much have to pay for parking.  But it is definitely worth the trouble.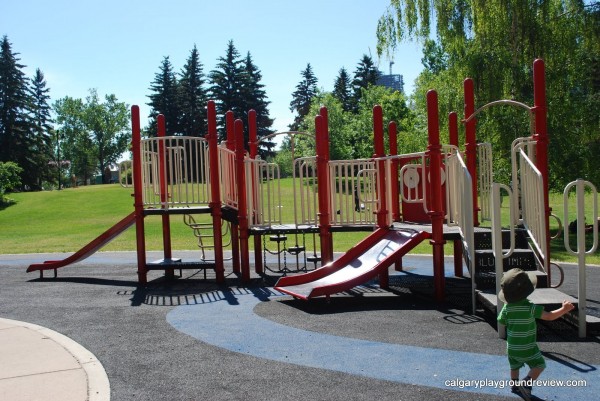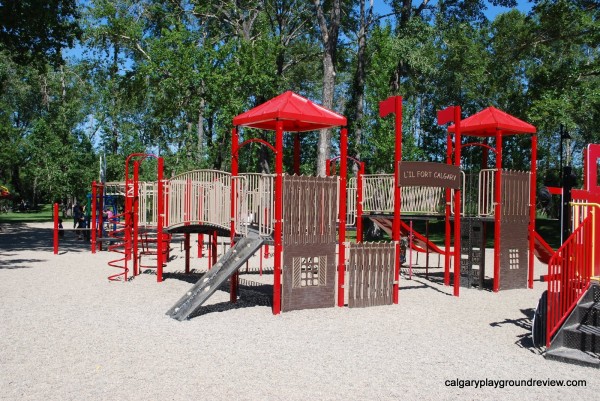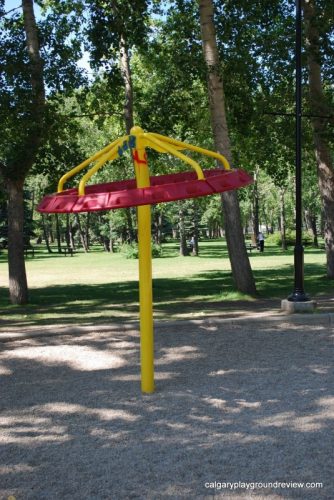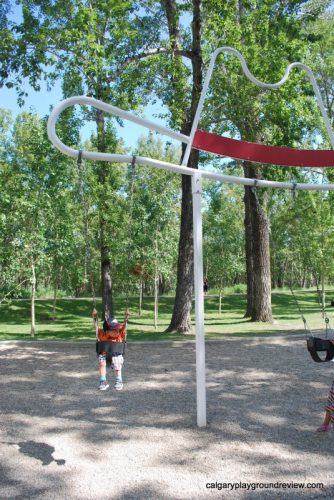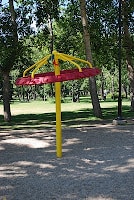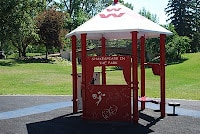 Have you been to this playground? Have a suggestion for a playground review? Would you like to write a guest review? Write your thoughts in the comments.