Stir Crazy has closed permanently as of June 2015.
Location         map             http://stircrazy.ca/
Community – Sunridge – 3355 Sunridge Way N.E.
Gordie's Review (4.5  years old) – "The climber was the best."
Nicky's Review (2 years old) – "Come on! Let's go!"
Cost: 1-3 years – $$9.49, 4-17 years – $11.49, Adults and babies (under 12 months) are free. Annual passes are also available at $124.99 per child and are available all year.
Age Range: This play area is geared towards kids 12 and under.
Footwear: Socks are required for kids and adults. Socks can be purchased at the front if you forget.
Safety Features/Concerns: No adult is allowed past the gate who is not accompanied by a child. All parents and children are stamped with matching numbers on the wrist that are checked at the exit..
Play Area Features: giant indoor play gym; toddler play area (ages 3 and under);  Large bouncy castle (ages 6+); small bouncy castle (ages 3-5); loony operated rides; coin operated mini arcade.
Food Services: Cupcake counter and concession – select pre-prepared and pre-packaged food at the counter and from the fridge including sandwiches, wraps and salads. They also offer hot items such as mini-pizzas to their menu.
Additional Services: Birthday parties; cake service; balloon service; loot bags; cake pan rental; face painting and glitter tattoos; classes and events. Lockers can be rented for $1 a day. There is a private nursing room off the toddler play area and Wi-fi is available.
Overall: Stir Crazy has made a few changes since my last review. The Mellow Yellow room which used to have quiet play toys has now been converted to a party room. Some of the toys from the old Mellow Yellow room like the kitchens are now part of the Toddler Play Area.
My husband and I took the kids for a visit on a Saturday evening. The place was quite busy but not so busy that you were unable to find a place to sit.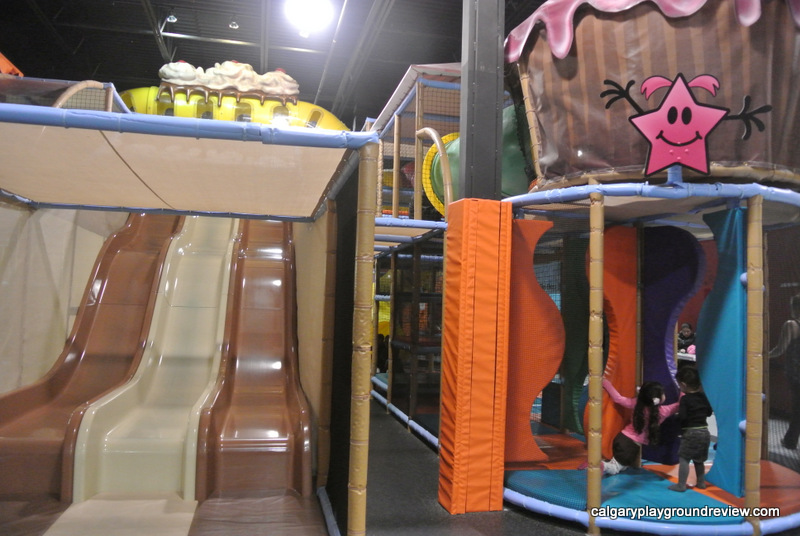 The main attraction is the big climber. It's designed to be accessible to adults – and there are many sections that you can walk through. The visibility is pretty good too and if you lose track of your kids it's small enough that you will be able to find them fairly quickly. The equipment is no longer new and you can see in a few areas that some of the materials are showing some wear and others have been recently replaced.
Gordie at almost 5 can navigate the climber with ease – although he sometimes enjoyed our company, it can be really hard to keep up with him. He loved the climber. He didn't want to leave.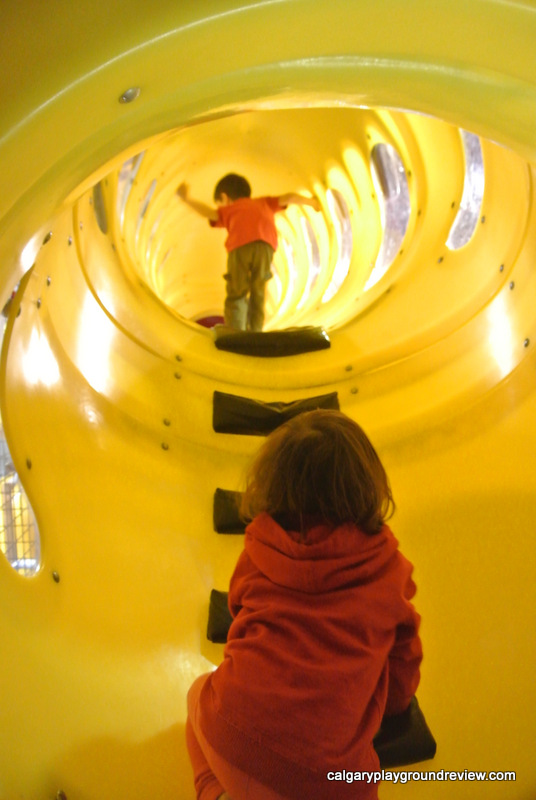 Nicky (at almost 2) still needed someone to go with her – they recommended kids under 3 are accompanied by an adult. She loved it. She started to get super excited just seeing Stir Crazy from the outside.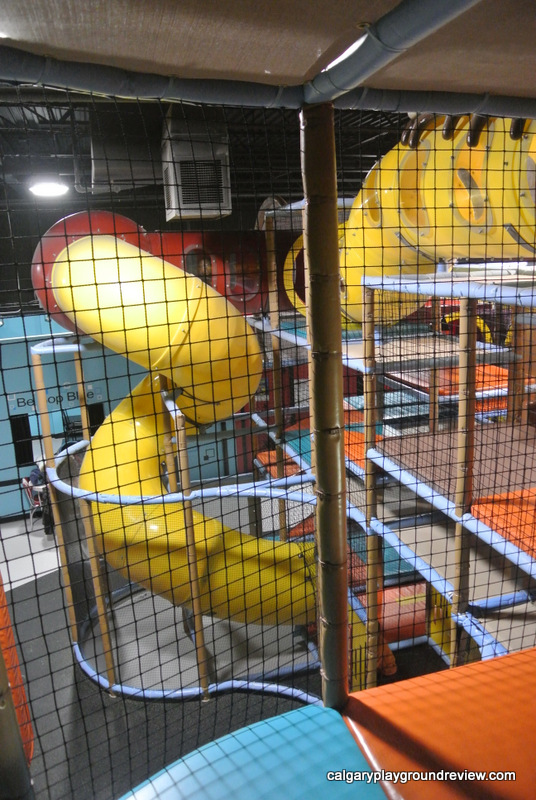 Neither of the kids were keen on the slides on this trip but I know from previous visits that they are both a lot of fun. I don't recommend the twisty slides for grown-ups though, I've found it to be a bit of an awkward ride down.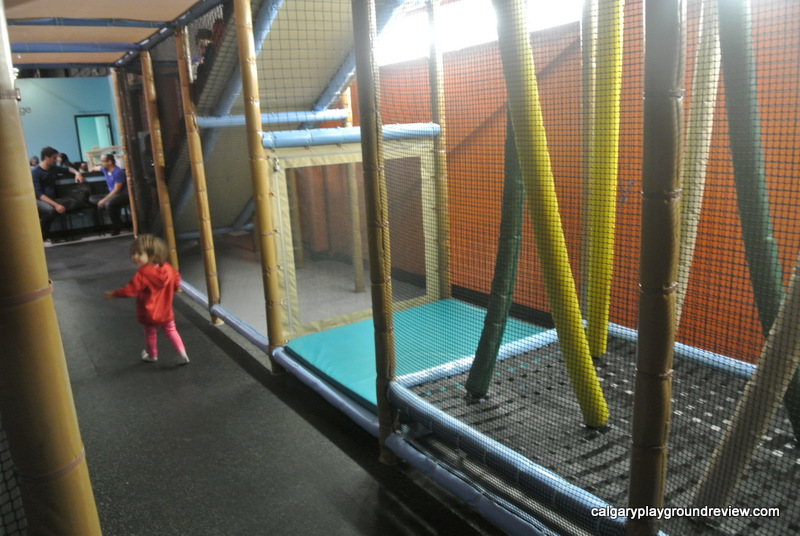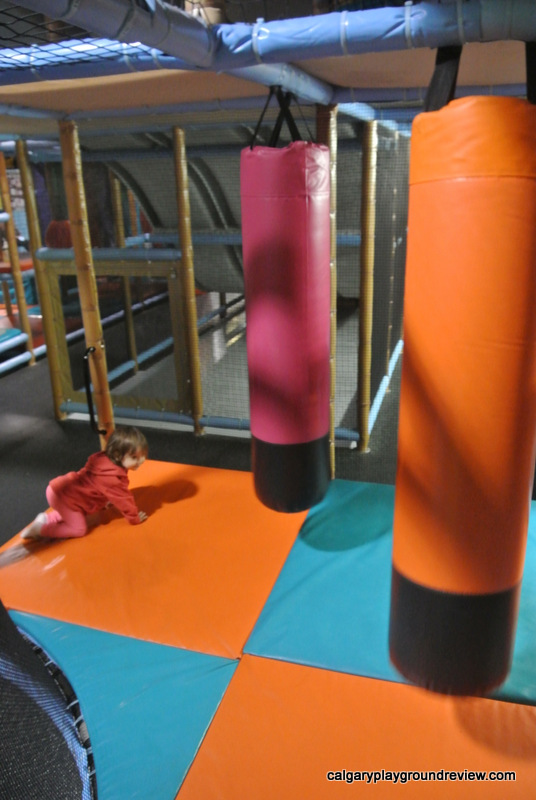 The Tot Lounge is designed for kids 3 and under. It has nice comfy chairs that you can sit in while you watch your little ones which are great for nursing too.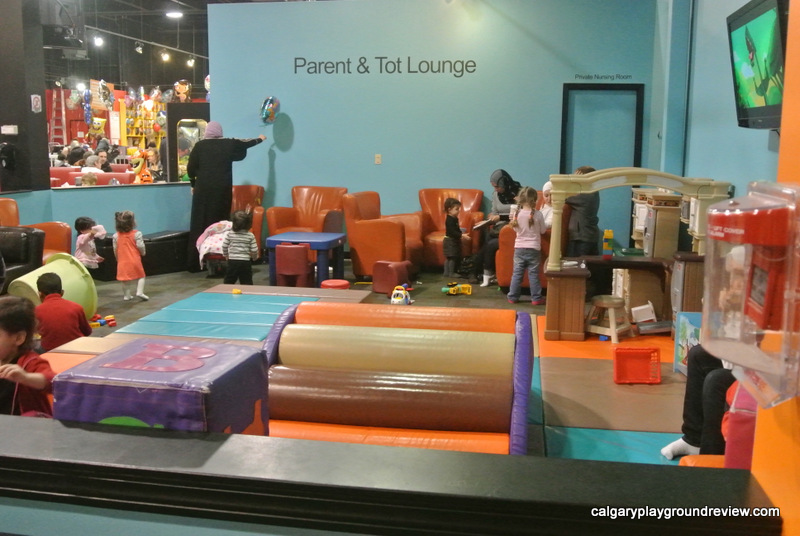 Nicky played in this area for a few minutes at the end of our visit and for a while at the end when she was starting to get a little tired. She enjoyed playing with the kitchens but wanted to spend most of her time on the big climber.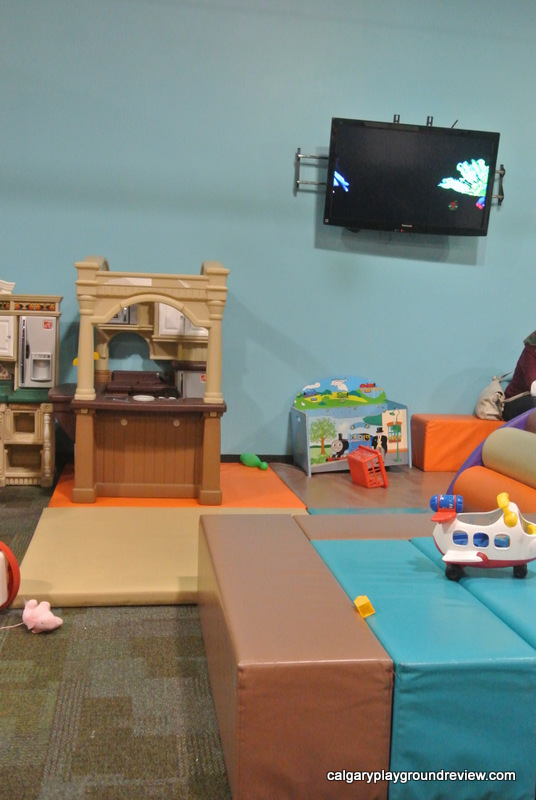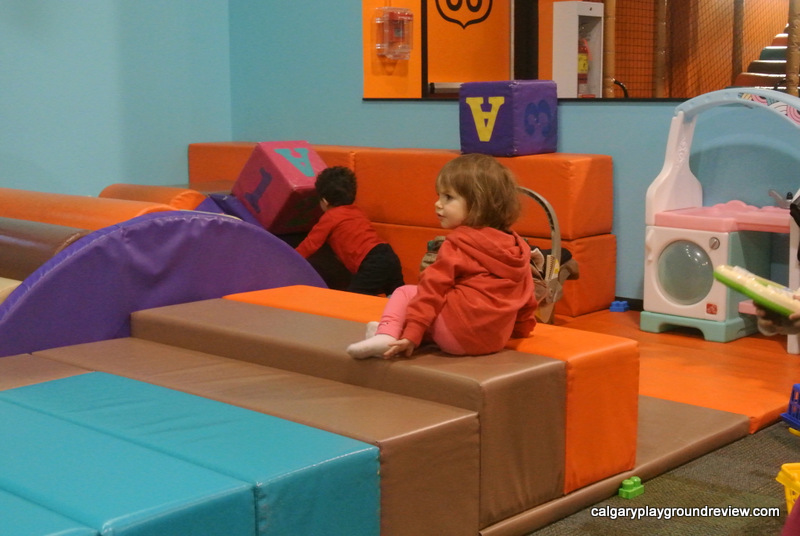 There are two bouncy castles at the front entrance. The smaller one is for kids 3-5 and the larger one is for kids 6 and older. Gordie bounced around for a little while but didn't stay long.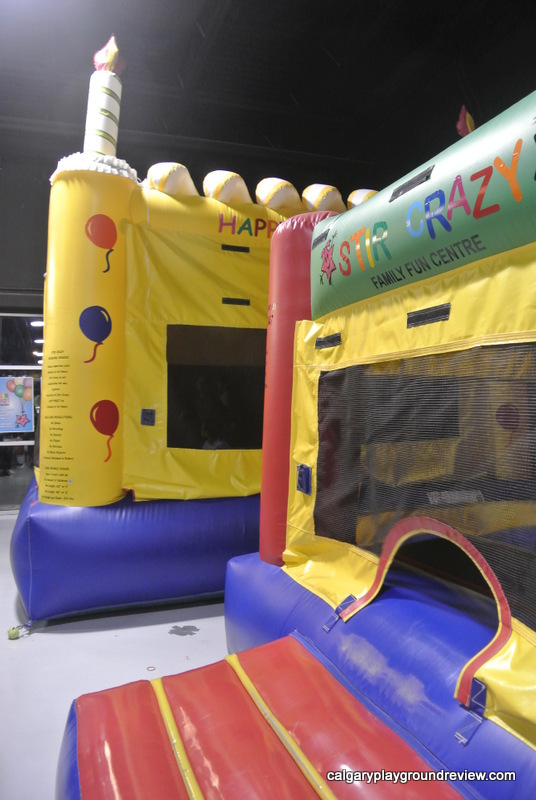 In addition, there is a games room with coin operated arcade games and some coin operated rides (like the ones at the mall).
We didn't stay to eat on this visit. The eating area has a cute 50s theme and I've enjoyed the sandwiches, wraps and cupcakes that I've had there in the past.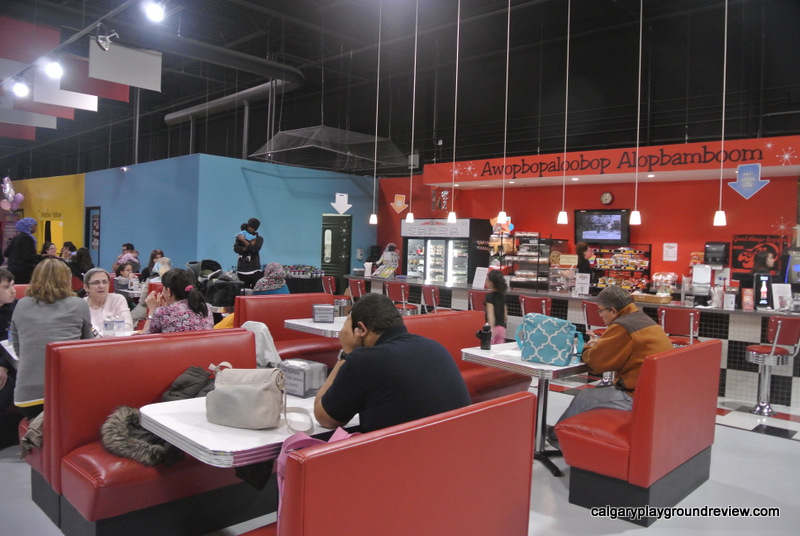 We always have a great time at Stir Crazy and this time was no exception. The kids both had a ball and would have stayed even longer if I had let them. I was happy to let them run off some energy out of the cold.
You may also be interested in reading my previous review of Stir Crazy Family Fun Centre.
Have you been to Stir Crazy? What did you think?