Location    map      http://www.superduperplayground.com/
Address: 2020 32nd Avenue NE.2N20 32nd Avenue
Gordie's Review (5  years old)– "I liked the motorcycle best." (It's just a trike-style ride on toy)
Nicky's Review (2 years old) – "My pink car" (She liked the pink cozy coupe)
Cost: under 2 is $4, 2-3 years $6, and 4+ $10 but includes a free sibling under 2.
Age Range: Best suited for kids 0-7 but older kids are allowed as well.
Footwear: Socks.
Safety Features/Concerns: Families will receive wrist stamps and must check in and check out upon entering and leaving.
Play Area Features: Fenced Little Ones area with small toys for babies and small toddlers. Climber with triple slide. Small soft climber with balance beam and small slide.  Ride on toys. Tire climber. Play tents. Play kitchen.
Additional Services: Birthday Party Rooms. You can visit Best Birthday's for more information about having a birthday at the Super Duper Playground.
Food Services: Cafe with organic coffee and tea. Sandwiches pre-prepared on site and baked goods that were cooked on site. They also have a small selection of other food and snacks.
Overall Assessment: Katie from Best Birthdays and I went to the Super Duper Playground on a Tuesday morning only a few days after it first opened. It was fairly quiet  when we first arrived but by 11am it had filled up and was busy though not uncomfortably so.  Our kids ranging in age from 1-5 all had a great time and Katie and I did too. This play place is generally aimed at a bit younger kids than some of the larger indoor play centres in town, but it has a lot more space than 'Coffee and Play Centres' typically do so it can accommodate older kids much better. The visibility from the seating area is great though, you can basically see everything from any table and can easily keep an eye on your kids while you have coffee with a friend.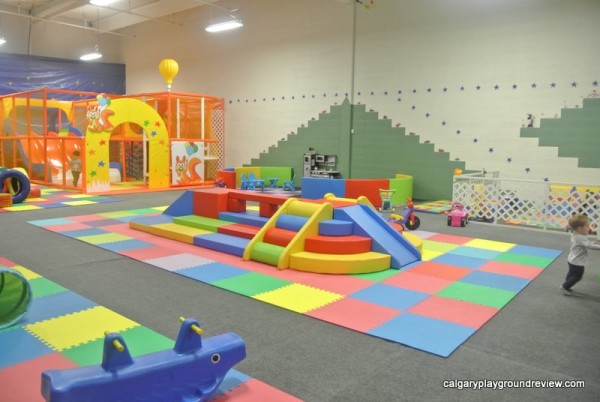 In the centre they have a toddler climber with slides on both ends. The kids loved walking across the balance beam. Nicky thought it was hilarious to 'slip' at the end and then go down the slide in a controlled fall.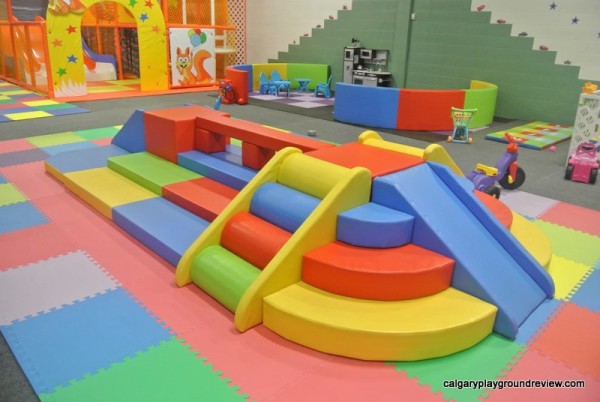 At the far end on one side they have a small climber with a triple slide. The slide goes fairly fast – but even pretty little kids should be able to navigate the climber without you having to crawl in with them. There's a fair bit of clearance inside though so if you want to go in too you can.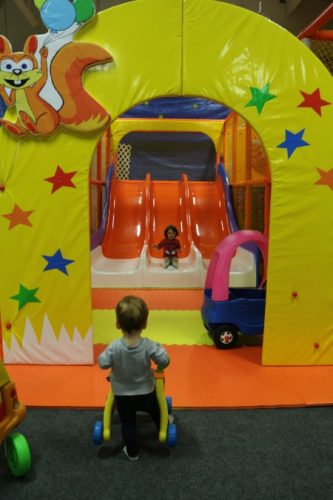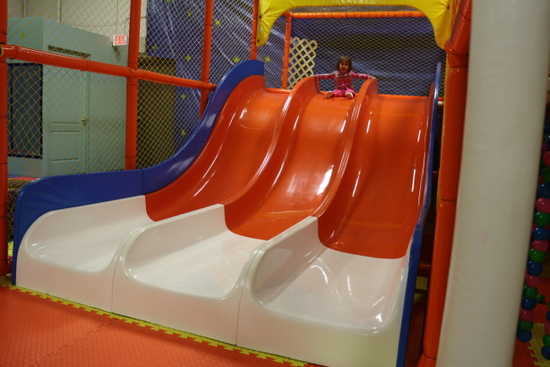 Underneath they have ball curtains and a hula hoop obstacle course. I wouldn't be surprised if this changes a little bit over time as some of the balls were getting ripped down and the kids seemed more interested in riding the ride on toys through there instead of using it as an obstacle course.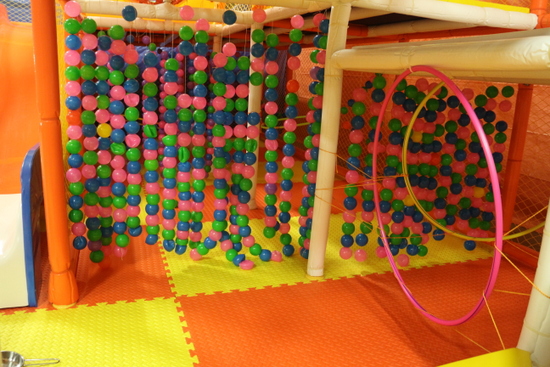 On the top of the climber they have fun things for kids to climb and crawl through.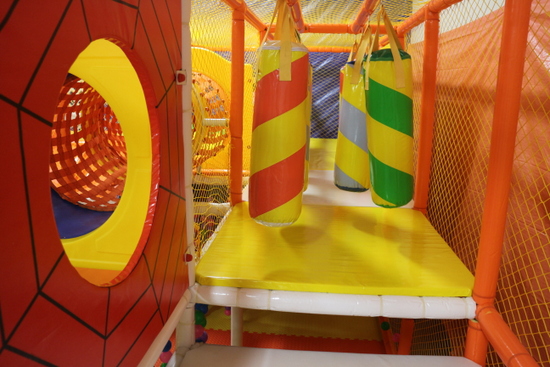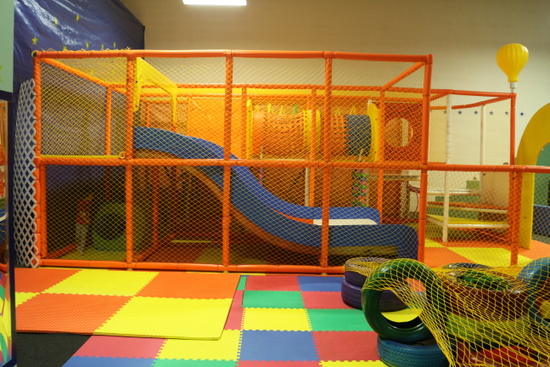 Beside the climber they have a set up made out of upcycled painted tires that the kids can crawl through and over.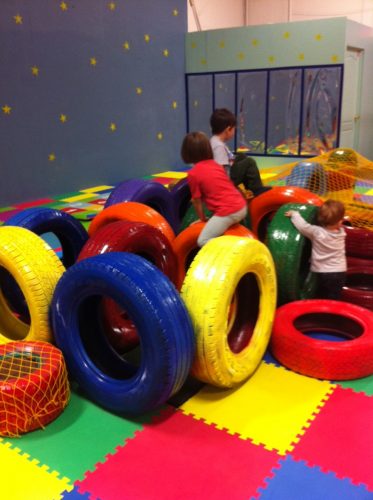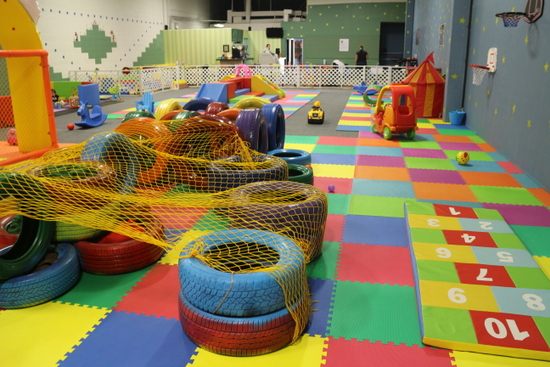 Gordie's favorite part was the plastic ride on toys. They have several different ones and lots of space to ride around on them.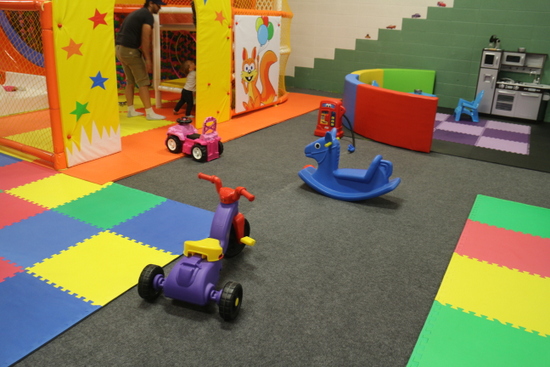 Along one side they have a couple of hoops set up on the wall and a bucket of balls. In front of that they have a couple of play tents the kids can use for pretend play.

On the other side they have a little kitchen area and some cardboard blocks. Nicky loved cooking in the kitchen.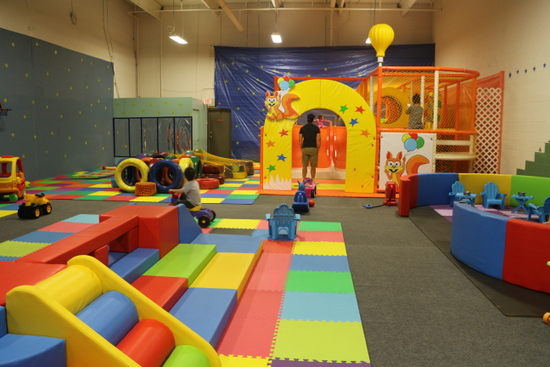 Beside that is  an area designed specifically for little ones. They can play with age appropriate toys without you having to worry about them being bowled over by bigger kids.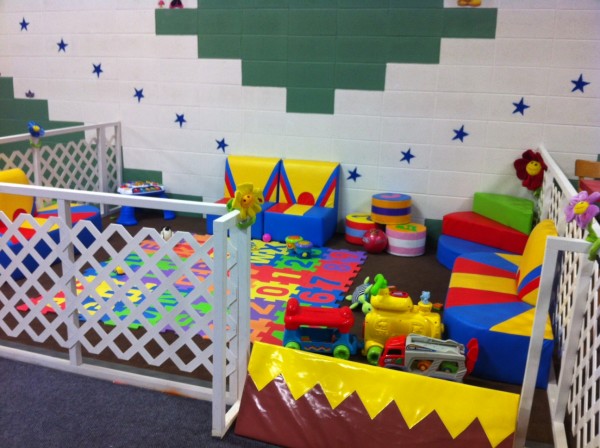 The seating area is near the entrance and has plenty of tables. The best thing about it is that the sightlines are great from every table so you can watch your kids while having coffee with a friend and not have to worry about not seeing them if they need help.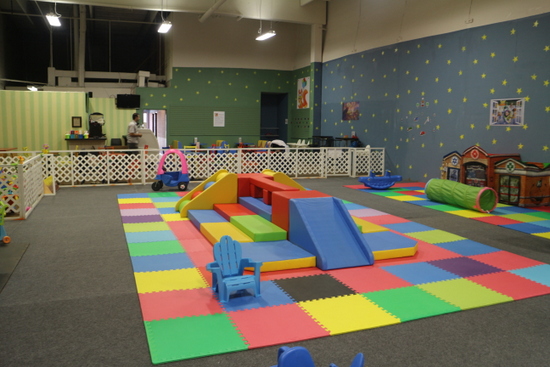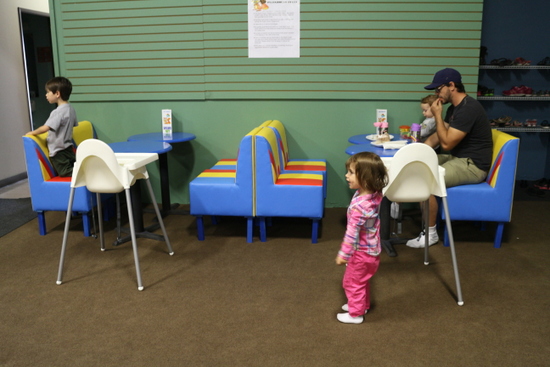 The menu at the cafe isn't huge but the sandwiches are pre-prepared on site, the coffee and tea are organic and the baked good are made on site too.
We ended up staying for lunch. The two kids and I got a veggie cup, sausage roll and a tuna sandwich for $13.65. We didn't have to wait to get the food (which can be really helpful when you have hungry kids!) and the food was nice and fresh.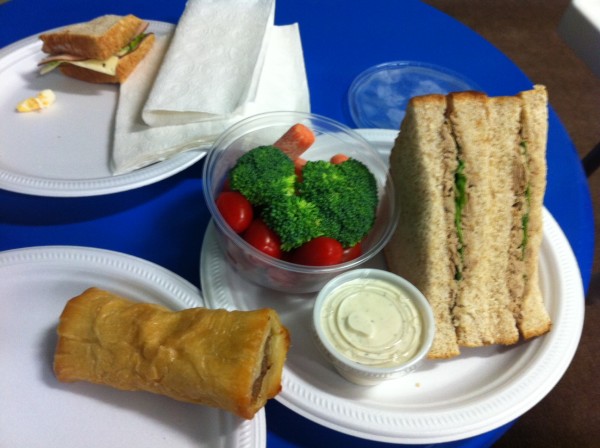 We had a great time at this play place. As a parent, I really liked that I was able to relax, I wasn't worried that my 5 year old was just crashing into the little kids because there was plenty of space and my 2 year old was able to be very independent. I would happily come back to visit with a friend while our kids played.
Have you been to the Super Duper Playground? What did you think?
The Super Duper Playground covered our admission to facilitate this review.  (Going to all these places is fun but it gets expensive!) All opinions are my own. I take my reviews very seriously and always do my best to provide you guys with accurate and useful information.