As of September 2013 the Coffee Tot is seeking new ownership and will be closed until further notice.
Location       map         640 – 26 McKenzie Towne Gate SE
Gordie's Review (3.5  years old) – The castle!
Nicole's Review (10 months old) – Balls!
Cost: 12 months – 4 years: $5.00, 12 months and under free with purchase.
Age Range: 0-4. They focus on toddlers.
Footwear: Socks. Socks are available for purchase if you forget.
Safety Features/Concerns: There is a baby gate at the front entrance.
Play Area Features: Castle climber with small slide, zebra bouncer, ball enclosure (not really a ball pit), zebra bouncer, small train table, foam blocks, dress up clothes, rocking horse, caterpillar tunnel, small climber with slide, many small toys.
Additional Services: birthday party hosting; cafe featuring premium coffee, baked goods, snacks, croissant sandwiches.
Overall: The Coffee Tot has changed hands since we last went there in Nov 2011. Although it is much the same, the new owners have made some changes, particularly with regard to the play equipment.
I met up with a friend and her two small children on a Tuesday morning. I had forgotten about their Toonie Tuesday promotion (which is an excellent deal) – it was quite busy and at first we had to stand as there was no empty tables. It got less crowded (as most play places aimed at toddler/preschoolers do) as it got closer to lunch time.
I had found last year that the play space felt a bit small for Gordie at 2.5, but this year although Gordie was a year older, the set up was better suited for him. It is still aimed at toddlers, and I wouldn't recommend it for kids over 4 but with the addition of the climbers and the removal of the push toys, Gordie was engaged the whole time we were there and did not feel like he was constantly going to knock over the younger kids.
Nicole also had a great time crawling around and picking up the balls from the ball pit.
The play space is quite small, but it is bright with lots of windows. The flooring looks like hardwood but is actually made up of interlocking soft fall mats. There's a couple of spots with comfy chairs as well as a few small tables and highchairs. The visibility is great and I found it easy to keep track of my kids while I chatted with my friend.
There are plenty of coffee options and a limited lunch and snack menu. We stayed for lunch – I had a croissant sandwich and Gordie had the Kraft Dinner. Neither was anything special, but I liked that the meals came with some cut up fruit and vegetables.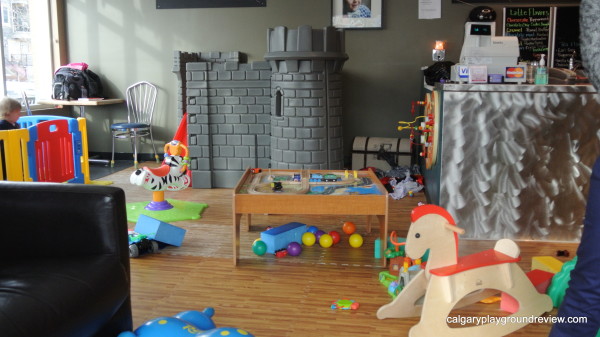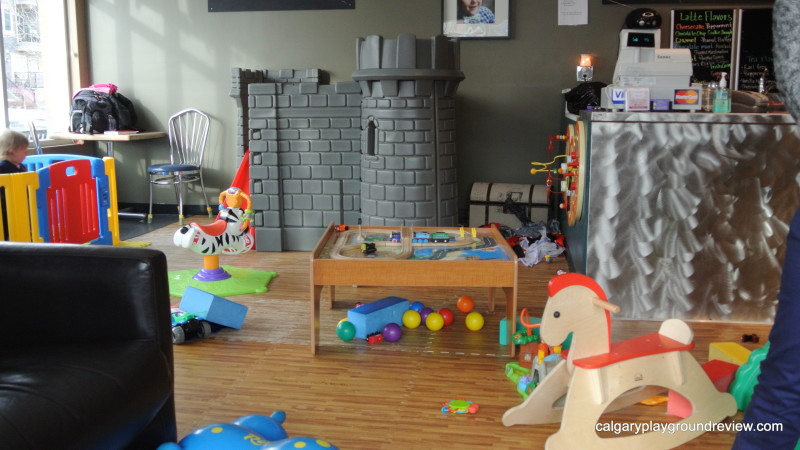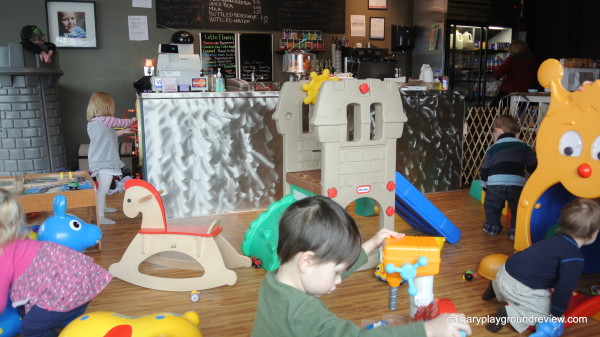 You may also be interested in our 2011 review of the Coffee Tot.

Have you been to the Coffee Tot? What did you think?