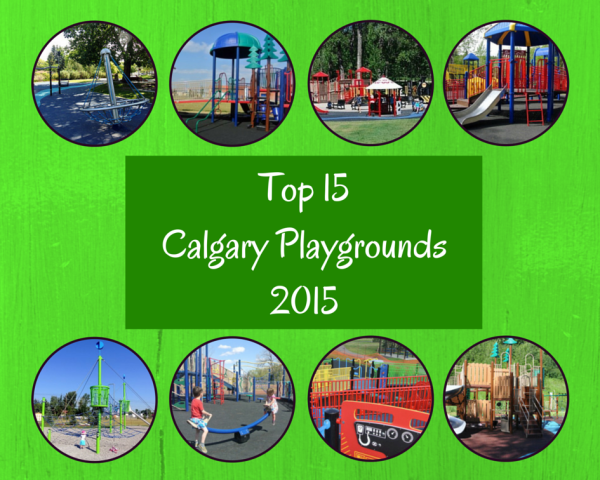 These playgrounds represent some of the best from around the city. About half of the playgrounds are new to the list this year, and about half were also on last year's list of Calgary's Best Playgrounds. Did I miss a playground that you think deserves to be on the list? Let me know in the comments below.
You may also be interested in my other playground lists: Best NE Calgary Playgrounds, Best SE Calgary Playgrounds, Best Central Calgary Playgrounds, Best NW Calgary Playgrounds and Best SW Calgary Playgrounds
Download a printable checklist of the 2015 Calgary's Best Playgrounds Checklist 
Bowness – Bowness Park – 8900 48 Ave. N.W.
One of Calgary's most popular parks for years now has an excellent playground as well. Younger kids will love the ramps and the train structure and older kids will love running up high on the bigger climber.
Applewood – Applestone Park, Applewood Drive SE
Applestone Park has a huge accessible playground with equipment suitable for kids of all ages and ability levels. Hands down one of  Calgary's best playgrounds. I would encourage everyone to make the trip to see it but especially if you have a child with special needs.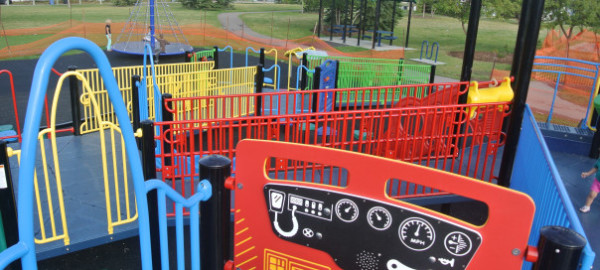 Walden – Walden Dr and Walden Way SE (East of Macleod Trail and South of 22x)
More than one person has told me this playground should be on my top 15 playgrounds this year. The equipment is fantastic with unique features but it's the bridge and large trees that put it over the top.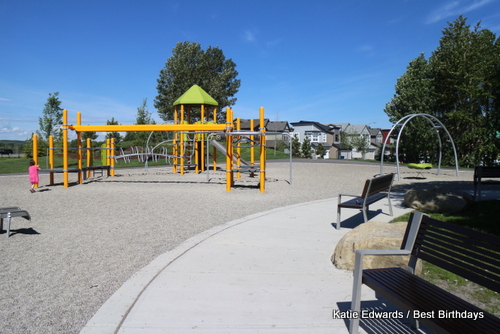 Cliff Bungalow (by Mission) – Cliff St and 22nd Ave SW
One of the prettiest playgrounds in the city, this playground has a forest theme and features accessible flooring and challenging climbing equipment for big kids and little kids.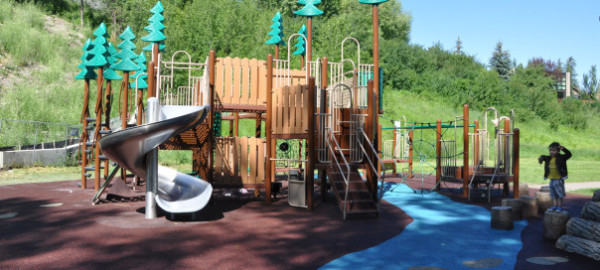 Location: Prince's Island Park, just north of downtown.
This is a definitely a destination playground. The surrounding park area is gorgeous, complete with pathways, mature trees and the surrounding river. During the summer months you can also walk over to the wading pool at Eau Claire. The playground itself is one of the largest in Calgary with something for everyone. The Calgary theme completes the package.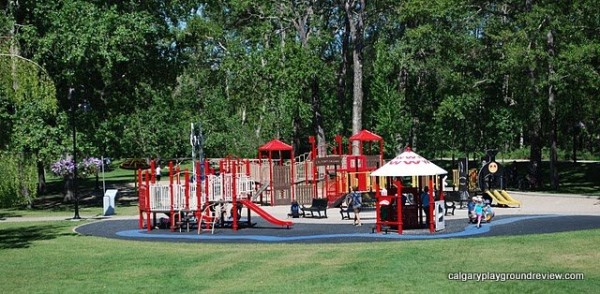 Deer Ridge – Deerview Dr. SE and Deerview Pl. SE
This playground is huge with lots and lots of yellow slides. There are tons of different kinds of climbing features and multiple things for kids to bounce, jump and swing on. This playground would be great for groups with a wide age and ability range as there really is something for everyone.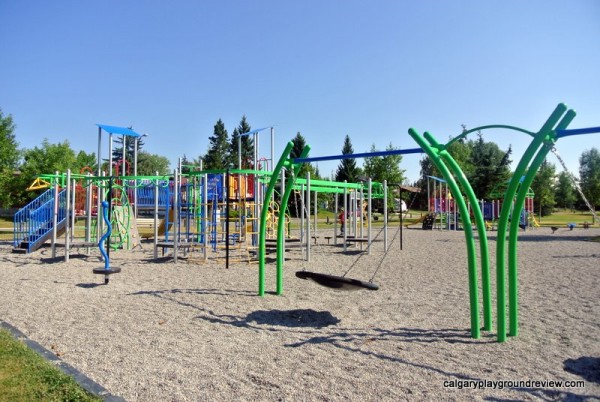 Elboya – 46 Ave & 4a St. SW
This playground is big and bright and sure to please. The playground has accessible flooring, and plenty of equipment for both older and younger kids. Making the playground even better is the landscaping surrounding it including small hills, rocks, pathways and trees.
Forest Lawn – 52nd St SE between 8th Avenue and 14th Avenue.
This attractive playground has a great ramp system perfect for young kids or anyone unsteady on their feet. Parents and bigger kids will love the ease with which they can get around.
Westwinds/Castleridge – 233 Castleridge Blvd. NE.
Located on the South side of Prairie Winds Park this playground features accessible flooring, saucer swings and a huge Merry-go-round spinner (Apollo).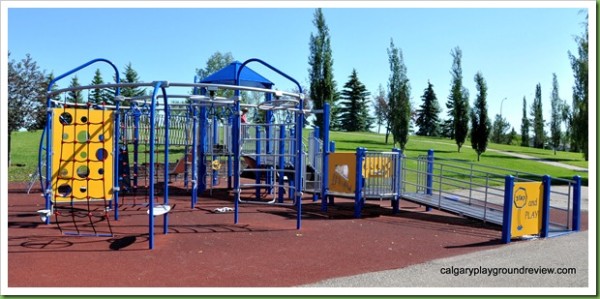 Inglewood – 14th St and St. Monica Ave SE
This playground is within a beautiful little park with large mature trees. The park has a real community feel with picnic tables, a gazebo and outdoor carpet flooring making the play space accessible to everyone. This is one of the first playgrounds I reviewed and it is still one of my favorites.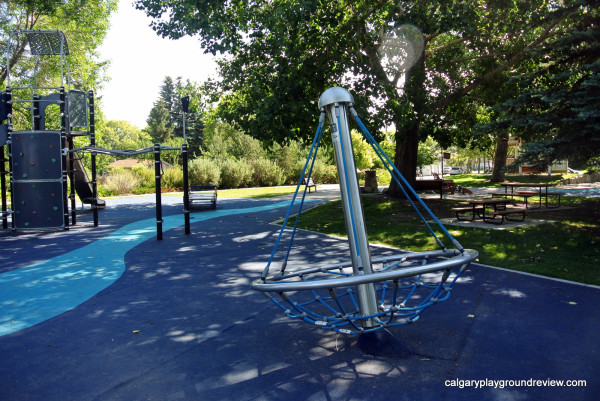 Dover- 28 St and 30 Ave SE
This beautiful park has two fantastic playgrounds both with accessible flooring. The preschool playground is inside a fenced area along with a spray park. The school-aged playground is just up the hill and has equipment that will challenge and entertain even your biggest kids.
Hillhurst – 800 12 St. N.W (South of SAIT)
This playground is located in one of my favorite Calgary parks, featuring beautiful rock gardens and a lovely wading pool. With the addition of this new playground, the park is even better. Little kids will love running up and down the ramp, bigger kids will like challenging themselves on the rope bridge and going down the tall slides.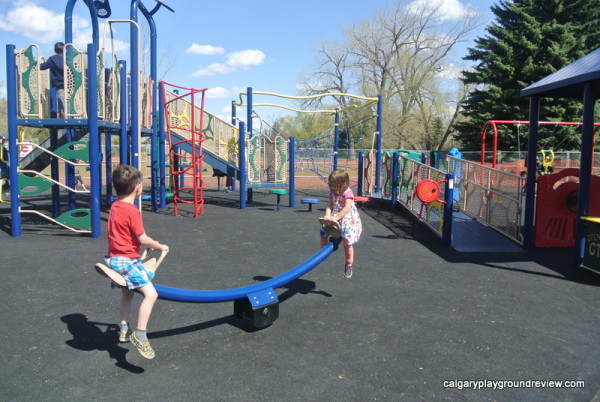 New Brighton – 2000 Brightoncrest GRN SE
Featuring accessible flooring and a cute treehouse theme this playground is sure to spark your child's imagination.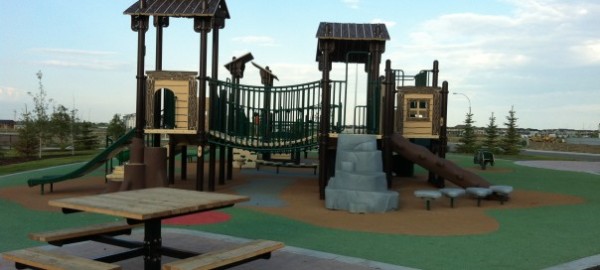 Inglewood – 1921 9 Ave SE
There aren't many school playgrounds that make the list but Colonel Walker School Playground is really unlike any other in Calgary. It's hard to show in pictures just how high the slide and rope bridge on this playground really is. Preschoolers and toddlers will generally find this playground too challenging but older kids are sure to be impressed.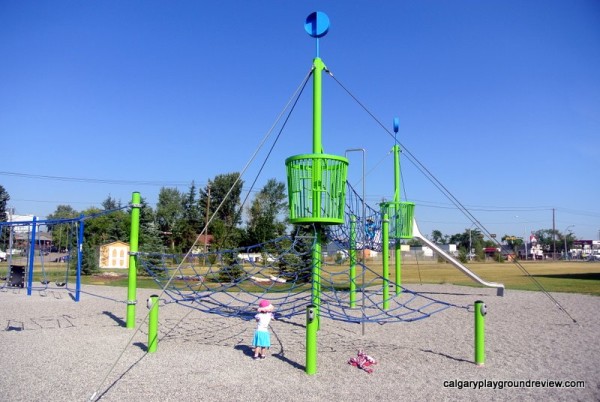 Vista Heights – 1820 Valleyview Rd NE
This playground is geared towards toddlers and preschoolers. It features accessible flooring, a cute jungle theme and equipment perfect for their smaller size.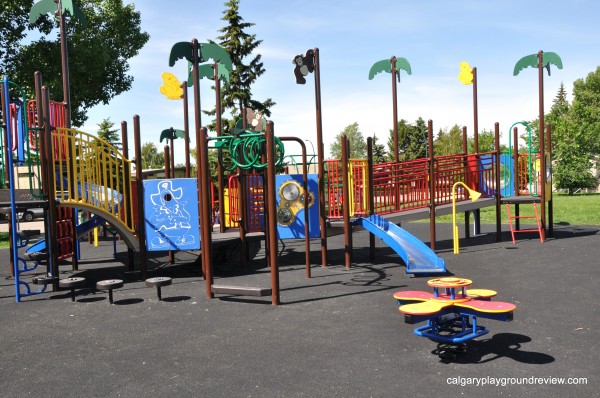 Honorable Mention
Irricana – 1st Avenue between 4th and 5th St. (approximately 25 minutes East of Airdrie)
This playground is located outside Calgary, but it is one of the coolest playgrounds I have seen lately. It has a very attractive prairie theme with a grain elevator, train and dump truck climbers.  The slide is taller than most and inside the grain elevator you can climb up and peek out the highest windows.  Behind the playground you can see trains go by.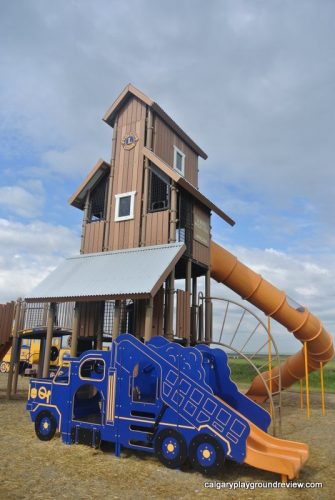 Download a printable checklist of the 2015 Calgary's Best Playgrounds Checklist 
Follow me to get more ideas for great places to play in Calgary:
More lists you may like: