I've gone back over all the playgrounds in Calgary that I have reviewed so far and picked 15 of my favorites. I've listed them all below in no particular order with a picture and short description. Click on the playground's name to get to the full review.
You may also be interested in checking our my Calgary's Best Playgrounds 2013 list.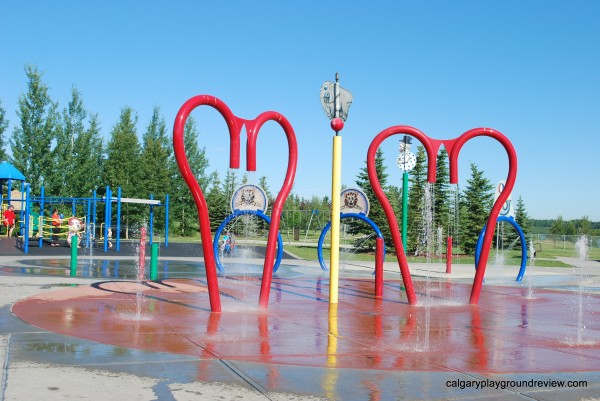 Address: 90 Ave. & 24 St. S.W.
This large playground has accessible flooring throughout and includes a wheelchair accessible spray park in the summer months in addition to the preschool and and school-aged play structures. This is one of the only playgrounds in the city where the school-aged play structure has ramps. With the addition of the pathways along the water the large gazebo and plenty of picnic tables it makes a great choice for a family day at the park.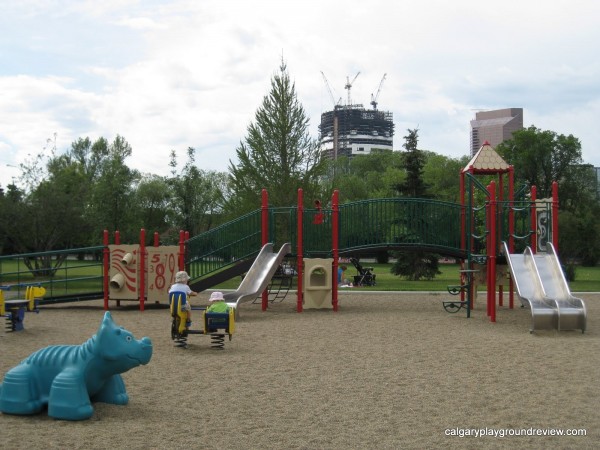 Address: Crescent Heights – 617 1 St. NE.
Rotary Park has a big toddler play structure with some of the best musical panels anywhere and a 'telephone' that works amazingly well. The bigger kid play structure has a lot of different climbing features including a large climbing wall. To top it all off they even have a brand new spray park just behind the playground during the summer months.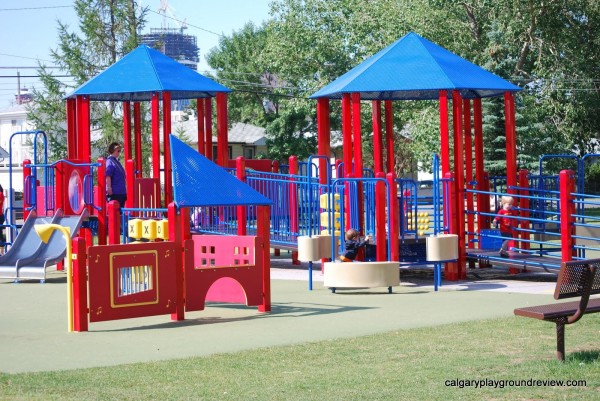 Address: Renfrew – 811 Radford Road N.E. (Beside the Renfrew Community Association – NOT the athletic park).
This playground was designed exclusively for children 5 and under. With safe fall carpet flooring and ramps there is no better playground for early walkers and even crawlers. More proficient walkers will love the independence they can have on the wide variety of equipment that is just their size.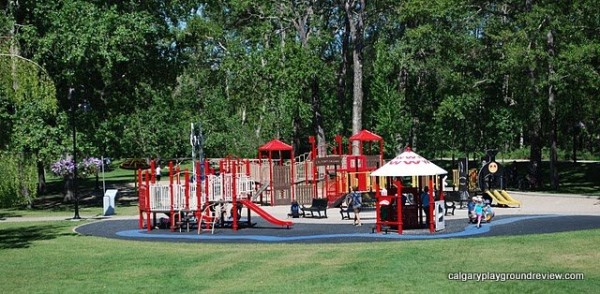 Where: Prince's Island Park, just north of downtown.
This is a definitely a destination playground. The surrounding park area is gorgeous, complete with pathways, mature trees and the surrounding river. During the summer months you can also walk over to the wading pool at Eau Claire. The playground itself is one of the largest in Calgary with something for everyone. The Calgary theme completes the package.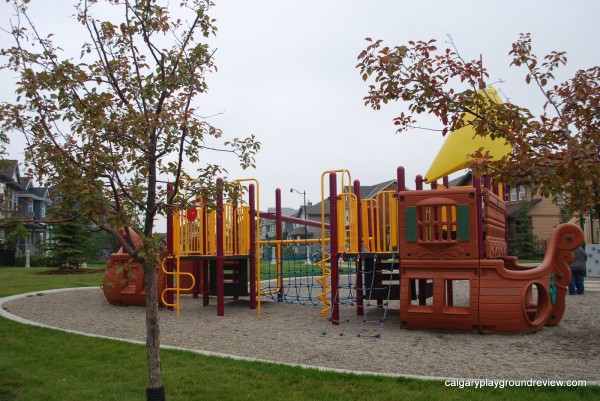 Address: 1 Prestwick Manor SE
Unlike many of the playgrounds on his list, this is located on a very modest park area but it is so unique it still made the list. With a pirate ship play structure on one side and a castle play structure on the other this playground provides an amazing opportunity for imaginative play. Nothing could be cooler than playing in a castle except maybe a pirate ship. This playground is very visually appealing and provides great opportunities for pretend play.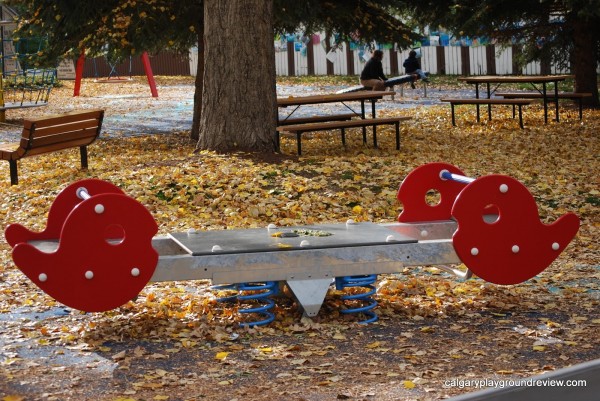 Address: Inglewood – 14th St and St. Monica Ave SE
This park is a real gem. It is truly a community space with a playground that extends throughout the entire park. There is a Gazebo, plentiful seating, beautiful, mature shade trees and soft fall carpet flooring. Children of different ages can play together on most of the playground equipment, just in different ways. It is accessible for children and adults alike with low motor skills.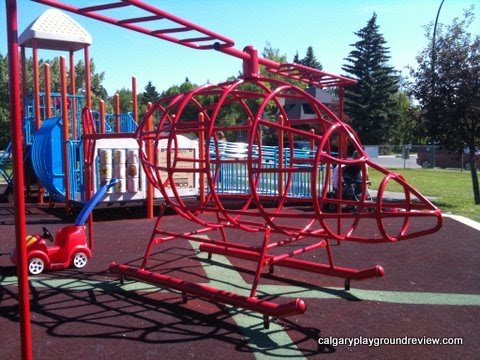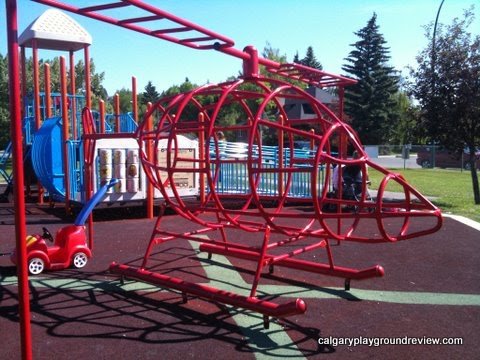 Address: Parkdale/West Hillhurst – 5 Ave and 27 St. NW.
This helicopter themed playground has a big kid and a little kid area (with recycled tire flooring). There's a large variety of different equipment in both areas as well as a large grassy area for running around.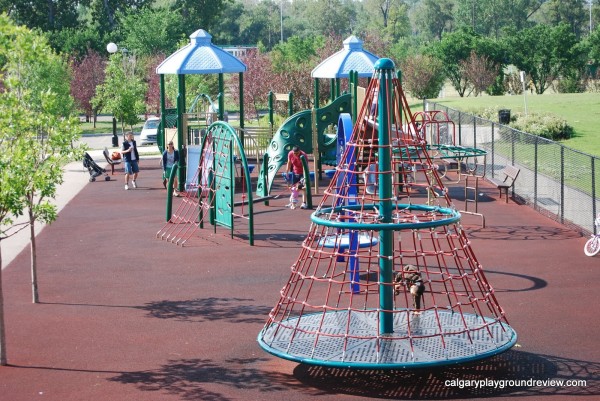 Address: 9th St and Centre Ave NE.
This playground really shows what you can do with a only a modest footprint. It provides lots of different activities for little kids and big kids and with the ramps and recycled tire flooring, it's accessible too. Every community should have a playground this good.
Address: Downtown – 225  13 Ave. S.W. (also known at 13 Ave Park)
This Downtown playground is located in the same park area as the Parks Foundation Calgary office so it's no surprise the playground is excellent. The western theme on the preschool structure provides a great opportunity for imaginative play. Crawlers and early walkers will enjoy the accessible flooring and the ramps. This playground would be a perfect place to take kids with a wide range of ages or ability levels. They'll all be able to have a great time on this equipment.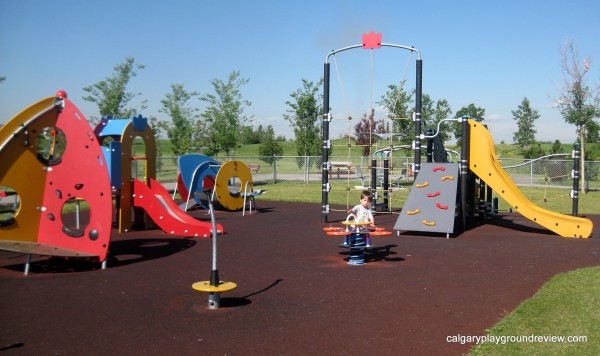 Address: Dover- 28 St and 30 Ave SE
This is a beautiful park with two excellent accessible playgrounds. There is a spray park and preschool playground inside a fenced area allowing for a lot of safe freedom for even the littlest kids. For school-aged kids there is a large playground within sight just up the hill that will both challenge and engage them. Both playgrounds have a type of equipment that is uncommon in Calgary and allow kids to take age-appropriate risks.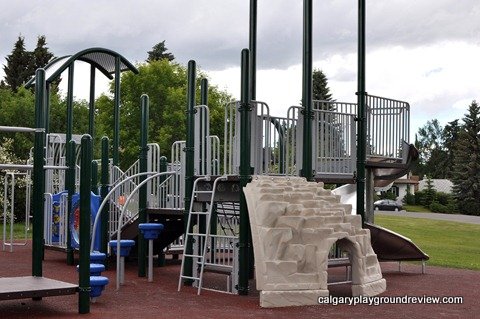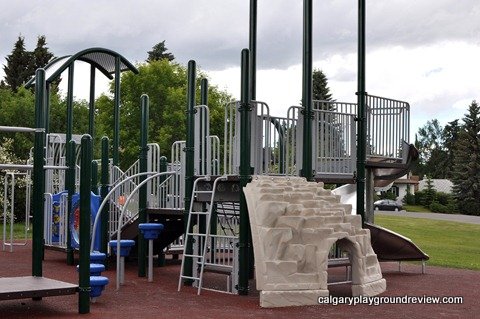 Address: Britannia – Crescent Park & Imperial Blvd SW
This recently developed playground has a lot of variety and will appeal to a wide age range. You could easily have a lot of kids playing on the equipment and not run out of space. The flooring is largely accessible too.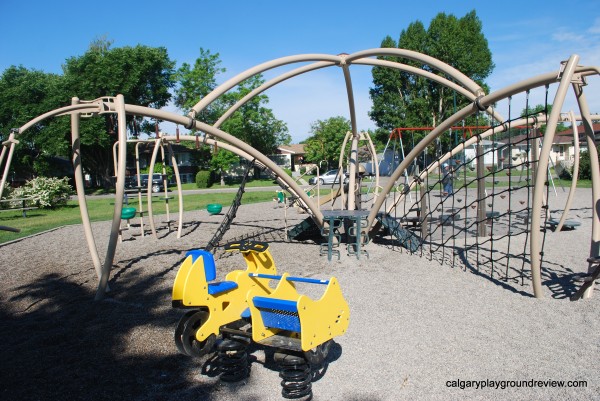 Address: Winston Heights – 22 Ave & 7th St NE
This playground has a sprawling interconnected climber that is unique in Calgary. Although this playground will appeal to younger children, what it really excels at is providing real challenges and group play opportunities for older children. This is not a playground that school-aged children will find boring.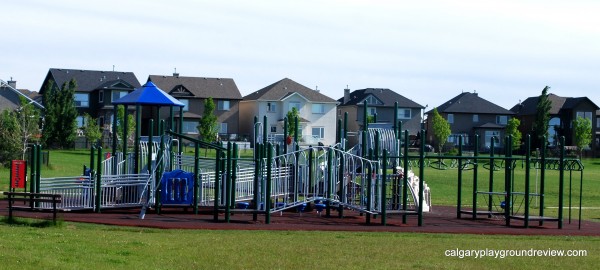 Address: Springborough Blvd & 26 Ave SW
This playground has something for everyone. The largely accessible flooring and ramps make it really great for early walkers and the large climber is set up so kids can get around without having to touch the ground. It also has a really popular spinner which is really easy to turn.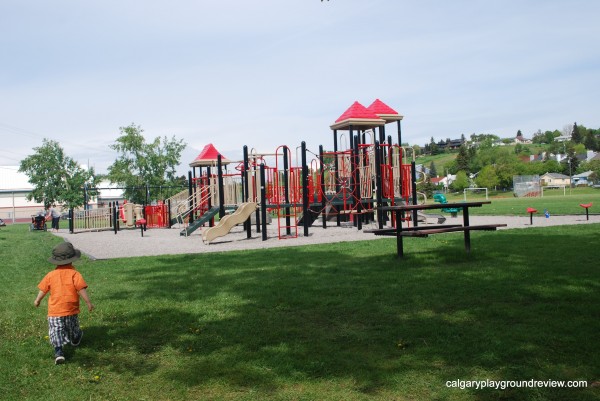 Address: 18th Street & 6th Avenue NW
This is a really well designed playground. It's obvious that a lot of thought was put into the preschool play structure. Nearly everything on it allows two children to engage in the same activity beside each other – perfect for their developmental level. The school-age play structure has a section with a bridge that is over 5 feet tall and has lots of different varied and uncommon features.  Your kids will love this playground.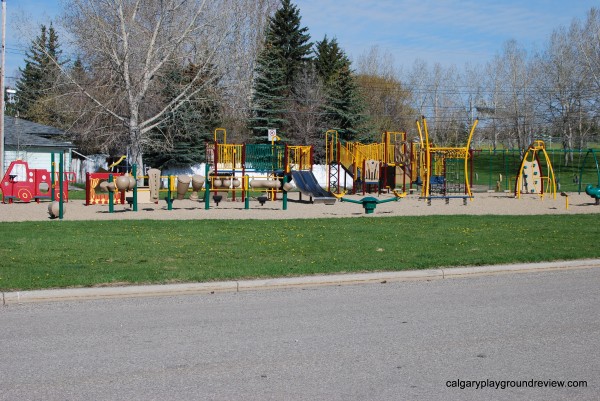 Address: Varsity –  4805 Vegas Way NW
This playground is really a hidden gem. Tucked at the back of the neighborhood on a quiet street it's not a playground that too many people are going to drive by. There is a ton of things for little kids and big kids to play with and a number of playground features like the climbing panel with the circles, tall spinner and musical section that you don't see very often. This playground is definitely worth a visit.
Honorable Mention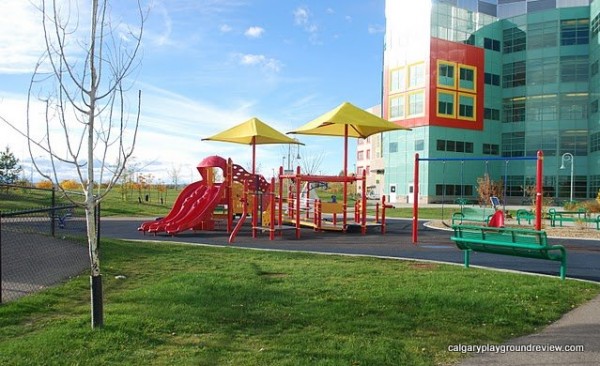 Address: 2888 Shagnanappi Train N.W.
This playground is everything a playground should be. If the parking wasn't 'hospital parking expensive' it would definitely be in my top 5. The stage provides an opportunity for play that I haven't seen elsewhere in Calgary. The flooring and toddler play structure have great are accessible to children with a wide variety of disabilities. The gazebo is impressive and the wide ramp allows people with physical disabilities to get up to a good height. The park area is beautiful with pathways, hills benches and picnic tables.
What was your favorite playground this summer? What makes it special?
Please Note: 
We do our best to ensure the information on Calgary Playground Review is accurate, however information and events are subject to change. Please contact the organizations directly to avoid disappointment.
Can you help make this article better?
If you have noticed an error, have additional information or would like to share a comment you can:
E-mail us at calgaryplaygroundreview@gmail.com
Find us on Facebook: CalgaryPlaygroundReview
Find us on Instagram: YYCdana
Tweet us: YYCdana
We are not affiliated with any venues, attractions or organizations. Please message them directly if you have questions or concerns.