Every year, Thomas the Tank Engine comes to Heritage Park to visit his fans. Clearly, this is a fantastic event for kids. Here's how to make the most of your day.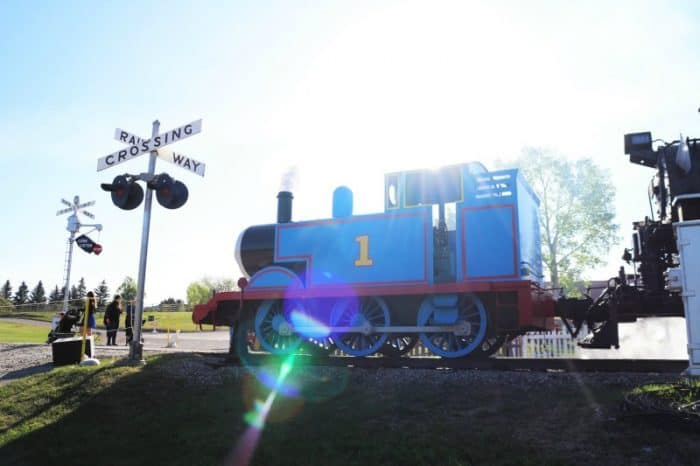 Tickets
For 2016, Heritage Park is down to a limited number of walk-up tickets, which are available at the front gate on the morning of each event (May 13, 14, and 15). Tickets are $23 + GST per person for the train ride and all of the Thomas activities in the park.
If you miss out on those, there are also an unlimited number of walk-up tickets available for park entry only. That means you can take part in all of the Thomas activities, but you do not get to ride the train.
More information is available on the Heritage Park website here. [link: https://www.heritagepark.ca/plan-your-visit/event-calendar/day-out-with-thomas.html]
Parking
This year, Heritage Park has introduced a $5 flat fee for parking. They use the same terminals that you find downtown and at the zoo. There are terminals in the parking lot, but lines tend to form quickly at them. You can also find some terminals at the park entrance if this is the case.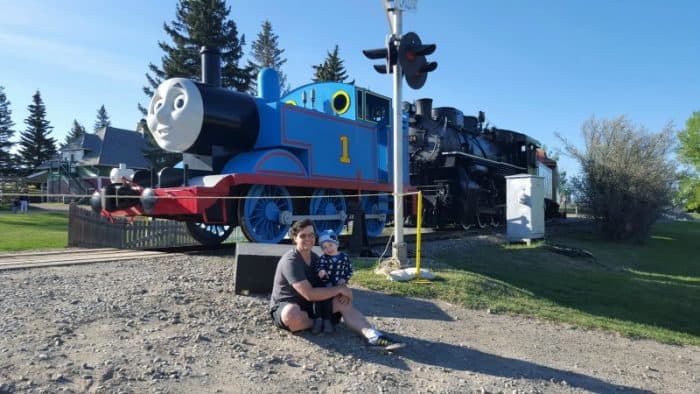 When You Arrive / Thomas Photos
You should try to arrive at the park at least an hour before your train ride is scheduled. The first thing you should do is go see Thomas. He loads and unloads at Midnapore station, and you can walk right up to the front of the train and take your kids' pictures with him. When he sets off, he has a short speech – his mouth moves! You can't hear this from inside the train, and it's worth waiting a few minutes for.
Because the train tracks wind around the park, you'll find that you have lots of opportunities throughout the day for your kids to see Thomas chugging along.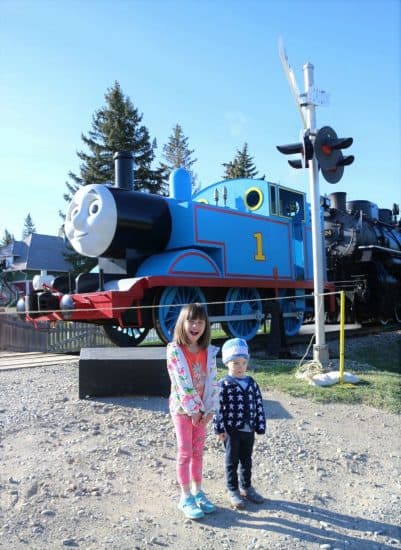 The Train Ride
You should line up for your ride about 20 minutes ahead of time. There is no assigned seating, so pick any line-up you like. I prefer the brown cars because they have bus-style seating and the kids don't need to twist around to see out the windows.
The train does three laps of the park, and the ride is about 20 minutes long. We have young kids (aged 5 and 3), and we found this amount of time was just right. It was long enough to relax and enjoy the ride, and it ended right when the youngest kids were starting to get antsy.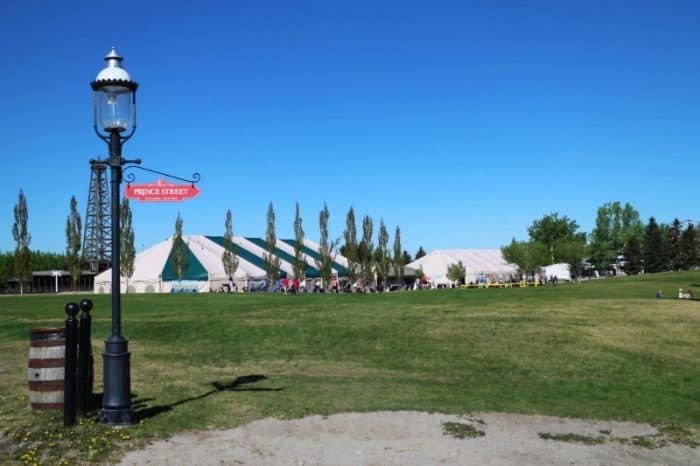 Activities
There are several stations set up with Thomas-themed activities. Your kids will get sheets to stamp at each station, which you can turn in for a prize on your way out of the park (don't stress about this – the volunteers were more than happy to stamp the station we'd missed).
The Thomas stations are: photos with Sir Toppam Hat; the Imagination Station (arts and crafts, temporary tattoos); the Gift Shop; and Storytelling & Videos.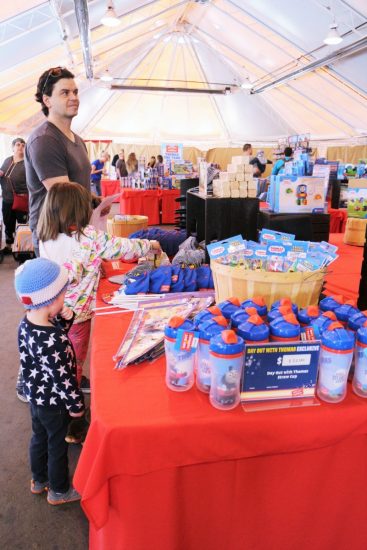 Almost all of these stations are located in large tents that are visible from Midnapore station. The only exception is the Storytelling station, which is in the Opera House.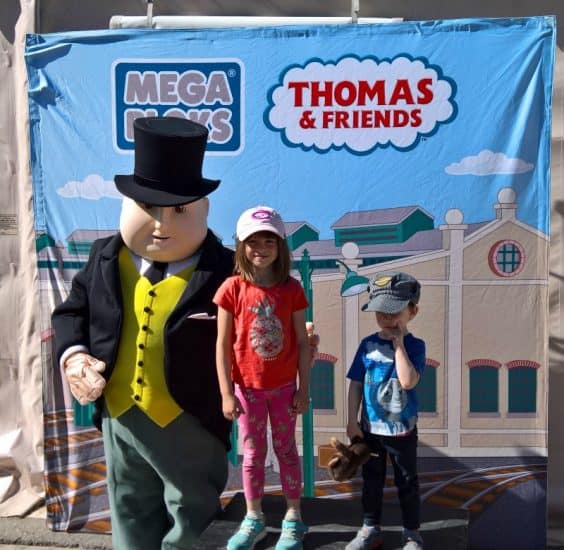 Photos with Sir Toppam Hat are free if you use your own camera (which is allowed, but have it ready because they hustle kids through pretty quickly). You can also buy the souvenir photo taken by park staff.
The activities in the Imagination Station, including performances by Peter and Mary, are all free. If you enter the gift shop, though, be prepared to spend at least $12. The prices there were not as inflated as I expected them to be, and there is wide variety of cute Thomas merchandise available.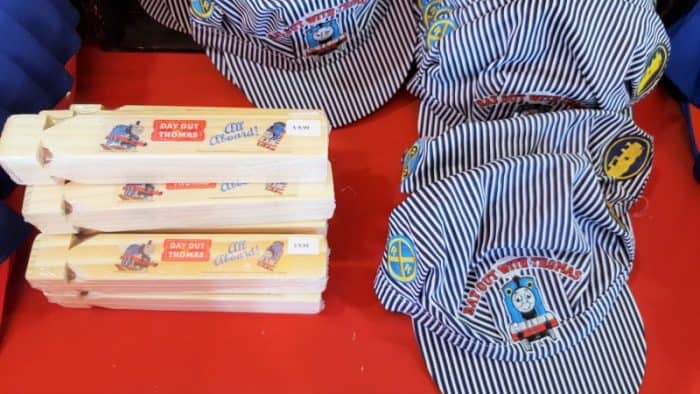 There are also select Midway rides operating during Day Out with Thomas. While we were there, they were running the small ferris wheel, the carousel, and the boat swings. Horse-drawn wagon rides are also on offer, and a visit to the train-themed playground is a must for this event.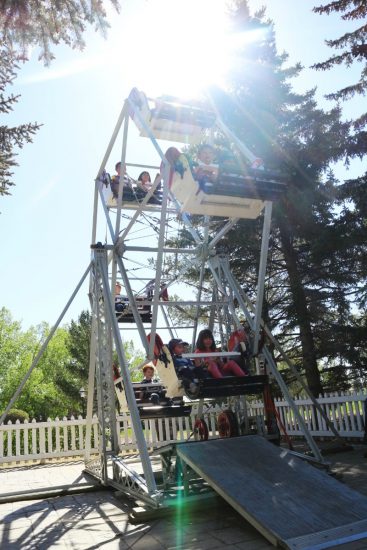 Food
You have a few options for food during Day Out with Thomas. A family-friendly lunch is available in the Wainwright Hotel. There is also a concession at the Thomas tents with hot dogs, chips, popcorn, and drinks. I usually just bring a picnic – you can nab a spot on the grass near the tracks and watch Thomas drive by a couple of times while you eat!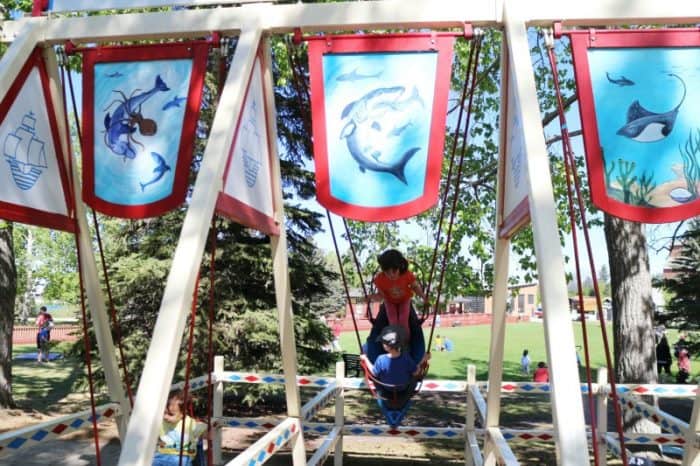 Other Tips
If possible, try to get tickets for morning rides – the park is the least crowded at this time. However, we arrived at 8:30 when the gates opened and left around 2:00, and never found the park very crowded.
Be sure to grab one of the stamp sheets for your kids. When you want to go home and they are resisting, you can remind them that they get a prize on the way out.
Strollers and wagons are not permitted in the tents due to a limited amount of space. However, there is plenty of room to park them outside. This will be easier if your valuable are contained and you can grab one bag instead of an armful of stuff.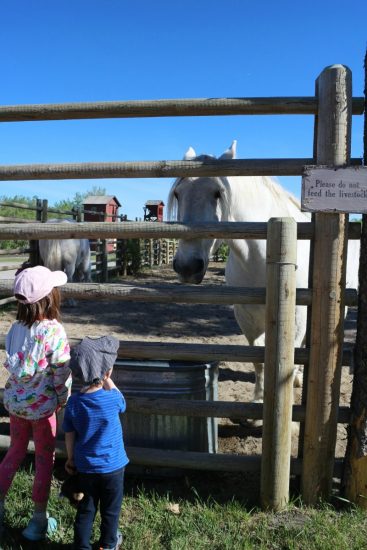 Have you ever been to Day Out with Thomas? Do you have any other tips for making the most of the day?
 Thank you to Heritage Park for providing tickets to facilitate this review.
Katie is a librarian and freelance writer based in Calgary.