[This play area is permanently closed due to renovations]
Location                     www.deerfootmall.com/
Address:  901 – 64th Avenue Northeast (Deerfoot and 64th Avenue)
Play area is by the Hockey Experts.
Gordie's Review (19  months old)– bead maze!
Cost: Free
Supervision: None.
Age Range: Children must be 10 and under to play.
Surface: Recycled tire mats.
Footwear: shoes.
Safety Features/Concerns: There are two exits to the play area that are both open so kids can just walk right out. There are also doors to outside on both sides of the hallway.
Play Area Features:  Ship shaped play space with a giant bead maze, 4 panels, a ship steering wheel and 6 touch screens with a variety of different games aimed at children 5-10 (although some younger children may be able to use them as well).
Seating: There is seating on both ends of the play area as well as a bunch just outside facing the play area.
Additional Kid Friendly Services: Stroller rentals are available free of charge at customer service (by the centre court area). Diapers, wipes and a bottle warmer are also available. There is a family washroom with a toddler-size rest area, private nursing/feeding chamber and attached play area. There are also two sets of coin operated ride on toys – in front of Sears and west of the Hockey Experts.
Noteworthy Stores: Mexx Factory; Please Mum outlet; The Bowling Depot; Sears; Kacz's Kids (outside access only);Winners; Walmart (across the parking lot).
Overall Assessment: This brand new play area provides a nice diversion for the kids while you get your shopping done. It's not a big enough space to run around in, but while we were there it was quiet enough that the kids could comfortably stretch their legs as we walked the length of the mall. The seating at the ends of the ship would be fine for parents with children old enough not to need direct supervision, but parents of younger kids will have to sit around the mast or lean over the edge of the ship. Overall, we had a great time at the Deerfoot mall (and even saw Santa!). The addition of this new play area will definitely make it so we end up there more often.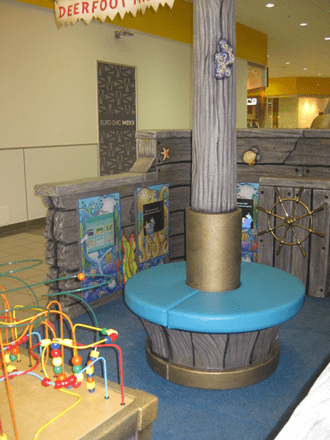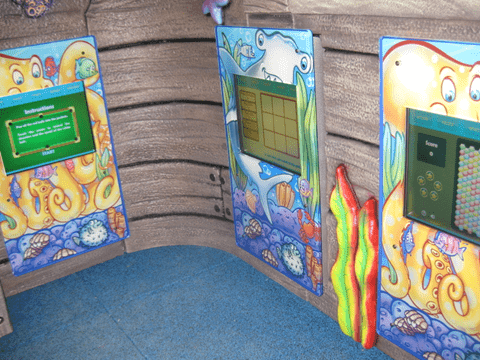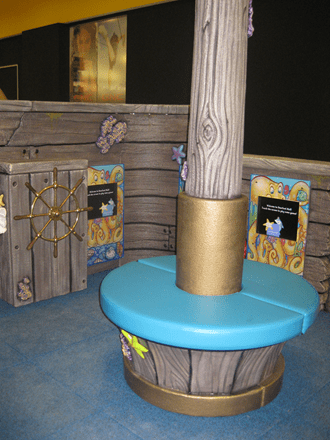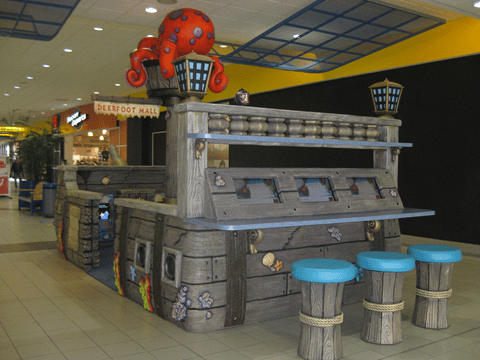 Have you been to this play place? Have a suggestion for a playground review? Would you like to write a guest review? Write your thoughts in the comments.