You may also want to check out my review of Disneyland's California Adventure Park. 
I've also written a series of posts about Disneyland on my other blog: 
Practical Penny Pinching in Disneyland, 
6 Tips for Going to Disneyland with a Big Group, 
The Shy or Cautious Kid's Guide to Disneyland,
11 Tips for Taking a Toddler and a Preschooler to Disneyland, 
Going to Disneyland with Someone Who has Special Needs, 
Disneyland Photography Tips – 11 Tips for Getting Great Photos of your Disneyland Vacation
Location: 1313 Disneyland Dr, Anaheim, CA (walking distance from Disneyland California Adventure Park)   website
Gordie's review (4.5 years old): "What did you like best in Disneyland?" "The rides. The Roger Rabbit Ride" (We had just been talking about this ride. Four year olds can be  unreliable interview subjects.)
Nicky's review (21 months old): "Minnie!" "Tink-bell!"
Day Pass Cost: $92 for ages 10 and up, $137 for a park hopper pass; $86 for ages 3-9, $131 for a park hopper pass. Discounted rates are available for multi-day passes.
Annual Pass Break Even point:  A Premium Annual Passport (which gives you access to any day of the year) is $669 for ages 10+. For this to break even you would need to visit the Disneyland Parks for more than 10 days in 1 calendar year. Other types of passes are available.
Parking: $15 for cars and motorcycles.
Food Services: Wide variety of options throughout the park including snacks, treats, cafeteria style and sit down restaurants.
Age Range: All ages.
Stay Length: At least one day to several days particularly if combined with Disneyland California Adventure Park as well. The average family would probably want spend a little more than half their time at the Disneyland Resort at the Disneyland Park.
Overall:
Main Street U.S.A
Main Street is the main entrance to disneyland and the largest shopping area in the park. It is designed to look like a typical midwest town of the early 1900s and inspired by Walt Disney's boyhood town in Missouri. Main Street is a great spot for watching fireworks and parades and entertainers such as barber shop quartets and rag time piano players frequent the area as well.  Just inside the entrance is a popular spot for family photos can you can often spot some characters there as well. In this area you can find one of the Disneyland Railroad stations which can take you to one of the other 3 stations around the park.  The train can be a good way to get from Main Street to other areas of the park during a parade or fireworks and can be a nice way to pass the time and see a bit of the park.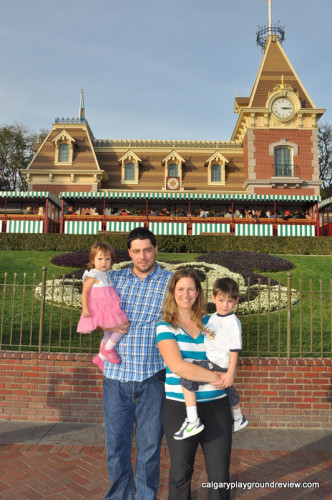 On the other side of the Main Street train station is a great spot to see characters like Mickey, Goofy and Chip and Dale – and you never know who else you might see. You are more likely to see characters if crowds are not congregating to wait for the parade or the fireworks.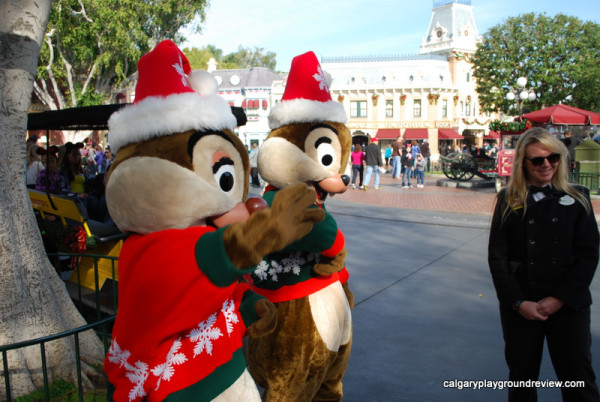 You can also hop on a horse drawn trolley and a number of other vintage vehicles and ride it along Main Street towards the castle.
Fantasyland
Fantasyland is one of Disneyland's original themed areas – this area is focused on fairy tales and make believe. There are lots of different attractions including many different rides. The main entrance is through Sleeping Beauty's Castle. There is also a separate walk-through attraction in the castle.
Fantasyland has a lot to offer but also has some drawbacks due to its age. The lines tend to be narrow and lacking in any of the enhancements that you find in newer lines that make standing in line easier. The area can also get quite congested around the central courtyard due to the density of the attractions in the area. You may find characters hanging out in the central courtyard as well.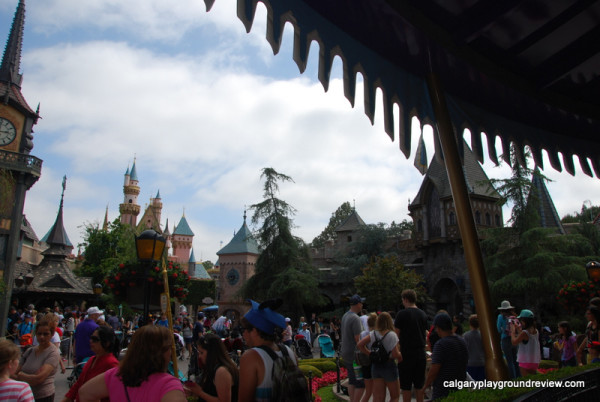 Five of the rides in Fantasyland are dark rides (where special lighting is used and the majority of the ride is indoors and hidden from guests walking by): Snow White's Scary Adventures, Peter Pan's Flight, Alice in Wonderland, Mr. Toad's Wild Ride and Pinocchio's Daring Journey. For my young kids, I found these rides were less attractive, my daughter (21 months) wanted to do the rides that she could see and my son (4.5) was more worried when he couldn't see what he would be doing ahead of time. The kids both enjoyed the Alice in Wonderland Ride but we didn't make it on any of the others.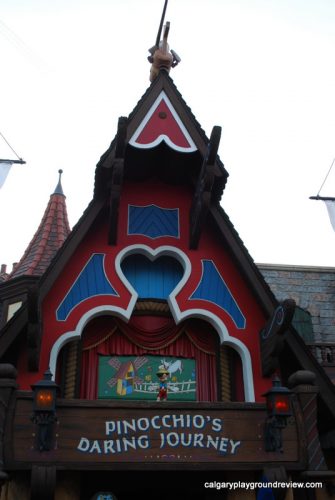 I took Nicky to Fantasyland early one morning while Gordie was feeling a little under the weather. She was adament that she wanted to ride on the Dumbo ride as soon as she saw it. It's a pretty simple ride but sitting on my lap she could make the elephant go up and down herself which really impressed her.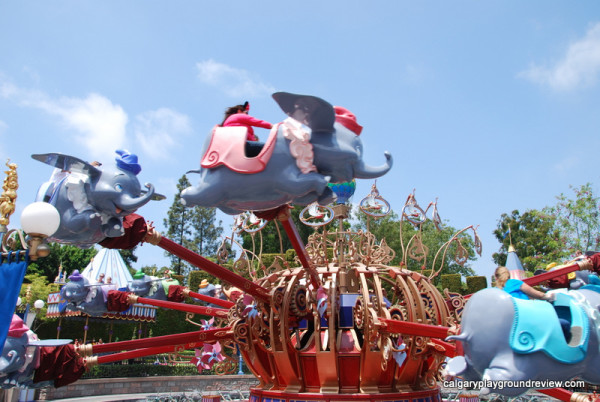 She also loved the Carousel (which she does not need help holding on to, thank you very much). It's a pretty standard Carousel but all the horses are white so every kid can sit on the white horse.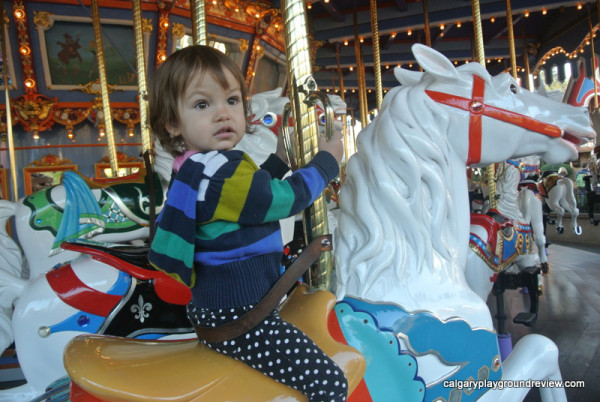 The other ride we took the kids on was the Casey Jr. Train. The ride is kind of like a rollercoaster for kids who are too little to ride on a rollercoaster. The rides travel around the miniature versions of Disney animated film scenes.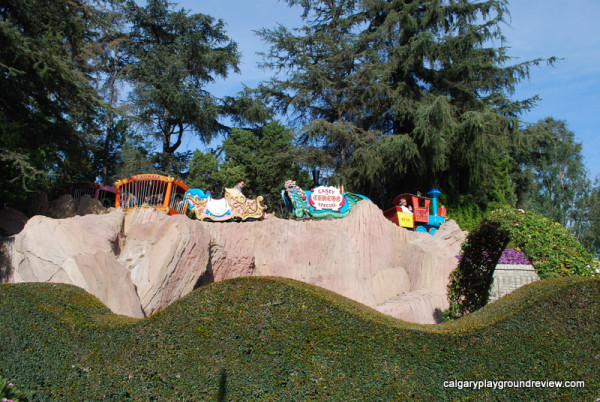 The Storybook Canal Boats go along the same area but more slowly and with narration of what you are seeing by the boat driver.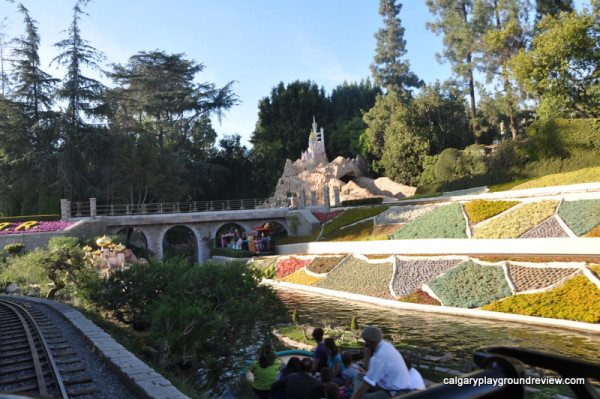 You can also take a ride on the spinning tea cups over by the Alice in Wonderland ride.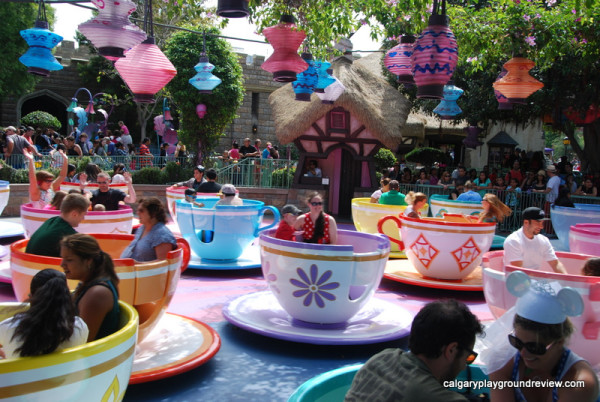 It's a Small World is outside of the central courtyard in Fantasyland. The musical boat ride now includes 37 characters from animated Disney films.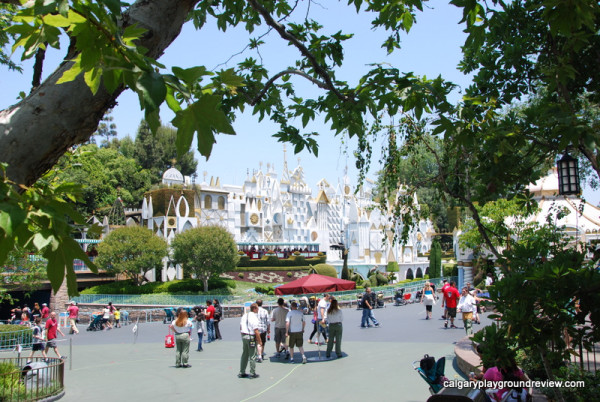 The Matterhorn Bobsleds is found between Fantasyland and Tomorrowland. It is a rollercoaster and a bit of a bumpy ride compared to many rollercoasters.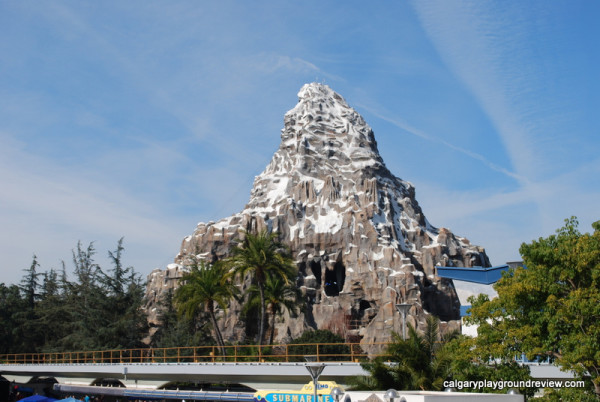 In addition to the rides, Fantasyland offers many Character Greet opportunities, and two different theatres stages. At the Fantasy Faire you can meet some of your favorite princesses. The Royal Theatre has two shows right now, one featuring Belle from Beauty and the Beast and the other featuring Rapunzel and Flynn Rider from Tangled.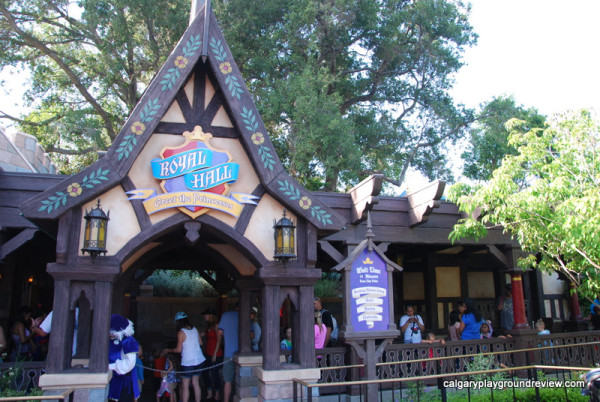 Inside the Royal Hall you can meet and get photos taken with three different princesses. They will usually tell you who one of the princesses will be and the other two are surprises. I think this is a great change to the park – even if you will only be in Disneyland for one day, you can guarantee that your child will be able to meet a Disney princess.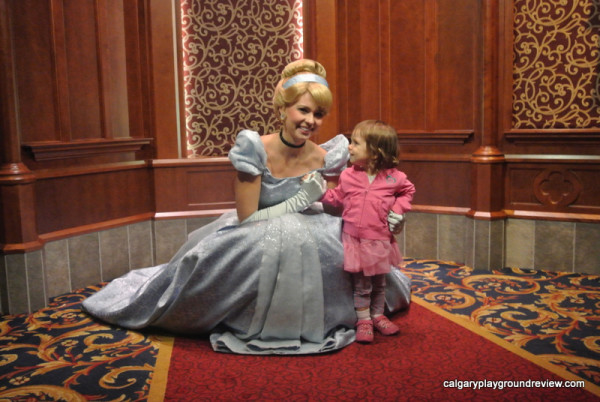 There are also spots where you can meet Merida from Brave, characters from Frozen and a Pixie Hollow area where you can meet Tinkerbell and her fairy friends.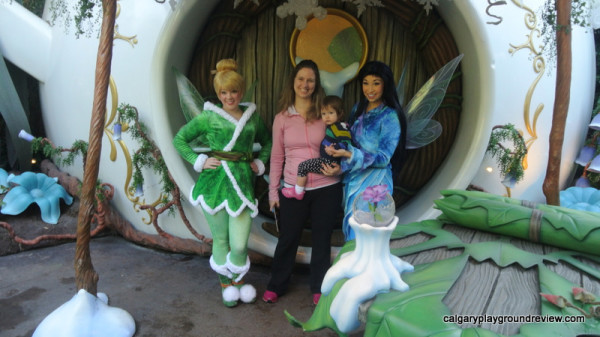 Nicky loved being able to meet Tinkerbell – she is usually pretty shy but she really surprised us by giving the characters in the park hugs and posing for pictures.
Adventureland
Adventureland is themed to resemble remote a remote jungle. It's one of the smaller areas in the park in terms of walking space and get quite congested on busy days. There are four attractions in the area: the Jungle Cruise, Tarzan's Treehouse, Indiana Jone's Adventure and the Enchanted Tiki Room.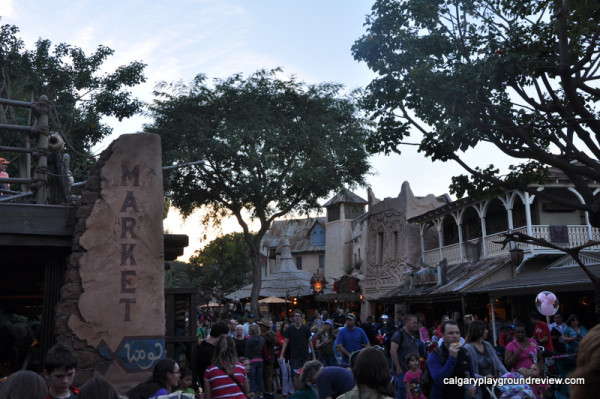 The Jungle Cruise is one of the original Disneyland rides and has changed little since then. It is a bit dated but it's a nice ride for the whole family to take together. You ride in a boat along a Jungle River seeing animatronic animals along the way and getting very punny narration from the boat's skipper.
Tarzan's Treehouse is a walkthrough attraction with interactive features. Indiana Jone's Adventure is an enhanced motion dark ride that is not appropriate for little kids. In the ride you ride in a jeep through and Indian Jone's adventure. It's a pretty cool ride and is both a little spooky and a little scary. The Enchanted Tiki Room features animatronic, birds, flowers and cavings that perform a musical show. It's a fun show and it's a great spot to put your feet up. There is some fake thunder and lightning towards the end that may scare young kids.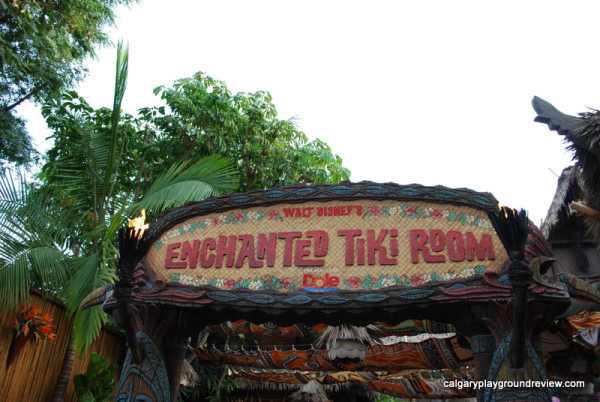 Critter Country
Critter Country is home to Splash Mountain, Winnie the Pooh and Davy Crockett's Explorer Canoes (where you paddle actual canoes).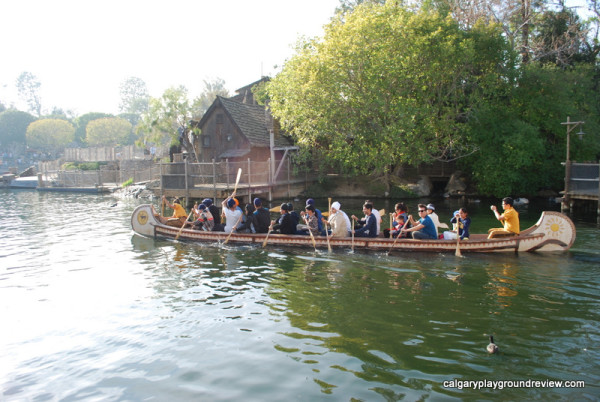 Splash Mountain is a log flume ride that incorporates animatronic characters from the Disney movie Song of the South (zip-a-dee-doo-dah!)
The Winnie the Pooh dark ride is also in this area. It's a gentle ride where the honey pot cars rock as they go along the tracks. It is great for little kids and the line is typically short so it's easy to go again and again. You can also find a couple of Winnie the Pooh characters at their characters greet area outside.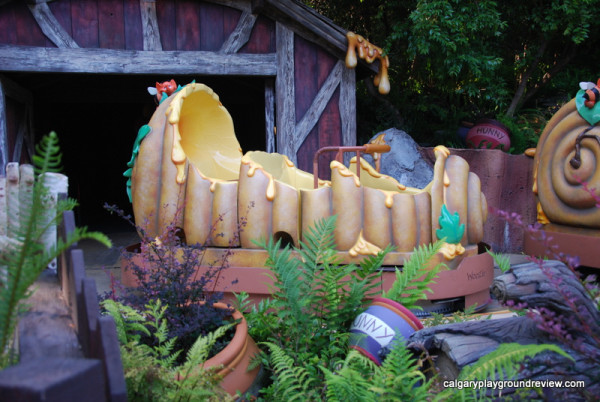 Frontierland
Frontierland located along the 'Rivers of America', is one of the original Disneyland areas. It has an American Old West theme and contains two boat rides, Tom Sawyer Island, and rollercoaster. Big Thunder Mountain Railway, a mine train roller coaster, was closed for refurbishment while we were there. On Tom Sawyer Island you can find the Pirates Lair which is a great place for kids to climb and run around.
You can tour the Rivers of America on the Mark Twain River boat or the Sailing Ship Columbia. The Columbia operates only on busy days.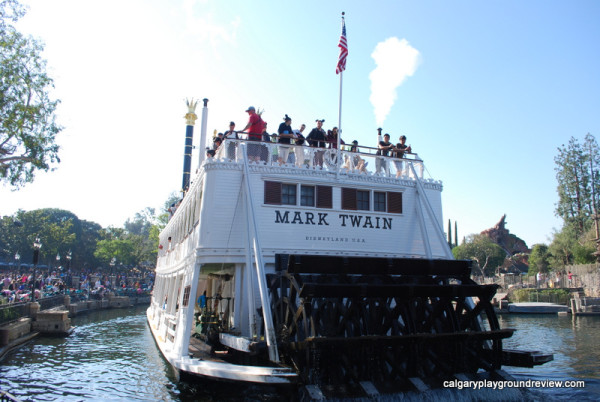 New Orleans Square
Based on 19th Century New Orleans, this was the first new area to be built after the Disneyland opened.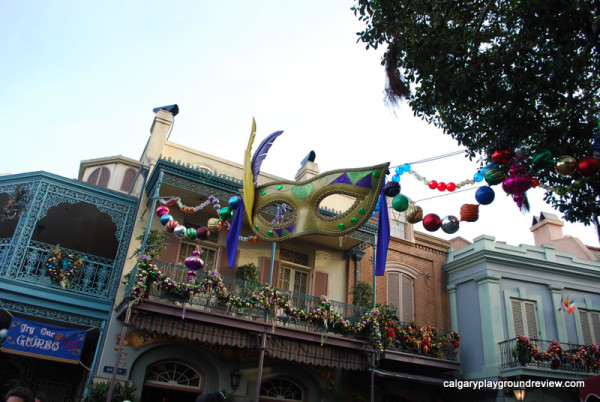 There are two main attractions in this area: the Haunted Mansion and Pirates of the Caribbean.  There are no height restrictions on these rides are they are not thrill rides but they are spooky. We took Gordie and Nicky on Pirates of the Caribbean. It was a little creepier than I remembered. Nicky wasn't bothered by it but Gordie really didn't enjoy it. He does not want to go on that ride ever again. Not ever.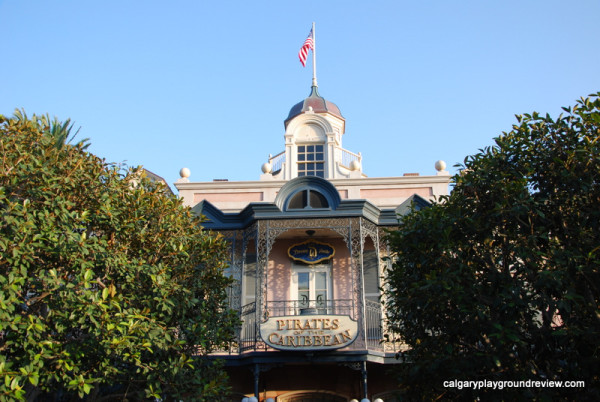 Tomorrowland
Tomorrowland focuses on visions of the future, science and science fiction. Tomorrowland poses a particular challenge as visions of the future can quickly become the past – because of this Tomorrowland has undergone many changes over the years. The Tomorrowland Monorail station is Disneyland Park's second entrance – the other stop is in the middle of the Downtown Disney district.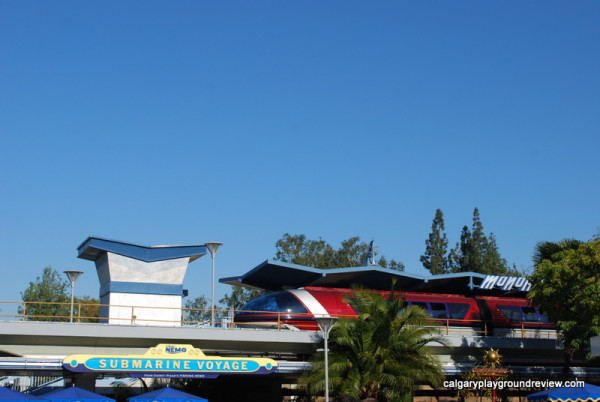 Autopia is the only Tomorrowland attraction to remain from the park's opening day. The ride has changed a number of times but the basic premise of steering a car through a closed track remains the same. Gordie loved being able to steer the car – he would steer for about 2/3 of the length of the ride.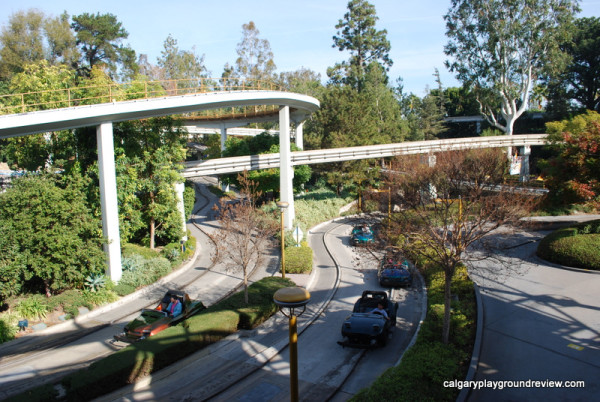 Star Wars has a significant presence in Tomorrowland. Star Tours – The Adventure Continues replaced the old Star Tours attraction in 2011. Star Tours is a 3-D motion simulator. I found the ride gave me a touch of motion sickness but the ride is well done and my mom and brother loved it and declared the ride their favorite from our trip. Darth Vader, Storm Troopers and Jedi Knights make an appearance at the Jedi Training academy where some lucky young guest get to train to be Jedi Knights in a live-action show.
Space Mountain is a space themed indoor roller coaster – in the ride you fly through the stars to a musical soundtrack.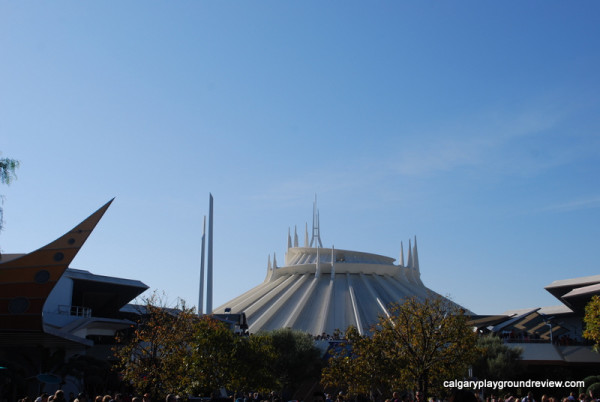 Two newer rides feature Disney Pixar characters: Finding Nemo Submarine Voyage and Buzz Lightyear's Astro Blasters. In the Buzz Lightyear ride you compete to see how many targets you can hit that are worth different point values. It's one of my favorite rides but I'm not very good at it. The Submarine ride is a re-themed version of the old submarine ride. As you ride along in the submarine you can see animated scenes through the portholes.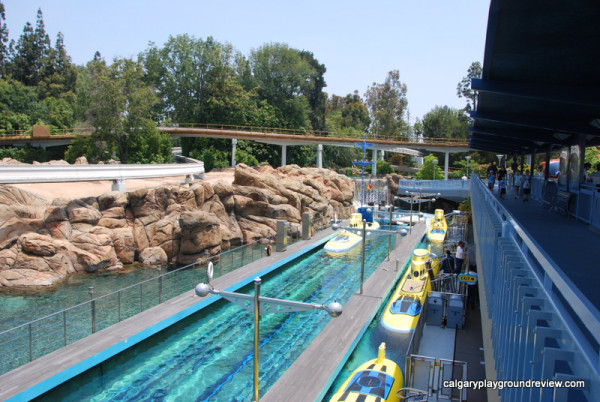 Mickey's Toontown
Mickey's Toontown is inspired by Toontown from Who Framed Roger Rabbit. It's a very interactive area with lots of buttons to push and levels to pull. Toontown is where you will find the homes of the classic Disney characters. Minnie and Mickey's houses have a walk through with a character greet inside. Donald and Chip and Dale's houses are cute walk through attractions and Goofy's house has a little play area in the back. You will find classic Disney characters pop up in Toontown to pose for photos throughout the day.

There are two rides in Toontown, Gadget's Go Coaster (a first roller coaster type ride) and Roger Rabbit's Cartoon Spin. Roger Rabbit's Cartoon Spin is a dark ride featuring scenes from the movie. You can use the wheel in the taxi to spin your car tea cup style as you go through the ride.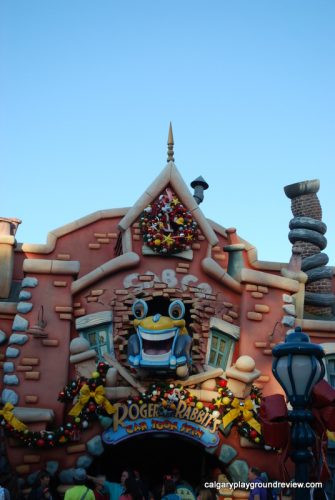 Bonus Photos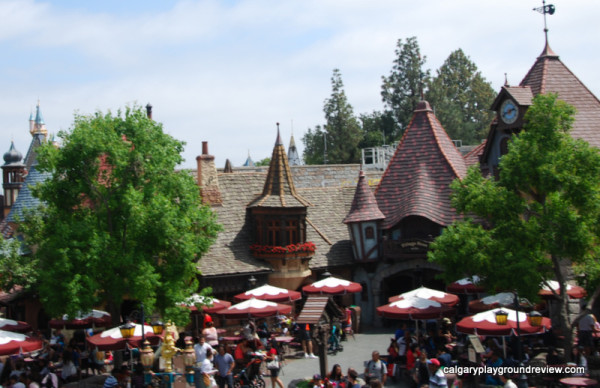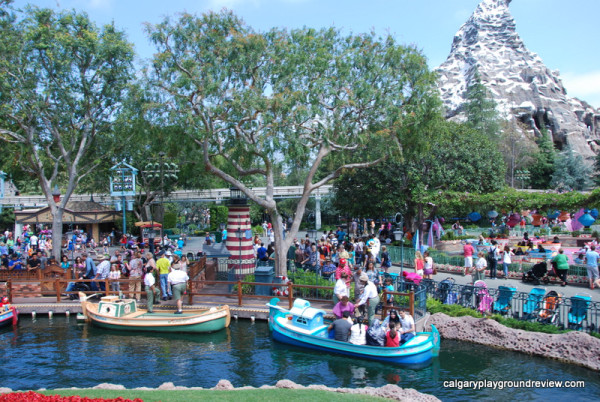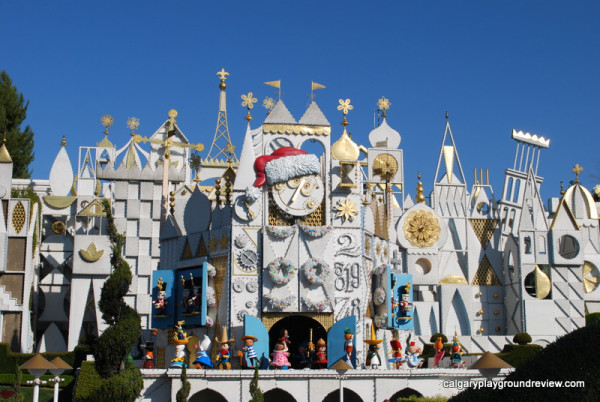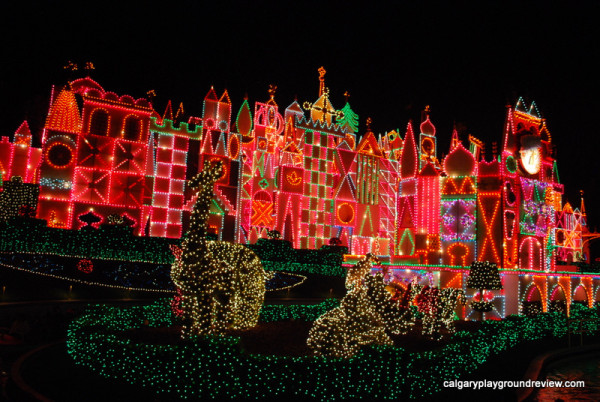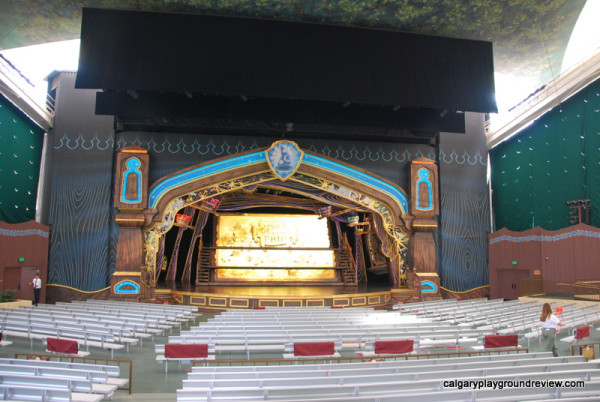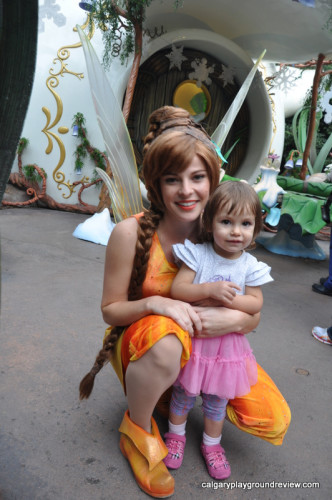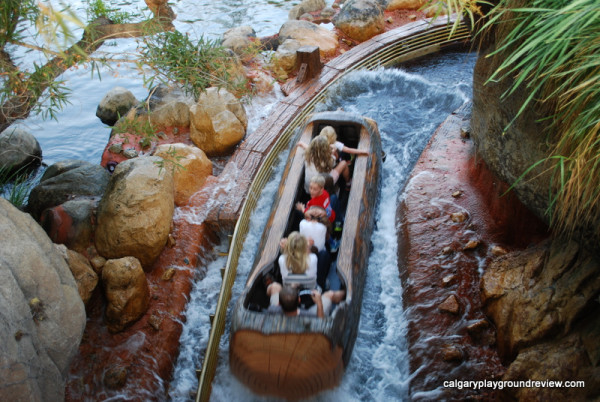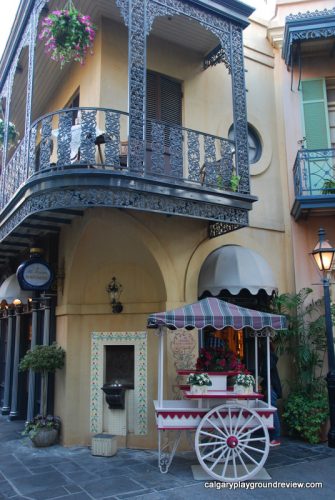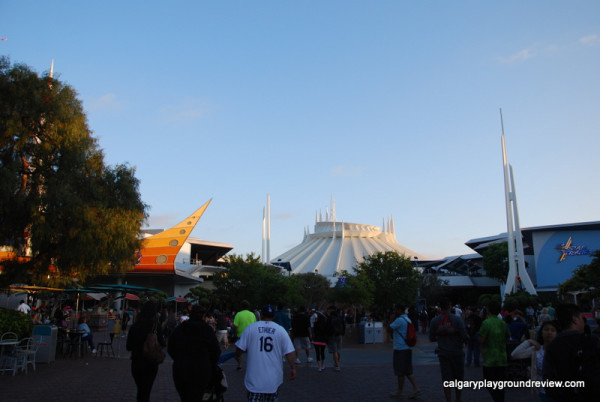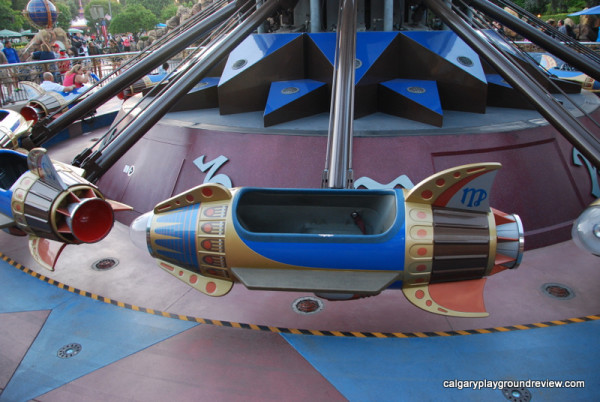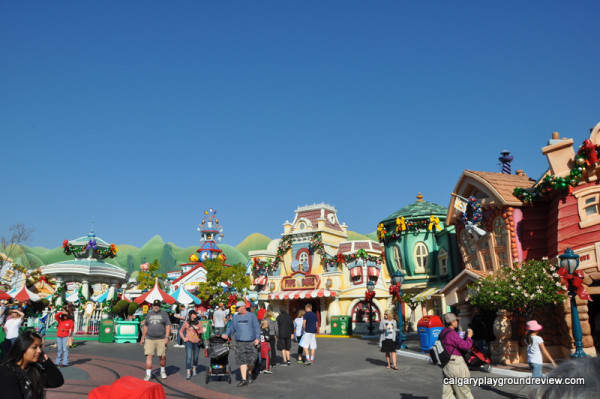 You may also want to read my review of Disneyland's California Adventure Park. I've also written a series of posts about Disneyland on my other blog: