You may also want to check out my review of Disneyland Park. 
I've also written a series of posts about Disneyland on my other blog: 
Practical Penny Pinching in Disneyland, 
6 Tips for Going to Disneyland with a Big Group, 
The Shy or Cautious Kid's Guide to Disneyland, 
11 Tips for Taking a Toddler and a Preschooler to Disneyland, 
Going to Disneyland with Someone Who has Special Needs, 
Disneyland Photography Tips – 11 Tips for Getting Great Photos of your Disneyland Vacation
Location: 1313 Disneyland Dr, Anaheim, CA (walking distance from Disneyland)   website
Gordie's review (4.5 years old): What was the best part of Disneyland? "The rides! I liked all the rides."
Nicky's review (21 months old): "Ride! Ar-el!" (She liked the little Mermaid ride the best).
Day Pass Cost: $92 for ages 10 and up, $137 for a park hopper pass; $86 for ages 3-9, $131 for a park hopper pass. Discounted rates are available for multi-day passes.
Annual Pass Break Even point:  A Premium Annual Passport (which gives you access to any day of the year) is $669 for ages 10+. For this to break even you would need to visit the Disneyland Parks for more than 10 days in 1 calendar year. Other types of passes are available.
Parking: $15 for cars and motorcycles.
Food Services: Wide variety of options throughout the park including snacks, treats, cafeteria style and sit down restaurants. Alcoholic beverages can be purchased by adults over 21.
Age Range: All ages.
Stay Length: At least one day to several days if combined with Disneyland Park as well. The average family would probably want spend a little less than half their time at the Disneyland Resort at the Disneyland California Adventure Park.
Overall:
Disneyland California Adventure Park or (DCA) is located just walking distance (the main entrances face each other) from Disneyland. The park has undergone a number of changes since it first opened in 2001, most recently the creation of Buena Vista Street at the entrance to the park and Cars Land. It's a lot newer than Disneyland which opened in 1955. Not surprisingly it's also a little less dense. The park has a lot to offer though and some of my families very favorite rides are in this park. On our recent trip we spent a little less than half of our time in DCA.
Buena Vista Street
The area inside the front entrance of DCA was completely redesigned in 2012. Buena Vista street is now similar to Disneyland's Mainstreet USA. The area is meant to represent Los Angeles as it was when Walt Disney arrived in 1923. In the centre is a statue of a young Walt and Mickey.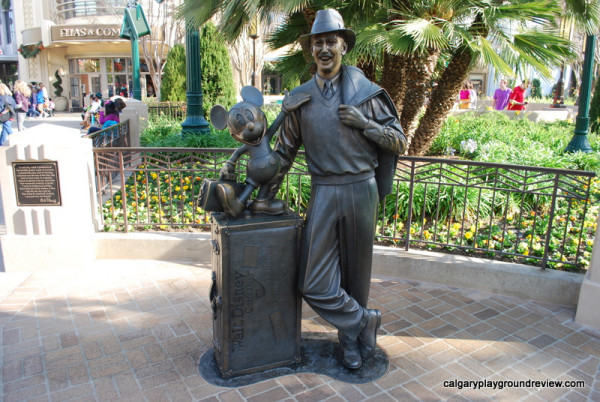 This area has DCA's largest shopping selection and is a great location for seeing characters and entertainers.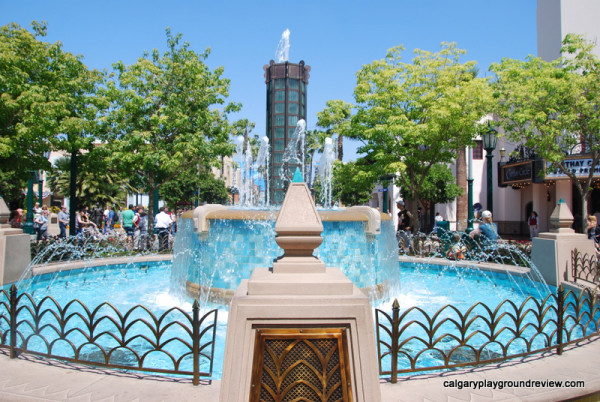 You can also get on the Trolley which will take you right up to the Twilight Zone Tower of Terror.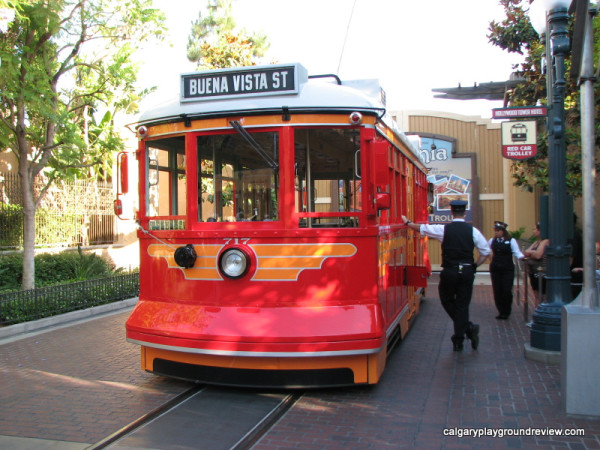 Condor Flats
The main attraction in Condor Flats is the ride Soarin' Over California. Soarin' is my husband's favorite ride. In it you take a simulated hang glider ride through different places in California. That description really doesn't do it justice, it is an awesome ride and it actually feels pretty real. We took Gordie (4.5) on it and it was a little too scary for him even though he met the 40″ height restriction. If you have a younger kid who is on the cautious side you may want to wait until they are a bit older.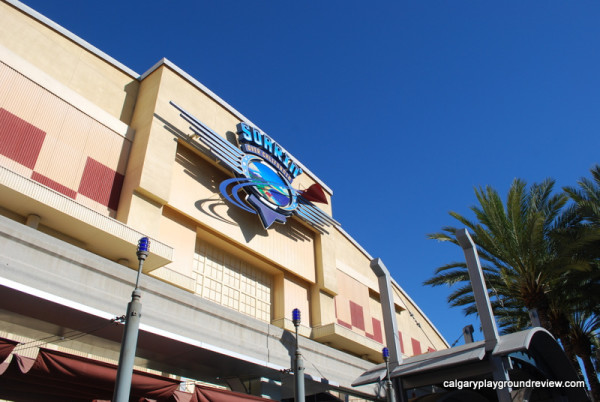 Grizzly Peak
Grizzly Peak features two attractions: the Redwood Creek Challenge Trail and the Grizzly River Run.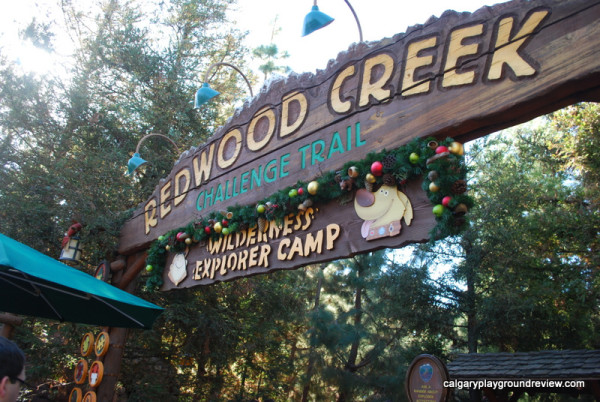 The Redwood Creek Challenge Trail has a Pixar's Up theme – Junior Adventurers can earn wilderness badges as they take on physical challenges. We had intended on taking Gordie through this (he had seen pictures and really wanted to go) but he was sick for part of our trip and wasn't up for the physical challenge when we could have gone.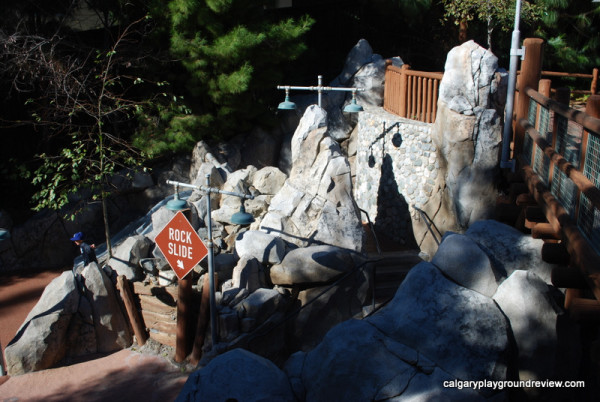 The Grizzly River Run is my favorite ride at the Disneyland Resort. On this ride you go on a White Water Raft Trip along Grizzly Peak. For me, I find it a little bit scary but not too scary (I am a bit of a chicken).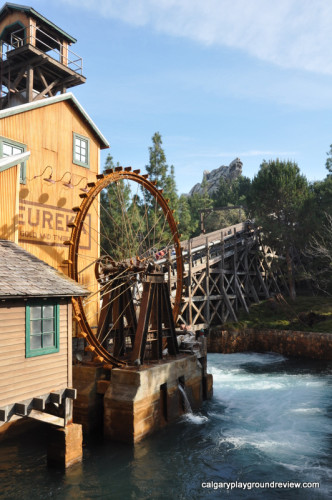 You will get wet on this ride. They sell ponchos at the shop next door and you may want to bring an extra pair of shoes if you will still have a bit of walking to do after your ride. This ride can be pretty popular especially when it's warm out but my favorite time to go is when it seems like no one else wants to. On a bit of a cool day or after dark – if there's no line they'll get you go again without having to get off. This year we went four times in a row as our last thing before calling it a day.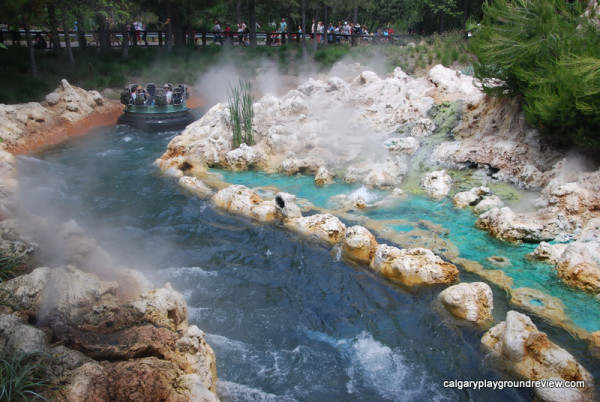 Cars Land
Also new in 2012, Cars Land takes you to Mainstreet in Radiator Springs. The area is really well done and really busy in part because it's still so new.
You catch a few cars rolling through town and get photos taken with Mater, Lightning and Red.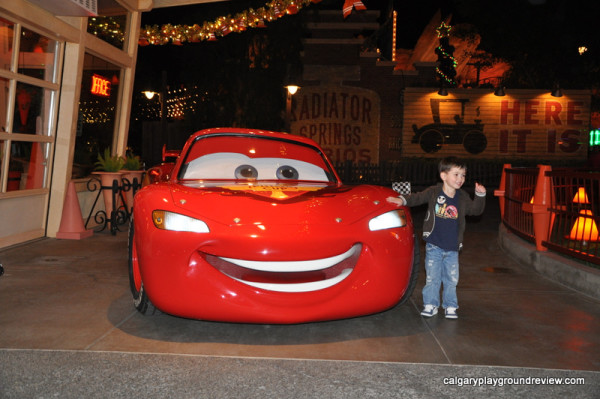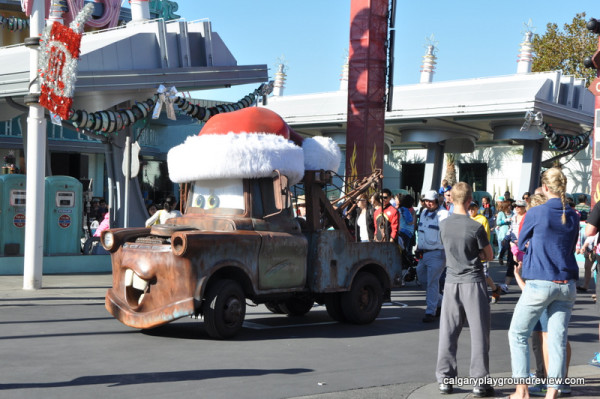 At night the neon comes on just like in the movie.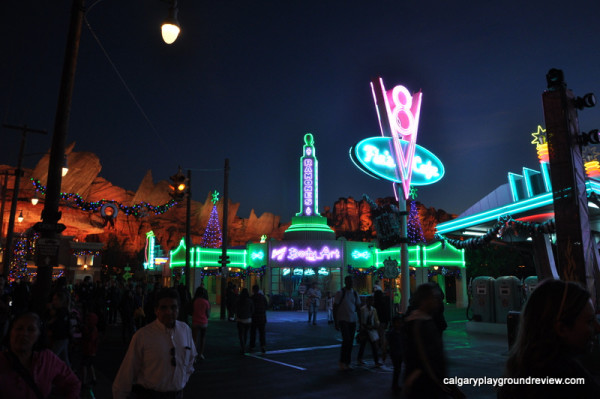 Cars Land has three attractions – the headliner is Radiator Springs Racers. Currently the ride has a long line, the fast passes often 'sell' out an hour after the park opens. The ride starts as a black light ride where the car you ride in sees some of the characters from the movie and ends in a race with one of the other ride cars. The ride is very cool and is a solid ride. Some younger kids may find it to be a little too scary even if they do meet the height requirement (40 inches). We had hoped to take Gordie (4.5) but in the end found the line was too long to wait and even getting fast passes was too much of a challenge. He may have found it too scary this year any way. Your best bet if you are not going with someone under 7 is to go in the single rider line. Your party gets split up into different rows and cars but you move through the line much quicker.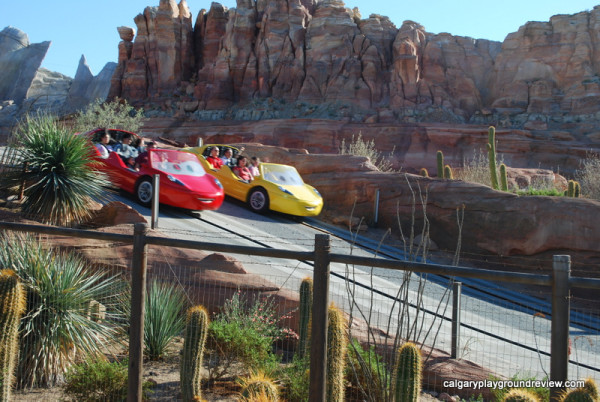 Mater's Junkyard Jamboree is a tea cup like ride, which Gordie loved.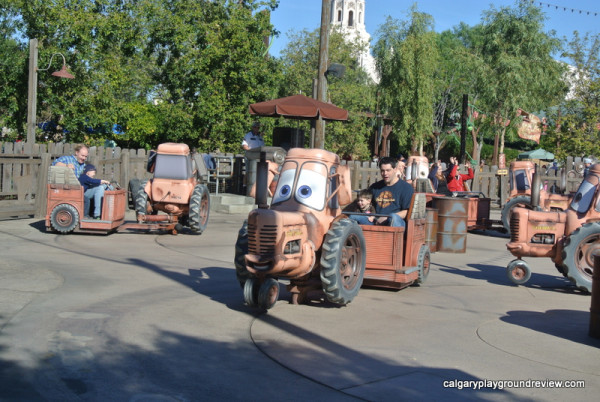 The final attraction in the area is Luigi's Flying Tires where you ride on tire shaped hovercraft bumper cars.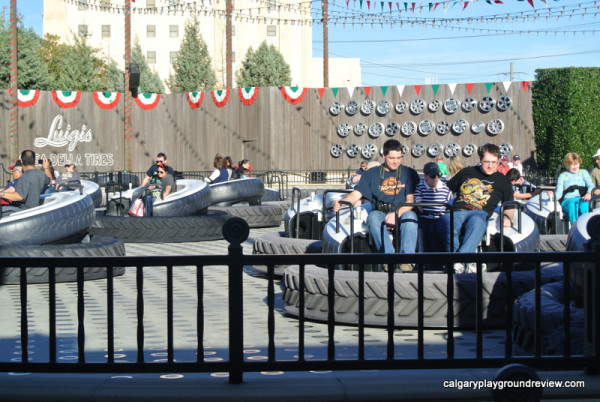 Paradise Pier and Pacific Warf
Surrounding the Central Pond in DCA you'll find the Paradise Pier and Pacific Warf Areas. The pond is where World of Color, a night time water spectacular is based.
The Pacific Warf area is primarily a dining area – they also have a bakery tour,  chocolate making tour and an imagineering tour where you can preview new experiences coming to disney parks around the world. The Pixar Play Parade runs through the Pacific Warf, Paradise Pier and Hollywood Land areas. This area has a number of rides many of which are built to resemble rides that you would find at real boardwalk amusement areas.
California Screamin' is the area's thrill ride – is is a launched steel construction roller coaster that is built to resemble a wooden roller coaster. It is the tallest fastest roller coaster at the resort.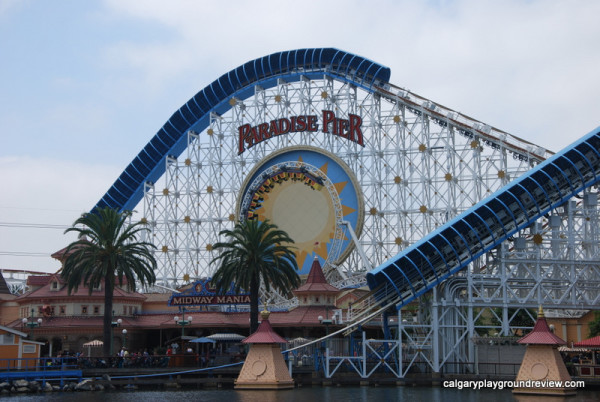 There are 4 other boardwalk style rides in the area: the Golden Zepher (a swinging rocket ship ride), Mickey's Fun Wheel (a tall gondola style ferris wheel with swinging and non-swinging gondolas), Jumpin' Jellyfish (a kid friendly vertical ride) and Silly Symphony Swings (a wave swinger ride).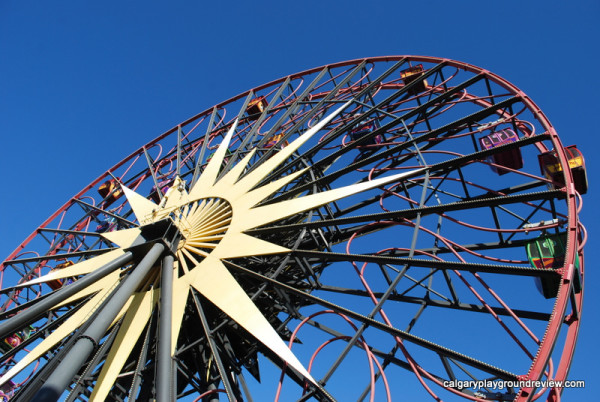 Mickey's Fun Wheel is both one of the tamest rides in the park and one of the scariest. If you go on a non-swinging gondola, it is a really really slow ride. If you go on one of the swinging gondolas on the other hand it can be a bit of a white knuckle ride.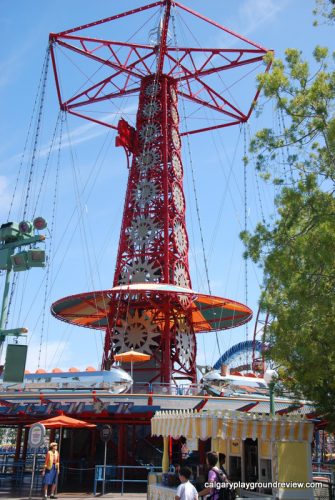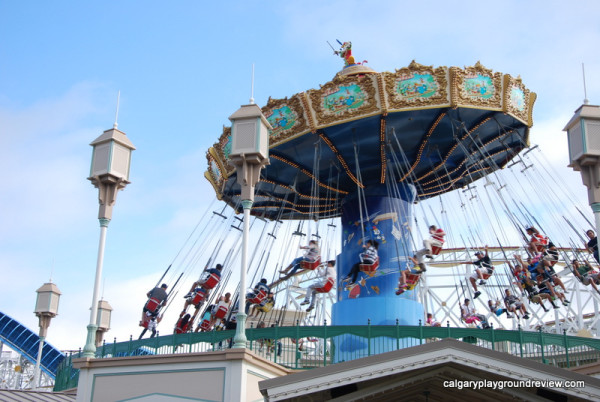 There 4 other rides in Paradise Pier as well: Goofy's Flying School, Ariel's Undersea Adventure, King Triton's Carousel and Goofy's Flying school.
Goffy's Flying school is a Rollercoaster style ride.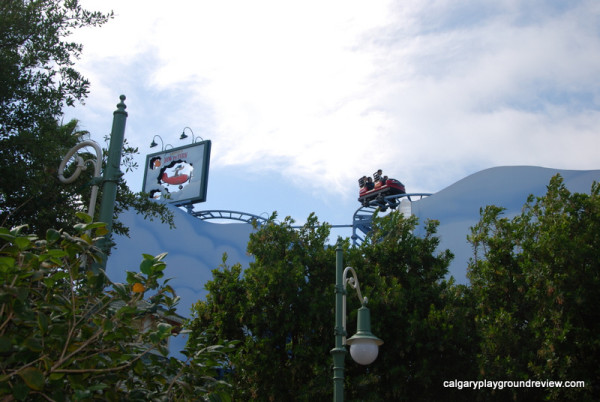 There are two Little Mermaid themed rides which both have short lines and are great for all ages. The gentle black light ride Ariel's Undersea Adventure was a favorite of both of my kids and King Triton's carousel which Nicky (21 months) loved.
The last ride in Paradise Pier is Toy Story Mania. Wearing 3-D glasses, you ride along in a spinning car playing virtual Midway games. This ride is fun for the littlest kids, even Nicky was able to pull the ball trigger. I enjoyed the ride but my husband was less impressed.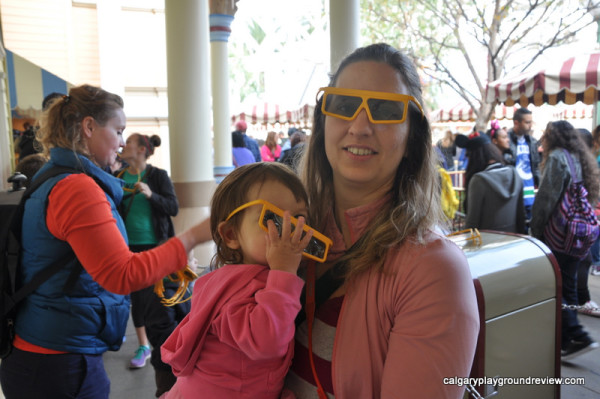 Just around the corner you can play some real midway games. These cost an additional fee to play (you load money onto a debit card). Gordie really wanted to play – we would normally say no, but he had some Christmas money to spend so we decided to let him. He loved playing the different games and is very proud of the little stuffies he got from winning.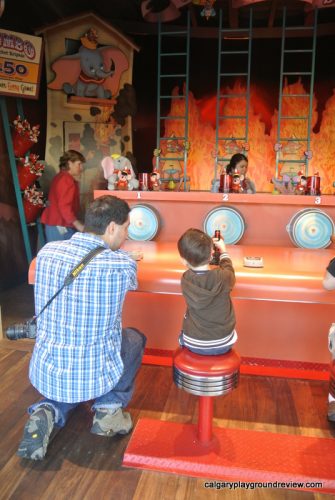 A Bug's Land
This area is generally aimed at younger kids but it is worth walking through on matter how old you are. The area is set up from a bug's point of view with giant vegetation and repurposed human objects. There are 4 rides in the park as well as a little splash park and a 3-D movie "It's Tough to be a Bug". One of the great things about this area if you have little kids is that even on a busy day you'll be able to take them on a bunch of rides in a small area with fairly short wait times.
Heimlich's Choo Choo train is a gentle train ride which takes you through oversized portions of human food that you can also smell. It's cute and very tame.
Tuck and Roll Drive 'Em Buggies is a bumper car ride. Gordie loved this and thought trying to bump the other cars was hilarious.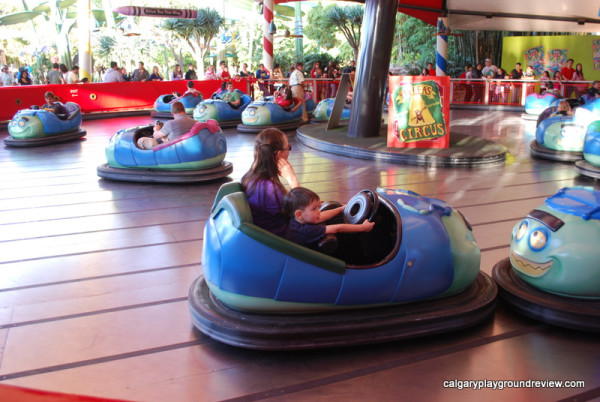 Flick's Flyers is a spinner ride that goes up in the air.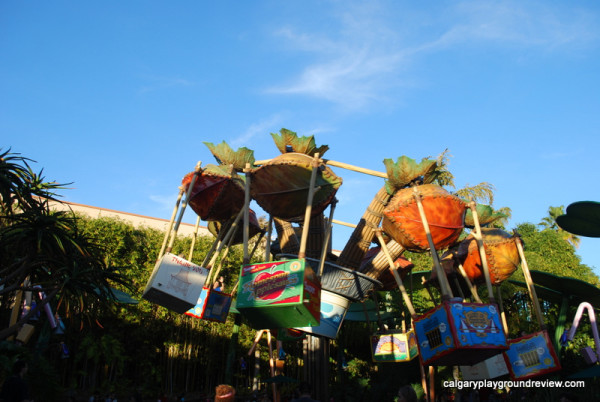 Francis' Lady Bug Boogie is a small teacup like ride.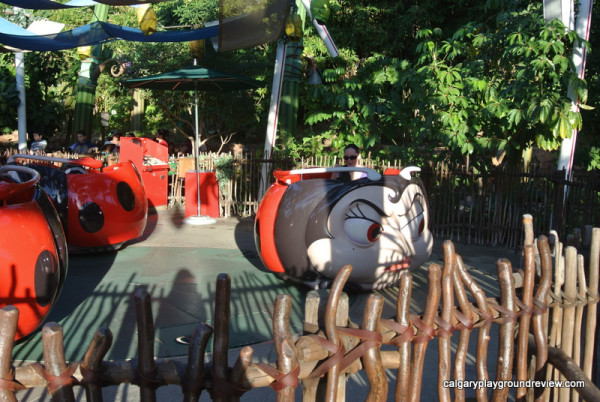 Hollywood Land
The last area in DCA is Hollywood Land inspired by the 1930s Hollywood Golden Age. This area features a number of different activities including Disney animation workshops, a Mad T Party Dance Party, a Aladin musical show, a Disney Jr Live Show, a 3D Muppet Movie, and 2 rides.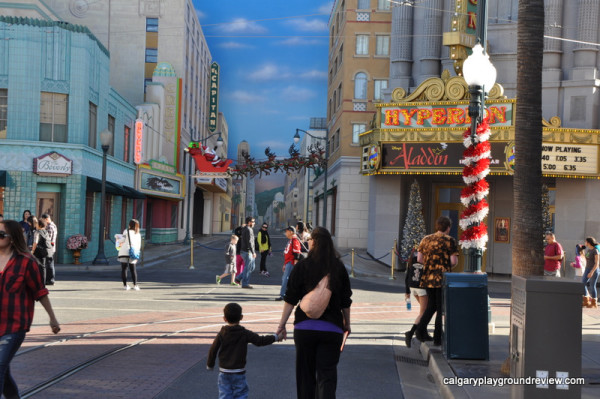 The Hollywood Tower of Terror is a thrill ride featuring a malfunctioning elevator. You can also tour Metropolis in the black light Mike and Sully to the Rescue Monsters Inc ride.
This is also a great area for meeting characters. You can expect Sully, Mr and Mrs Incredible and Disney Junior charactes to make appearances.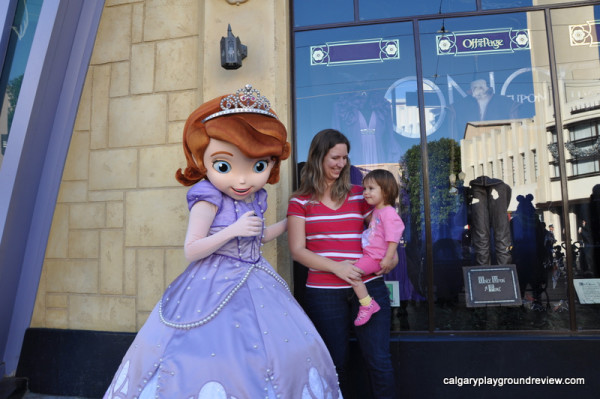 Bonus Photos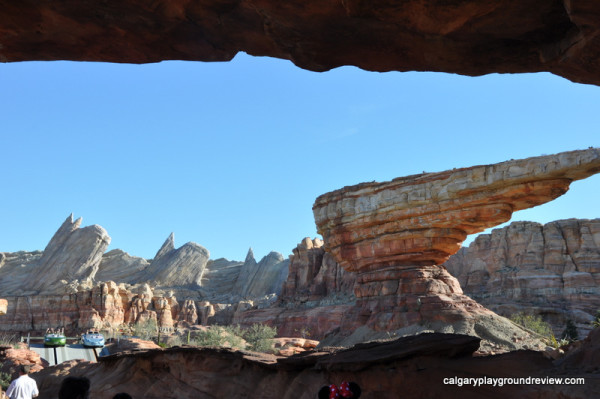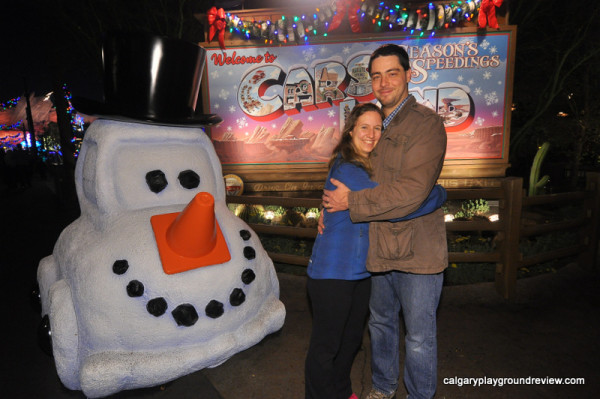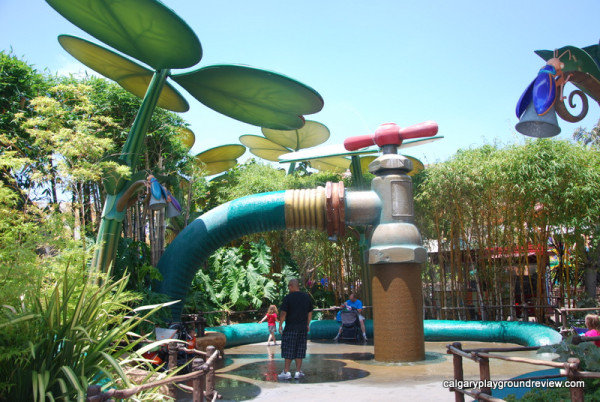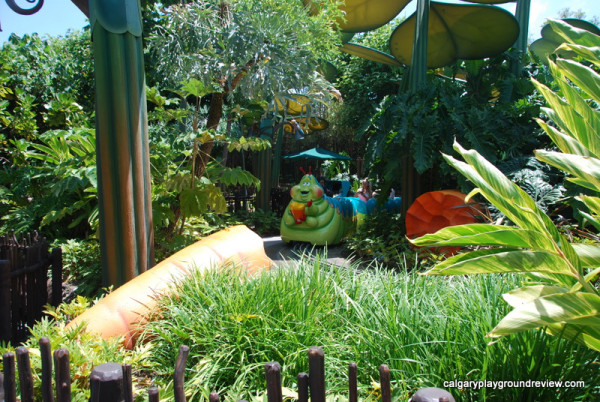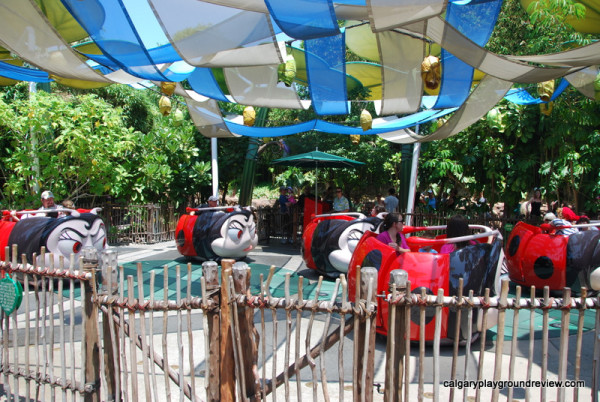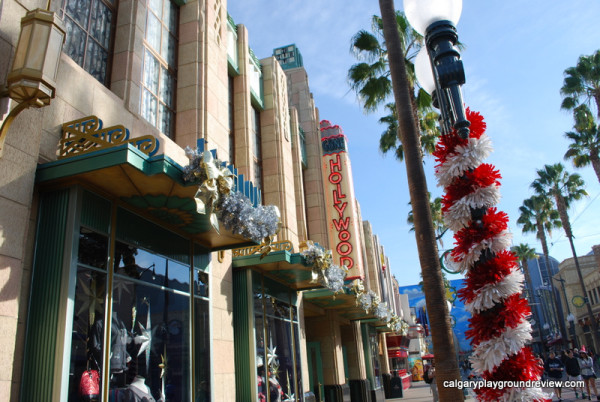 You may also want to read my review of Disneyland Park.
I've also written a series of posts about Disneyland on my other blog: