Update: Fun N More has made some fairly significant changes since this review. Please check out the new review of Fun N More.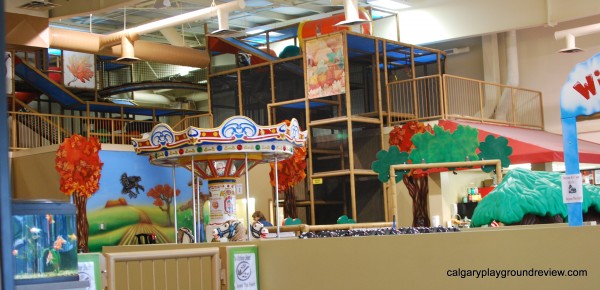 Location map     http://www.funnmore.ca/
Address: 146 13226 Macleod Trail S.E.(Macleod and Canyon Meadows)
Gordie's Review (3 years old)– "What did you like best about that play place?" "Playing!" "What part did you like to play the best?" "All the parts." (sometimes 3 year olds do not make good interview subjects 🙂
Admission Cost: $7.95 for ages 1-3, $10.95 for ages 4 and older, children under 1 are free. 2 adults come in free (when accompanying children, additional adults are $4.95.
Black Light Mini Golf: Additional $4.95 for ages 4 and up (including adults)
Winter Park Skating: Additional $4.95 for ages 4 and up (including adults).
Coin operated Rides and Arcade Game: $0.25 per play/ride.
Footwear: Socks. Socks can be purchased ($2) if you forget.
Safety Features/Concerns: Children and adults get matching wrist bands that get checked and cut off at the door. The doors in and out have to be unlocked by the staff at the front. The toddler area is gated but the latch doesn't always latch properly.
Play Area Features: Large 2 level indoor playground structure with climbers, big balls, tunnel slides, rollers – children under 5 should be accompanied. Toddler area (4 and under) tree house, plastic toys, small climber with slide. Eye Click – interactive floor mat. Black Light Mini-golf (9 holes). Winter Park skating: artificial ice surface. A few coin operated rides and 1 arcade game.
Additional Services: 4 party rooms, group bookings, preschool and play care drop in program, summer playcamps.
Food Services: Fast food style concession with a large eating area that doubles as seating for parents.
Overall Assessment: Fun n' More opened this March in the old Let's Play location. It has undergone extensive renovations and aside from some smaller items, it looks like a brand new place. I met up with a friend who also has a three year old on a Wednesday morning to check it out.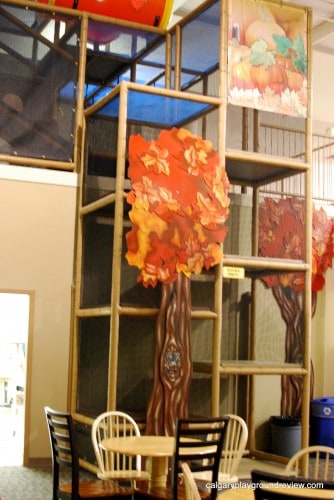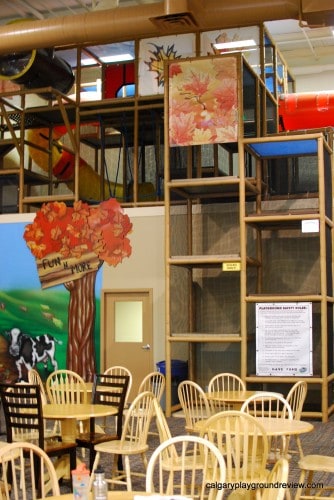 The indoor climber is recommended for ages 5 and up. There are two identical entrances into the play structure (shown in the picture above). The platforms are fairly widely spaced and our 3 year olds were able to get up without assistance, but it wasn't easy. Aside from the entrances, the rest of the play structure is up high along the back of the centre. The visibility is not bad from the seating area as the play structure isn't too deep, but there are a few areas at the back that are hard to see. My son was too intimidated to go up by himself (not that he was supposed to) but I went up with the kids to check it out. I didn't find it too hard to get around in but I found it a little confusing to navigate. That maze-like quality may help keep it fun for older kids though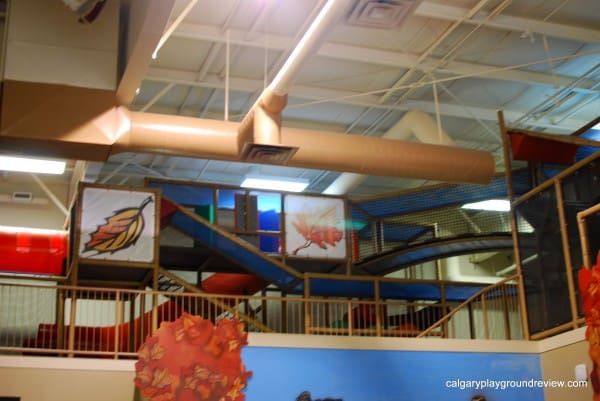 The Spring Tots area is recommended for kids 4 and under. A number of things I recognized from the previous play place's toddler area and show some wear. The area isn't huge but Gordie and his friend did enjoy spending part of their time there. I think it would be best suited to kids between 1 and 2.5.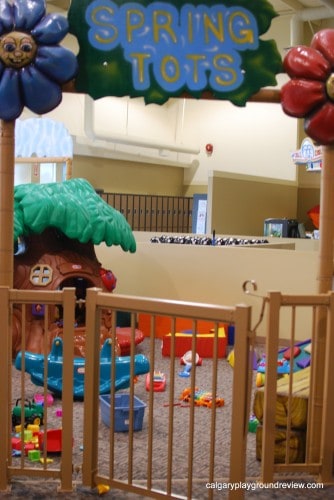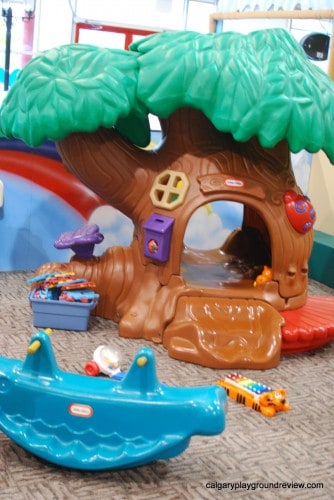 The last feature that is free with admission is the Eye Click. Interactive floor games are projected onto the floor. The sign posted at the Eye Click states that only 2 kids should play on the Eye Click at one time. I found the projection a little difficult to see – it does show up  better than it looks in the picture I took below though.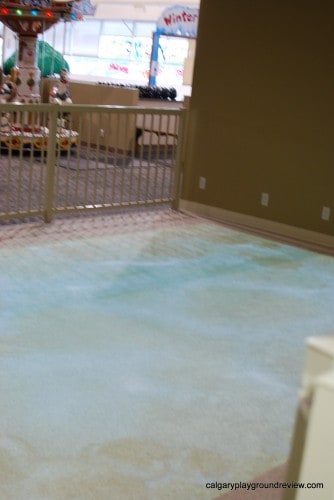 Our kids were too young for the Winter Park artificial ice indoor skating, so we weren't able to try it out. We also didn't see anyone on it that morning. I'd love to hear thoughts on it from someone who's used it though. It's a decent size for kids but I think adults would find the space a bit small.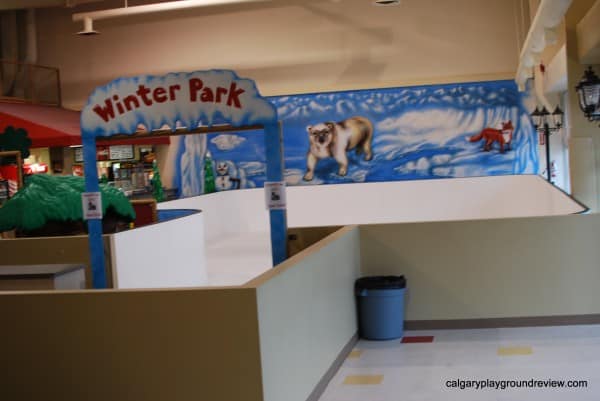 Our kids were too young for the black light (9 hole) mini-golf too. It's also in a separate room so I haven't seen what it looks like either. I did see a family going in with their golf clubs though.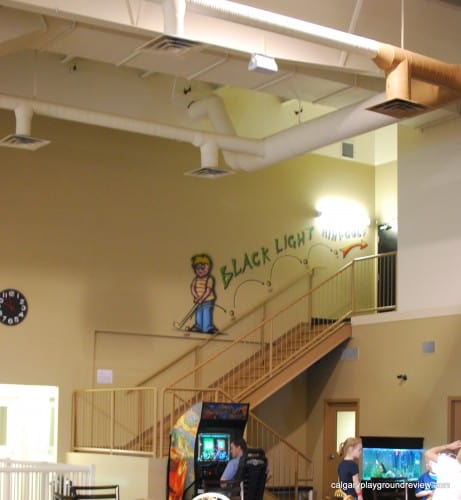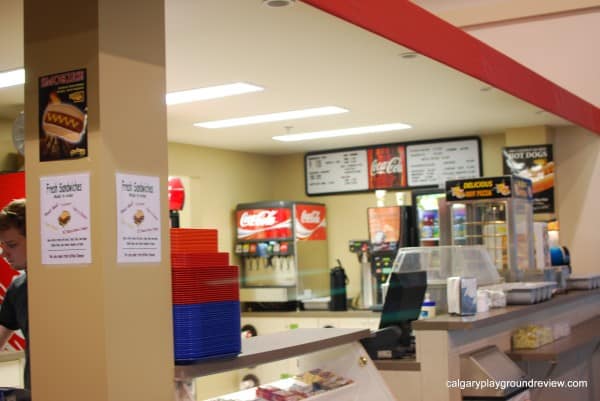 We ended up staying for lunch. Most of the food was typical fast food concession food, but the sandwich I had was made to order and pretty decent for $5.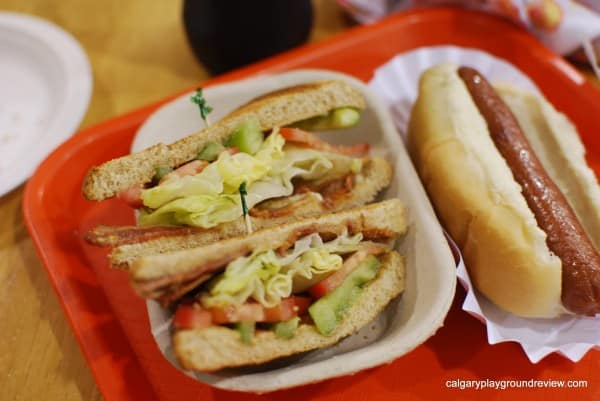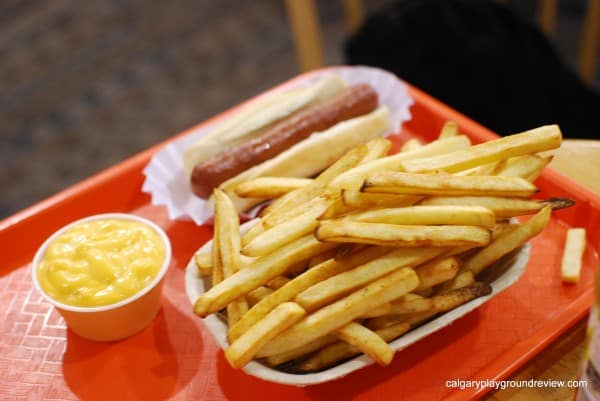 Our kids had a good time and we were able to keep a pretty good eye from them from the seating area and have a (interrupted) grown-up conversation while they played. I think if Gordie had been there without his friend we wouldn't have had quite as good a time – 3 years old is an awkward age for this play place. Too young to be independent on the climber, play mini-golf or go skating but getting too old for the toddler area to really hold their interest.
Have you been to this play place? Have a suggestion for a playground review? Would you like to write a guest review? Write your thoughts in the comments.
Please Note: 
We do our best to ensure the information on Calgary Playground Review is accurate, however information and events are subject to change. Please contact the organizations directly to avoid disappointment.
Can you help make this article better?
If you have noticed an error, have additional information or would like to share a comment you can:
E-mail us at calgaryplaygroundreview@gmail.com
Find us on Facebook: CalgaryPlaygroundReview
Find us on Instagram: YYCdana
Tweet us: YYCdana
We are not affiliated with any venues, attractions or organizations. Please message them directly if you have questions or concerns.