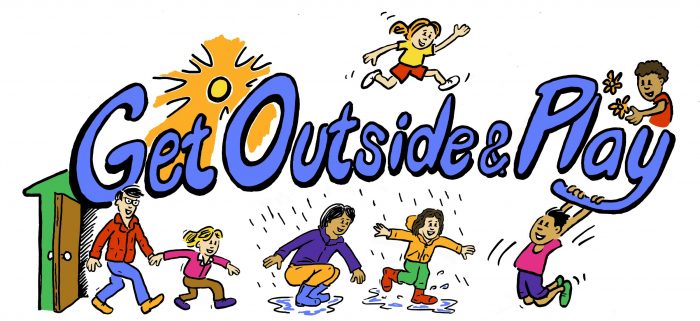 Get Outside and Play Week, May 27 – June 3 is an Alberta-wide celebration of outdoor play in the early years. Early learning and care centres, families and communities are encouraged to focus on outdoor play this week and jumpstart outdoor play for the young children in their lives. We have resources and prizes to help encourage and support everyone to get outside and play.
This event is an initiative of the Get Outside and Play Early Childhood Network in Alberta lead by the Alberta Council for Environmental Education. Mountain Equipment Co-op, Alberta Conservation Association and Alberta Government have all provided funding to support this program.
How can you participate?
Keep it simple! Get out in your backyard, explore a nearby park or visit a new natural area. Grand expeditions or planned activities are not needed! Follow our 5 simple steps:
Get Outside

Be curious

Let your child lead

Have fun

Repeat!
Share how your family will celebrate outdoor play and you will be entered to win terrific prizes at getoutsideandplay.ca
There are several events being organized in Calgary that you are welcome to join. For the full listing and more details, visit: http://www.abcee.org/events2017
All Week
10:00am – 3:00pm Nature play at the Calgary Zoo. Visit their new nature play space at the Canadian Wilds at Cequel Lodge.
May 26
5:30pm – 7:00pm Bowness/Montgomery Family Wellness Night
May 27
9:30am – 10:30am PLAYground Workout in Lakeview
May 28
11:30 – 3:00 Get Outside and Play Launch event at Pearce Estate Park
June 1
10:00am – 12:00pm Fantastic Mud at Edworthy Park
Is your child in daycare or dayhome? They are also encouraged to focus on outdoor play this week and let us know how they are doing it. Find out more at getoutsideandplay.ca.
Christina Pickles  is the program Program Manager at Alberta Council for Environmental Education