Permanently closed Summer 2017
Location    map      http://www.hopsipjump.com/
Address: #108, 8060 Silver Springs Blvd. NW
Gordie's Review 2014 (5.5  years old)– "I liked playing with those big balls"
Nicky's Review 2014 (2.5 years old) – "like slide"
Nicky's Review 2015 (3 years old) – "I liked the thing with the big slide"
Robbie's Review 2015 (9 months old) – loved the bead maze
Cost: 5 years to 10 years – $9.52, 1 year to 4 years – $ 7.62, 11 months and under free. 50% admission after 6pm.
Age Range: Best suited for kids 0-7 but kids 10 and under are welcome.
Footwear: Socks.
Safety Features/Concerns: Families will receive wrist stamps and must check in and check out upon entering and leaving.
Play Area Features: Large climber with double slide, big ball area, tunnel, bridge, obstacles etc. Toddler area (2 and under) with padded foam blocks, slide, bead mazes, activity blocks. Playroom with playhouse, kitchen and giant 'lego' blocks.
Additional Services: Birthday parties.
Food Services: H S & J Cafe is next door with a separate entrance. All the food from the cafe can also be ordered inside the play place. Coffee, espresso, lattes & teas as well as lunch and breakfast options – breakfast sandwiches, bagels, muffins, pastries, grilled paninis, sandwiches, soups and salads.
Overall Assessment: We stopped by Hop, Sip & Jump has now been open for a year and have made some changes since it first opened. The baby area now has a small slide and some activity block toys and they've opened up an additional play space along the side with a play kitchen and some giant 'lego like' building blocks.
We stopped by around lunch time on a Thursday. There were a number of families there but it was easy to find a table and it didn't feel too crowded.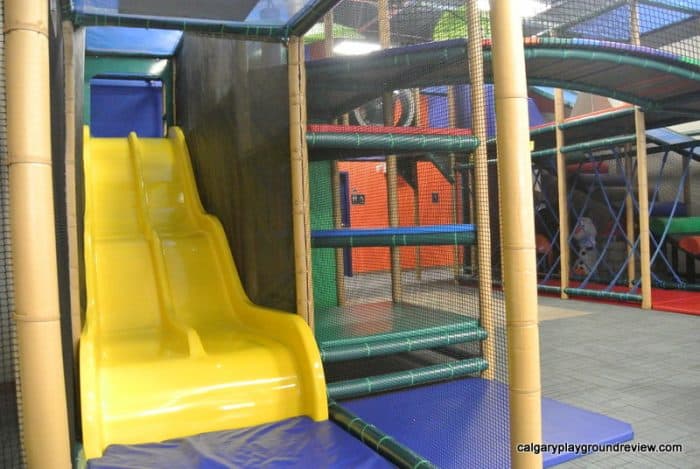 The play area is separated into three different spaces. One with a large climber, the other a small spot just for kids 2 and under and a third playroom area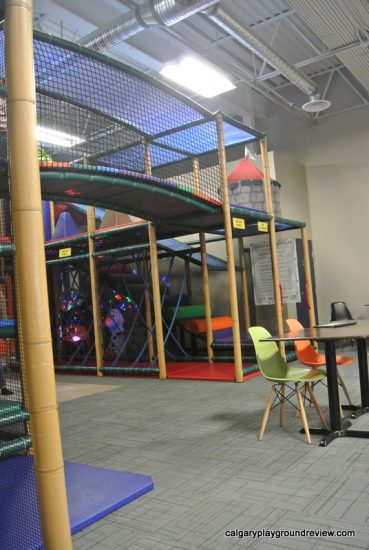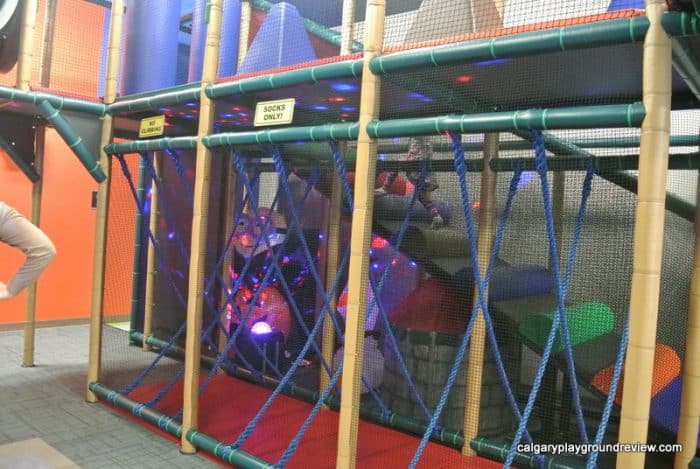 The large climber is recommended for kids 5 and older but my 2.5 year old navigated it quite well last year with a little initial help from her big brother and had it completely mastered this year at 3. Younger kids can end up getting pushed around by older kids if they are on the wrong sides of the big balls although they are unlikely to get actually hurt.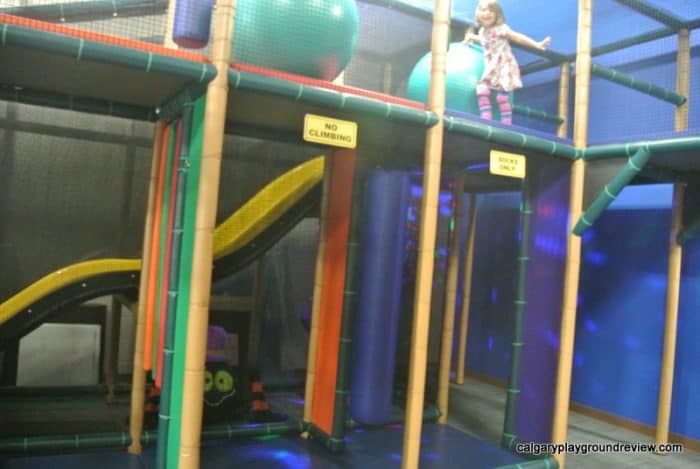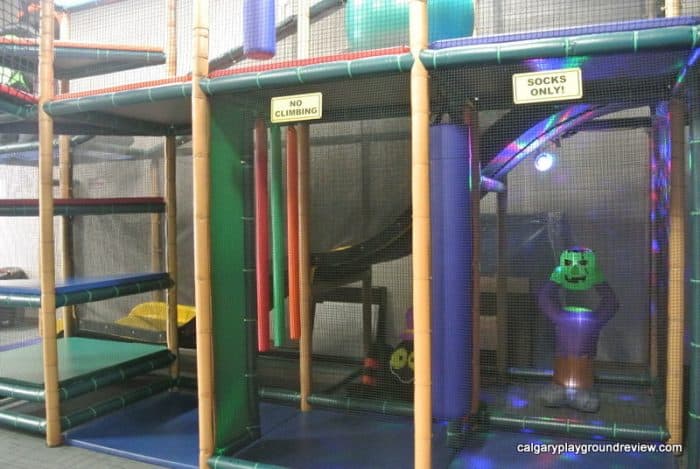 The sightlines are great inside the climber. You can easily keep track of your kids from the chairs close to the play space and you can see all areas of the climber from the ground if you walk up to it.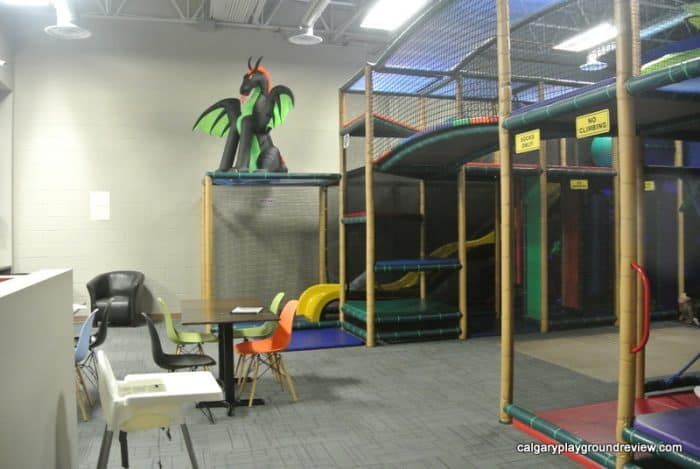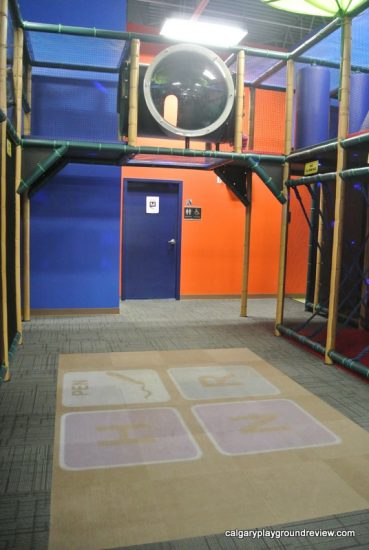 In the middle of the climber on the floor is an interactive mat. The lighting isn't great for it so it can be a little hard to see.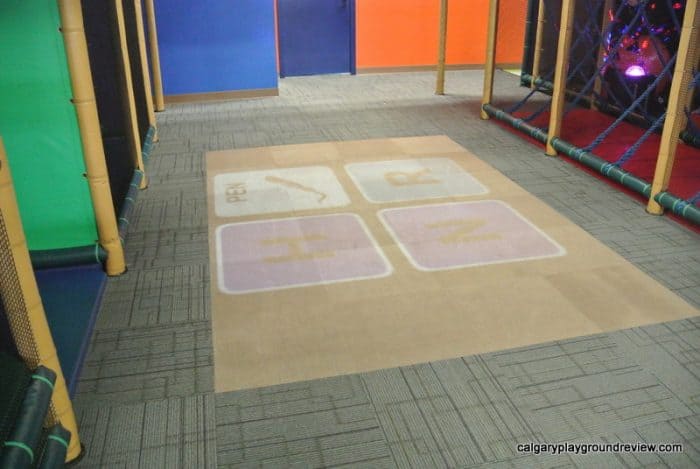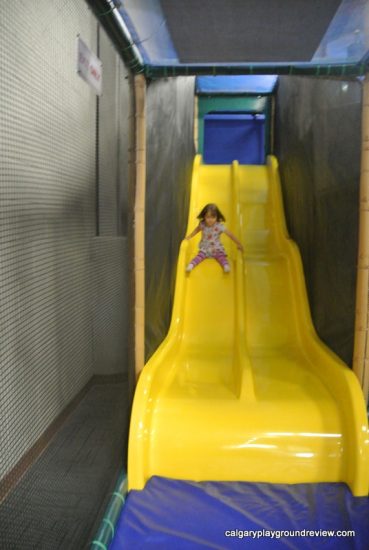 The toddler area is a small space with a small slide and a few activity blocks. There's bar seating along on side and a two TVs above it, one with a closed circuit television showing shots from the play area. There is also a table just outside which I could sit at and watch my baby while he had a little freedom. He really enjoyed the space and the bead maze in particular. Nicky enjoyed playing in there with Robbie.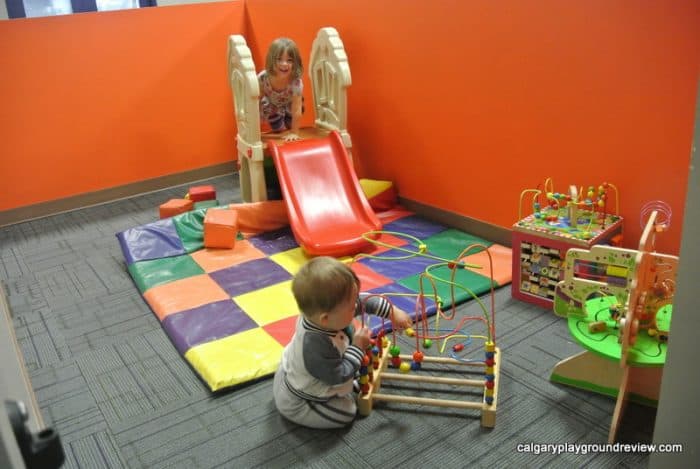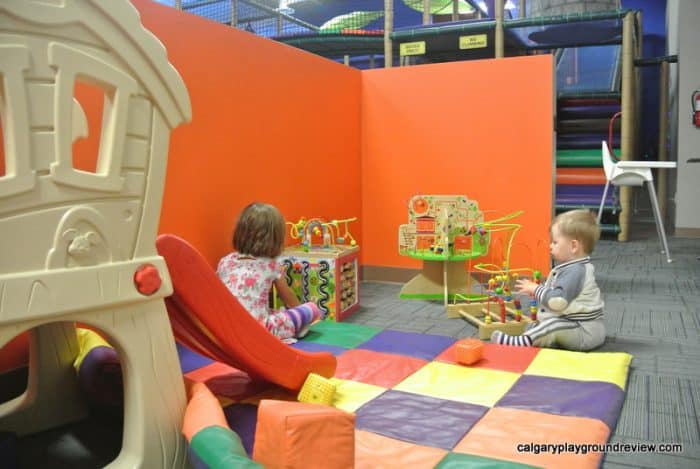 The playroom is a nice bright space with windows that is great for kids looking for some quieter play.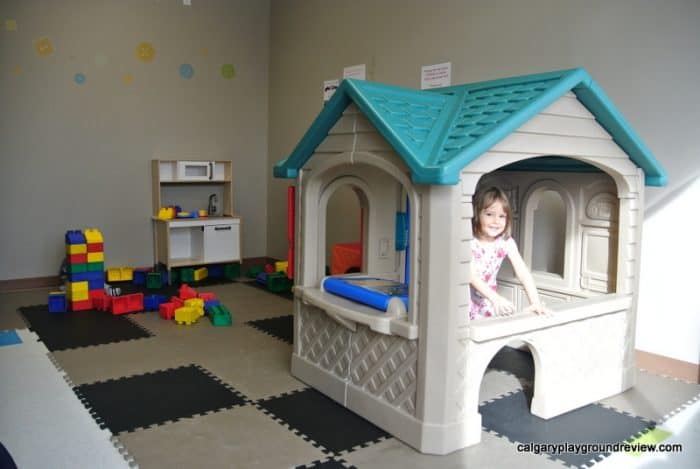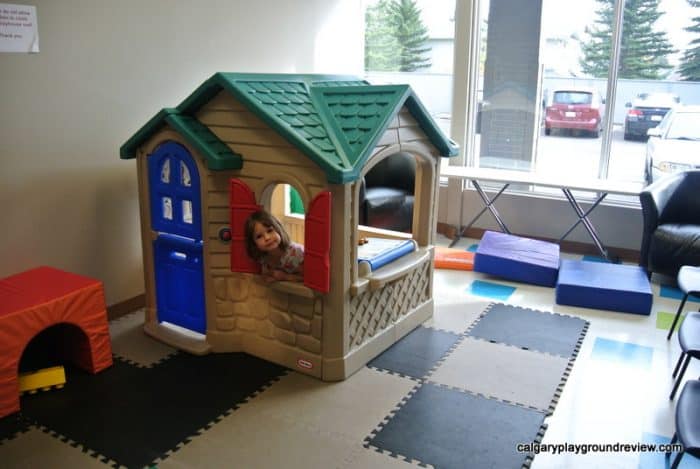 The seating area is large and bright with plenty of seating.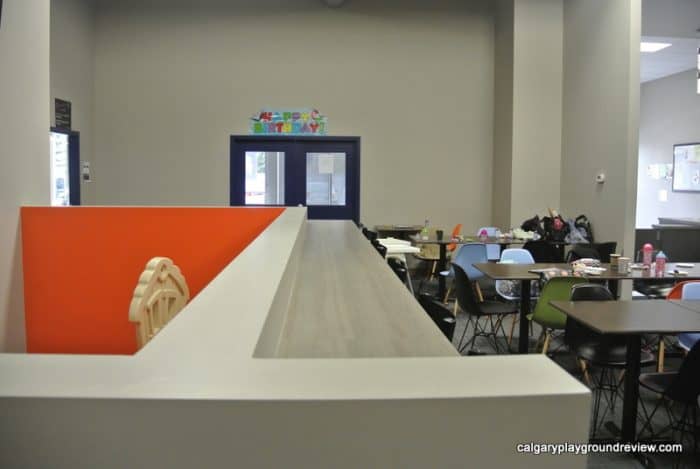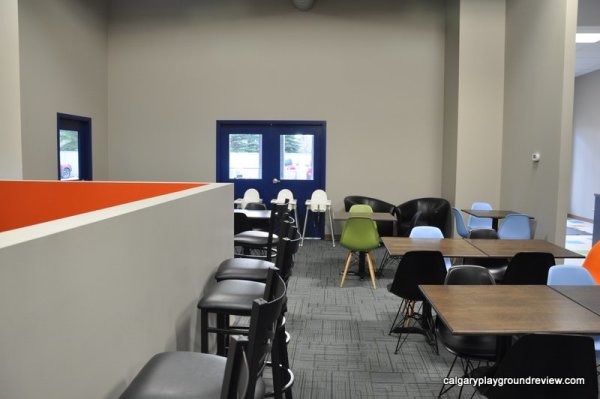 We had lunch while we were there. I had a turkey and avocado wrap, Nicky got chicken nuggets and tater tots and Robbie had a toddler plate with small pieces of chicken, melon, peas and carrots. The food is made fresh to order and is quite good – having the food come straight from the next door cafe has definite benefits.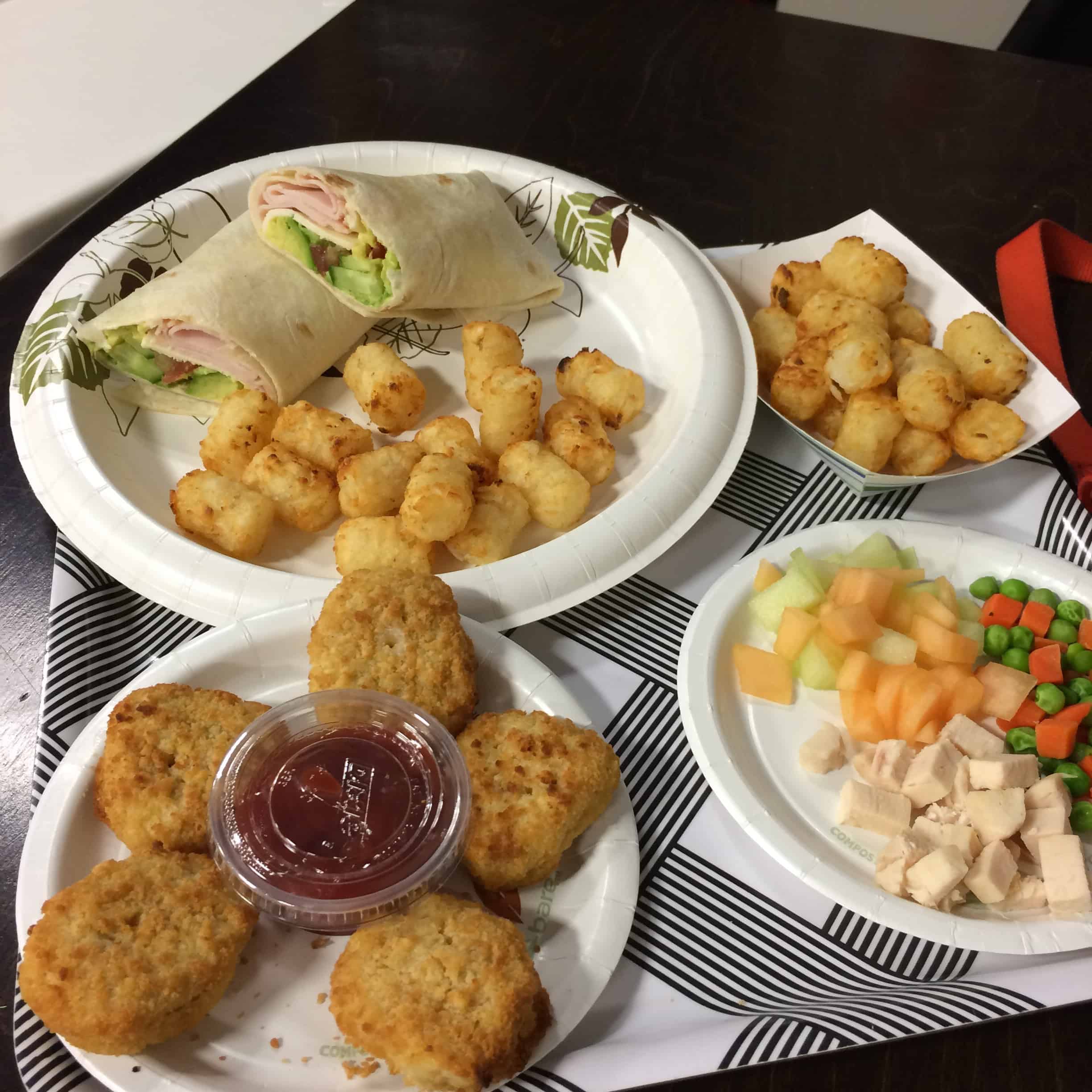 I was really impressed with the options for the kids. The kid meals were all $5.30 or less, would appeal to a lot of different kids. The toddler plates are $4 and you can choose 1 main and 2 sides from a short list of options.
This would be a great place to go to have coffee with a friend or just for your kids to run off some energy. The climber accommodates kids beyond the preschool years but is still easy to monitor. My kids have had a great time here and I would happily go back again.
Have you been to Hop, Sip Jump? What did you think?