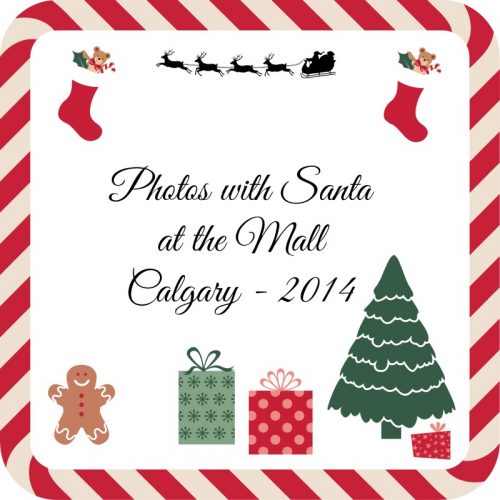 Santa is starting to arrive at Calgary Malls again this year. There are a lot of different options for photos with Santa this Christmas. To help you decide where you want to take your kids, I have listed below, (in alphabetical order) the malls in Calgary that have pictures with Santa and a bit of a description.  I'll continue to update the information on this page to keep it as current as possible. You also may be interested in my humorous but informative post on my personal blog about  Getting Better Photos with Santa: Learning from the mistakes of others.
Note: I have decided to post Santa's hours, but please use this information as a guide only and double check with the mall itself as it is possible these hours may change. I'll provide links to the Santa's hours and info at each mall as they become available.
Chinook Centre
This year, Santa will arrive at Chinook Centre's North Pole (in front of the Bay on the main floor) on Nov 28 at 10am. This is a very popular place to visit Santa and it can often be quite busy. Chinook suggests trying to visit on Sunday or weekday mornings and in the evening as they are quieter times for Santa. Chinook is using a new line management system to communicate wait times to families. The Line App allows families to first check in with Santa and then roam the shopping centre while they wait. You are also able to visit with Mrs. Clause and the elves in the play area if you prefer.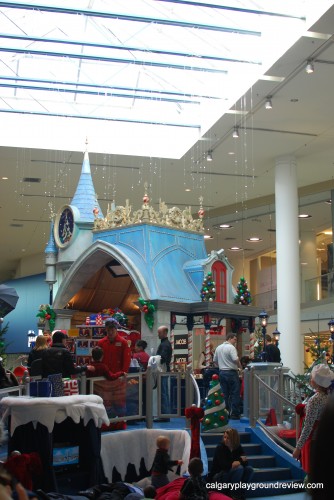 CrossIron Mills
Santa's Wonderland  located inside at Bass Pro Shops opened Nov 15 and offers – a free 4×6 photo with Santa (and one of his reindeer) with the option of purchasing picture packages in store or when you get home, free crafts,  games and activities. Last year you could access the activities before or after the line to see Santa. If the line is longer than 30 minutes they will be offering a Bass Pass, where you can come back at a specified time instead of waiting in line. They state that Monday-Thursday are slower days for Santa.
Nov 15- Dec 6: Monday-Friday 3-8pm, Saturday 10am-8pm, Sunday Noon-5pm
Dec 7-23: Monday-Friday 10-8pm, Saturday 10am-8pm, Sunday 10-5pm
Dec 24: 10-5pm.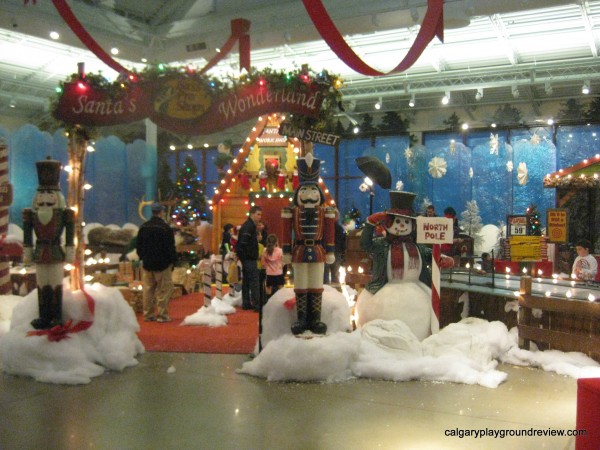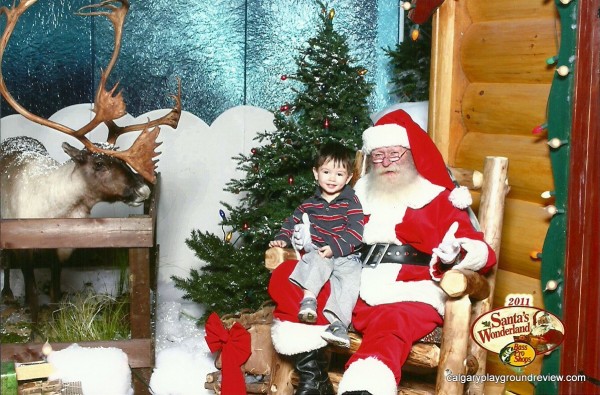 Deerfoot Mall
Santa arrives on November 21. Next to Santa is a Santa's workshop area where kids can do a new Christmas craft each week and there will be Christmas movies playing for the kids.  All of Deerfoot Mall's proceeds from Santa photos will be donated to The Calgary Humane Society.

This year they are also having a  a 'Santa Picture Do Over' contest through Country 105FM.  Parents can upload their not so great/funny santa photos to enter to win a Santa photo package and a $500 gift card to Deerfoot Mall.  Here is their page for details. http://www.country105.com/contest/5146/gallery
November 21-December 13
Mondays-Fridays
11am – 2pm, 3pm-7pm
Saturdays
10am – 2pm, 3pm-6pm
Sundays 12pm-4pm
December 14 & 21 (extended hours)
11am-2pm, 3pm-5pm
December 24
10am-3pm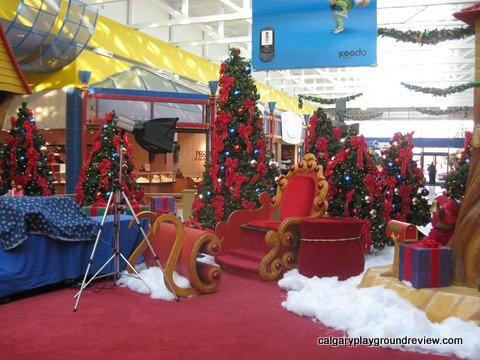 Market Mall
Santa arrives on November 23th this year at Market Mall just in time for their annual Breakfast With Santa.  This year, to see Santa, Santa's helpers will be using an interactive line management system that uses SMS messaging to communicate wait times to families. This Line App allows families to check in first at the Santa set, then roam the shopping centre spending their time shopping while they wait.  It is a very popular location and can get very busy.
Sunday Nov. 23
2:00 pm to 5:00 pm
From Nov. 24 to Dec. 1
Mon. – Sat: 10:00 am to 12:30 pm, 1:30 pm to 4:30 pm, 5:30 pm to 8:00 pm
Sunday: 11:00 am to 1:00 pm, 2:00 pm to 5:00 pm
From Dec. 1 to Dec. 23
Mon. – Sat: 9:30 am to 12:30 pm, 1:30 pm to 4:30 pm, 5:30 pm to 8:00 pm
Sunday: 10:00 am to 1:00 pm, 2:00 pm to 5:00 pm
December 24
9:30 am to 12:30 pm, 1:00 pm to 3:00 pm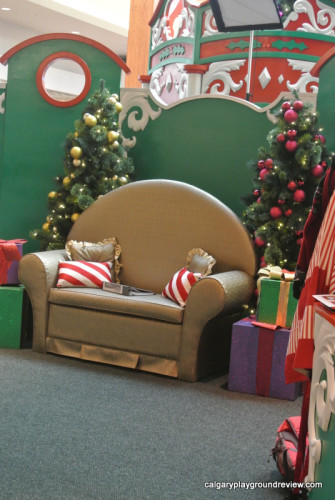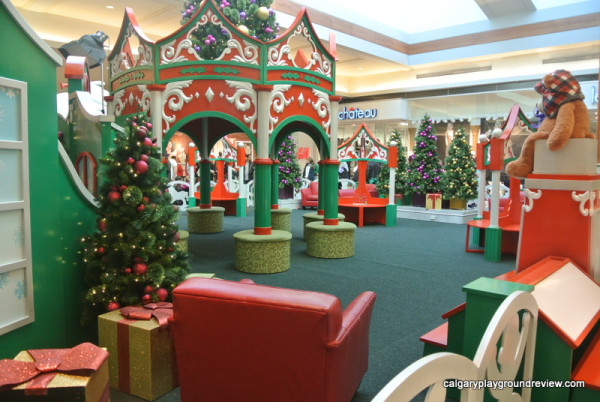 Marlborough Mall
Marlborough Mall has a professional photographer taking photos with Santa beginning on November 22. In addition to photos with Santa this year, Marlborough Mall is doing FREE children's crafts at both centres from 1 – 3 on November 29,  Dec 6, 13 & 20.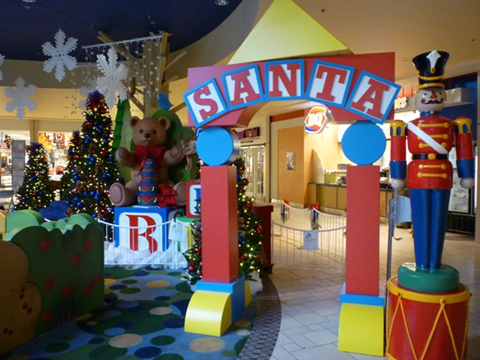 North Hill Centre
North Hill is not hosting a Santa this year and will instead of running a" Kids Helping Kids" promotion.
Northland Village Mall
This year Santa will arrive at Sugarplum Lane on November 29. Kids can do a craft,  have a cookie, write a letter to Santa and of course, visit with Santa. Children go through in groups in 30 minute intervals which you can book in advance (with 24 hours notice) by calling calling Customer Service at 403.247.1393. You can also walk-up. There is no professional photographer on site so you need to bring your own camera and take your own photos. The entire experience is free but there was a suggested donation of $5 per child that went directly to Habitat for Humanity Calgary.
November 29th- December 23rd
11:00 am to 1:00 pm, 2:00 pm to 4:00 pm
December 24th
10:00 am to 1:00 pm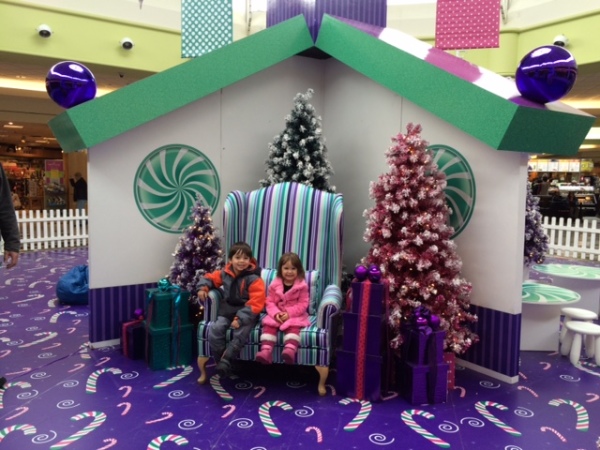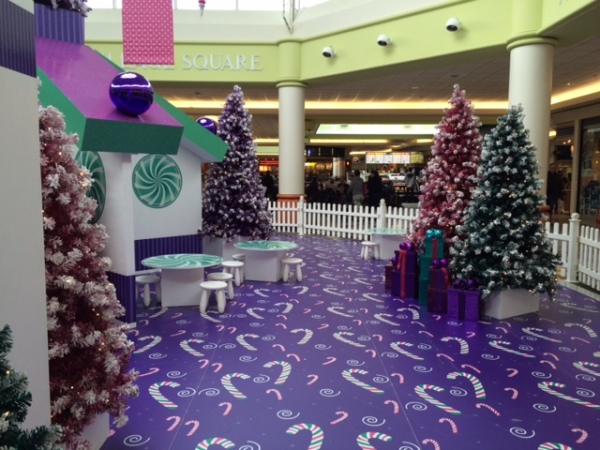 Sunridge
This year instead of their tree lighting ceremony, Sunridge will be hosting the Season of Style Special Celebration on December from 5-7pm. This special event that will offer holiday face painting, festive balloon animals, Christmas story time, a special guess the lights contest in support of the Children's cottage Society, and much more.
Santa also arrives on December 1. Like in previous years photos with Santa are free but there is no professional photographer so you needed to bring your own camera. This year they are asking for monetary donations at the entrance to see Santa that will go directly to the Children's Cottage Society.
December 1st to 24th
Monday – Saturday: 11am – 8pm
Sundays & Christmas Eve: 12pm – 5pm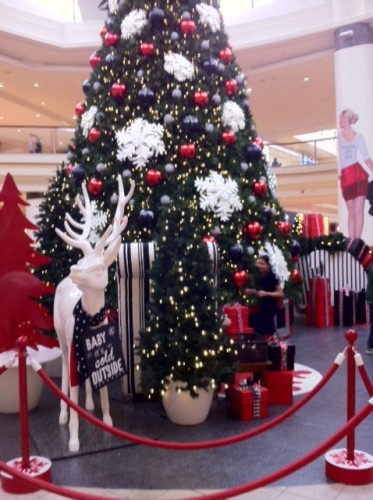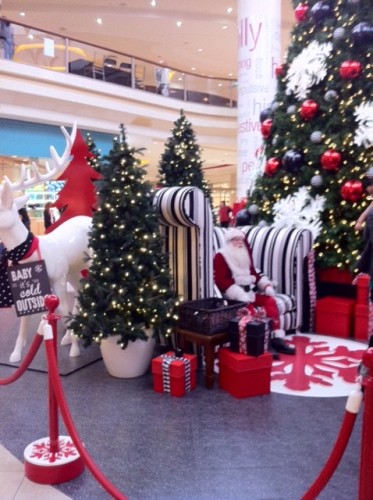 Southcentre
Santa will be arriving at Southcentre on Nov 15 at his Enchanted Forest in Centre Court. This year, Southcentre is introducing a simple two-step process to see Santa where families first register and then return to center court when notified. Once in the Enchanted Forest, the wait should be approximately 30 minutes. Santa's Enchanted Forest has been enhanced with a Magic Pond (an area where kids can watch holiday movies), the SunRype Snack Shack (free SunRype treats) and new interactive games to keep kids busy and entertained. Santa will be handing out ginger bread stuffies.
The Cookie kitchen has been relocated this year, in front of Sport Chek (still on the main level). Kids can decorate their own cookie. The Cookie Kitchen is open during mall hours.
In partnership with Autism Calgary and as part of Southcentre's commitment to provide a magical holiday experience to all children and their families, we are pleased to again offer children who have difficulties with sensory processing including those children with Autism, Asperger's, Cerebral Palsy, ADHAD and their families the opportunity to visit Santa during select times when the shopping centre is not open to the public. Interested families can contact Southcentre at 403-225-9100 to reserve a spot, Mon – Fri, 9 am – 4 pm.
Santa will extend his hours by visiting children during full mall hours. (From mall opening to mall closing each day) beginning on November 15th. Dec. 24th, Santa will head to the north pole at 4 pm.
He will take short breaks during the day to feed his reindeer.
Nov 15-27
Mon to Fri 9:30am-9pm \ Sat 9:30am-8pm \ Sun 11am-6pm
Nov 28 (BLACK FRIDAY) 8am-9pm
Nov 29 9:30am-9pm
Nov 30 11am-6pm
December 1-14
Mon-Sat 9:30am-9pm Sun 10am-6pm
December 15-21
Mon-Sat 9:30am-10pm Sun 10am-7pm
Dec 22-23 9:30am-10pm
Dec 24 9am-4pm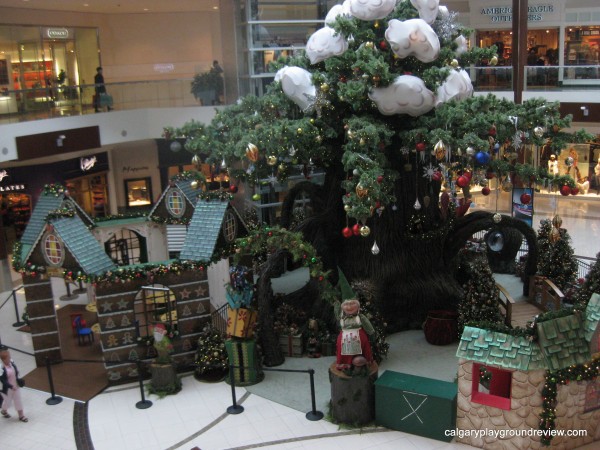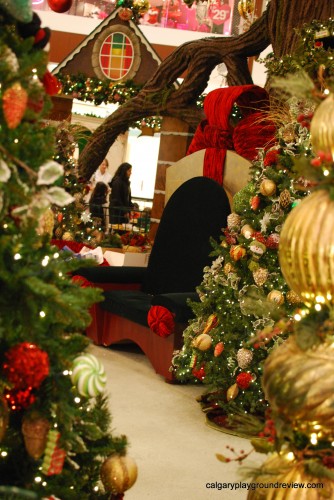 Westbrook Mall
Westbrook Mall has a professional photographer taking photos with Santa beginning on November 22. In addition to photos with Santa this year, Westbrook Mall is doing FREE children's crafts at both centres from 1 – 3 on November 29,  Dec 6, 13 & 20.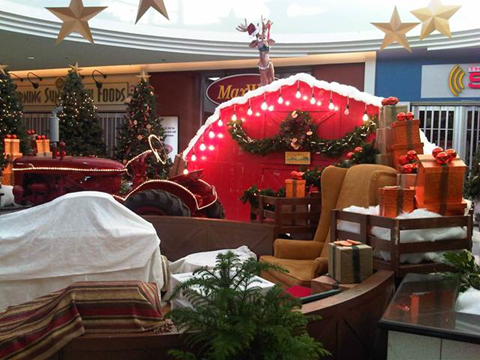 Where is your favorite place to take your kids for photos with Santa? Do you have any additional tips or information about these mall Santas? Write your thoughts in the comments below!