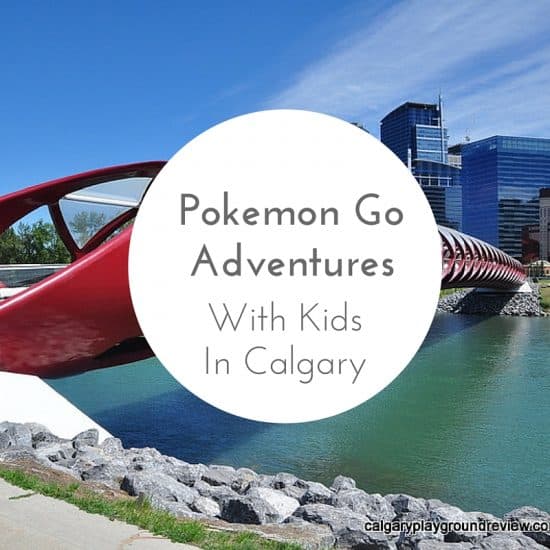 I enjoyed playing Pokemon when I was younger and was pretty excited to try Pokemon Go when it was released in Canada. We've been having a lot of fun with it and have been walking more than ever.
Depending on where you are, Pokestops can be few and far between and Pokemon may be hard to find. Even if you are in a great location going to different areas increases your likelihood of finding new Pokemon for your collection.
Here's some suggestions for places to go and play Pokemon Go with the kids.
Good Places in Calgary to Take the Kids to Play Pokemon Go
University Research Park
40th Ave and 36 St NW
This park near the Brentwood Train Station is now a huge draw for Pokemon players. With a loop that goes through 8 different Pokestops in a short distance it is now extremely popular. You're sure to catch lots of Pokemon too as there is usually lures on a few of the Pokestops. We took the kids after dinner and it was packed with people playing.
CrossIron Mills
261055 Crossiron Blvd (North of Calgary along Deerfoot Trail)
CrossIron Mills has over 20 Pokestops that you can hit while you are there. Some people have reported some GPS issues and have found that popping outside and grabbing one of the outdoor Pokestops can help.
Heritage Park
1900 Heritage Dr SW
Heritage Park is packed with Pokestops to visit and you can learn about Alberta's History while you are there. Admission applies.
The Calgary Zoo
1300 Zoo Rd NE
Catching Pokemon among all the animals at the Zoo sounds super cute. There is also a bunch of Pokestops that you can hit while you are there. Admission applies.
Glenmore Pathway along Bayview
accessible from Glenmore Landing or Bayshore Rd by Bay Field Pl SW
The pathway along this stretch has more than 10 Pokestops fairly close together. It's also a short drive or bike ride to South Glenmore Park's playground and spray park.
Fish Creek – Bow Valley Ranche Area
15979 Bow Bottom Trail SE
The Bow Valley Ranche area has always been lovely place to explore and now it also boasts a concentration of Pokestops too. While you are there, stop at Annie's Bakery and Cafe for snacks and ice cream. It's also just a short drive to Sikome Lake.
Inglewood
along 9th Avenue from 11th to 14a St SE
There are a lot of cool shops in this area and now you can do a short walk and catch lots of Pokestops too. It's also just a short walk to one of my favorite playgrounds at Nellie Breen Park.
Montalban Park
23 Ave and 48 St NW
If you are taking a dog along with you on your Pokemon Go adventure, this dog park is a great option with 9 Pokestops.
Downtown
Downtown has the highest concentration of Pokestops and tons of Pokemon. Here are three suggestions that are really good for families.
These areas are hopping with Pokemon and Pokestops. Prince's Island Park is one of Calgary's favorite parks with lovely pathways, picnic spots and a great playground.
4th Street/Central Memorial Park/Haultain Park
There are tons of Pokestops in this area. You can also play in the small waters spray and enjoy the flowers at Central Memorial Park and play on an excellent playground at Haultain Park. You can often find food trucks in this area as well.
Shaw Millenium Park is now a Pokemon Go hot spot and is one of North America's largest skateparks.
Post Secondary Schools
Calgary's post secondary schools are also full of Pokestops. Most classes are out for the summer making the campuses fairly open for exploring.
SAIT
Mount Royal
University of Calgary
Saint Mary's Campus in Midnapore
There are tons of great places in Calgary for Pokemon Go – where do you like to go?