Permanently closed as of June 2017
Location         map http://www.playalatte.ca/
Address:    260 Midpark Blvd SE (Inside the hall at Midpark Church – it is not affiliated with the church) – Macleod & Midlake Blvd
Gordie's Review (2.5 years old) – "I liked the train!"
Cost: $6.76 per child (includes in and out privileges). Family rates, ticket books and monthly passes are also available.  Kids 18 months and under and adults are free. Note: in 2012 admission increased to $7.57
Age Range: 7 years and under.
Footwear: Socks.
Safety Features/Concerns: There is one entrance with a gate across the front, but there is no lock. Your kids won't  wander out accidentally but they could on purpose. It is a big open space with good visibility.
Play Area Features: 4 different types of bouncy castles, ride on thomas train, several spin-seats, small climber with slide, caterpillar tunnel, a number of battery operated rocking horses, lots of Rody hippity-hop ride on horses.
Additional Services: Play a Latte is available for parties on Monday through Tuesday evenings.
Food Services: Concession counter with coffee, tea, juice, fruit, apple sauce, loafs, cookies, and two types of pre-prepared sandwiches (type varies).
Overall Assessment: We stopped in to meet some friends at Play a Latte on a Saturday morning. The biggest change since last year is that Play a Latte is now open 6 days a week. Gordie was a little slow to warm up to the play area again this year, but once he got used to it, he loved it.
Play a Latte is located inside MidPark church on the main level, straight ahead once you enter the main doors. The play area is a bit dark, but the colorful umbrellas and bouncy castles brighten it right up. It's also a big space so it won't easily feel crowded and the visibility is great especially for its size. This year I didn't really notice any additional noise from the bouncy castles – you can easily carry on a conversation, but don't feel like everyone in the room can hear it.
The bouncy houses are very popular and the larger ones are accessible for  average sized adults so if your kid (like mine) is a little hesitant to go in the bouncers, you can go in with them.
Gordie's favorite thing by far though was the ride on Thomas train. It took him  a little while to figure out how to push the button to make it go though and sometimes he preferred just to push it along the tracks. My feelings on it were a bit mixed because he loved it soooo much. Lots of kids want to play on it, and at best it can only handle 2 kids at a time (usually just one). He ended up spending a fair bit of time waiting to play on it and I spent a fair bit of my time making sure he shared with the other kids. Regardless of this issue, it was definitely a huge hit.
Although you can purchase sandwiches for lunch, it's not a real focus for Play a Latte. They do encourage you to make sure of in and out privileges so you could easily go somewhere else for lunch and come back. We had some of their snacks and drinks which were good but didn't stay for lunch.
This is a great place to take your child to burn off some energy especially over the winter.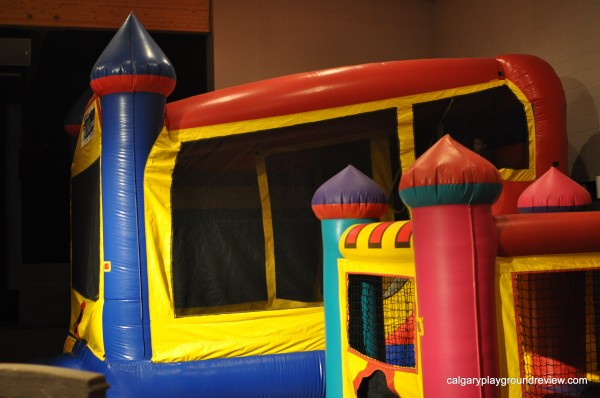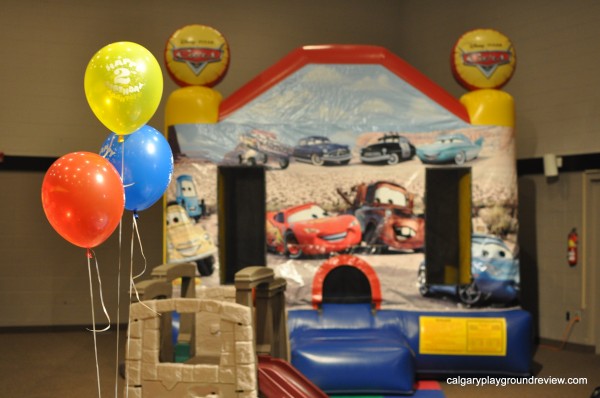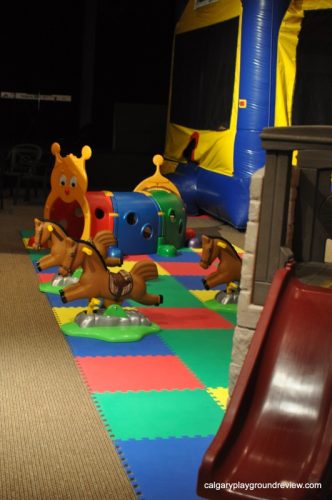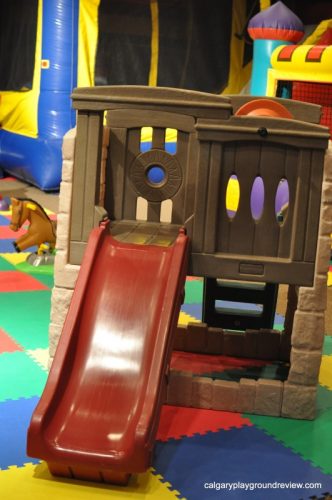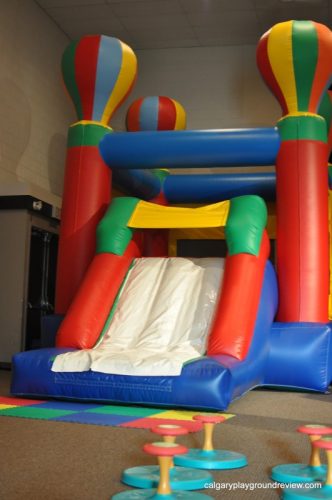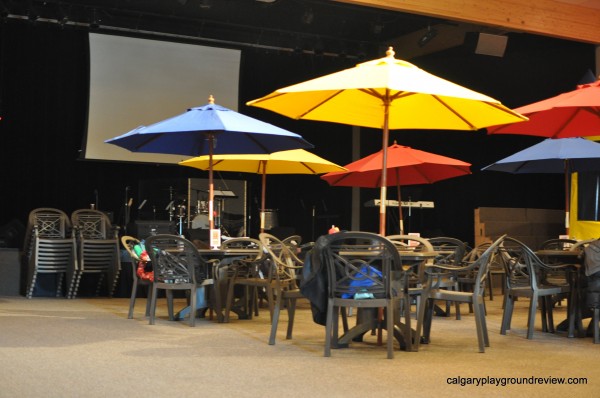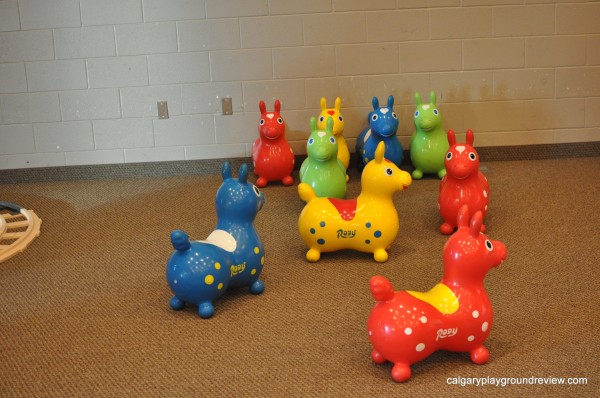 Have you been to this play place? Have a suggestion for a playground review? Would you like to write a guest review? Write your thoughts in the comments.