Looking for some Fall fun this year? Here's 7 ideas to keep your family busy in and around Calgary this year.
1. Autumn Pumpkin Festival – Calgary Corn Maze
http://www.calgarycornmaze.com/pumpkin-patch
 Location: 284022 Township Road 224, Rockyview, AB (South East of Calgary)
Cost: $13.50+gst per person (ages 3+). Ages 2 and under are free. 
Dates: Weekends – Sept 27&28, Oct 4&5, Oct 11, 12&13, Oct 18&19.
Times: 10am – 5pm
Pumpkins: Children ages 3-17 get a mini pumpkin with admission. Children 2 and under can get one for $1. Pumpkin picking for an additional cost.
 Activities: 
Regular Calgary Corn Maze Attractions
Corn Mazes
Petting Zoo
Pig Races
Jumping Pillows
Mini-Golf
Farm Playground
Tractor Pulled Grain Train
Cow Train
Special Events for the Autumn Pumpkin Festival
Pumpkin Destruction Zone – 1pm daily exploding pumpkins filled with candy
Games and Crafts – Pumpkin bowling, pumpkin checkers, cornstalk scarecrow making, mini pumpkin decorating.
Great spots for pumpkin related photo ops.
2. The Harvest Sale
Location: 1900 Heritage Dr SW – Heritage Park
Cost: Adult  (15-64) – $24.99, Child (3-6) – $12.99, Youth (7-14) – $17.99, Senior($65+) – $19.99 or included with annual membership.
Dates: September 6&7
Times: 9:30-5pm
Activities:
Regular Heritage Park Attractions including:
Rides

(now all included with admission)

Historic Town sites:

1880s Pre-railway Settlement
c.1910 Prairie Railway Town
1860s Fur Trading Fort and First Nations Encampment
Special Events for the Harvest Sale:
Harvest Sale with truckloads for fresh fruit and vegetables at historically low prices. Funds raised go to support local charities.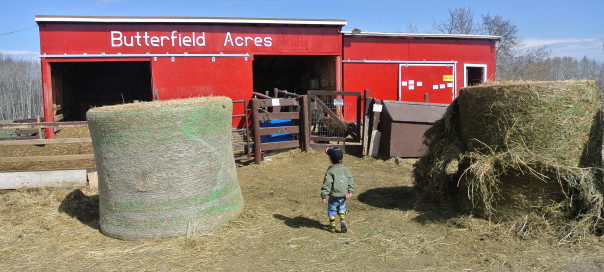 3. Butterfield Acres Pumpkin Hunts
https://www.butterfieldacres.com/farmfun_pumpkin.htm
Location: 254077 Rocky Ridge Rd NW
Cost: Children (walking – 17 years) $12.99 plus GST, Adults $14.99 plus GST, children who are not yet walking are free.
Dates: Weekends in October tickets go on sale Sept 1st. 
Times: Pumpkin Hunt tickets available at specific times from 10:20-1:20. The Farmyard is open from 10am -4pm. If you have a later hunt is is recommended that you go to the farmyard before so you don't miss out. 
Pumpkins: Each child ticket includes 1 pumpkin.
Activities:
Farmyard activities including:
Farmyard Petting Zoo
Pony Rides (do not run during pumpkin hunts)
Play areas
Pumpkin Hunt Activities:
Pumpkin hunt and Pumpkin decorating (est time 40-50 minutes)
4. Bowden SunMaze
Location: Eagle Creek Farms –  34530 Range Road #14, Bowden Alberta (North of Calgary)
Cost: Adults $8.50, Children (5-17) $6, 4 and under free.
Dates & Times:

Sept – Mon-Thurs call ahead, Fri-Sun 11-5pm
Oct – Sat&Sun 11am-5pm (closed Oct 14)
Activities:
Sunflower maze (will not open in 2014 due to hail damage)
Corn Maze
Tree Maze
Rope Maze
Patio Maze
Bale Maze
Play Area
U-pick flowers and vegetables (additional cost)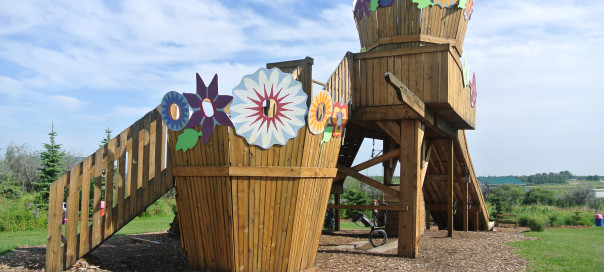 5. Kayben Farms Sunshine Adventure Park Pumpkin and Scarecrow Festivals
http://kayben.com/sunshine-adventure-park/farm-events/pumpkin-scarecrow-festivals/
Location:  314064 – 32nd Street E.,  Okotoks, AB 
Cost: $12 per person, $35 per family, under 2 is free.
Dates: Saturday Oct 4, 11, 18 and 25
Times: 10am – 5pm
Activities:
All the fun of Sunshine Adventure Park including:
Berry Bounce
Play Areas
Huge slide and climber
Corn Maze
Mazes
and more!
Pumpkin and Scarecrow Festival Activities:
Weekly Contests and Special Events
Wagon Rides
Pumpkin Painting
 6. 
Cobb's Corn Maze – Freaky Fridays and Pumpkin Palooza
Location: 1500 84 St NE  Calgary
Cost: $12.50 + GST for adults over 17. $11.50 + GST for kids 3 -17 and Under 3 are free. Family Passes are available at various rates.
Dates: Fall Hours – September 2 through October 26
Times: Saturdays & Sundays: 10am to 5pm, Freaky Fridays – Fridays in October (Oct. 3, 10, 17, 24, 31): 5pm to 9pm
Pumpkins: Pumpkin patch – cost varies by size.
Freaky Fridays – Bring a flashlight and walk through the corn maze in the dark, take a creepy tractor ride, 3 haunted houses
Pumpkin Palooza – Find the perfect pumpkin big or small. Plus regular attractions
Regular Activities Including:
Corn mazes

Fence Maze

Rope maze

straw bale maze(s)

hop dots

puzzle mazes

punching pumpkins

giant games

playground structures

pedal carts

tire playground

Maze mountain & slide

tractor ride
Activities requiring additional fees:
Archery, Bouncy Castles, Euro Bungy, Popcorn Popper and Funballz. 
7. Enjoy Halloweekends at Calaway Park
http://www.calawaypark.com/halloweekends.html
Date: Weekends September 6th – Ocober 13th, 2014
Time: 11am-6pm
Activities:  Scavenger Hunt, Face Painting ($5), Photo Opps, Halloween themed amusement park fun.
Cost:  Included with regular admission and annual passes. (regular admission $35.95, jr admission (3-6 years $29.00)