We have been to all the official spray parks and wading pools in Calgary (as well as Sikome Lake) in the last couple of years. They were all fun in their own way and are all a little different. I have listed them all below along with a short description.
The City of Calgary spray parks and wading pools as well as Sikome Lake are scheduled to open June 14th this year. Although the flood last year disrupted the water parks, the wading pools and spray parks are all scheduled to open this year as normal. Bowness Park's spray park is still closed due to the Park's redevelopment and the spray area at Prairie Winds Park will be closed for part of the summer while a new spray area is put in (the wading pool will remain open).
Water play areas in Calgary are typically open in mid-June and close September 1. This can vary depending on the weather and the specific location. The spray parks and wading pools are open from 9am-9pm and only close during lightning storms. It can be surprisingly fun to put on your rain gear and play in the rain.
Note: Prairie Winds Spray Park has been closed this summer but it is scheduled to reopen August 27, 2014. This was quite a bit later than was originally hoped but in some good news, Prairie Winds, South Glenmore and Eau Claire water parks will remain open this year (weather dependent) until September 14. All other spray parks and wading pools will be closing as scheduled the day after labor day (Sept 2nd this year).

Spray Parks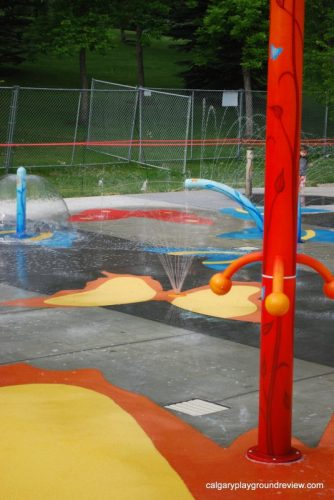 Location: Triwood – 19 St. & Chicoutimi Dr. N.W.
Canmore Park's Butterfly Spray Park opened in 2011. It has multiple different spray features, some big and some little that will appeal to children of all ages. There's no playground nearby but there is a large park area with lots of room to run around.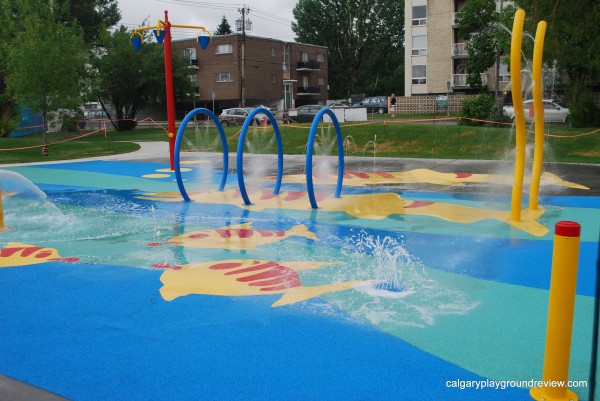 Location: Crescent Heights – 617 1 St. NE.
Rotary Park's Fish Spray Park also opened in 2011. There are big and little spray features and will appeal to children of all ages. There is also an excellent playground located right nearby.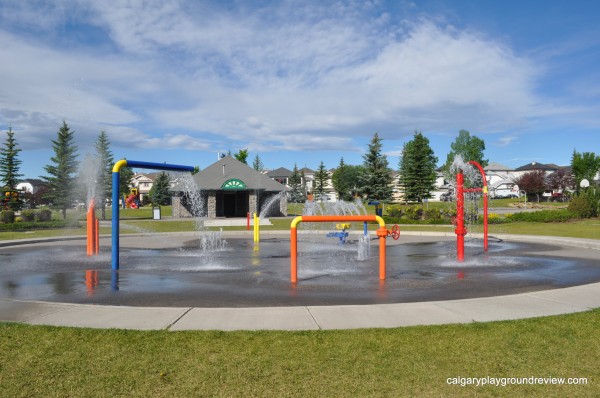 Location: Somerset- 999 Somerset Dr. S.W.
This spray park has a number of different spray features but it may be a little intimidating for younger children. There are some small sprays but they are located towards the centre of the spray park. There are three small playgrounds just around the corner. Starting this year, Somerset Spray park will be following the city of Calgary schedule and will be open 7 days a week beginning June 14, 2014, 9am-9pm.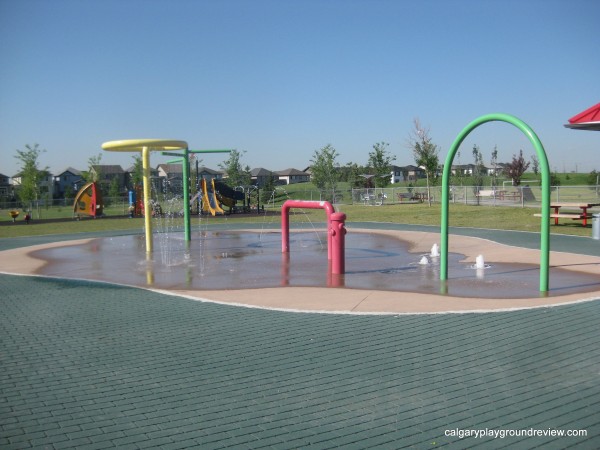 Location: Dover- 28 St and 30 Ave SE
The spray park at Valleyview will definitely be a hit with younger kids. There are lots of small spray to play with at the edges of the spray park. The spray park and preschool playground are both inside a fenced area. This spray park might not hold the attention of older children, but luckily just up the hill is an excellent school-aged playground.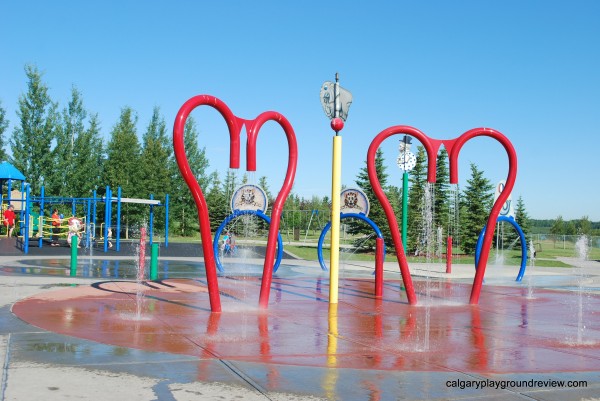 Location: 90 Ave. & 24 St. S.W.
The South Glenmore spray park is located in the centre the Variety Children's Park. The entire play area is designed to be accessible to all children. In addition to the spray park there is a preschool playground and a school-aged playground with ramps. South Glenmore will (weather dependent) remain open until September 14th this year.
Wading Pools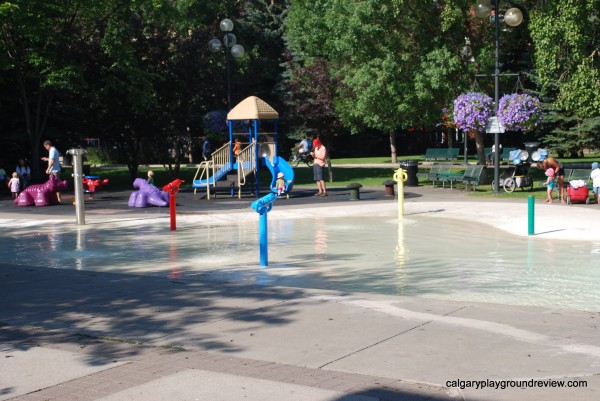 Location: 3 St. & Riverfront Ave. S.W.
Eau Claire has 2 wading pools side by side. One of the wading pools has a few sprayers that they kids can spin around. There is also a toddler playground right beside it. It is only a short walk away from Prince's Island Park which has a excellent playground for kids of all ages. Eau Claire will (weather dependent) remain open until September 14th this year.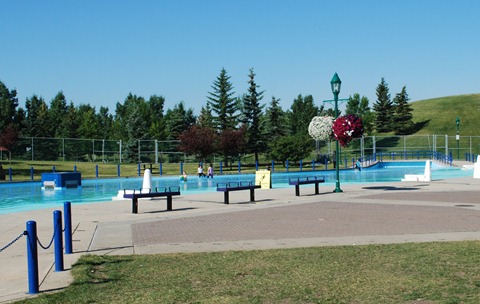 Location: Westwinds/Castleridge – 233 Castleridge Blvd. NE.
The spray park area at Prairie Winds park will be undergoing some much needed renovations this summer. The  large wading pool will be unaffected and will be open along with the other city of Calgary wading pools and spray parks. The new design looks pretty cool – they spray park reopens August 27th. Prairie Winds will (weather dependent) remain open until September 14th this year.   Right outside the fence there is a playground for kids 5-12. There is a concession set up on busy days.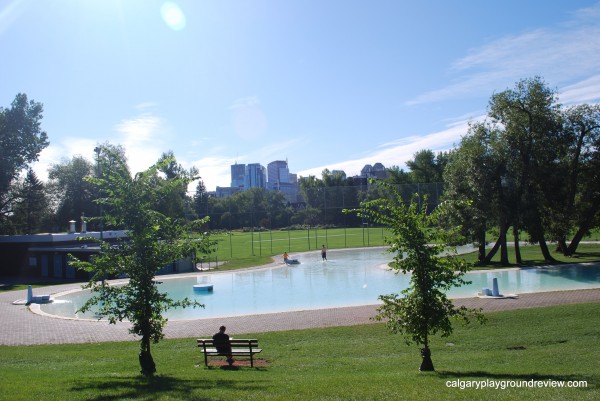 Location: Hillhurst – 800 12 St. N.W
Riley Park has a large wading pool which varies in depth from a couple of feet to ankle deep. It has a very pretty setting with large mature trees and an island in the centre. On busy days there is also a concession. Riley Park also has a playground for kids of all ages which is a short walk across the park.
Bowness Spray park is closed as part of Bowness Park's ongoing renovations. Bowness park is expected to partially reopen this summer.
Other Options

Location: Fish Creek Provincial Park – Bow Bottom Trail S.E.
Sikome Lake isn't really a lake at all – it's more of a giant artificial swimming pool with a sand bottom and sand shoreline. This is the closest you can get to a beach in Calgary. There are three playgrounds at Sikome Lake, a toddler playground, a school-aged playground as well as a small playground on the South side. On busy days there is also a concession.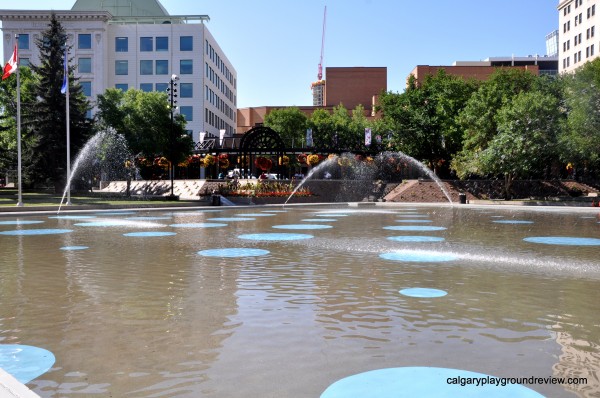 Location: Not considered by the City of Calgary to be one of their official wading pools but you can wade in the water. There is a year round washroom on site.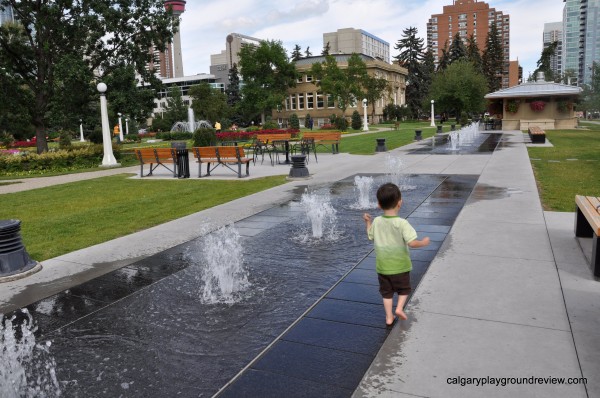 Location: Downtown (beltline) – 1221 2 St. S.W.
Not an official spray park, but the water sprays along the path are treated so it's safe for the kids to play in them. There is a washroom at the park as well.
---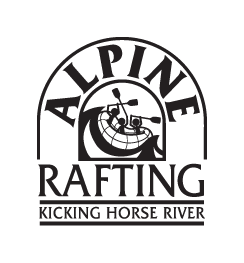 Does your family love water fun? Alpine Rafting has family white water rafting  trips for kids as young as four years old. A perfect day excursion from Banff, Lake Lousie, Revelstoke and Radium – enjoy 3 family friendly rapids, no experience required. Trips start at $29 and include a Riverside BBQ lunch. Find out more at http://www.alpinerafting.com
---
Disclosure: This post was sponsored by Alpine Rafting. All opinions, reviews and content are my own.
Follow me to get more ideas for great places to play in Calgary: