permanently closed – Sunridge Mall no longer has a free play area. It has been replaced with Animal Riders, motorized plush animals that you can ride on for a fee.
Location http://sunridgemall.com/
Address: 2525 – 36th Street NE –  in the centre of the mall by The Shoe Warehouse
Gordie's Review (22  months old)– Fun tunnels!
Cost: Free.
Supervision: You must register your children at the front for a 30 minute period.
Age Range: 6 and under.
Surface: Soft Fall Mats.
Footwear: Socks.
Safety Features/Concerns: There is one gated entrance.
Play Area Features: Eco-Park themed play area. Multiple climbers 2 with tunnels, 2  panels; 2 touch screen monitors with a variety of games.
Seating: lots of bench seating around the perimeter of the play area.
Additional Kid Friendly Services: Complimentary strollers are available at guest services; Family washroom and nursing room located inside the food court;  SunKidz.


Overall Assessment: This play area has recently been reopened in a new location in the center of the mall. The play space is smaller, but it's still a good size play area with excellent seating and visibility. The play area was previously unsupervised, but this was resulting in some security problems. The play area now requires you to sign up. Currently, there is a customer service staff member that you can find near the play area but I have been told that the customer service area will be moving next to the play area so it can be easily supervised.
I popped in with a friend of mine right after it had been reopened. My friend's little boy loved that you could see the  the glass elevator go up and down. Gordie's favorite part was still the tunnels. Our kids were all having kind of a cranky day so we only ended up staying for 20 minutes but I expect they'd want to stay longer on a different day.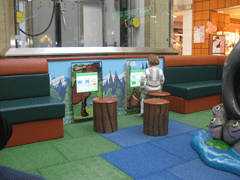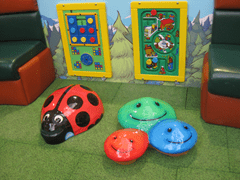 Have you been to this play place? Have a suggestion for a playground review? Would you like to write a guest review? Write your thoughts in the comments.