I've had a great time this winter reviewing all the indoor play spaces I could find but I can't wait to get back outside reviewing playgrounds again. Even through the winter my eyes are drawn to playgrounds Although I do my best to find great playgrounds, there are tons I'm going to miss without some help.
If you have a tip on a playground I should review please drop me an e-mail at playgroundsnoop@gmail.com.
When I am looking for playgrounds to review I'd like it to fit into one of the following playgrounds:
1. A big playground
There's no sense in me reviewing every little tot lot in Calgary. If nothing else, the playground should at least be a decent size.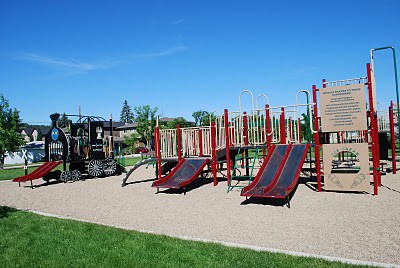 (pictured – Parkdale Community Centre Playground)
2. A themed playground
Themes just make playgrounds better. This one below in Prestwick is pretty spectacular, but even a more subtle theme in an otherwise basic playgrounds makes it seem special.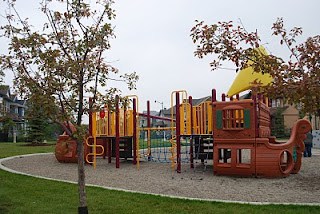 (pictured – Prestwick Pirate/Castle Park)
3. A playground with unique equipment
Sometimes even decent playgrounds can seem monotonous because all the equipment is exactly the same as the playground down the street.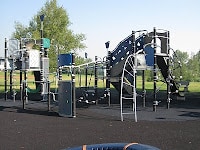 (pictured – Cambrian Heights Playground)
4. A playground at a unique location
Sometimes the playground doesn't have to be the focus at all if it's located in a really interesting place.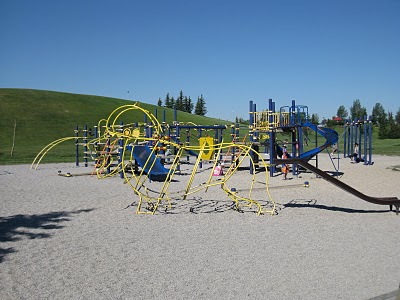 (pictured – The playground at Prairie Winds Park is not the best but there's a huge hill that you can stand on and watch the planes fly right above your heads. The planes fly so close you aren't allowed to fly kites!)
5. A playground inside a great park
A playground can still be worth a trip if it's inside a beautiful park with pathways and picnic tables.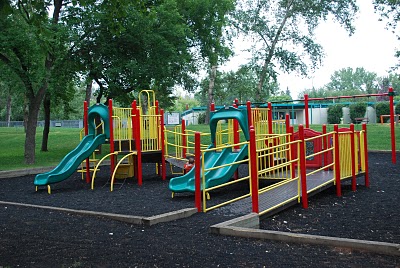 (Pictured – Stanley Park Playground)
6. An accessible playground
I would pretty much review any playground that had accessible flooring. It's not only beneficial for people in wheelchairs, it's helpful for anyone with reduced motor skills and toddlers just learning to walk.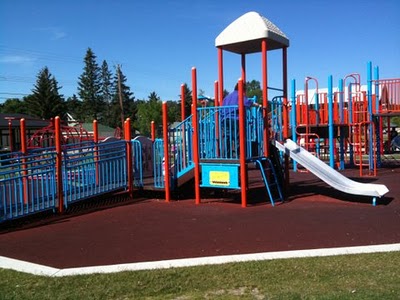 (pictured – Helicopter Playground – Parkdale/West Hillhurst)
7. Water features
Wading pool or spray park, water is just plain fun.
(pictured – South Glenmore Park)
Guest Reviewer Information
I also try my best to cover all of Calgary, but getting to the edges of the city and most particularly in the deep south. If you have a playground (or more than one!) that you would be willing to review I'd be happy to post it along with a link to your blog if you have one.
If you would like to do a review, just copy the template below, and e-mail your answers and at least one picture of the playground to playgroundsnoop@gmail.com .  When taking playground pictures try to avoid identifiable pictures of other people's children and don't take pictures of children in bathing suits (I usually find it impossible to take pictures at water parks unless the weather is really bad).  I can crop pictures if needed.
Also, please ensure you are reviewing a public playground and not one designed only for a specific population. If you have access to a private playground that you would like to review because it is special in some way (eg. It is designed for children with autism or children with visual impairments) please let me know.
For outdoor play areas:
Your Child's Review (ages):
Age Range:
Ground Cover:
Features:
Surrounding Park Area:
Shade:
Seating:
Stroller/wheelchair access:
Please Note: 
We do our best to ensure the information on Calgary Playground Review is accurate, however information and events are subject to change. Please contact the organizations directly to avoid disappointment.
Can you help make this article better?
If you have noticed an error, have additional information or would like to share a comment you can:
E-mail us at calgaryplaygroundreview@gmail.com
Find us on Facebook: CalgaryPlaygroundReview
Find us on Instagram: YYCdana
Tweet us: YYCdana
We are not affiliated with any venues, attractions or organizations. Please message them directly if you have questions or concerns.