My new (2014) review of Tommy K Play is available here.
You may also want to check out our review of the North Tommy K Play which opened October, 2012
Location    map      http://www.tommykplay.com/
Address: 148 – 4916 130th Avenue SE (between Deerfoot and 52 avenue)
Gordie's Review (2.5  years old)– Let's climb again!
Cost: $8.95 for ages 4 and under, $12.95 for ages 5 and older, children 9 month and under and adults are free.
Age Range: 0-12.
Footwear: Socks. Socks are available for purchase for $3 if you forget.
Safety Features/Concerns: There are closed circuit video monitors with a rotating video feed; Children and adults get matching wrist bands that get checked and cut off at the door.
Play Area Features: Huge climbing structure designed for kids 5-12 but accessible to younger kids if accompanied by an adult; toddler area with plastic toys and large foam blocks for kids 4 and under; laser maze; roller race track and interactive gaming tower.
Additional Services: Birthday Party Rooms.
Food Services: Full Service Coffee Bar with sandwiches, salads and other snack items.
Overall Assessment:
This is Tommy K Play's 2nd year in operation. This was my 2nd time visiting, the first time we went when Gordie was 18 months old. We dropped by on a Saturday morning, which is one of their busiest times of day. However, it didn't start feeling crowded until about 11am.  The main attraction is the giant play structure – the largest in the city at this time. On this visit, my husband who is 6'4" came with us, and I was 5.5 months pregnant. This is my husband's favorite indoor play place in Calgary (he really liked the one in West Ed) because it is a great place to crawl around (and I do mean crawl!) with your kids.
It is recommended that kids 4 and under are accompanied by an adult when they are in the climber. This may be a bit of a challenge if you have more than 1 kid and they do not agree on where to go next. If your kids are in the climber alone, there is plenty of seating with good visibility as well as multiple closed circuit video monitors with a rotating video feed.  At the end nearest the play structure, there are comfy chairs arranged facing the play area and TVs with sports on above.
We were both able to navigate through the entire climber including the rollers. The rollers were a little squishy for me (while 5 months pregnant) but not uncomfortable and I otherwise didn't have a problem navigating through the climber. My husband took up quite a bit of space going through some of the tunnels, and his knees and shins were sore at the end but there wasn't anywhere he couldn't go. We both found it to be a workout.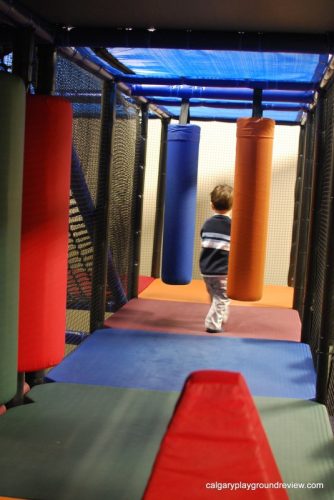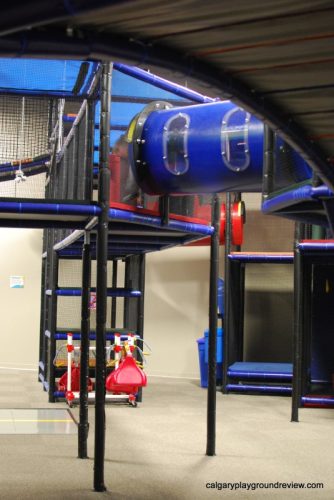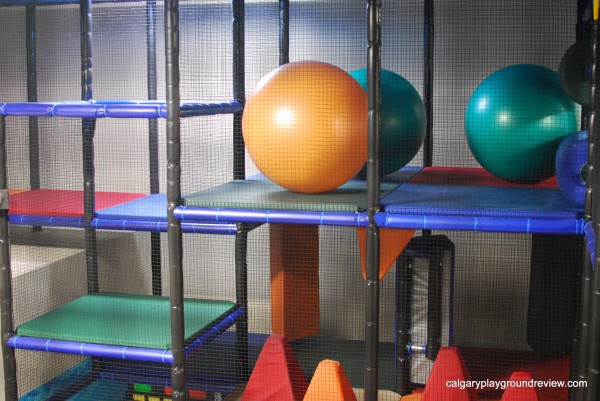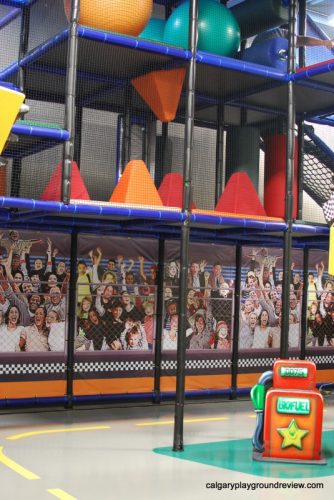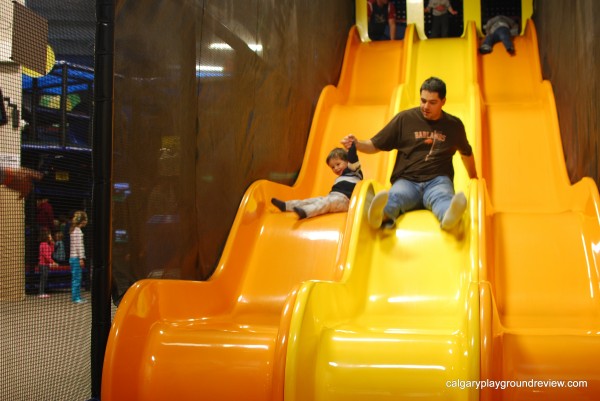 Roller Race Track
This year Gordie was old enough to try out the Roller Race track. It was still pretty challenging for him though and he needed a lot of help. The race track is popular but it seems to go in waves – sometimes all the roller cars are in use and the next time you look there's only one being used.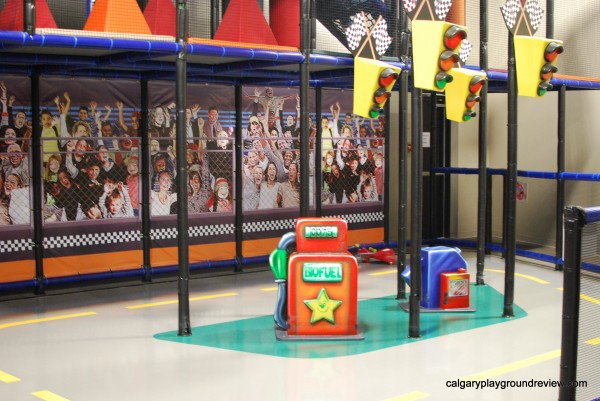 Toddler Area
On this visit more care had been taken in the display of the toddler area and the result was a lot more inviting. This was the very first place Gordie wanted to go when we got to Tommy K Play. There were a number of ride-on toys that he really enjoyed playing with. In general though I think the area is best suited for kids under 2. Unfortunately there is not a lot of space for grown-ups to sit inside the gated area aside from the floor, but there are some stools that you can sit on that overlook the play area.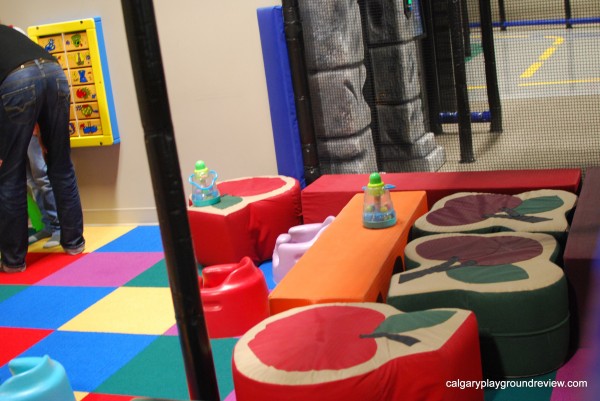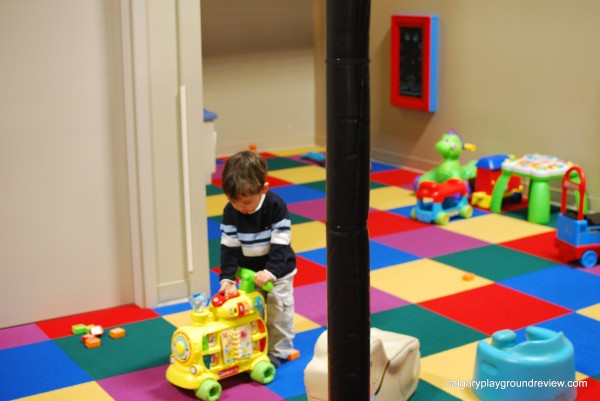 Laser Maze and Gaming Tower
I had intended on running through the Laser maze, but any time I looked over there was at least one group waiting to go in, which if nothing else speaks to it's popularity. The maze has different levels of difficulty which can effect how long you have to wait for your turn as well.
There were often kids at the interactive gaming tower, but there is nothing to sit on which limits the amount of time any one kid will play on it.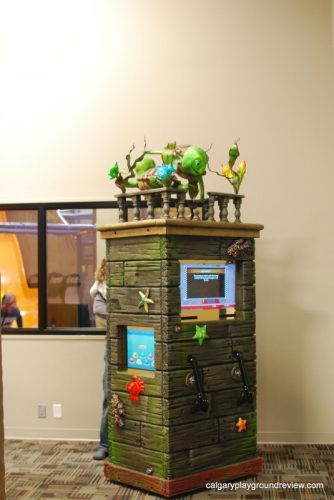 It didn't end up staying for lunch this time. The food looked to be pretty standard pre-prepared and pre-packaged items like sandwiches, salads and various snacks. The eating area is quite large with a number of tables and bar style seating that faces the play area.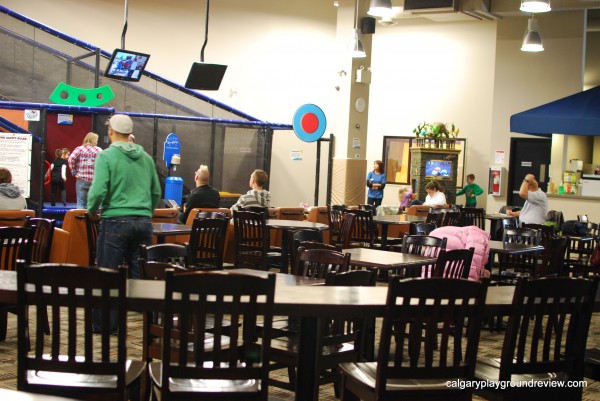 We don't make it down to the South end of the city very often, but if we were there I wouldn't happily go again – our whole family had a great time. It would also be my first choice of where to go if I was planning a trip to an indoor play place with my husband.
Ultimately, your enjoyment at Tommy K Play is going to be dependant on what you are looking for. I think the price is a bit steep for kids under 4 if you're wanting to sit and have coffee with a friend while your kids play. In that case you're probably better off going to one of the Coffee shop style indoor play places where there is more for them to do independently. If on the other hand you're looking to crawl around (and I do mean crawl!) with your 1-4 year old kids in the climber this place is a blast (and a good workout too).
It's a different story for kids 5 and over. You could easily have coffee with a friend and monitor you kids at the same time. There is a ton of seating most of which faces the play area. The closed circuit televisions enable you to keep track of your kids even if they are at the back of the climber. Not that you couldn't crawl around with your school aged kids too.
Have you been to this play place? Have a suggestion for a playground review? Would you like to write a guest review? Write your thoughts in the comments.