Location map http://www.tommykplay.com/
Address: 830, 12024 Sarcee Trail NW (North of the main complex)
Gordie's Review (4 years old)– I liked the room with the buttons!
Nicole's Review (11 months old) – the big blocks!
Cost: $9.95 for ages 4 and under, $12.95 for ages 5 and older, children 9 month and under and adults are free.
K-Zone Admission (in addition to general admission): (Climbing Wall and Laser Tag) Children – 4 years and under – Not available Children – 5 years and older – $7.95* Adults – $7.95*
Age Range: 0-12.
Footwear: Socks. Socks are available for purchase for $3 if you forget.
Safety Features/Concerns: There are closed circuit video monitors with a rotating video feed; Children and adults get matching wrist bands that get checked and cut off at the door.
Play Area Features: Huge climbing structure designed for kids 5-12 but accessible to younger kids if accompanied by an adult; toddler area with plastic toys and large foam blocks and toddler sized climber with double slide; time-freak warp game; roller race track and trampoline basketball. For an additional charge there is also a climbing wall and laser tag.
Additional Services: Birthday Party Rooms.
Food Services: Full Service Coffee Bar with sandwiches, salads and other snack items.
Overall Assessment:
The Beacon Hill Tommy K Play opened last October (2012). There are a lot of similarities to the South location, with some additional features. If you liked their first location, you'll like this one too. We met up with a friend of mine who has 4 kids of her own (1 years to 6 years old) as well as her 10 year old niece on a Saturday morning.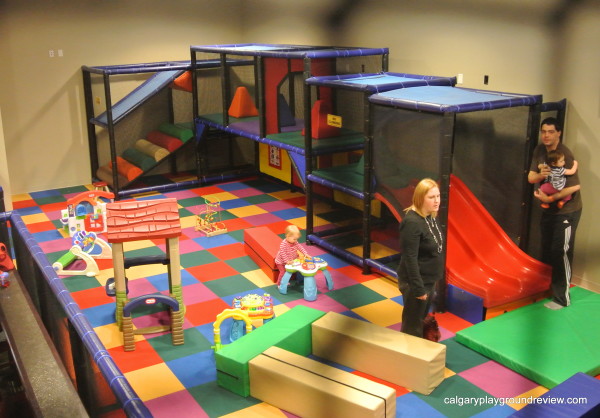 I was impressed with how Tommy K Play is doing their toddler areas now, having the climber really elevates the value of the play space for the little ones. The kids also really enjoyed playing with the giant blocks. There's no gate on the toddler area, but you have great visibility both from inside the play space as well as bar seating facing inside.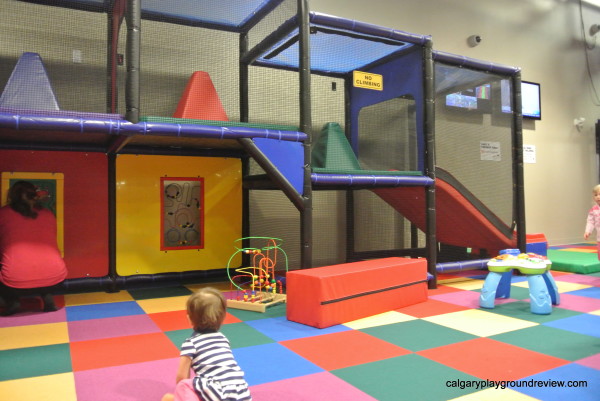 About half of the plastic toys were out of batteries on our visit. Although even the ones with batteries were pretty hard to hear due to the ambient noise.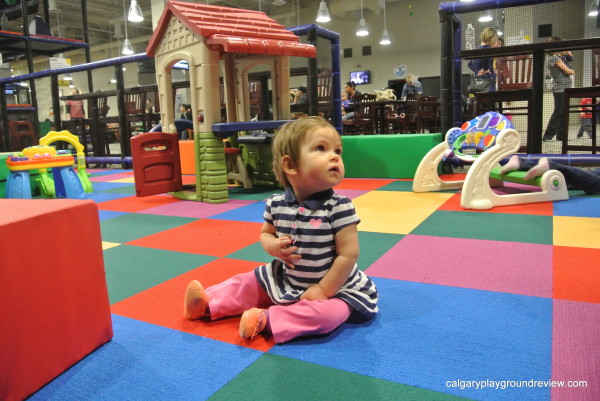 The toddler area is right next to the big climber with the roller race track at the bottom.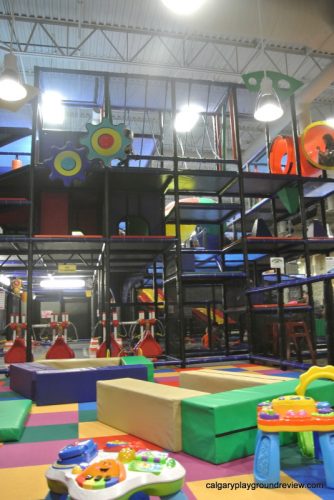 The last time Gordie tried these roller race cars (2.5 years old) he still needed a fair bit of help but this time (at nearly 4) he was able to do them independently and had as great time driving around the track.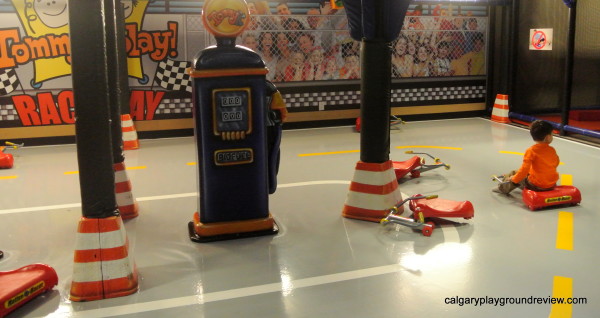 It is recommended that kids 4 and under are accompanied by an adult when they are in the climber. This may be a bit of a challenge if you have more than 1 kid and they do not agree on where to go next. If your kids are in the climber alone, there is plenty of seating with good visibility as well as multiple closed circuit video monitors with feed from various areas in the climber. Along the length of the play structure, there are comfy chairs arranged facing the play area and TVs with adult programming on above as well as plenty of table and bar style seating behind that.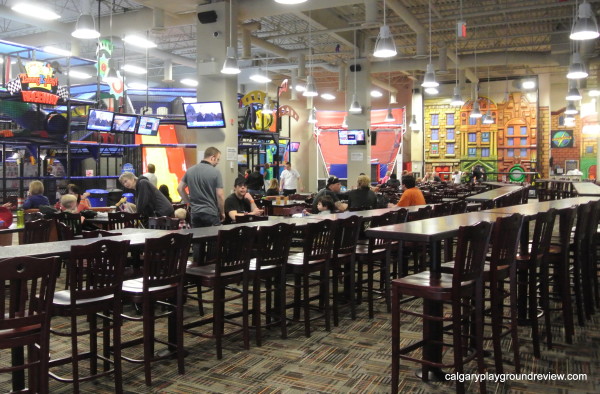 When we first got there Gordie (4) ran right in and ended up getting scared because he couldn't figure out how to get down. By the end of our visit though, he was completely independent. My friend's (almost 3 year old) needed some assistance to get from one level to the next.
The climber is one of the biggest in the city, and is completely accessible to adults (even my husband who is 6'4″) so this is an excellent place to go if you're looking to play with your kids.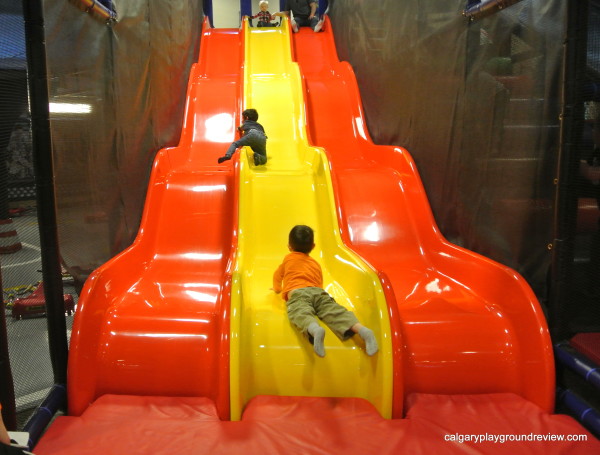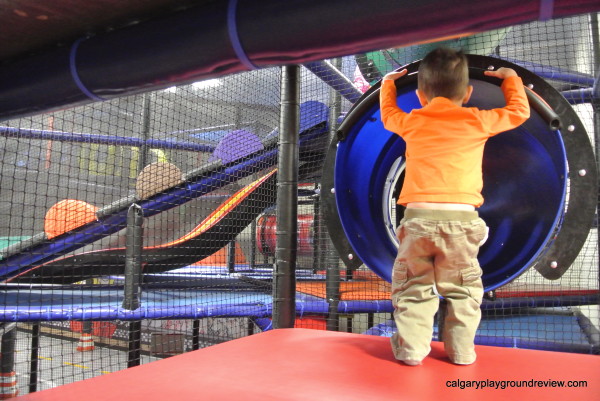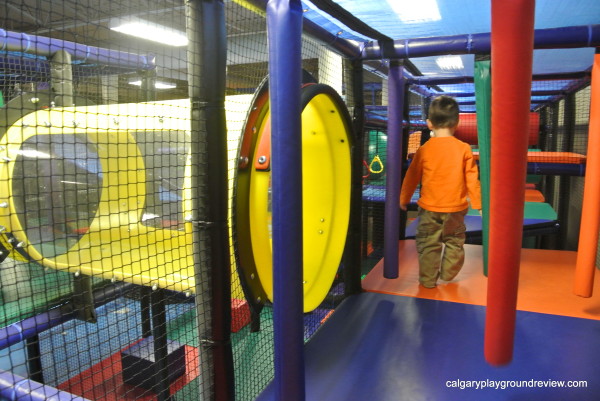 At the far side of the play centre there are 4 more activities. Two are included with admission and two are available only for kids 5+ and adults for an additional cost.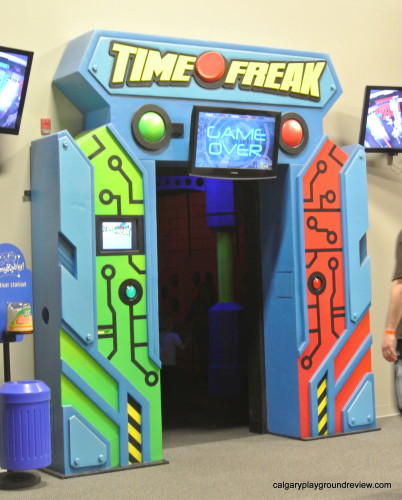 Time Freak is included with admission. The game is set up so that there are two teams and you try to hit the buttons as they light up. This was the biggest hit with our kids – they went back again and again. I'm not sure Gordie really understood all the rules of the game – "But why are there two teams?" but he loved it anyway.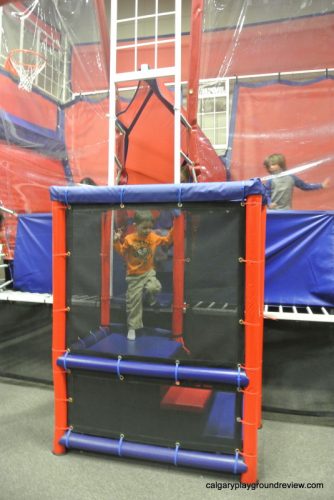 The trampoline basketball is also included with admission. There are two bouncy trampolines with a basketball net on each side. In general the kids just bounced around, but the basketball nets may help keep older kids interested.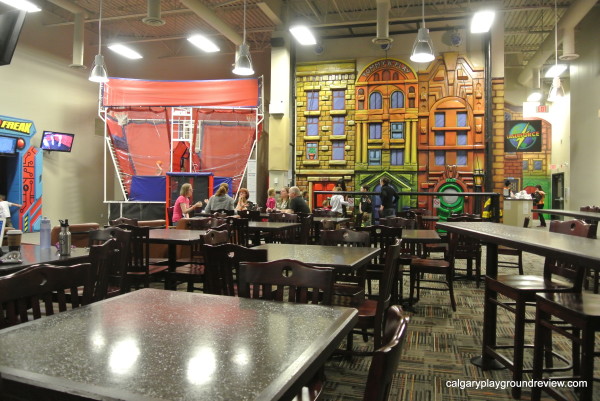 The other two activities are laser tag and the climbing wall. We didn't try either of these activities on this visit. You can see the climbing wall in the above picture on the right. It's run by staff members and participants are hooked up into a harness.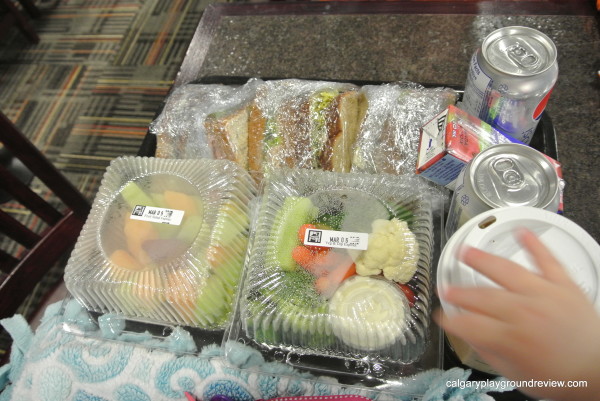 We stayed for lunch. I found they were short of highchairs, we asked a staff member if there were more, but it seems they only have three. For their food services, they have a limited selection of pre-prepared food. Our 3 sandwiches, fruit, veggies, and 4 drinks came to close to $40. I sometimes find it difficult to find healthy options that the kids will like but we didn't have a problem with that here. Our sandwiches were simple, but we all really enjoyed them. It's also handy that you can get your food right away as it doesn't have to be prepared.
Overall, our experience at Tommy K Play North was great. The kids and adults all had a great time. It would be a perfect place if you have a group of various ages that you need to entertain.
You may also want to check out our review of Tommy K Play South.
Please Note: 
We do our best to ensure the information on Calgary Playground Review is accurate, however information and events are subject to change. Please contact the organizations directly to avoid disappointment.
Can you help make this article better?
If you have noticed an error, have additional information or would like to share a comment you can:
E-mail us at calgaryplaygroundreview@gmail.com
Find us on Facebook: CalgaryPlaygroundReview
Find us on Instagram: YYCdana
Tweet us: YYCdana
We are not affiliated with any venues, attractions or organizations. Please message them directly if you have questions or concerns.