Interested in advertising, product reviews, giveaways or a sponsored post on Calgary Playground Review?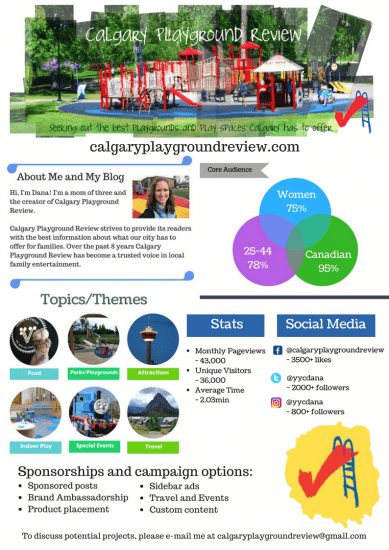 Want to advertise on Calgary Playground Review? You can purchase advertising on Calgary Playground Review via Mediavine for as little as $150.
Find out more here: https://sales.mediavine.com/calgary-playground-review
I am willing to consider other forms of partnerships including giveaways, reviews and event promotion if they would be of high interest to my readers.
Please e-mail me at calgaryplaygroundreview@gmail.com for more information.
My Copyright Policy
You may use one photo, with a link back to my site (calgaryplaygroundreview.com), and with full credit under my blog name, Calgary Playground Review. Please do not repost articles in whole or in part. My photos are not to be altered in any way (no added text or graphics or cropping) and any watermarks must remain intact. Exception: Please do not use photos of my children without my express permission.
If you are at all unsure, please e-mail me for permission at calgaryplaygroundreview@gmail.com
If you require a full resolution photo file without a watermark, a charge of $100 will apply.
Want to know more about me? Check out my about me page.