Malls in Calgary are very family friendly. Here is a quick overview of  the malls in Calgary with play areas for kids. I've listed each below in alphabetical order.
Calgary's biggest mall does not have a dedicated play area, but it still has something to offer. There is a full sized carousel in the food court as a train table inside the Discovery Hut, a small lego play area inside the Lego store and a couple glass elevators.
Located just North of Calgary, CrossIron Mills is one of the most family friendly malls in the area. There is a dinosaur themed play area with an interactive floor mat just outside,  train table and play area in Indigo,  and lots of interesting things for kids at Bass Pro Shops. It also offers lots to look at throughout the whole mall. Sign-in is required at the play area and you may not always be able to get in right away.
Last Winter the Deerfoot Mall got into the act with a ship themed play area that includes touch screens for older kids, and panels and a large bead maze for the little ones. No sign-in is required.
Eau Claire has one of the most unique play areas in Calgary – it's a former outdoor play structure brought inside. This is one of the best locations for older kids to get some physical play and there is a toddler section as well. As it is downtown the parking cost is high during the week, but they have $2 evening and weekend parking. No sign-in is required.
5. Market Mall – Monkey Around


Market Mall is one of Calgary's most popular play areas and it is not hard to see why. It requires sign-in and be prepared to not be able to get in right away.
This play area was renovated in mid-2012 with a little bug theme.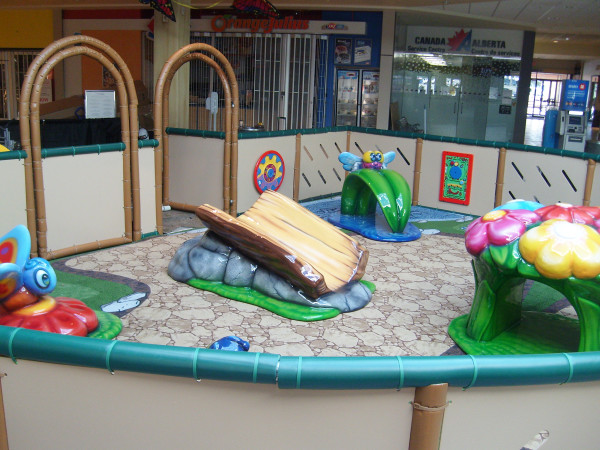 The play area at north hill  is quite small but it does the job with panels, things to climb on and a bead maze. No sign-in is required.
This camping themed play area has things to climb on and slide down. It's not a big space, but it's perfect for toddlers. No sign-in is required.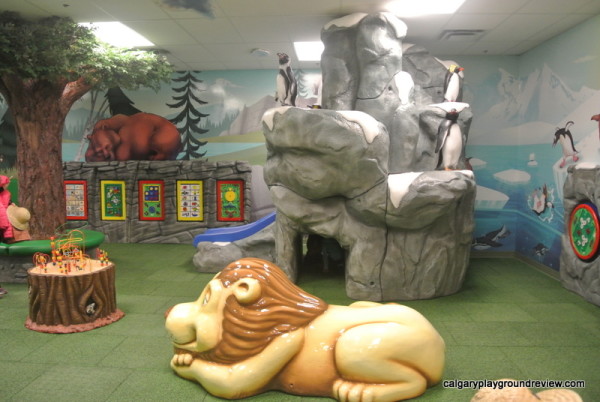 Southcentre's new play area ROAR opened in Spring 2015 and is located on the lower floor on the south side behind the escalators. It is unsupervised and does not have a time limit. It features a TV area, ipads, climbers, panels and a slide.
The Eco-Park play place has moved early in 2011 to the centre of the mall behind the elevators by Shoe Warehouse. It now requires you to sign-in your children for 30 minutes at a time. It features climbing structures with tunnels and panels. [In it's place you will now find Animal Riders – Motorized ride on animals you can rent time on]
*Marlborough Mall Photo courtesy of International Play Company