2023 Update: The city of Calgary spray parks and wading pools are expected to open June 16. Riley Park and Prairie Winds Park opened late this year. Bowness Park will not open for 2023 season.
The City of Calgary's Spray Parks and wading pools are typically open in mid-June and close after labour day. This can vary depending on the weather and the specific location. Everything on this list is free to access unless otherwise noted.
The spray parks and wading pools are open from 9am-9pm and only close during lightning storms. You can find the most up to date information about closures on the city of Calgary website. Most city of Calgary spray parks and wading pools will be opening on the Father's Day weekend.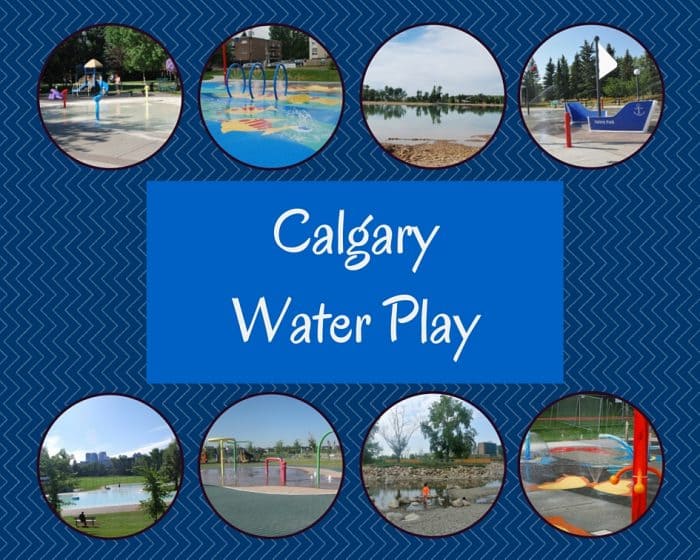 Spray Parks
Canmore Park – West Confederation Park

Location: Triwood – 19 St. & Chicoutimi Dr. N.W.
Canmore Park's Butterfly Spray Park opened in 2011. It has multiple different spray features, some big and some little that will appeal to children of all ages.
There's no playground nearby but there is a large park area with lots of room to run around. Aquatic wheelchairs available.
Opened June 16th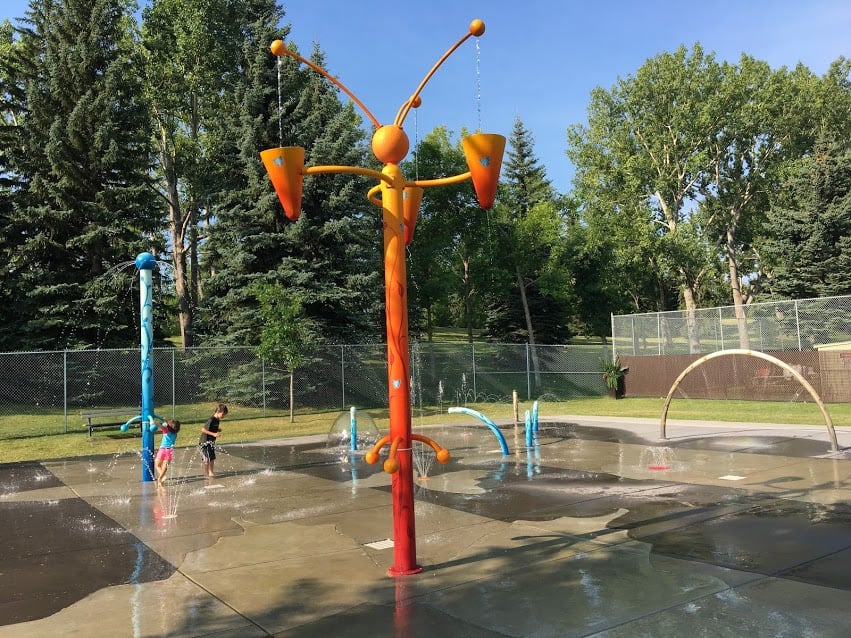 Location: Crescent Heights – 617 1 St. NE.
Rotary Park's Fish Spray Park also opened in 2011. There are big and little spray features and will appeal to children of all ages.
There is also a good playground located right nearby. Aquatic wheelchairs available.
Opened June 16th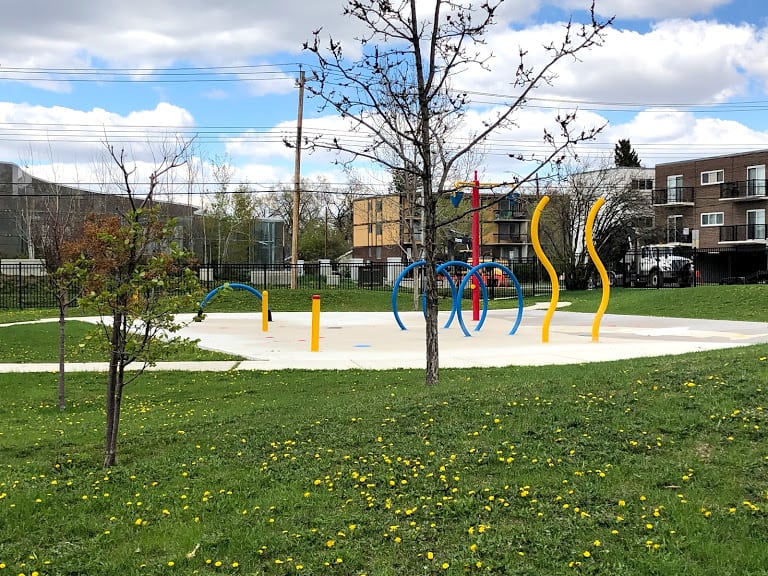 Location: Prestwick – 15113 Prestwick Blvd SE
Formally known as McKenzie Towne Commons, this community run spray park is open to the public. There is also a new playground right next to the spray park.
Open for the 2023 season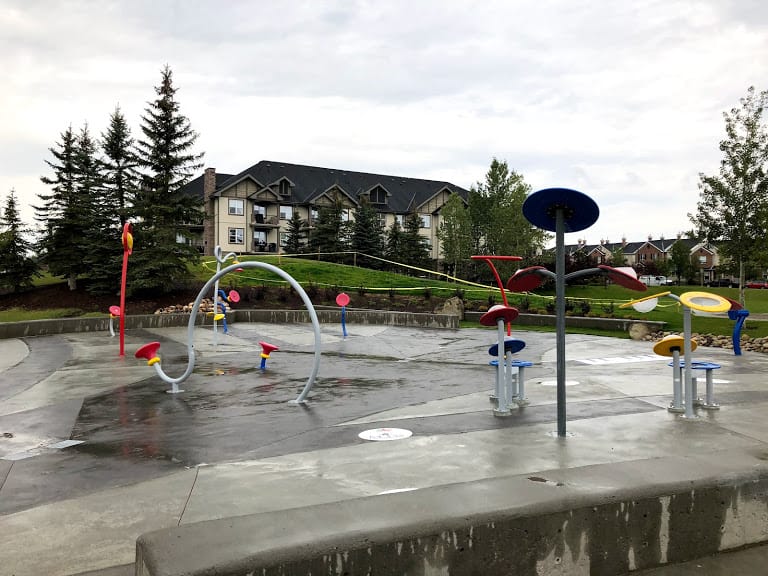 Location: Somerset- 999 Somerset Dr. S.W.
This spray park has been newly redeveloped and will be reopening this summer. There is also a new inclusive playground as well. E
Opened June 16th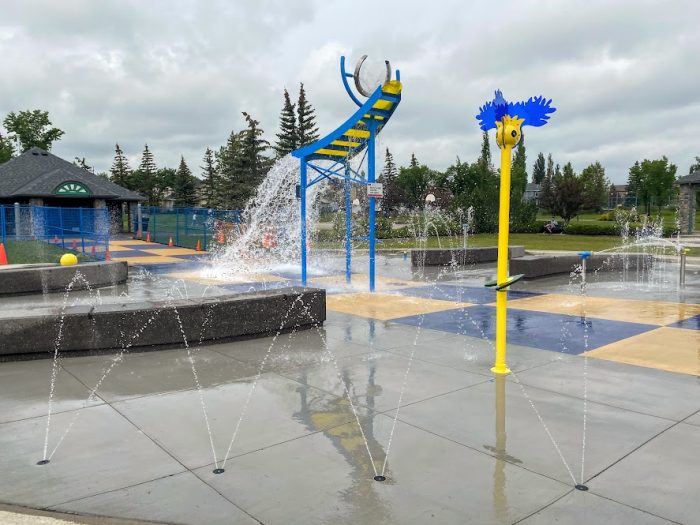 Location: Dover- 28 St and 30 Ave SE
The spray park at Valleyview will definitely be a hit with younger kids. There are lots of small spray to play with at the edges of the spray park.
The spray park and preschool playground are both inside a fenced area. This spray park might not hold the attention of older children, but luckily just up the hill is an excellent school-aged playground.
Opened June 16th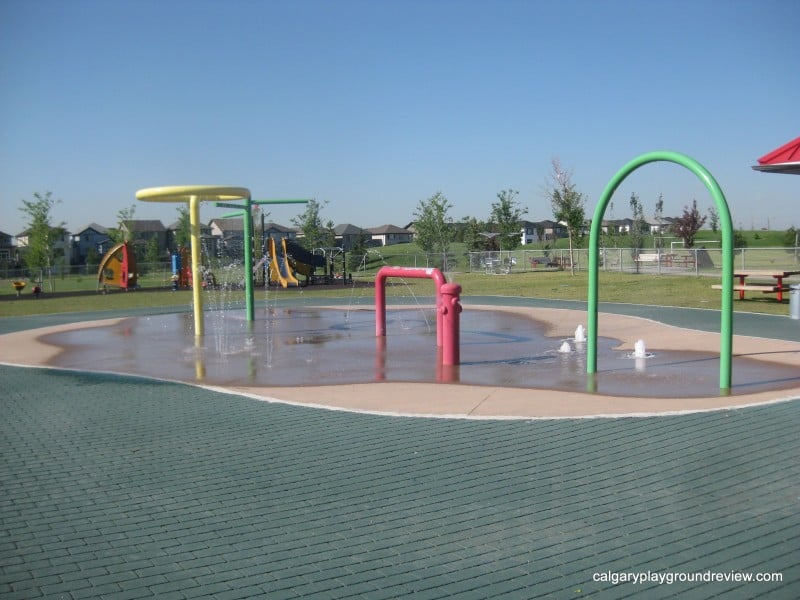 Location: 90 Ave. & 24 St. S.W.
The South Glenmore spray park is located in the centre the Variety Children's Park. A new spray park was installed in 2015. The entire play area is designed to be accessible to all children.
In addition to the spray park there is a preschool playground and a school-aged playground with ramps.
Opened June 16th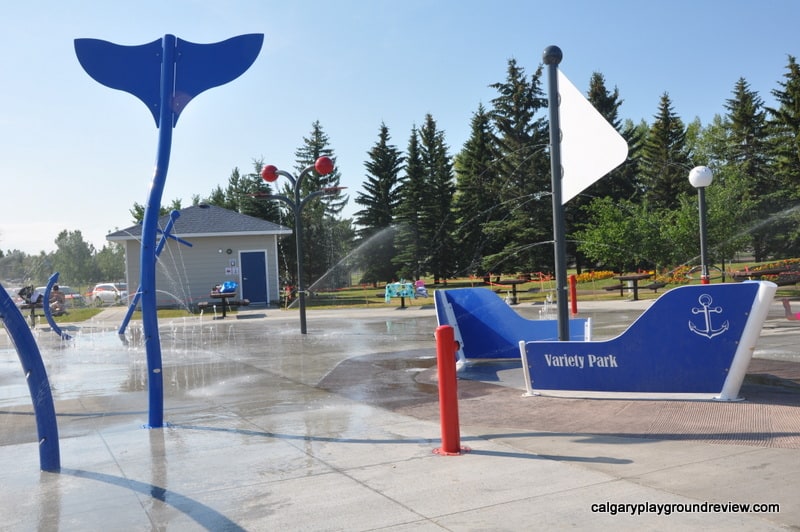 Century Gardens
826 8 Ave. S.W.
New for 2021, in the recently reopened Century Gardens next to the ctrain line downtown, has sprays that fill a small wading pool which then drains and refills.
Currently listed as closed by the city of Calgary
Opened June 16th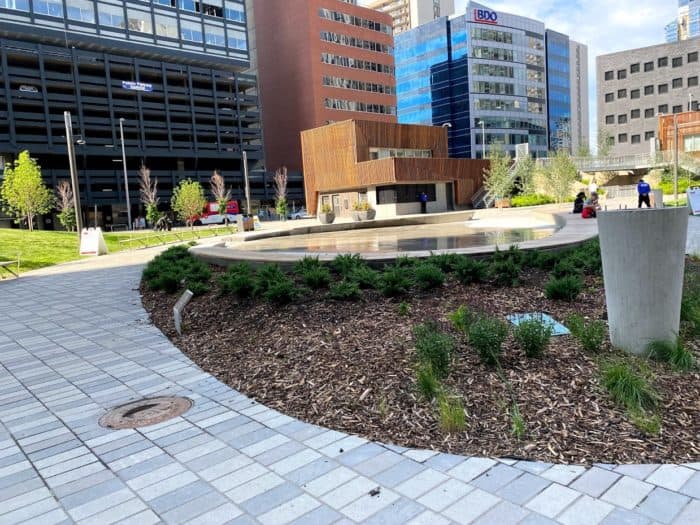 Wading Pools
Location: 8900 48 Ave. N.W.
Bowness has a brand new wading pool last year. There are also some spray features on the pool deck as well as lots of picnic tables and great shade.
Closed for the 2023 season for repairs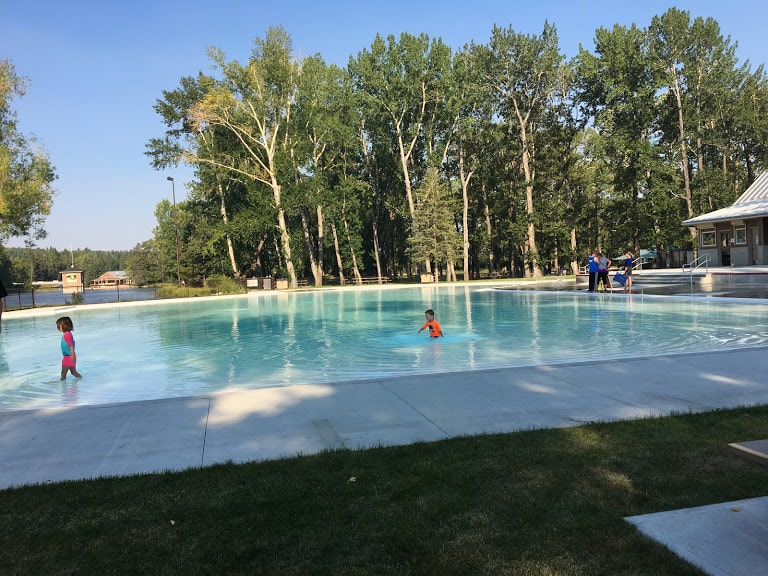 Location: 3 St. & Riverfront Ave. S.W.
Eau Claire has 2 wading pools side by side. One of the wading pools has a few sprayers that they kids can spin around.
There is also a new playground beside the wading pool. It is only a short walk away from Prince's Island Park which has a excellent playground for kids of all ages.
Eau Claire wading pool is closed until further notice.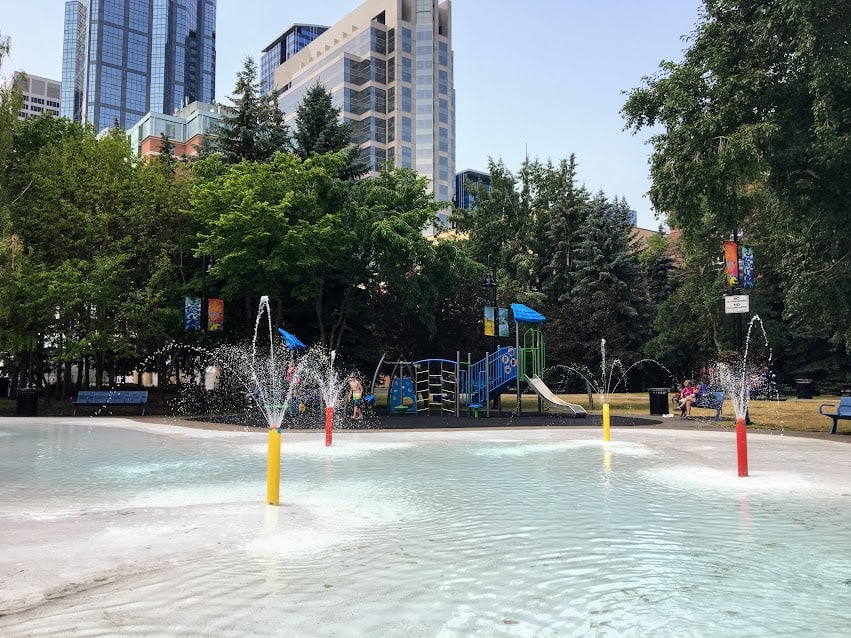 Location: Westwinds/Castleridge – 233 Castleridge Blvd. NE.
The spray park area at Prairie Winds park was renovated in 2014 and the wading pool was renovated in 2017.
Open for the 2023 season
Location: Hillhurst – 800 12 St. N.W
Riley Park has a large wading pool which varies in depth from a couple of feet to ankle deep. It has a very pretty setting with large mature trees and an island in the centre. On busy days there is also a concession and sometimes food trucks.
Riley Park also has a playground for kids of all ages which is a short walk across the park.
Open for the 2023 season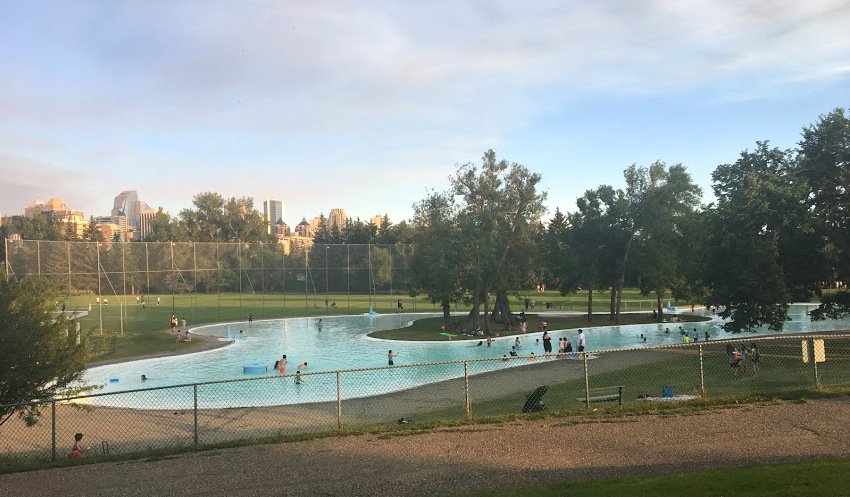 Other Water Fun Options
Location: Fish Creek Provincial Park – Bow Bottom Trail S.E.
Sikome Lake isn't really a lake at all – it's more of a giant artificial swimming pool with a sand bottom and sand shoreline. This is the closest you can get to a public beach in Calgary.
Opened June 24, 2023
There are three playgrounds at Sikome Lake, a toddler playground, a school-aged playground as well as a small playground on the South side. Admission rates now apply.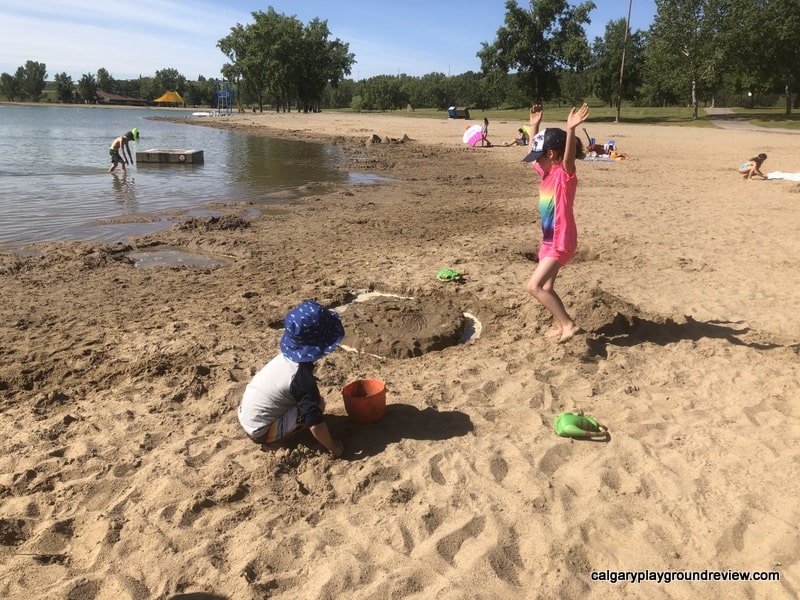 Location: East Village – 1300 Zoo Rd. NE
The newly redeveloped St. Patrick's Island is a great place for water play. At the West end of the park you will find the Seasonal Breech which is a shallow wading area where people can wade out into channel of river water with a rocky beach.
The is a playground and washrooms on the other side of the park.
Open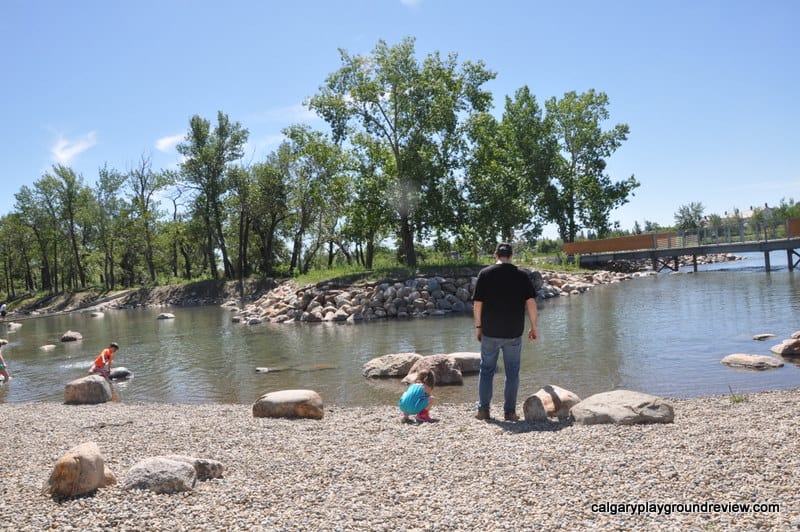 Location: Altadore – 4500 14A St. S.W.
Sandy Beach is not in the least sandy, but it is one of the best places in the city to play in the river. The 'beach' is rocky by the water and basically dirt higher up.
The elbow river is shallow and runs slowly along the park. This area is not an off-leash park (the park across the river is) but you will often find dogs off-leash anyway so be aware if that is a concern for your family.
Check water conditions before you go at the City of Calgary website.
Location: Downtown – 228 8 Ave. S.E.
Olympic Plaza is not considered by the City of Calgary to be one of their official wading pools but you can wade in the water. There is a year round washroom on site. It fills with water sometime in May well before the official wading pools.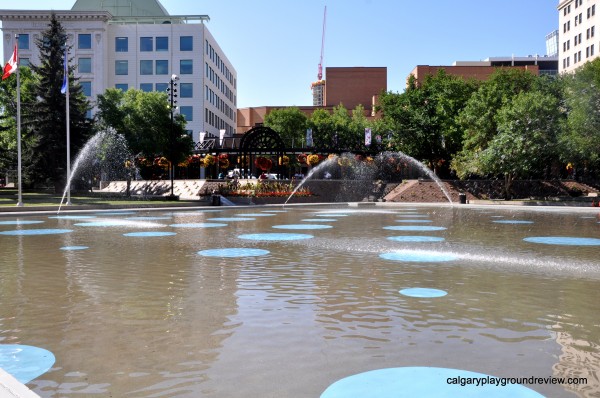 Location: Downtown (beltline) – 1221 2 St. S.W.
Not an official spray park, but the water sprays along the path are treated so it's safe for the kids to play in them. There is a washroom at the park as well.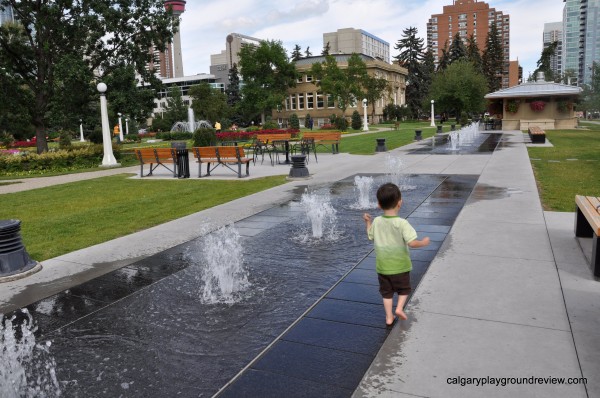 Location: Beltline – 1236 16 Ave SW
This park has a similar set up to Central Memorial Park with water sprays along a pathway. There is no washroom at this park.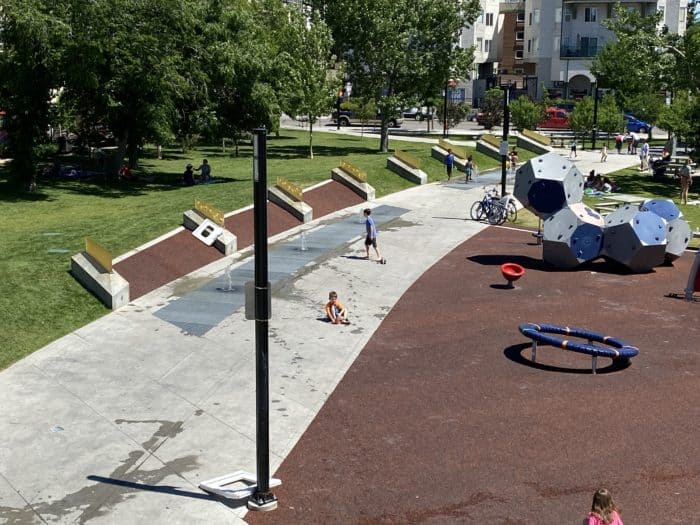 Calaway Park – CP Spray n' Play
Location: Calaway Park – located next to the Maze
Cost: included with regular Calaway Park admission.
15 water features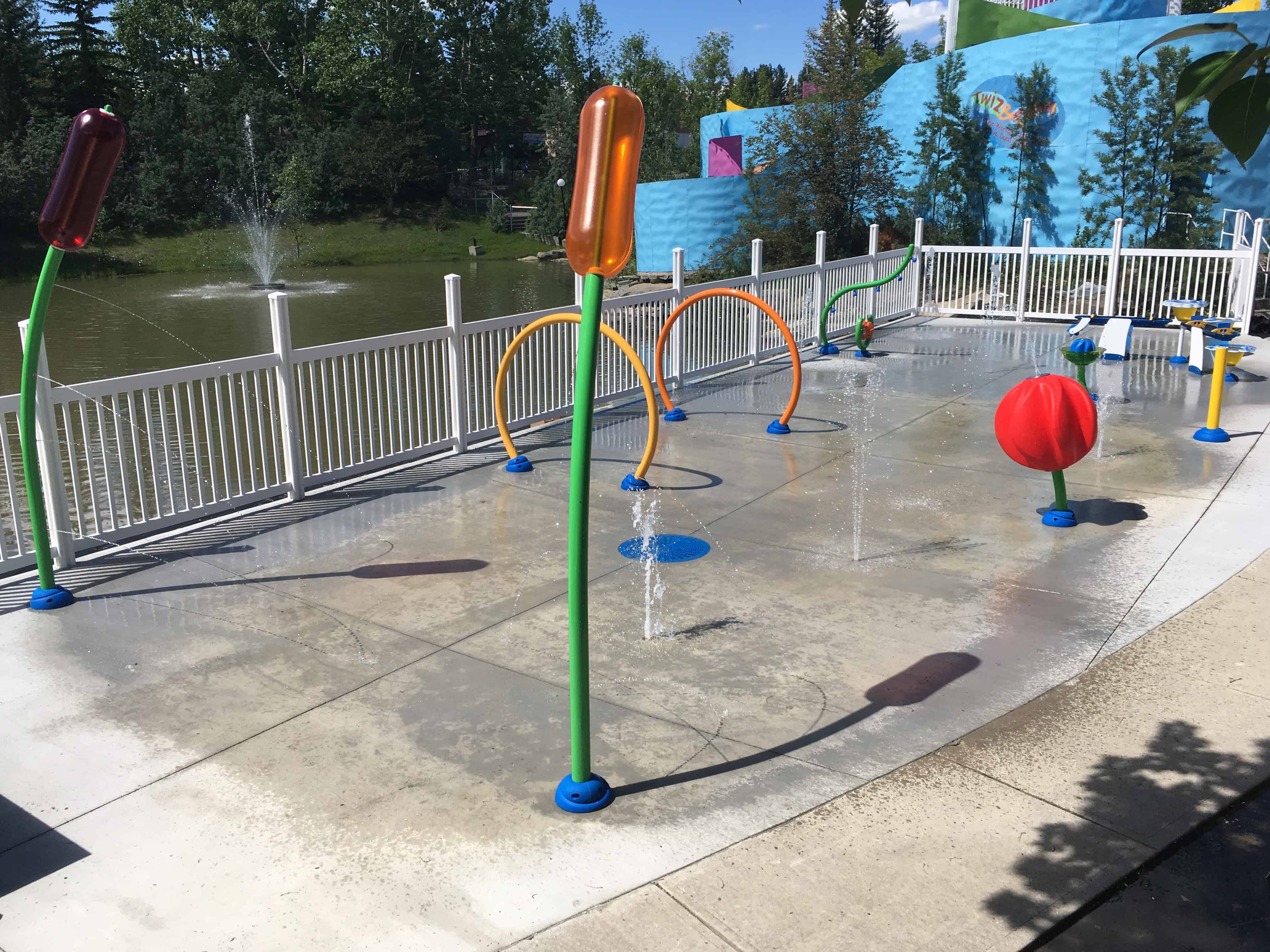 Calgary has several outdoor swimming pools that typically open mid-June. Admission required.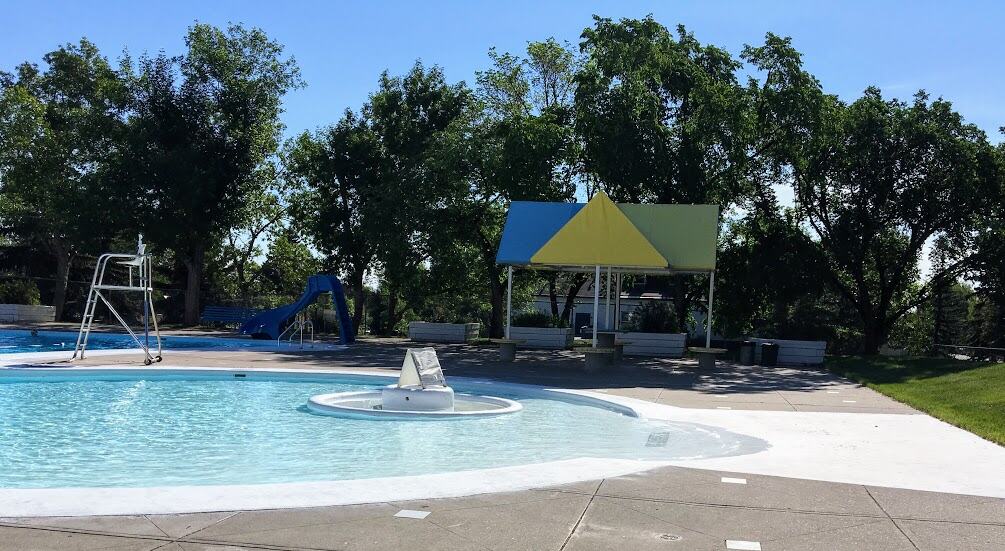 Calgary has a large number of different indoor swimming pool options. Admission required. Indoor pool operations may be different than typical years. Check before you go.
Spray Parks Outside of Calgary
Lots of towns near Calgary have their own spray parks. Check out this list of some of your options. Check the individual municipality for their operating hours and opening dates.
Please Note: 
We do our best to ensure the information on Calgary Playground Review is accurate, however information and events are subject to change. Please contact the organizations directly to avoid disappointment.
Can you help make this article better?
If you have noticed an error, have additional information or would like to share a comment you can:
E-mail us at calgaryplaygroundreview@gmail.com
Find us on Facebook: CalgaryPlaygroundReview
Find us on Instagram: YYCdana
Tweet us: YYCdana
We are not affiliated with any venues, attractions or organizations. Please message them directly if you have questions or concerns.