Location map
Community: Downtown – 228 8 Ave. S.E.
Parking: Typical Downtown parking – this park is right along the C-train line
Gordie's Review (3 years old) – I liked playing in the water!
Features: Sculpture of the "Famous Five", large seating area, stage, waterfalls, year round washroom, Ice skating (winter), concession (seasonal)
Water Features: Large reflecting pond with water sprays that can be used as a wading pool
Overall:
Olympic Plaza was created for the 1988 Olympic Winter Games to be used for the medal ceremonies. It's now a popular place to have lunch for downtown workers.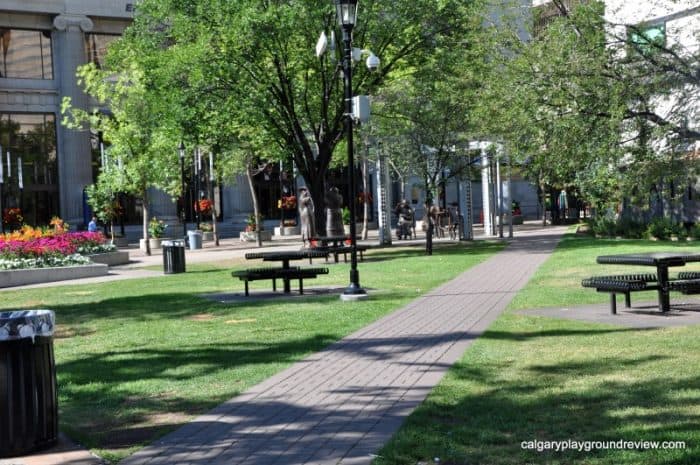 At the South West end of the park, you'll find the statues of the "Famous Five" – five women who petitioned the Supreme Court of Canada to define whether women were considered to be 'persons' in section 24 of the British North American Act.
It stated that only 'qualified persons' could become Canadian Senators and historically this had been interpreted as men only. Eventually, in large part due to their efforts, women were allowed to hold office in Canada.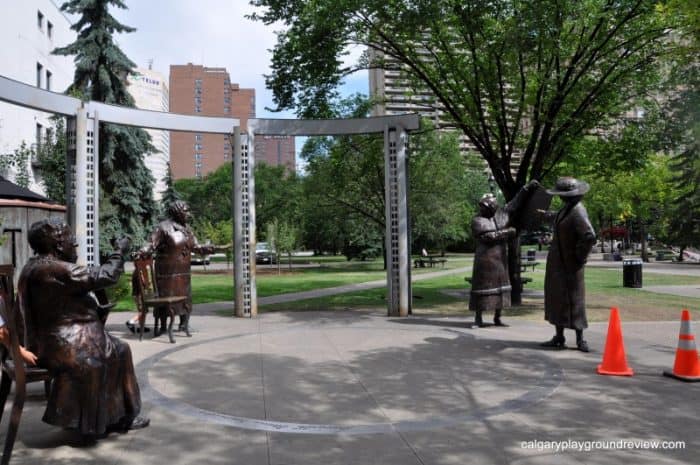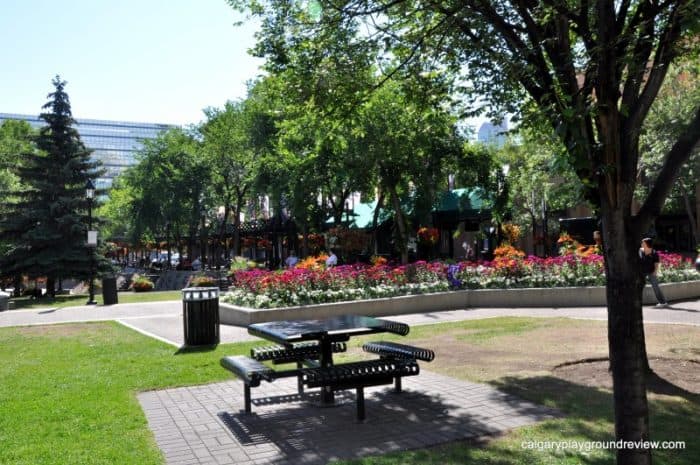 There is supposed to be waterfalls along the back wall in the picture below but they weren't running while we were there. There's a stage (that was used for the medal ceremony at the top in front of the orange columns. There are also washrooms at the North West corner of the pool area.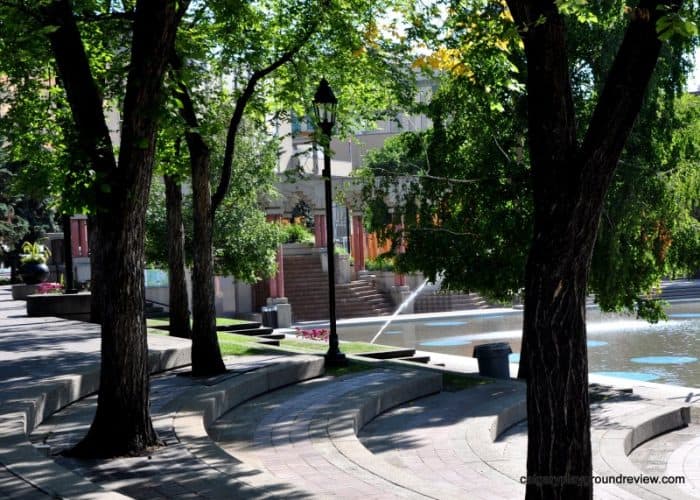 Sometimes they'll also set up temporary stages for different events.
The wading pool is the center piece of the park. It was both bigger and deeper than I had expected. Definitely bring a change of clothes for your kids. They will get wet even if they are wearing shorts.
There's the bathrooms in the photo above
In addition to the picnic seating there are also lots of tiered steps that can be used for seating.
Also, There is a ramp pathway at the South end of the wading pool. You do not need to try to take your stroller down the steps.
There are also lots of beautiful flowers and other plants to look at.
We really enjoyed our visit to this park. Do keep in mind that this park is in the centre of downtown with all the positives and negatives that go along with it.
It wasn't busy at all while we were there and there was tons of room for our kids to run around in the pool. It's a perfect destination if you're taking your kids for a trip on the c-train.