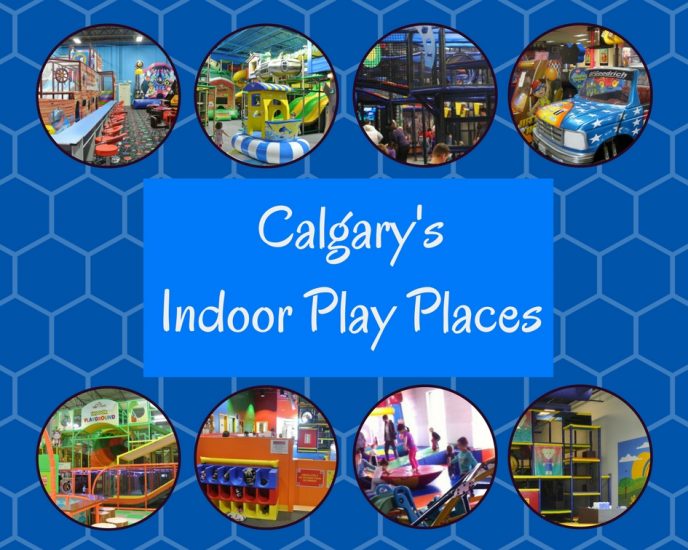 There are a ton of different options for Calgary indoor playgrounds. The current trend is towards large play centre that will entertain a large age range.
More than any other topic I cover, the comments on Calgary indoor playgrounds can sometimes get a bit heated – for any play place some people will love it and others will find it disappointing.
When I write my reviews, I try to keep in mind that each indoor playground is different and none is the right fit for everyone.
Organized by area, here are short reviews on each of Calgary's indoor play grounds to help you find the one that's right for your family.
Calgary Indoor Playgrounds
North East Play Centres
1. The Big Box
Reopened June 18, 2021
This indoor play centre features a huge indoor climber with loads of slides and special features, a giant inflatable area, a brick building area, toddler area and more!
Additional features include: Virtual Reality, Aerial Rope Course, Arcade and Happy Bumper.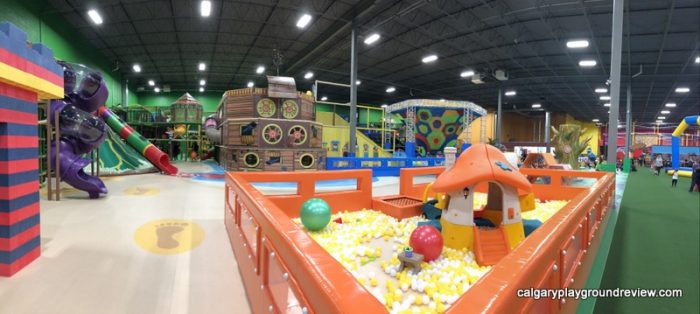 2. Hide N Seek
Reopened June 14, 2021
One of Calgary's largest indoor play places. It features a huge indoor climber with tons of slides and special features, redemption games, and toddler areas.
This is a great space for bigger kids and younger kids but it is a big space and can be challenging if you have younger kids that don't want to stay together or a young kid who wants to go up the big climber when you do not. They have a full service cafe with lots of options.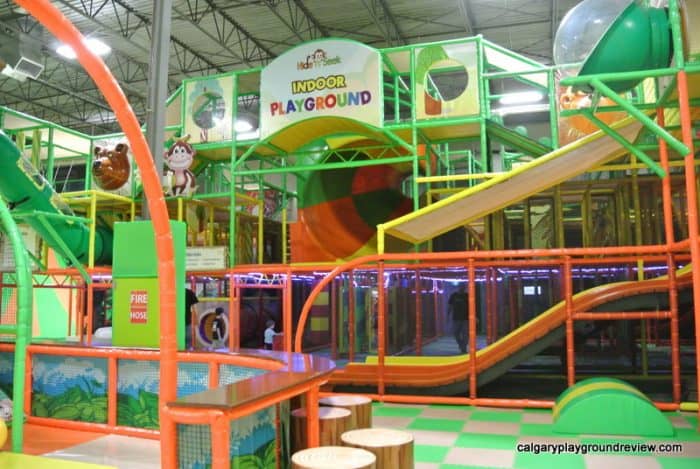 Now reopened 2021
Treehouse is located in the NE just North of 32nd avenue. They cater to kids 12 and under. They offer a huge climber, bouncy castle, baby room, toy room, animal riders, backyard blasters, x-box area, climbing wall, interactive mat and arcade games.
It is great for bigger kids and has a nice space for babies and toddlers but it is large and can be challenging to keep track of kids of different ages. They offer ready to eat snacks and sandwiches as well as hot items like hot dogs and pizza.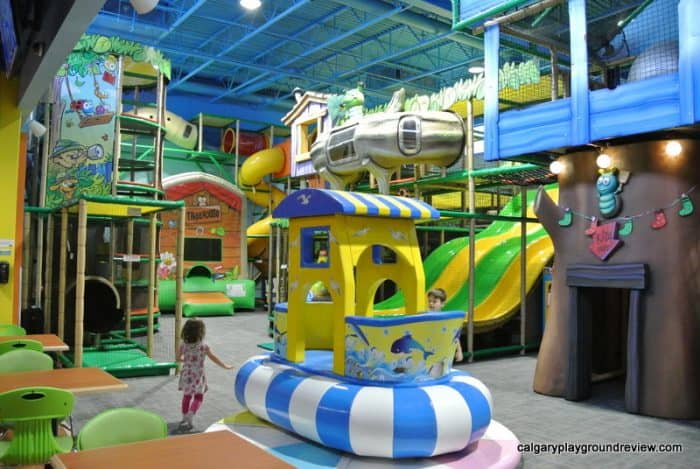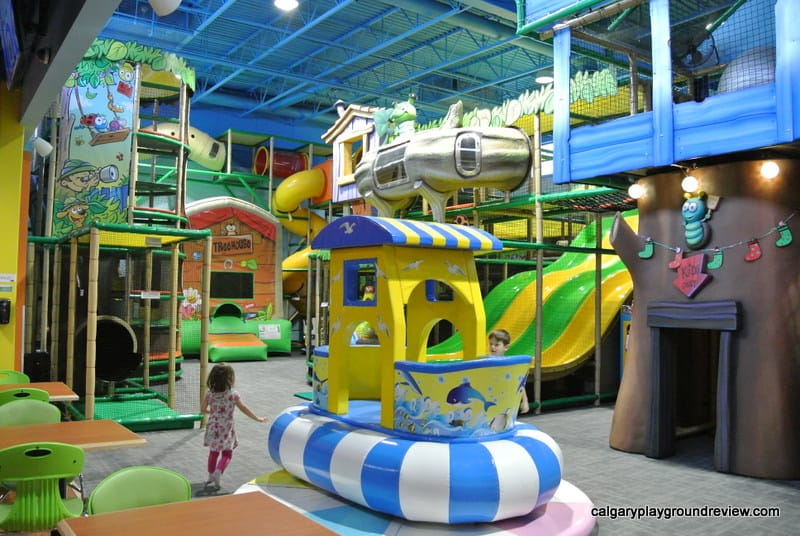 Reopened for 2021
Located near Sunridge Mall in the NE, Chuck E Cheese is free to enter but requires tokens to play the rides and games. The attractions are redemption games and token operated rides.
Chuck E. Cheese primarily serves pizza, but also has sandwiches and a salad bar.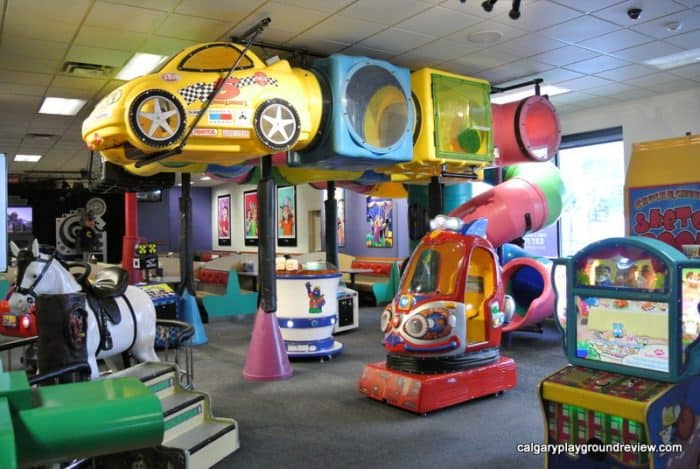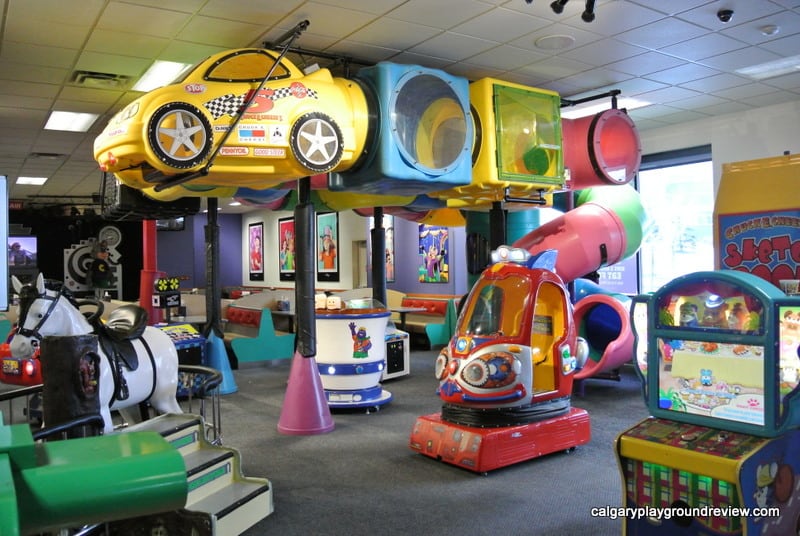 Planned reopening for drop-in in September
The Tot Spot is located upstairs inside the Flip Factory Gymnastics Facility and is for kids 5 and under.  It has recently been renovated and now has a beach theme. There is a bouncy castle on one side, climbers small toys and a large slide on the back wall.
They have a small cafe and you can also bring in your own food to eat just outside the play area.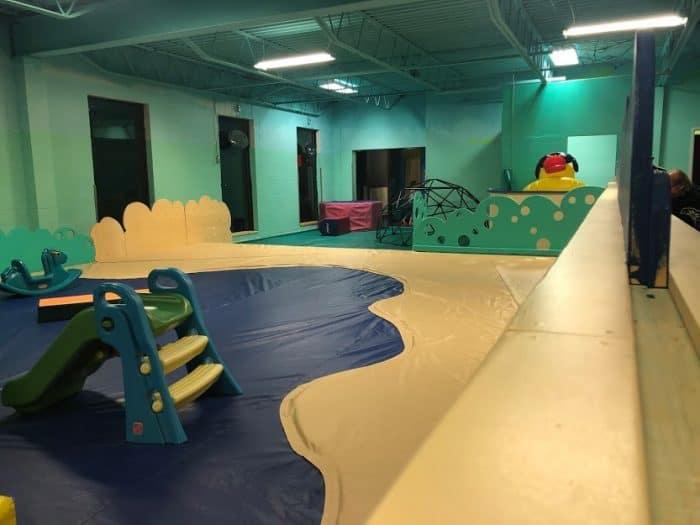 North West Play Centres
Currently no NW Play Centres in Calgary.
South Play Centres
Closed to the public for the duration of the pandemic. No reported reopening date.
This location also features a play centre as well as a preschool program. The play centre is primarily aimed at kids 5 and under but can accommodate kids as old as 8.
It features a 4 level play structure with a ball pit, baby area and plasma cars. They have a concession which primarily serves snacks.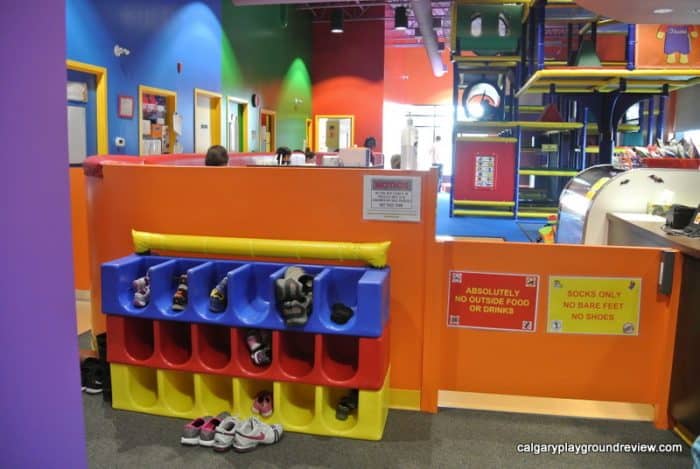 Reopening July 20, 2021
Calgary's newest play place is located near Deerfoot Meadows by Blackfoot Trail. It features a fantastic toddler area, separate baby area, a large indoor climber, arcade and a safe car track.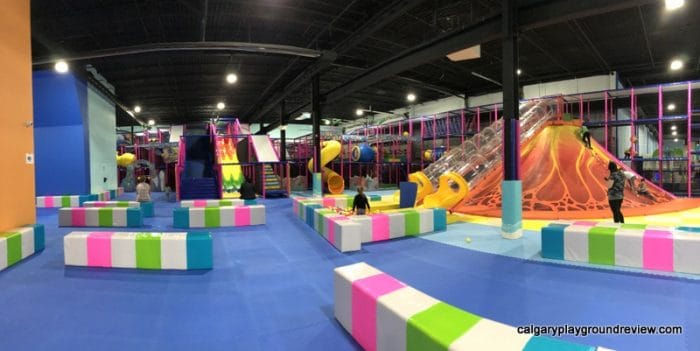 Reopening date not yet announced. May be permanently closed.
Located across from Chinook Centre, this new indoor playground features a large indoor climber, a toddler area and arcade games.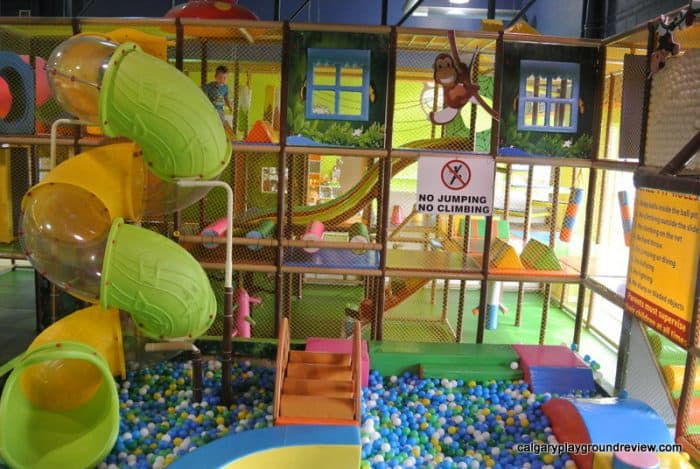 No reopening date listed – I believe they have permanently closed
This play place reopened under new management and with a new name at the end of 2017. From the photos I've seen it is very similar to what Fun N More used to be. (You can see our review of Fun N More here to get an idea)
Now reopened 2021
Treehouse's new South location can be found in Midnapore and caters to kids 12 and under. They offer a huge indoor play structure, arcade, interactive floor, animal riders, toddler zone and trampoline.
It is great for bigger kids and has a nice space for babies and toddlers but it is large and can be challenging to keep track of kids of different ages. They offer ready to eat snacks and sandwiches as well as hot items like hot dogs and pizza.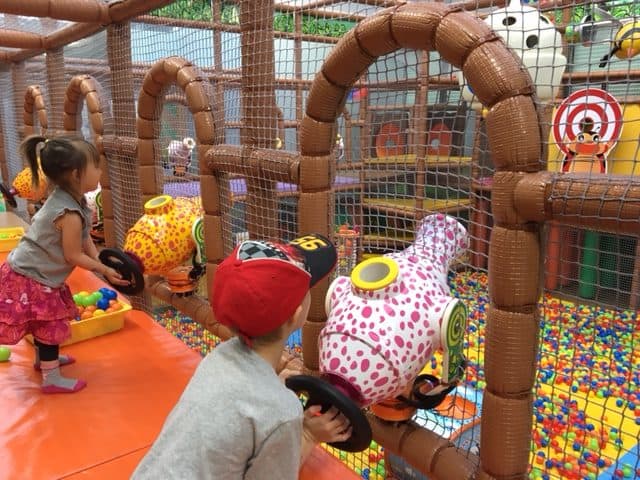 Outside Calgary
Reopened for 2021
Canada's largest indoor inflatable park offers over 25 inflatable attractions. It is much more than just bouncy castles! Caters to a wide variety of ages (even adults will have fun).
Lockers must be used for all belonging and special grippy frog socks (like those used at trampoline parks) must be used and can be purchased on site.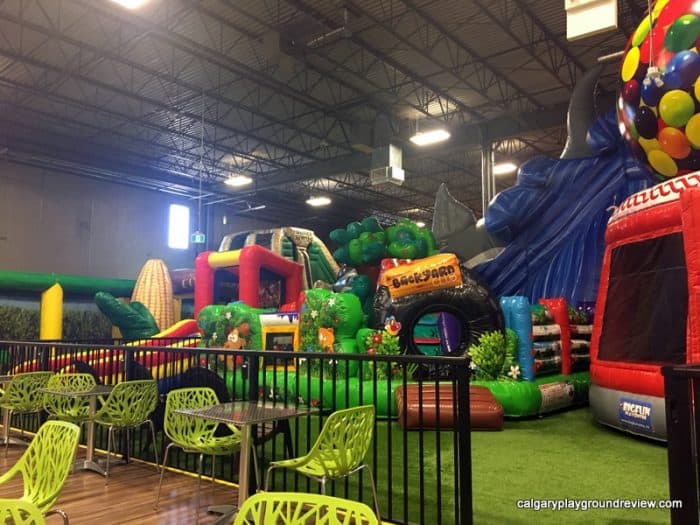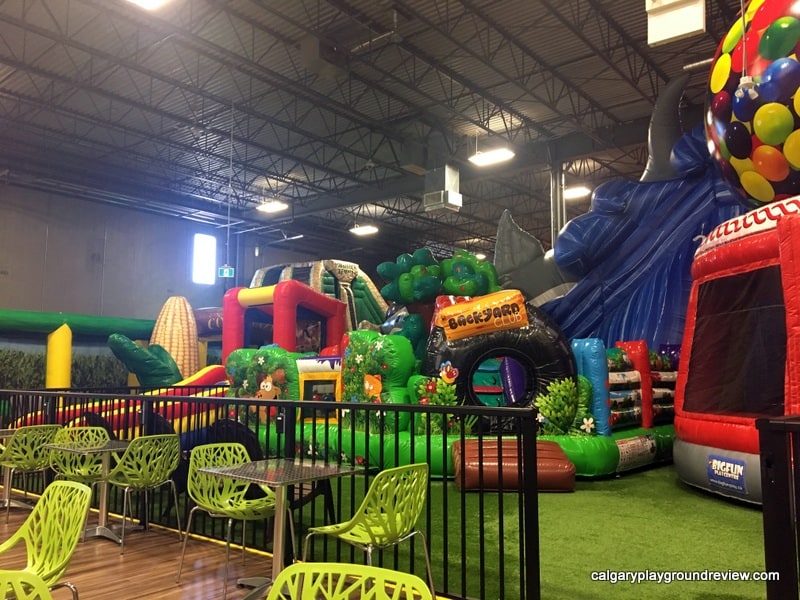 Opened Summer 2021
Large indoor climber with toddler area and ninja warrior course. Mini town imaginative play area for kids under 5 (separate admission).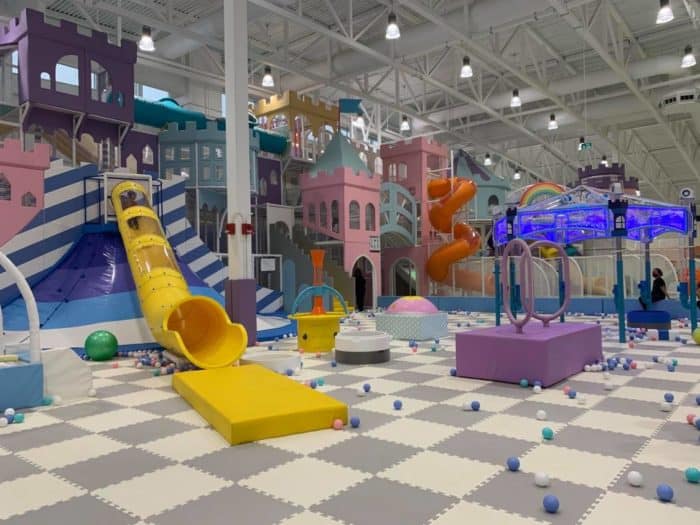 13. Jumble District – Airdrie
Permanently closed
Jumble District strives to be an all age facility and offers standard and augmented climbing walls, a large 4 level climber and trampolines (trampolines projected opening date is late June 2018).

Please Note: I love hearing other perspectives on Calgary indoor playgrounds both positive and negative, but I reserve the right to delete comments that I do not feel are in keeping with the family friendly tone of my website. This occurs extremely rarely. If you have a bad experience at a play place, I encourage you to e-mail the owners with your complaint. If you have concerns over cleanliness, please file a complaint with the city.
You may also be interested in: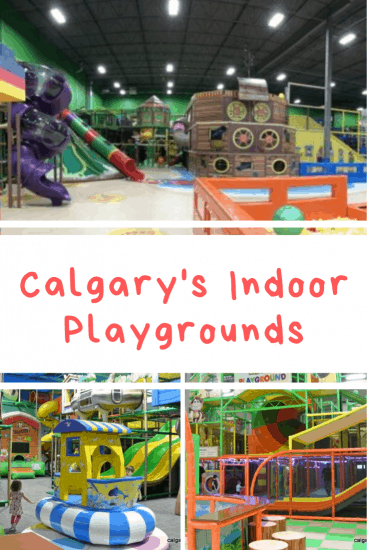 Please Note: 
We do our best to ensure the information on Calgary Playground Review is accurate, however information and events are subject to change. Please contact the organizations directly to avoid disappointment.
Can you help make this article better?
If you have noticed an error, have additional information or would like to share a comment you can:
E-mail us at calgaryplaygroundreview@gmail.com
Find us on Facebook: CalgaryPlaygroundReview
Find us on Instagram: YYCdana
Tweet us: YYCdana
We are not affiliated with any venues, attractions or organizations. Please message them directly if you have questions or concerns.