Thanks to Treehouse Calgary South for providing admission to Alisha's family to facilitate this guest review.
Location    http://www.treehouseplay.com/calgarysouth/
Address: #13, 240 Midpark Way SE
Keenan's Review (12 years old) – "It was fun. I liked the slides, thegame room, and the big screen on the floor."
Ryan's Review (9 years old) – "I really liked the arcades. The big slides were fun and the ride-on animals were really cool."
Ewan's Review (7 years old) – "I liked the ride-on animals!"
Audrey's Review (3 years old) – "Can we going jumping on the trampolines again?"
Cost: $7.95 – 1 year to 3 years old, 4 and up – $11.95 Monday-Thursday. $2 more Friday-Sunday.
Value pack with 12 tokens $9.95 – 1 year to 3 years old, 4 and up – $13.95 Adults & Under 12 month – free
Additional Rates and discounts are available.
Age Range: aimed at ages 1-12 years old.
Footwear: Socks.
Safety Features/Concerns: Families will receive wrist stamps and must check in and check out through a magnetically locked gate.
Play Area Features: Giant climbing structure, toddler area, quiet lego room, arcade room, ride-on animal station, bouncy castle, blaster ball zone, climbing wall, interactive mat, trampolines, toddler room.
Additional Services: Birthday Party Packages.
Food Services: Cafe with hot and cold options.
Overall Assessment:We visited the Treehouse – South location on a Tuesday morning at 10am. It's tucked in a small strip mall off a side road in Midnapore and when we pulled in we wondered how everything fit inside. We were pleasantly surprised.
Treehouse is very well designed, I would say that it is one of the best designs that I have seen in my 12 years as a parent. Big open coat/boot area, large counter with two people stamping hands to match, an electronic gate so to keep the little ones in, and out when it is time to go.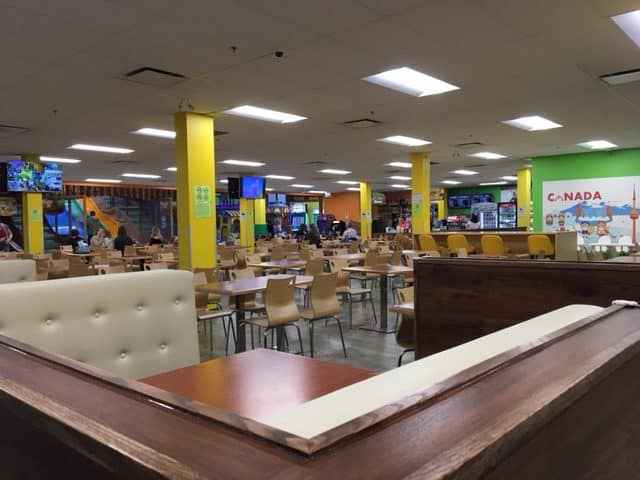 Inside the gates it is set up with the eating/ seating area in the middle of the floor plan and all of the rooms, climbers, and activities on the periphery. There is a direct sight line to the climber and all of the main activities.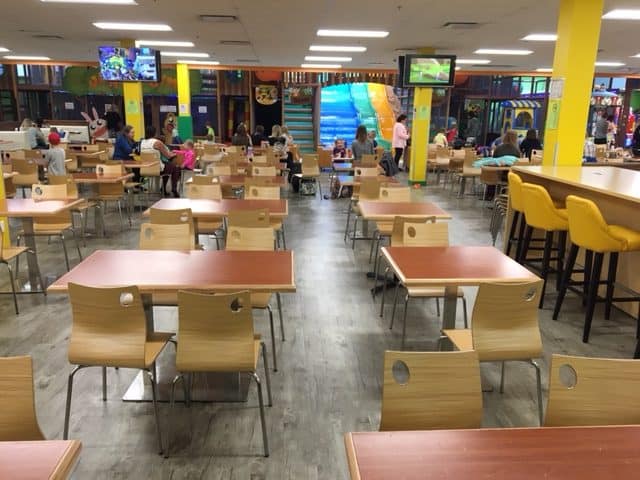 My kids immediately ran to the arcade section. With both vintage games and new games, and a smattering of carnival games and ride-ons, kids of all ages (including my husband) could spend a good while in that one area.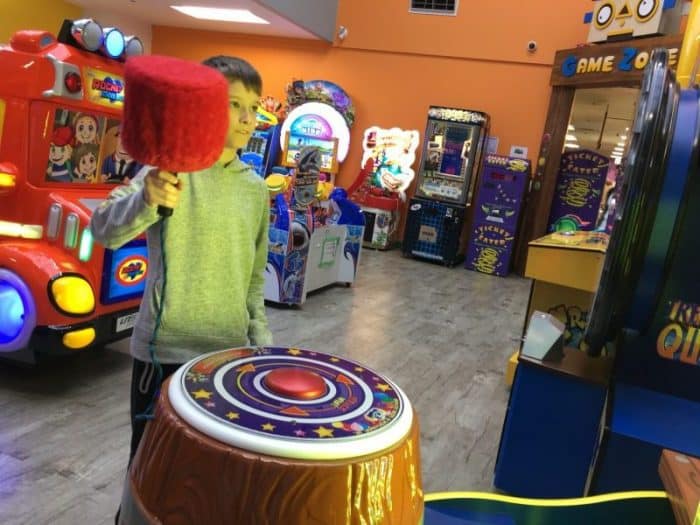 I really like that Treehouse offers this as my older kids sometimes get bored following their little sister around the climber.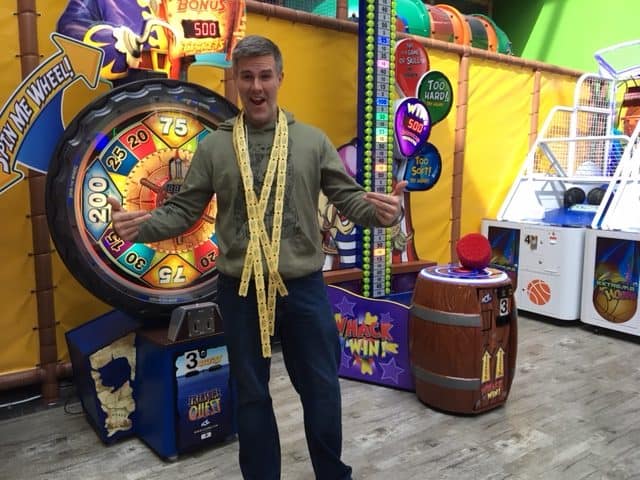 The little sister was taken by the huge climber. She absolutely loved going down the big blue slide and was able to navigate the climber in a really easy way. This was great because it meant that she could be more independent and I didn't have to squeeze into the spaces to help her out.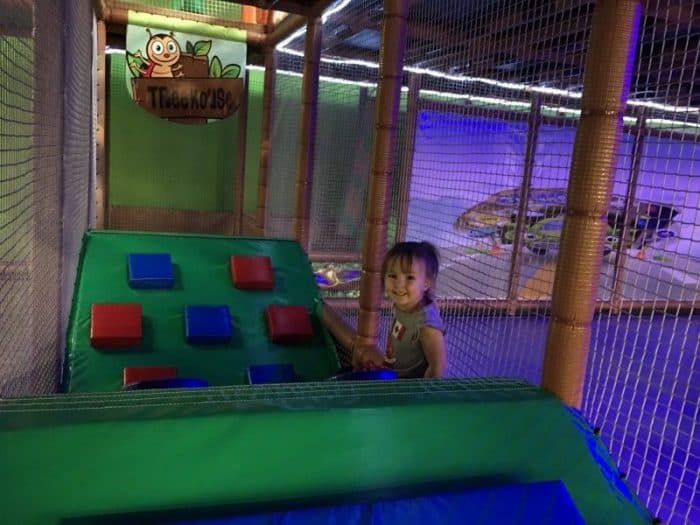 Actually, the climber was big enough and easy enough for all sizes to get through. Which is really great when your child yells out, "I need to pee!"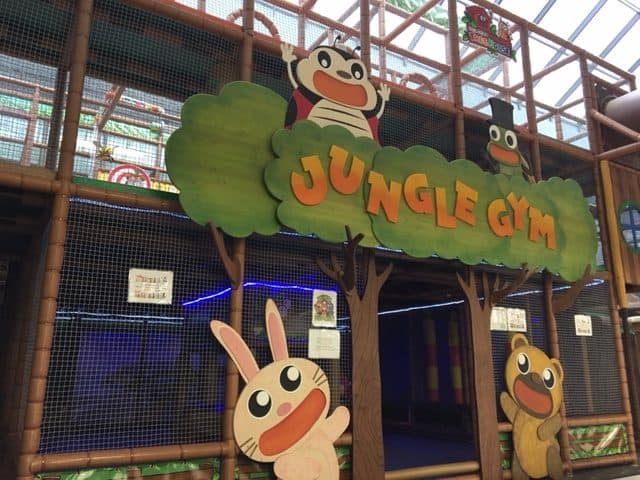 The bathrooms are cleaned every hour, and there are checklists visibly all over the space showing the last time it was cleaned. Cleanliness in a indoor play place is important to me and I believe that Treehouse was doing a very good job.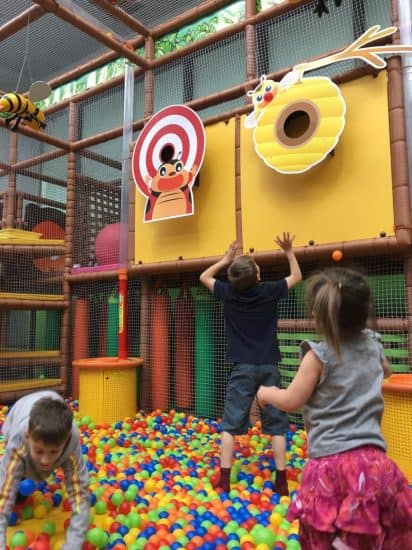 After the kids spent some time in the climber, they played in the ball pit, and even my oldest got in on the action.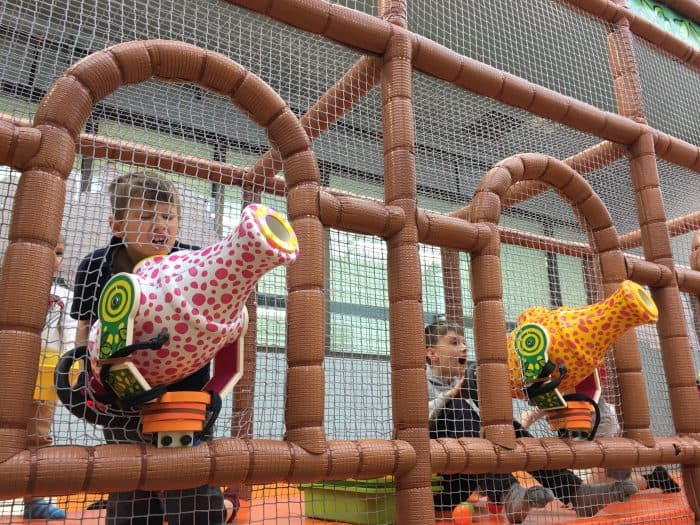 There are these little cannons and targets that really entice all of the kids to play there, and compete with each other, in a fun way, to see who can shoot the farthest.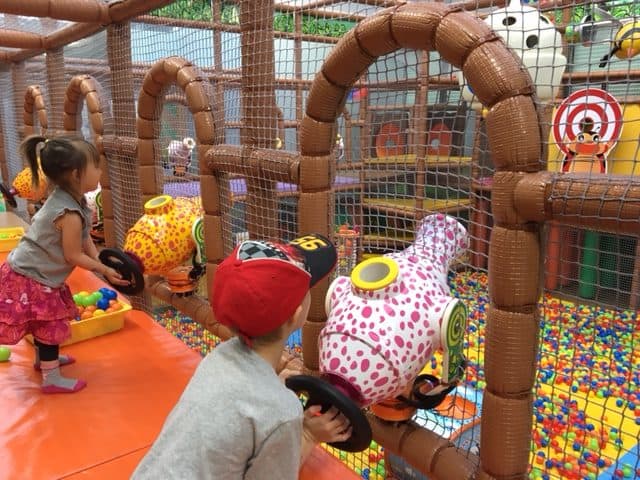 Another great feature was the climbing wall. This is perfect for those between the ages of 2 and 6 years of age. Not too tall, but not too small either. My kids really enjoyed this feature.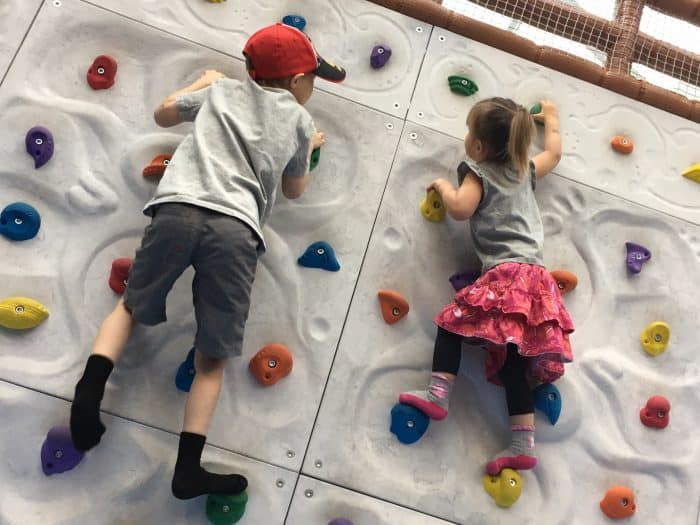 Under the climber there was an animatronic ride-on space. I like how Treehouse has the rules posted in easy to see spaces so both kids and adults can be safe. My little one wasn't old enough to ride by herself, but my older sons took turns driving her around the track. This was a very popular feature.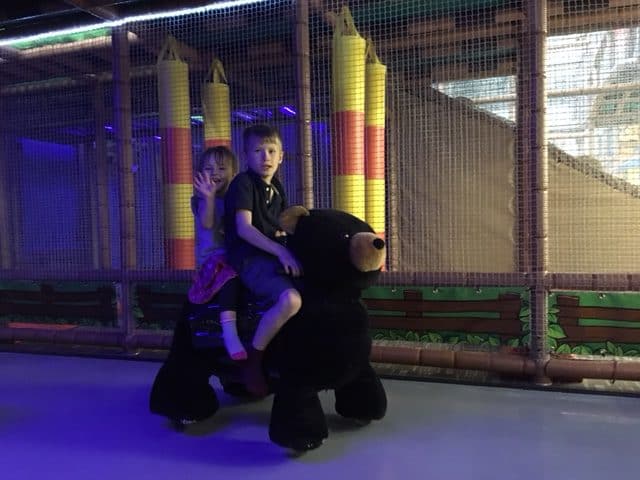 The space behind the animals had zip-lines, and space to run, a little ball popper and last but definitely not least was two small trampolines. I found these to be the perfect size for those little people who want to try and practice their jumping skills.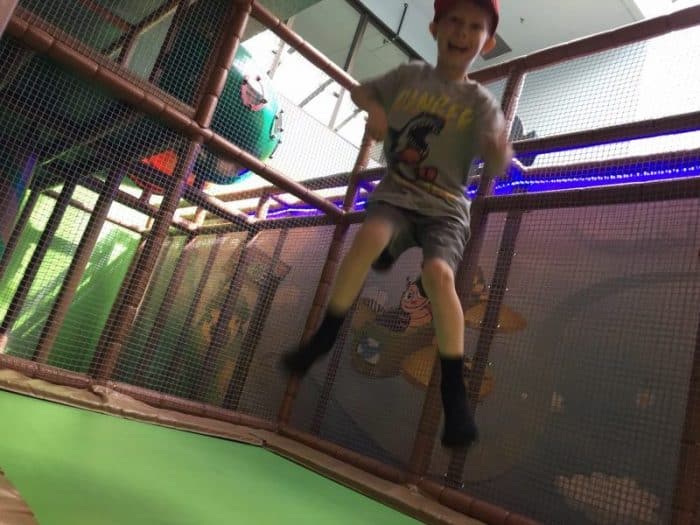 Speaking of littler people, there is a dedicated toddler room for children under 3 located next to the bathrooms. It has a slide, ride on toys, blocks, balls, and a play kitchen.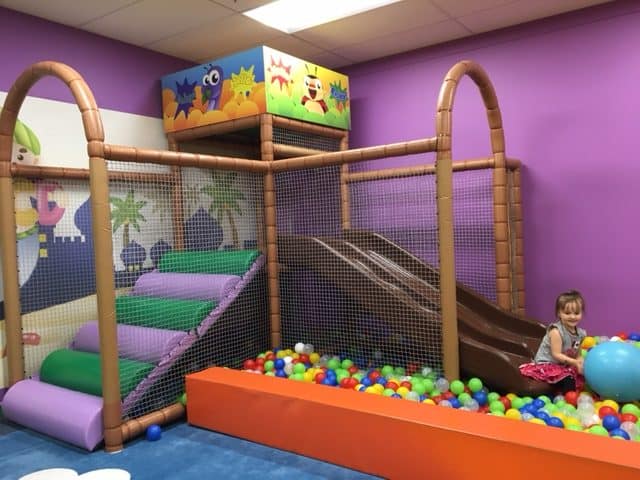 My daughter really liked this space, and if I had another baby with me it would have been the perfect place to sit down and watch my little one interact without being worried about the bigger spaces and bigger kids.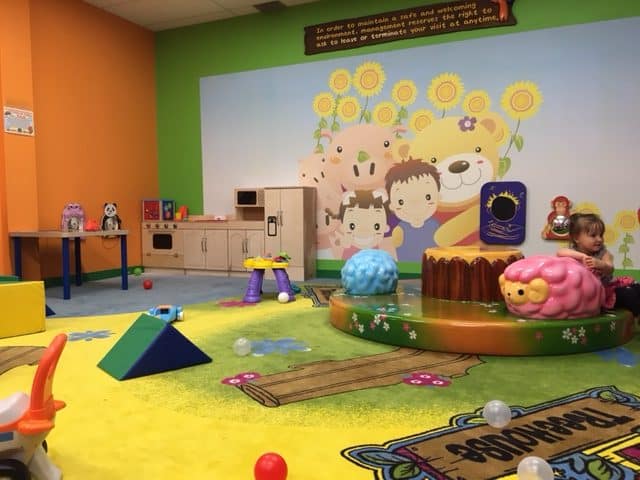 Just before we left I took my youngest two into the Lego room to check it out.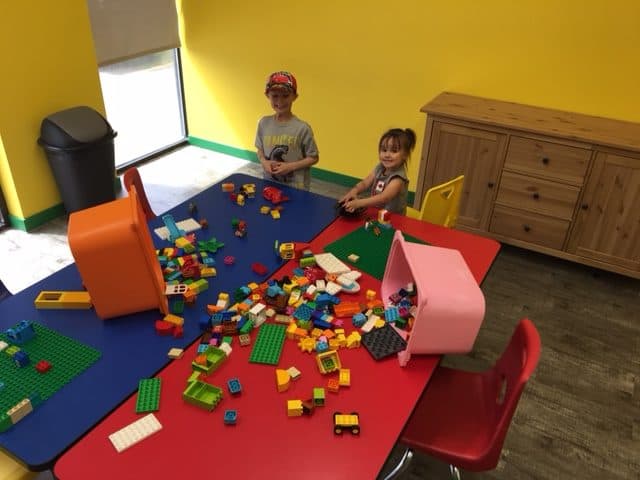 My 6 year old instantly spotted some Batman Duplo and a building challenge was set. For parents who want to step away from the more active areas, steering the kids into the Lego room would be a good option.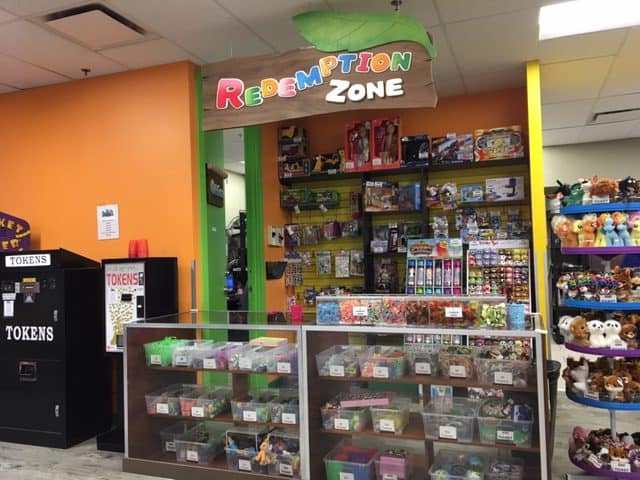 Of course, we had to get a treat before we left and with the tickets they won with their tokens they got some little penny candies and little toys.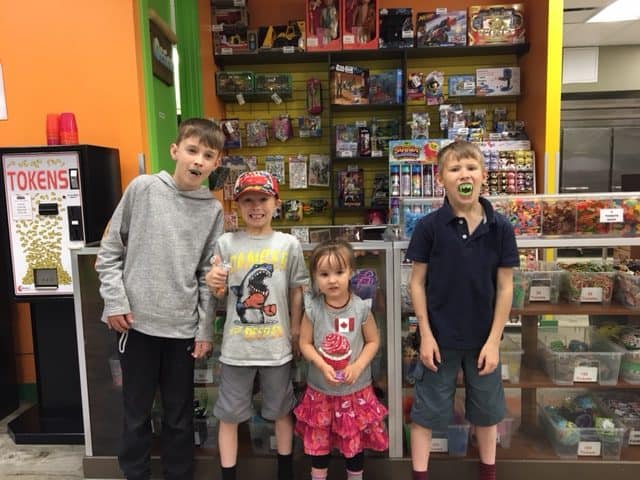 While we were choosing our prizes I stopped to look at the food options.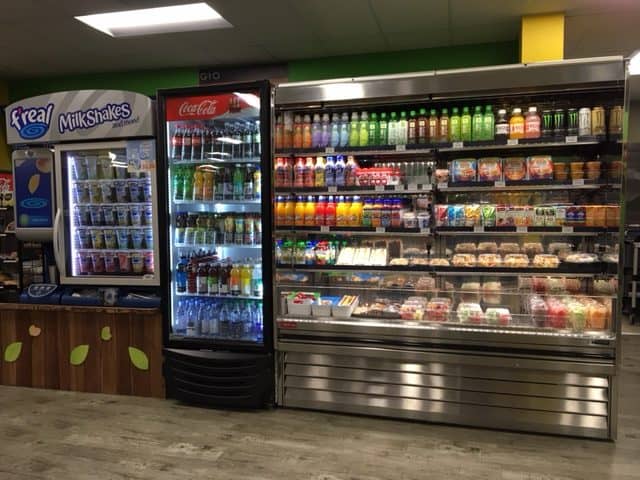 There were both hot and cold items, and actually a really good variety of both. My family eats a plant based diet, and there were even options for us, and some gluten free options, and that made me very happy to see.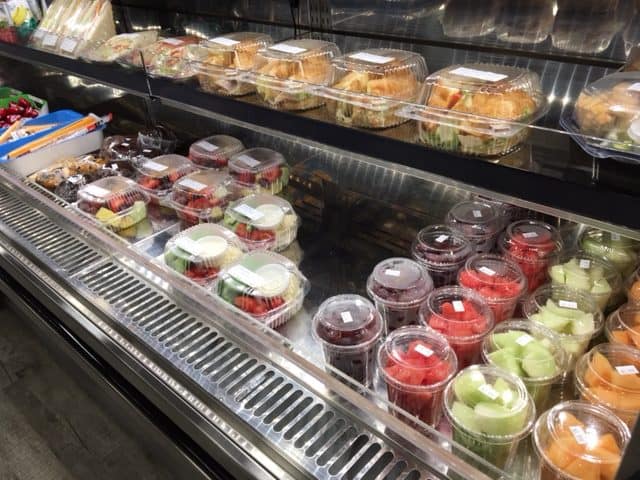 Overall, we had a wonderful time at the Treehouse – South location. My kids are already asking to go back, and I don't blame them. It was really fun. A great way to spend a couple hours, or even the whole day.
Alisha Brignall is a website developer, social media marketer, and homeschool consultant. She writes about the journey of homeschooling her four kids at LearningFromMyKids. Alisha is also contributing writer at iHomeschool Network. She is the founder of INSPIRED, a secular homeschooling conference in Calgary, and podcaster at HomeschoolingInTheNorthWoods.
Please Note: 
We do our best to ensure the information on Calgary Playground Review is accurate, however information and events are subject to change. Please contact the organizations directly to avoid disappointment.
Can you help make this article better?
If you have noticed an error, have additional information or would like to share a comment you can:
E-mail us at calgaryplaygroundreview@gmail.com
Find us on Facebook: CalgaryPlaygroundReview
Find us on Instagram: YYCdana
Tweet us: YYCdana
We are not affiliated with any venues, attractions or organizations. Please message them directly if you have questions or concerns.