Location http://www.tyrrellmuseum.com/
Address: 1500 N Dinosaur Trail, Drumheller, AB
Cost: Adults $21, Seniors $14, Youth (7-17) $10, Family $50, Children 6 and under are free. Memberships available. (Summer 2021 Timed tickets are recommended but walk-up is available)
Parking: Free in the parking lots
Age Range: All ages. Really young kids may find some sections a bit dry. Dinosaur fans may be disappointed to find that the entire museum is not devoted just to dinosaurs. 
Stay Length: expect to stay at least 2.5 hours. If you were pushed for time or had young kids, you could probably get through in 2 hours. 
Also in the Area: The World's Largest Dinosaur, Drumheller Spray Park, The Little Church, Hosethief Canyon, Bleriot Ferry, Rosedale Suspension Bridge, 11 bridges to Wayne, Hoodoo Trail, Atlas Coal Mine, Cactus Coulee Fun Park, Fossil World Discovery Centre, Homestead Museum, Hoseshoe Canyon, Barney's Adventure Park
See more about Drumhellers attractions – Things to do in Dumheller with Kids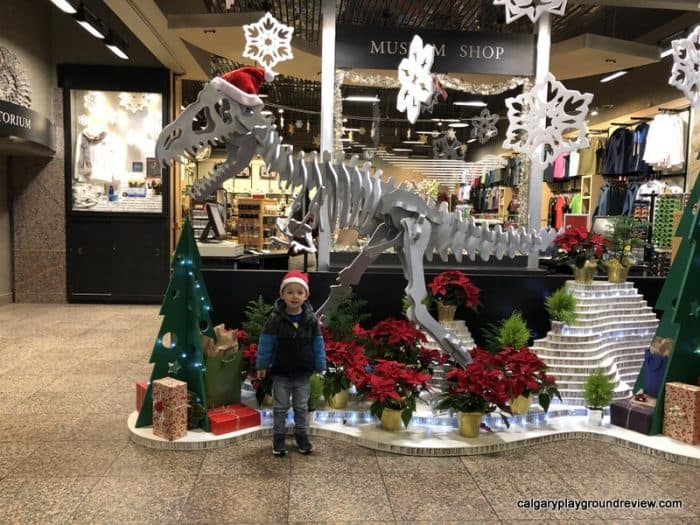 Review:
Outside the museum, you can find a free dinosaur themed playground. There is even a dino dig at the back! This is open to everyone, you do not have to go to the museum.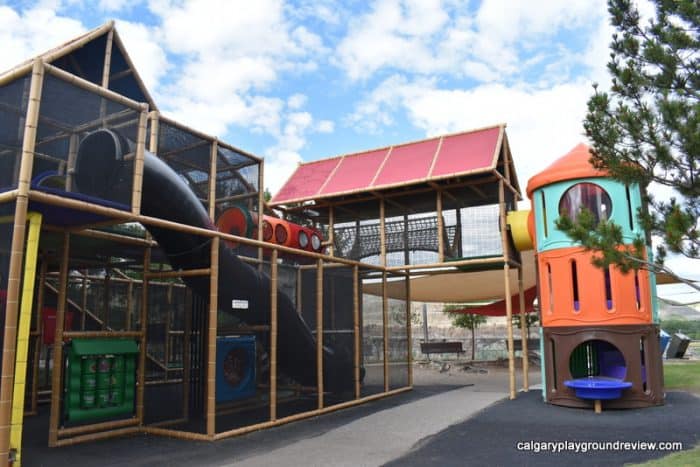 Closer to the museum entrance, there are some neat dinosaur statues that make great photo ops. Don't forget to look for the baby dinos!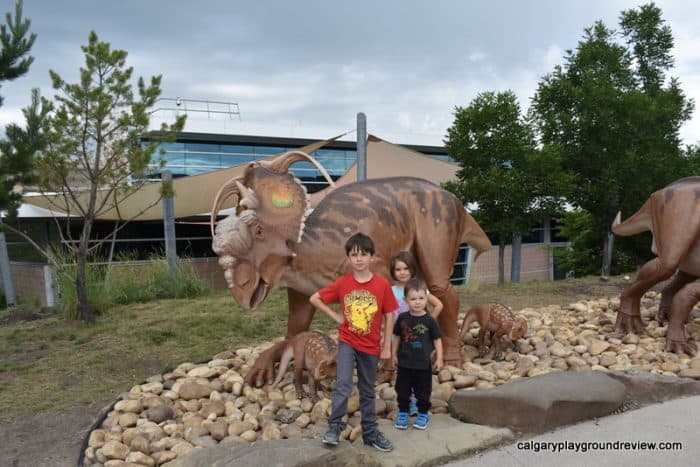 The lobby connects you to the gift shop, cafeteria and museum exhibits.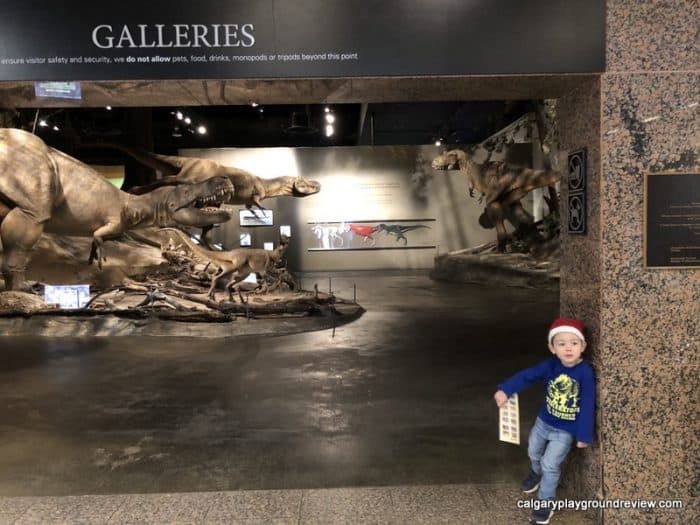 When you buy your admission you can also buy Fun Books for kids age 5-9 years old.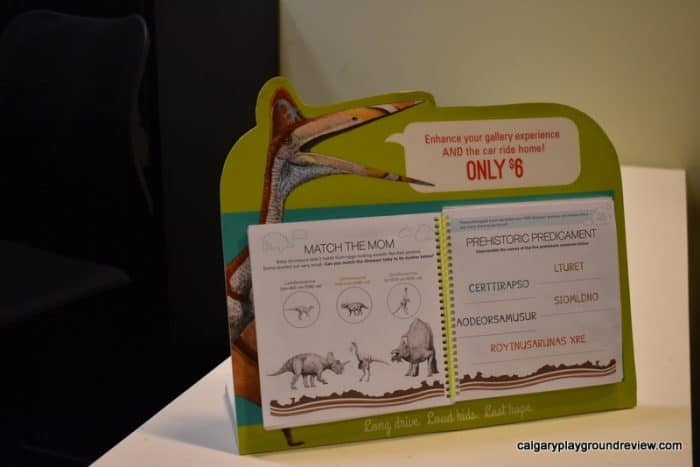 The museum used to have an audio-tour that you could purchase. Now it's free! All you need to do is download the Royal Tyrrell Museum App. If you forget headphones, you can also purchase these at the guest services counter (they only have standard headphone jack connection, however).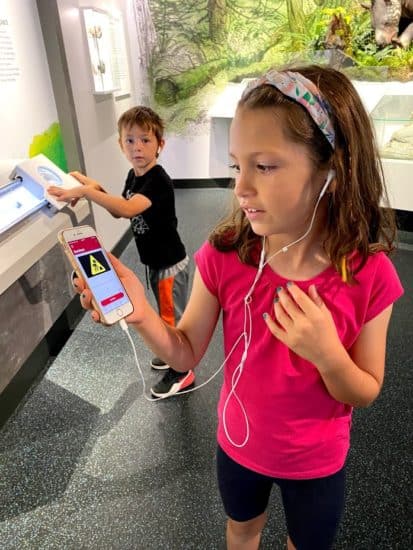 Galleries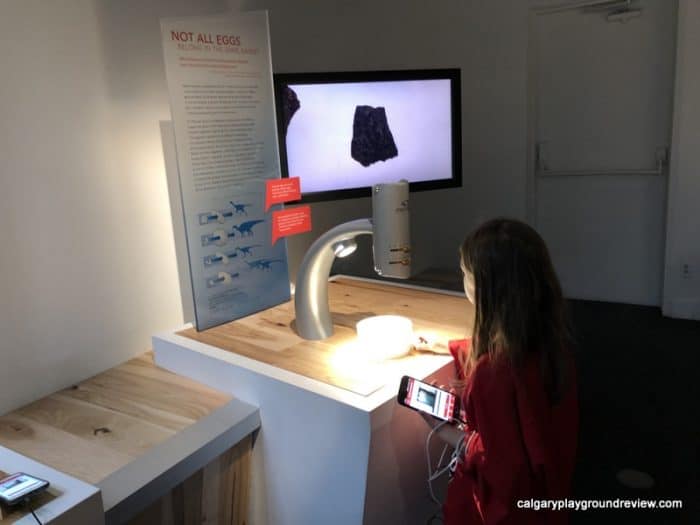 My kids (age 6 and 9) both really loved being able to follow along with the audio tour while we went through the museum. I listened to the audio-tour on our last visit and really recommend it.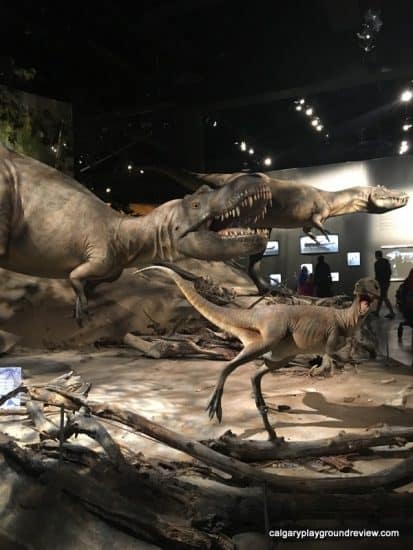 The first exhibit in Cretaceous Alberta. This area has the best life-like dinosaur models so don't rush through it, particularly if you have a young dinosaur fan.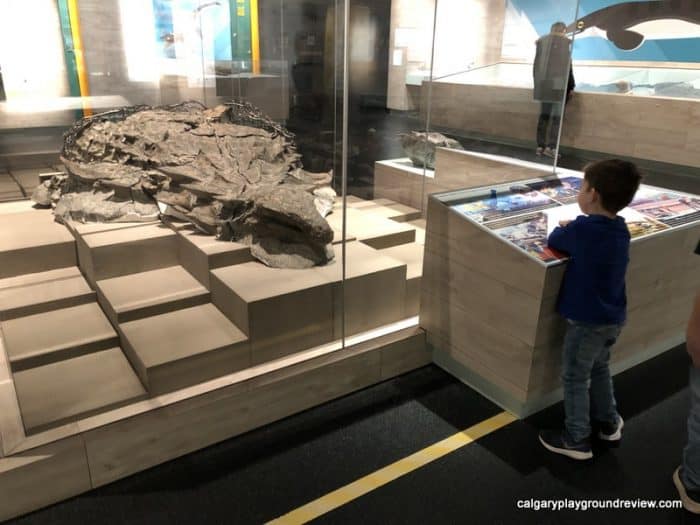 The next exhibits are focused on paleontology.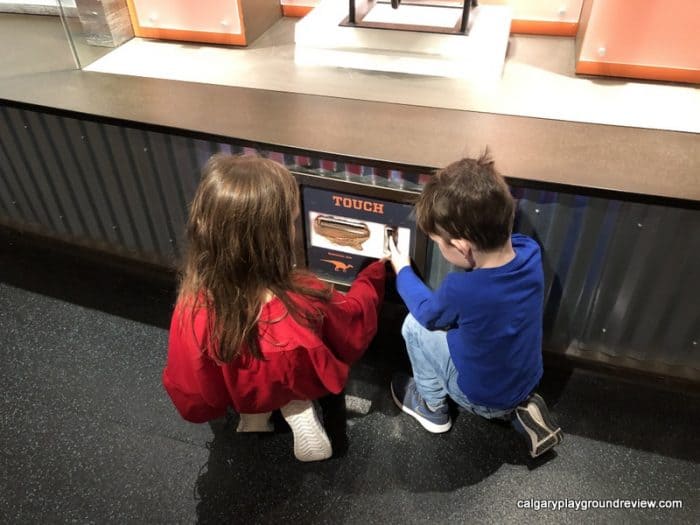 There are some interactive features here for kids. I love how some of them are set really low to the ground.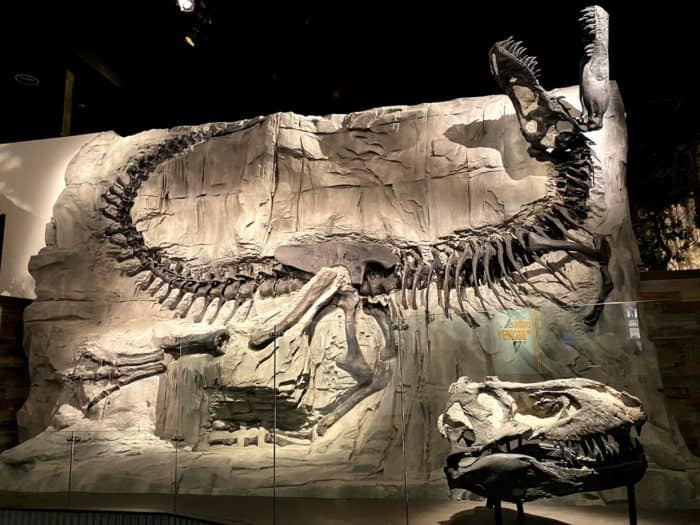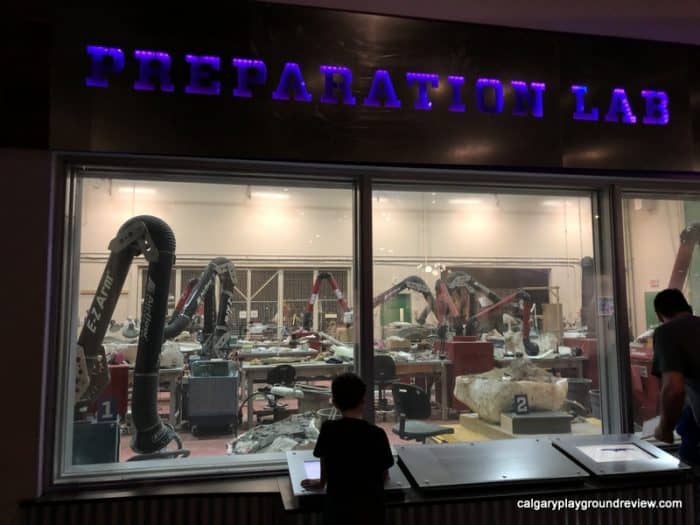 If you are lucky, you can see paleontologists at work in the Preparation Lab or ask questions at the desk nearby.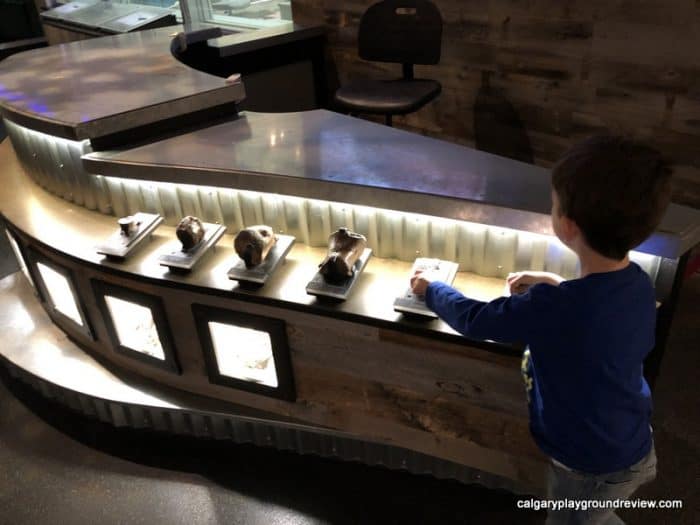 Journey Through Time
After these exhibits, you begin your journey through time. If your kids are familiar with Dinosaur Train there are some great opportunities to say "Time tunnel! Time tunnel approaching!"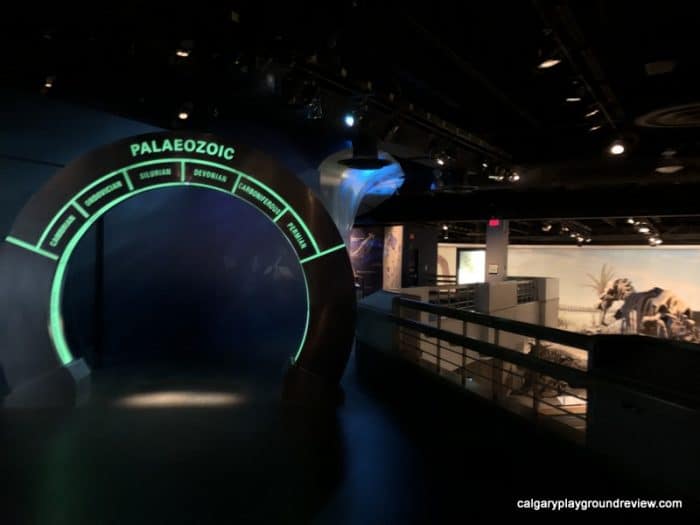 Some kids may find the first few sections a little tedious as the creatures look nothing like dinosaurs and it can be a little hard to imagine what the world would have looked like in the earliest time periods.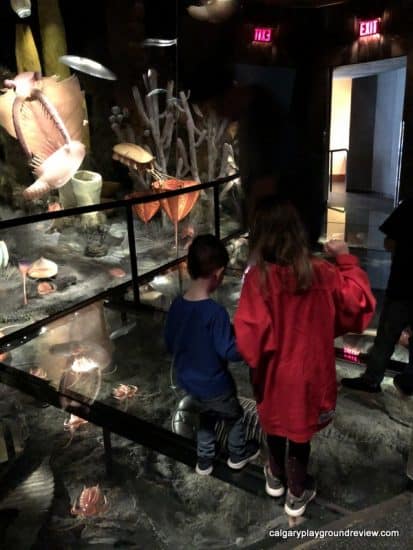 The kids will probably enjoy walking over the glass floor in the Devonian Reef.
Learning Lounge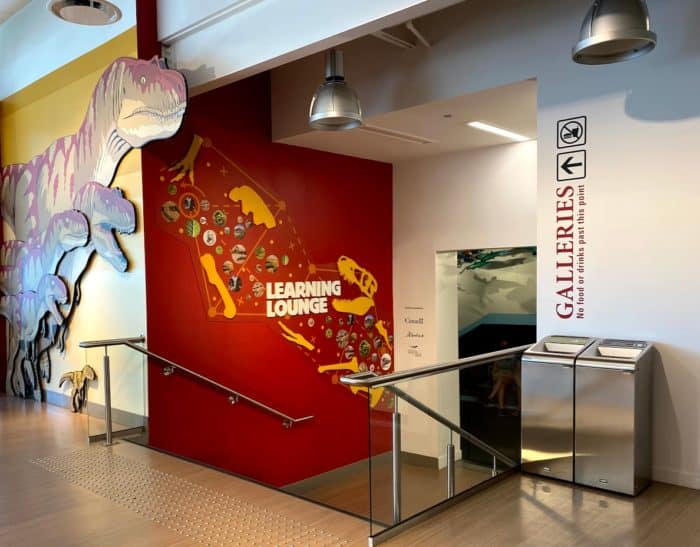 The Learning Lounge is a new exhibit centred around Albertosaurus. It provides interactive displays and hands on activities. This is likely to be a hit with kids. There is also places to sit and take a break beside the exhibit.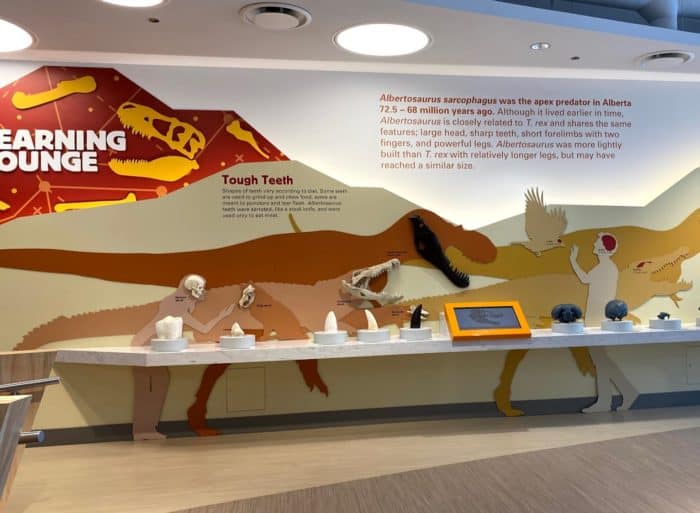 You can use your age to measure how tall you would be if you were an Albertosaurus.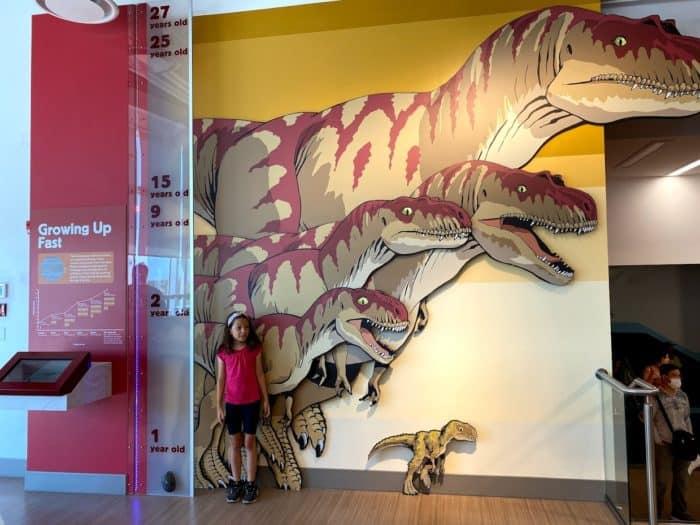 See a video display of what an Albertosaurus might have seen when they were alive.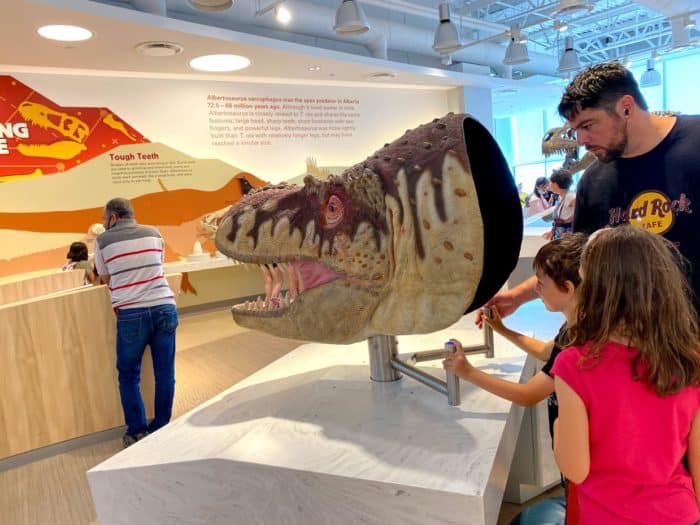 Try to build your own dinosaur.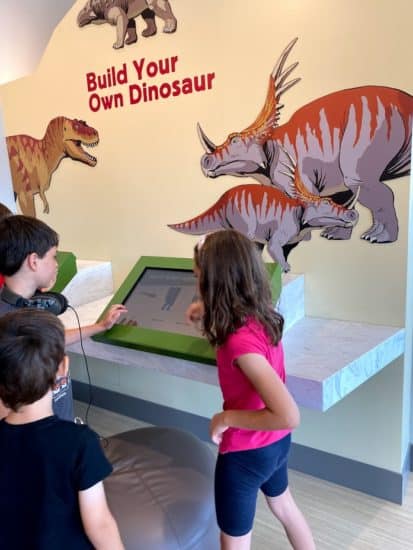 Complete a giant fossil puzzle.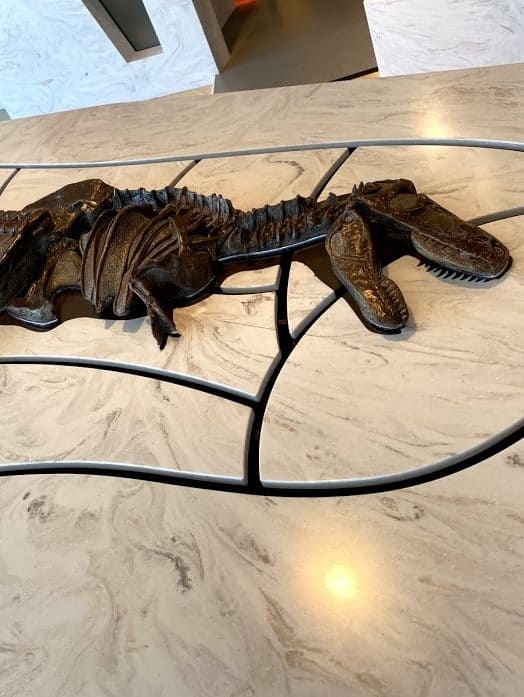 Race different dinosaurs around a track.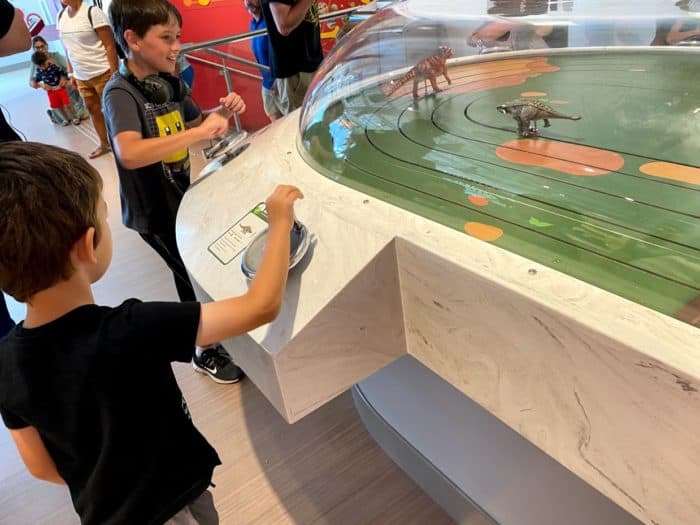 And learn about Albertosaurus and it's skeleton.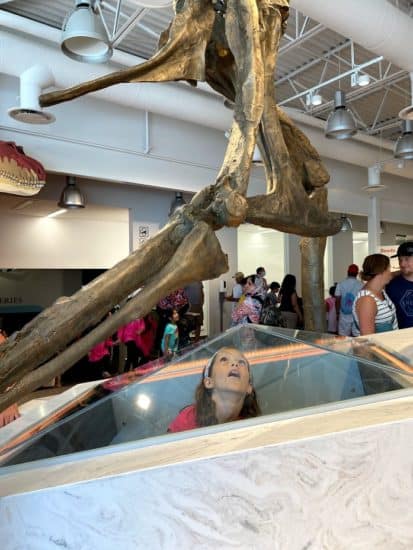 Continue Your Journey Through Time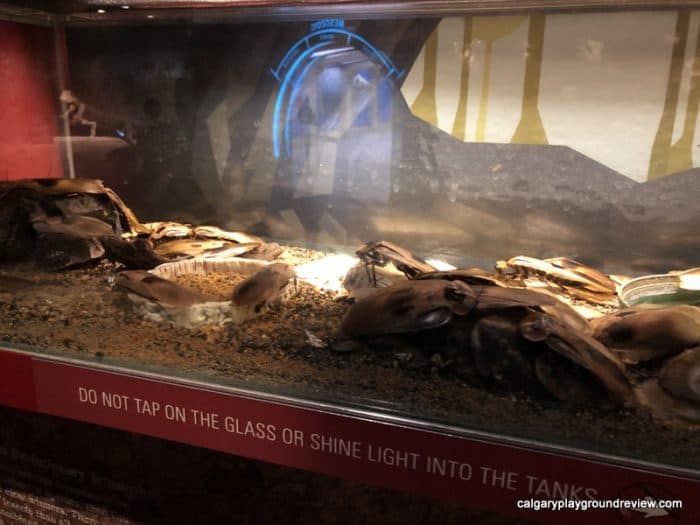 The Permian area has some exhibits with live creatures like these giant cockroaches.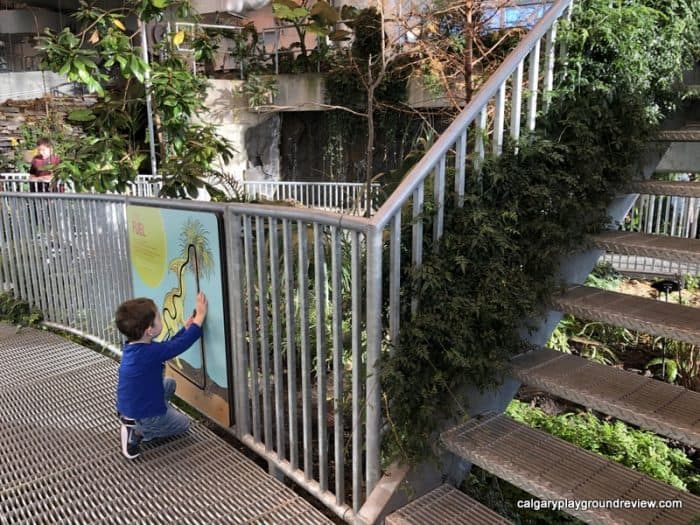 Off to the side you can find the door to the Cretaceous Garden. If you are in a big rush to get to Dinosaur Hall, you can pass this by, but if you have the time I highly recommend stopping by to see this prehistoric plant relative collection. It really gives you a feel for what the landscape of Alberta would have been when the dinosaurs were alive. 
Dinosaur Hall
Dinosaur Hall is probably the exhibit that most kids are looking forward to seeing. There are tons of full-size dinosaur skeletons to look at.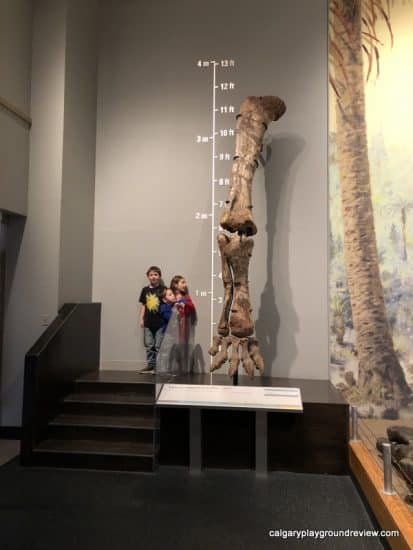 Don't miss seeing how tall you are compared to this dinosaur leg!
The dinosaurs are nicely displayed with some artwork behind them to help you imagine what they may have looked like.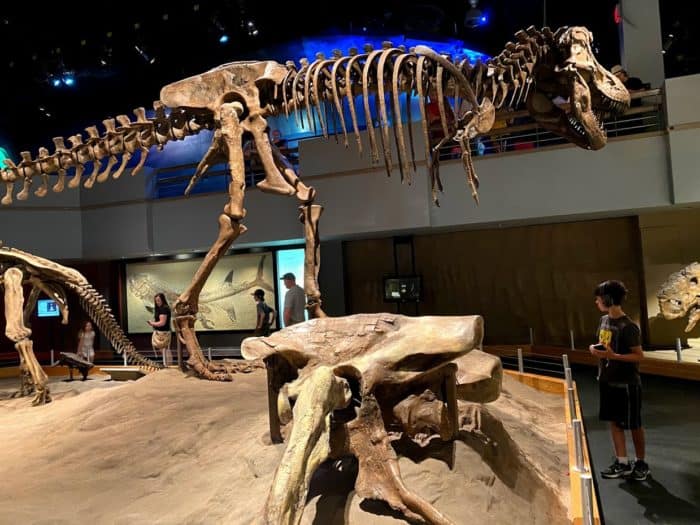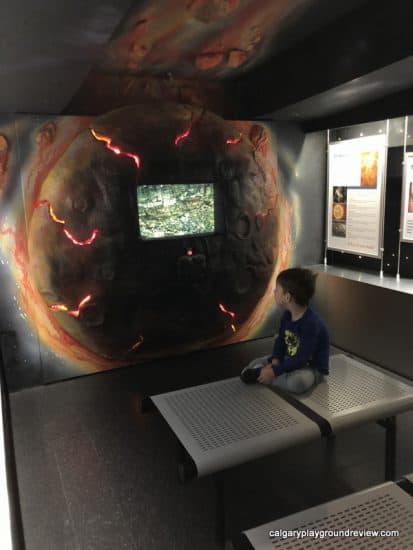 After Dinosaur Hall there is a video that discusses why scientists think dinosaurs went extinct. My youngest really enjoyed watching it. 
Cenozoic Gallery
The Cenozoic Gallery has been recently expanded and improved.
There are some new interactive features and the skeletons are displayed really well.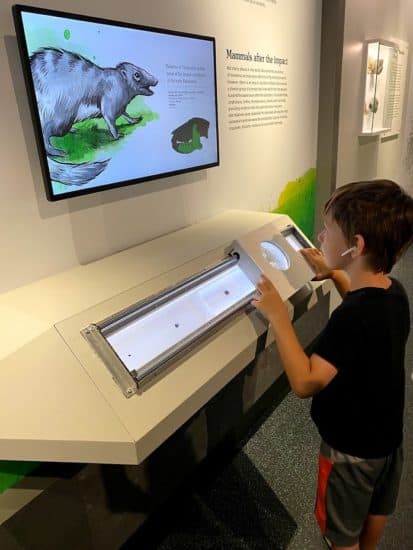 Cafeteria
The cafeteria at the Royal Tyrrell is nothing special (although the fries are pretty good). It is typical cafeteria food with hot, cold and grab and go items. There is no where else to eat close by however so plan to pack food if you don't intend to eat here.
Note: The cafeteria was not open when we visited in July 2021
Outside of the museum, you can walk up to the lookout point (closed during the winter) or walk the Badlands Interpretive Trail. The museum also offers programs for families like fossil casting and on the weekends show a couple of different complementary videos in the auditorium.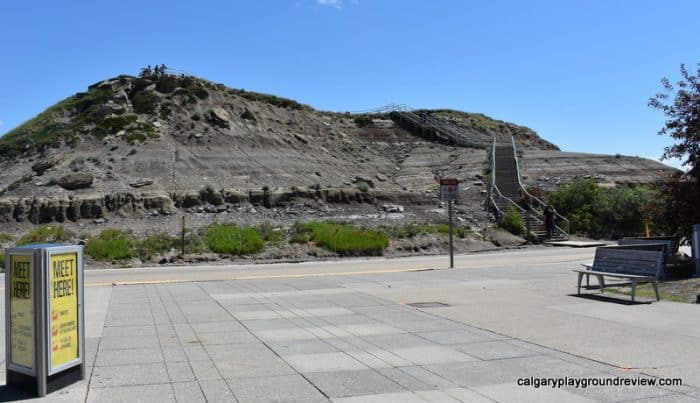 Our family had a great time at the Royal Tyrrell Museum and we will definitely be back again.
You may also be interested in:
Please Note: 
We do our best to ensure the information on Calgary Playground Review is accurate, however information and events are subject to change. Please contact the organizations directly to avoid disappointment.
Can you help make this article better?
If you have noticed an error, have additional information or would like to share a comment you can:
E-mail us at calgaryplaygroundreview@gmail.com
Find us on Facebook: CalgaryPlaygroundReview
Find us on Instagram: YYCdana
Tweet us: YYCdana
We are not affiliated with any venues, attractions or organizations. Please message them directly if you have questions or concerns.