Review of The Big Box – one of Calgary's newest indoor play centres. All you need to know before you go. Photo and video reviews.

Location http://www.thebigbox.ca
Address: 922 64th Ave NE #120
Parking: There is parking at the front and the back of the facility. There are also Big Box parking spots at the adjacent lot.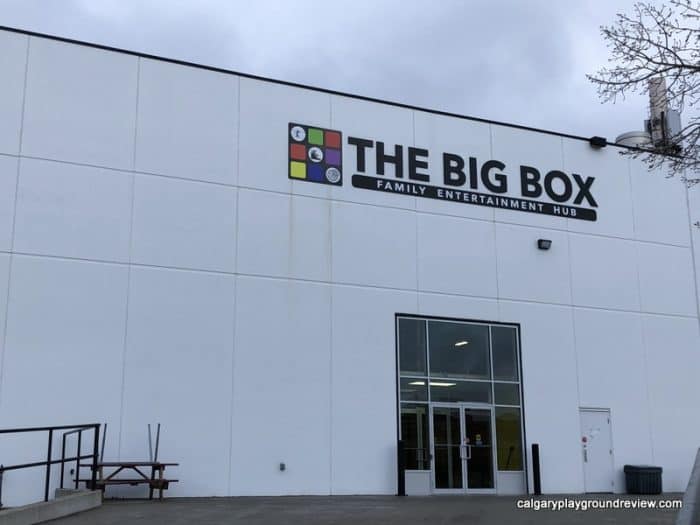 Gordie's Review (9 years old) – "I liked the giant lego blocks, and the tube slide, that was fun."
Nicky's Review (6 years old)– "I liked the games, the building blocks and the slides".
Robbie's Review (3.5 years old) – "I liked the ducks and the balls" [the prizes from a couple of the arcade games]
Cost: Weekdays: (1-3 years) – $6.99, (4-14) – $12.99, (15+) – $14.99
Weekends: (1-3 years) – $9.99, (4-14) – $14.99, (14+) – $17.99.
Free for under 1 and up to two adult admissions included with 1 admission.
The also offer combo packages.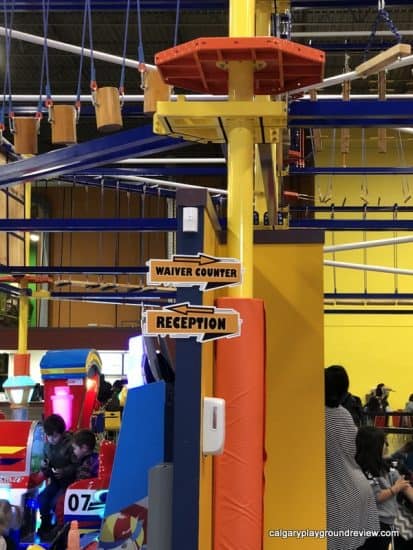 Age Range: Leisure Lagoon – 0-14 years, Additional activities all ages.
Footwear: Leisure Lagoon participants must wear grip socks. Grip/trampoline socks from other facilities are accepted. Socks available for purchase.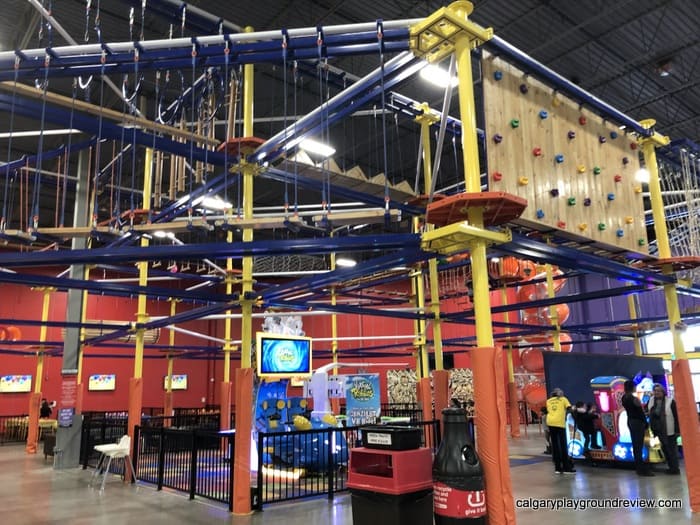 Safety Features/Concerns: Families receive bracelets for access to the leisure lagoon play area and hand stamps with matching numbers just inside the door. Numbers are checked by staff at the gate on exit.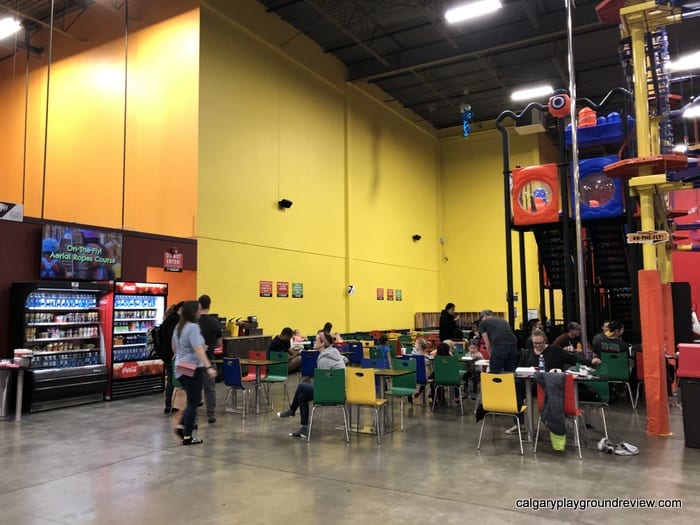 Play Area Features: Indoor Playground, Inflatable Space
Additional Cost features – Virtual Reality, Aerial Rope Course, Arcade, Happy Bumper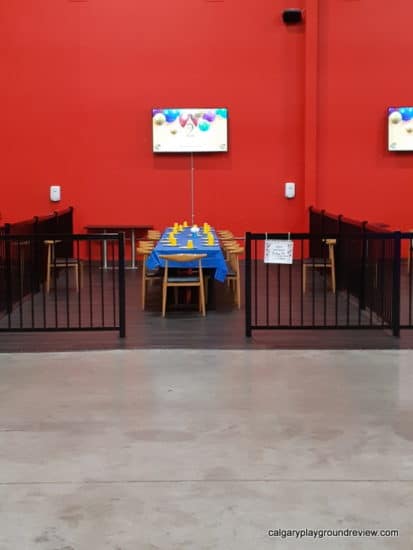 Additional Services: Birthday parties.
Food Services: concession with pizza, snack and beverages.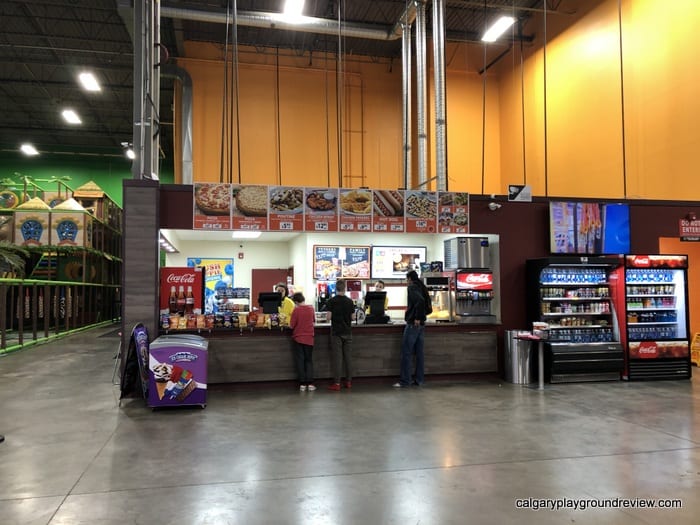 Tips:
You must fill out a waiver before entering the Leisure Lagoon (you can now do this online before you get there)
Grip socks are required
Bring a water bottle – there is a fountain but it is outside of the Leisure Lagoon space
There are cubbies and lockers for your belongings
If you have multiple younger children, you will probably find it difficult to keep visual track of them at all times

Video Review:
Leisure Lagoon
Inflatable Play Area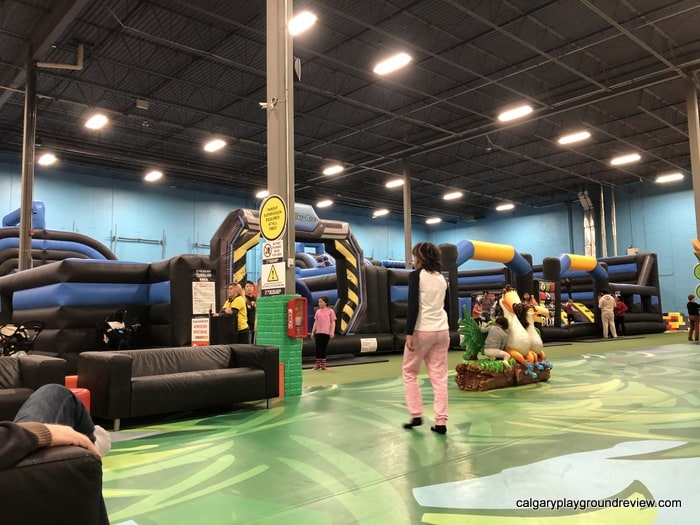 The inflatable area is huge,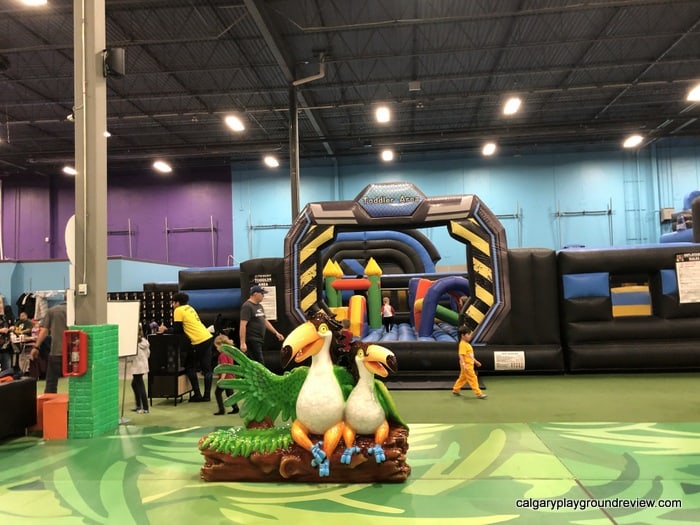 with features for little kids,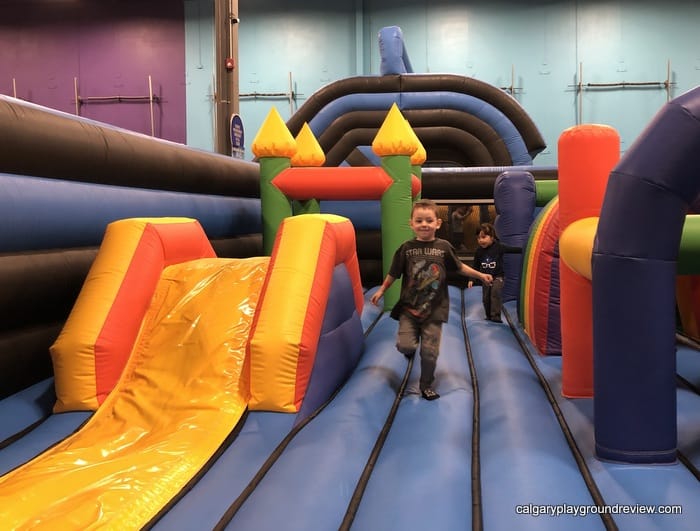 and for big kids.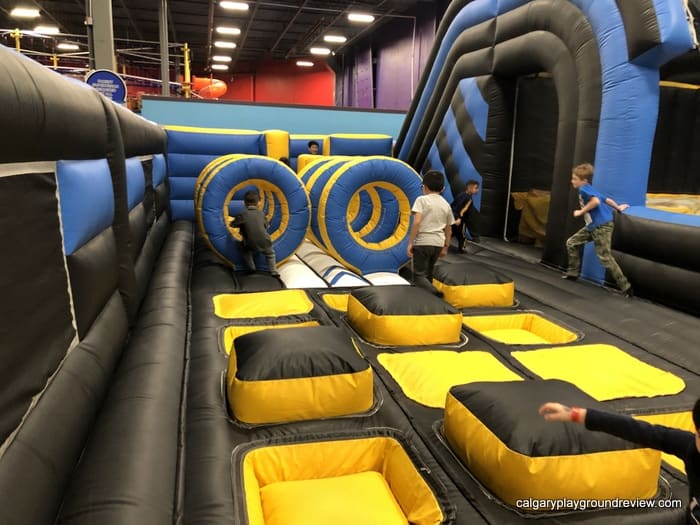 Much of it is set up like a ninja course.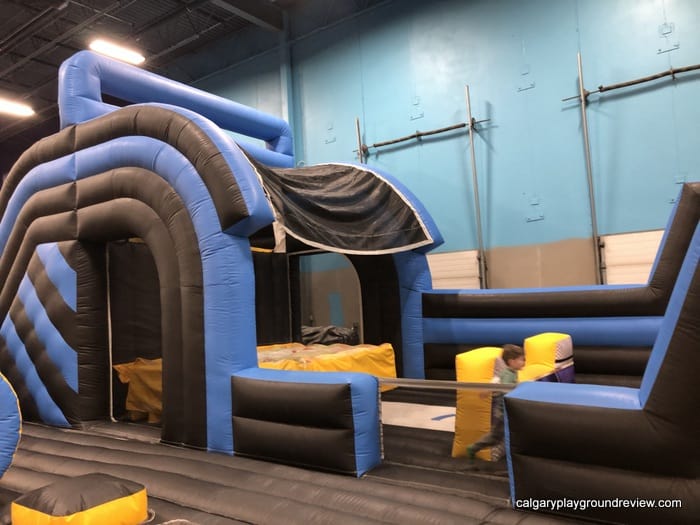 With obstacles to jump off, climb over and jump across.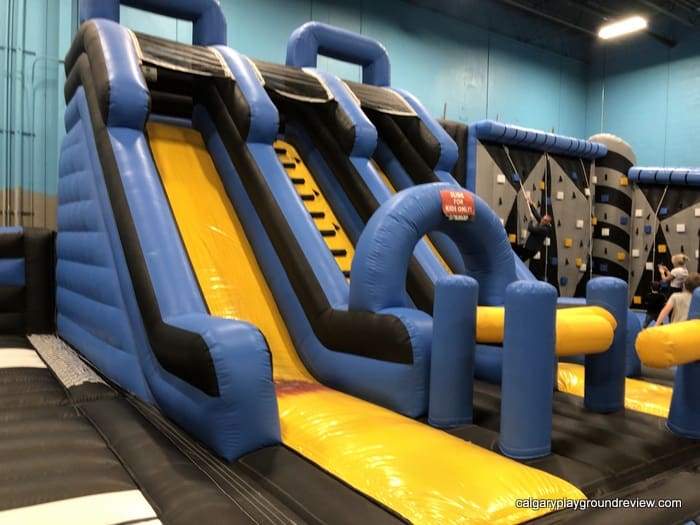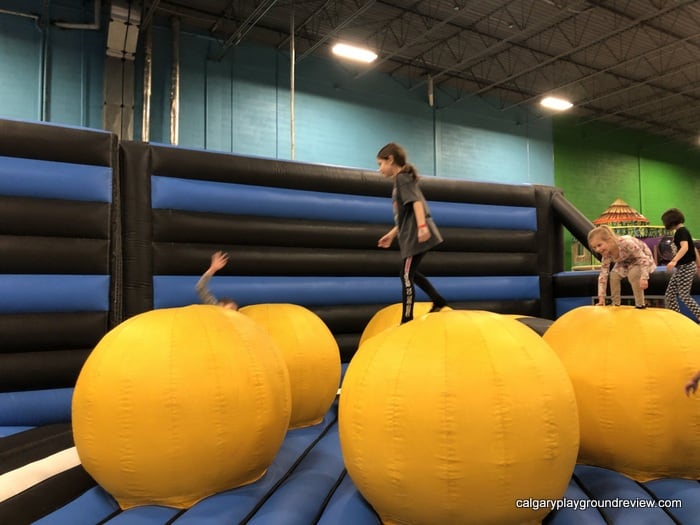 Building Area
One of the most unusual features was actually a building area. There are both larger and smaller bricks where kids can build and create with loose parts.
All my kids loved this spot.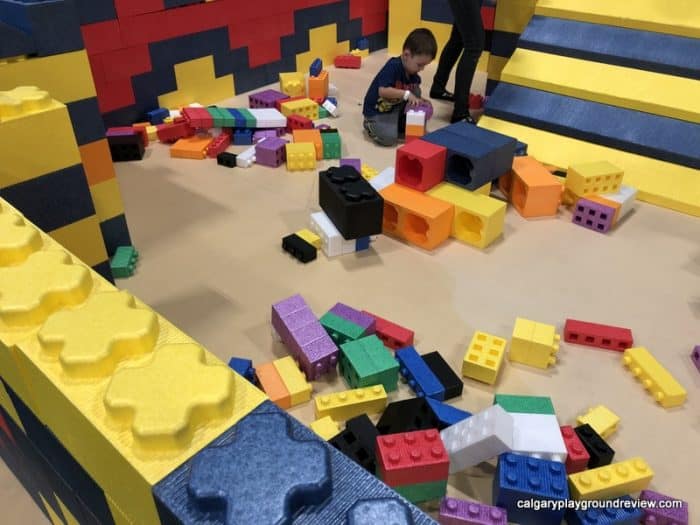 This is also where you can find bathrooms.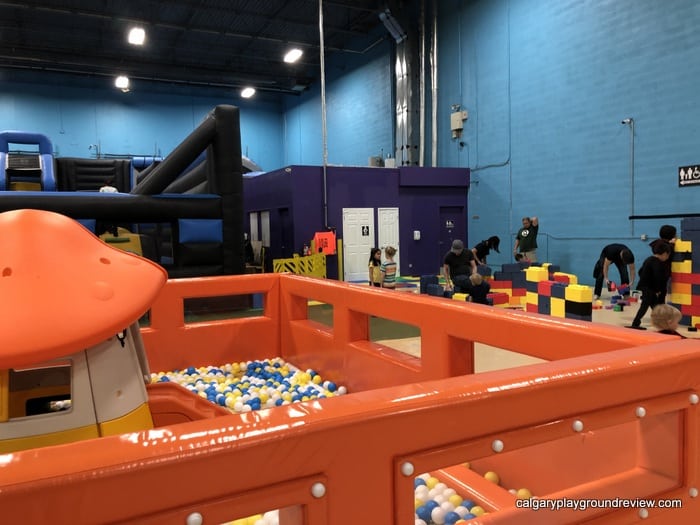 Toddler Area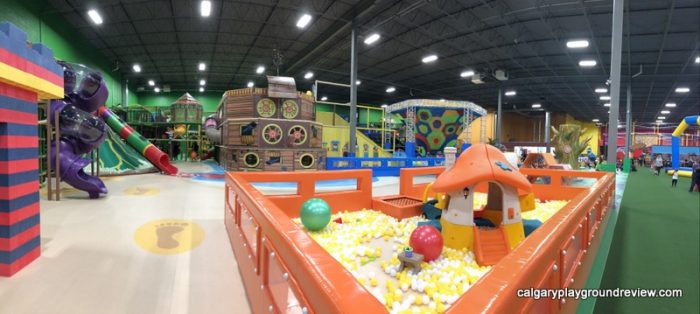 The toddler area is an enclosed area filled with balls, little play house and a beehive climbing structure.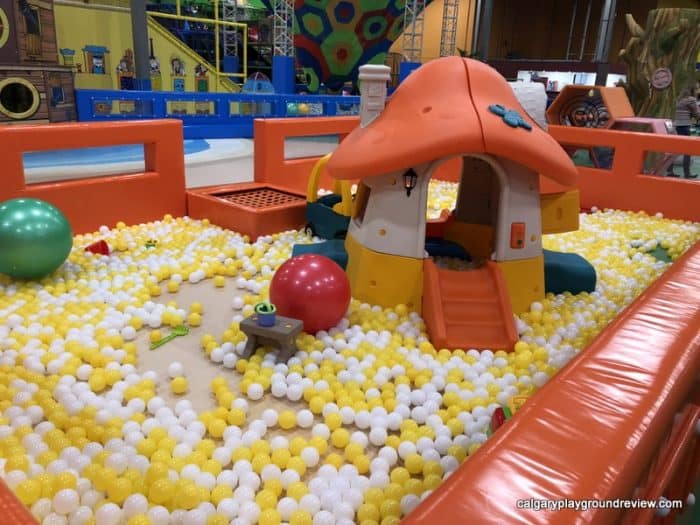 The second component is this little behive climber. It seemed pretty popular with the really little kids and the set up generally kept big kids out.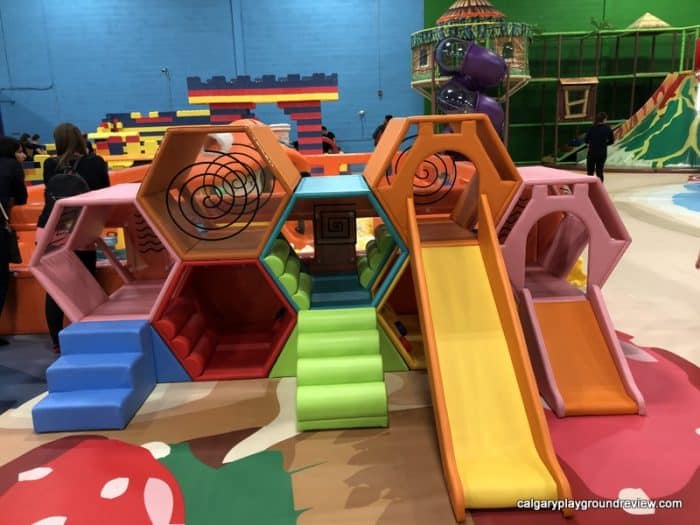 Since these photos were taken, the bee hive climber has been moved inside the toddler play area.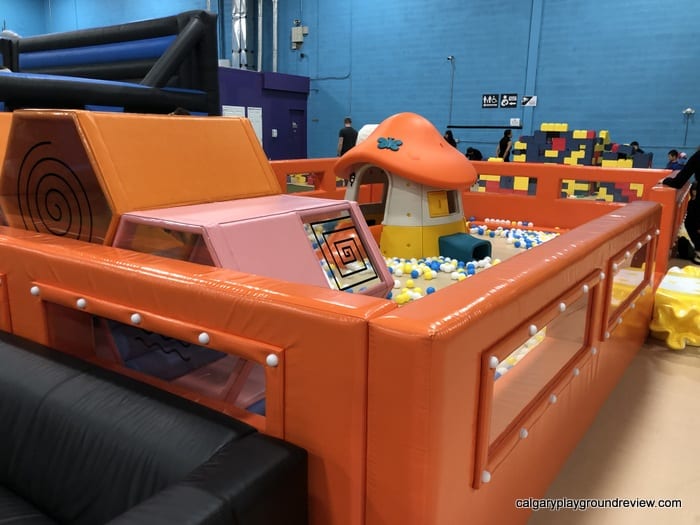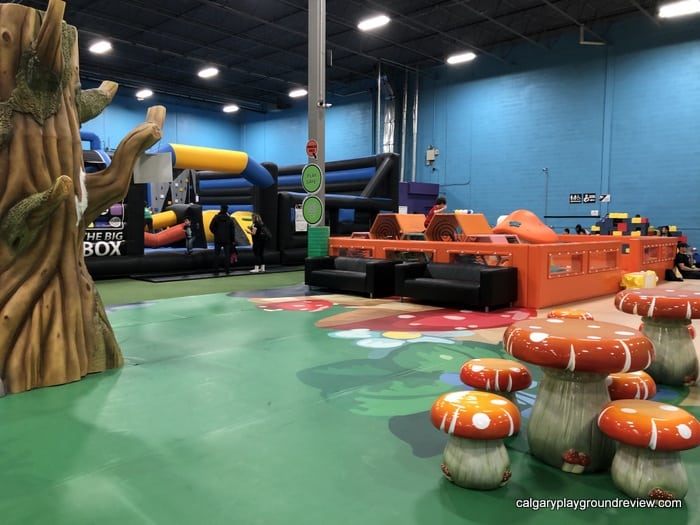 The Indoor Playground

The climber is on the opposite side from the inflatable area and is also quite large.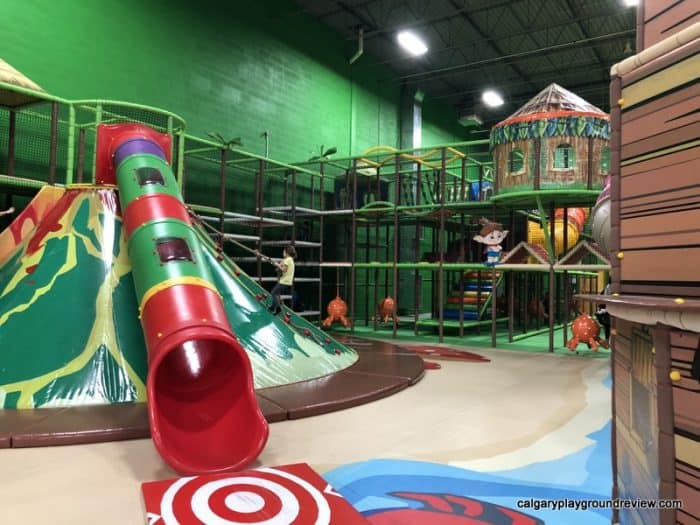 There are tons of climbing features, lots of standard slides and tunnels as well as some really interesting features.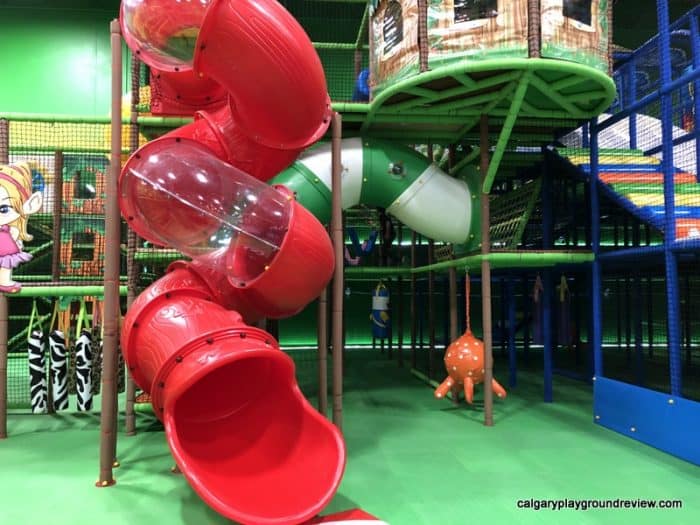 My kids really enjoyed the ball blaster area,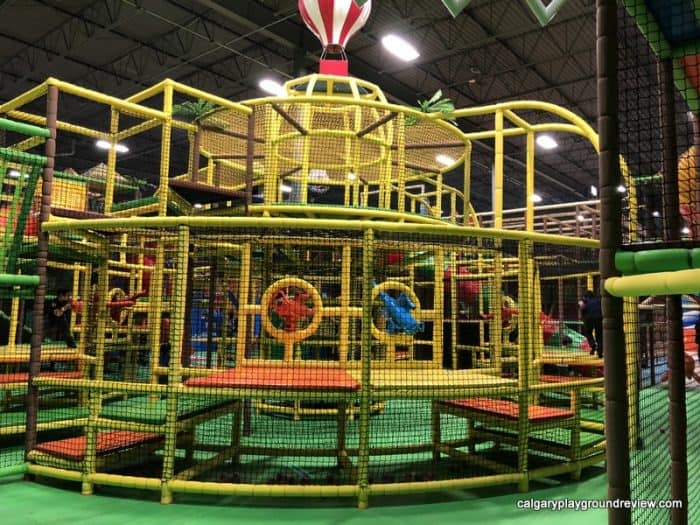 even though the balls really just go to the central area.
The centerpiece is a net climber that kids can climb up inside with a ball area underneath. It is a really neat feature, however if you are looking for your kids don't forget to check inside as it does not have good visibility.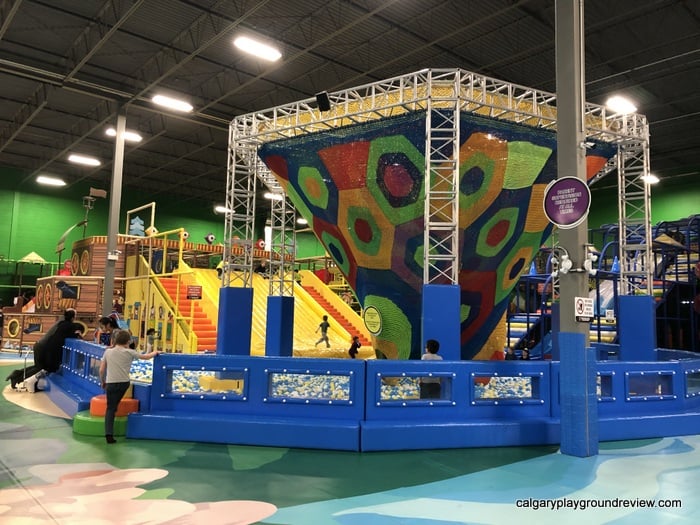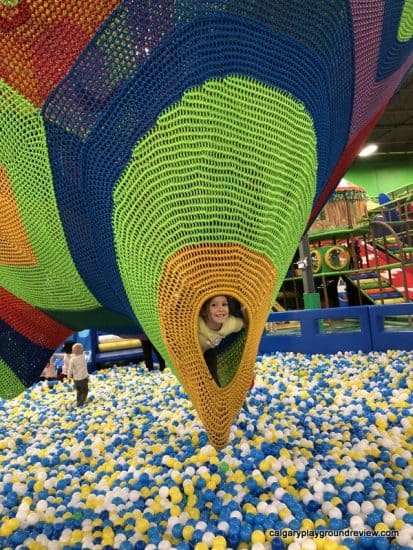 Off to one side is a wide slide area that dumps into the ball pit and is really popular with preschoolers.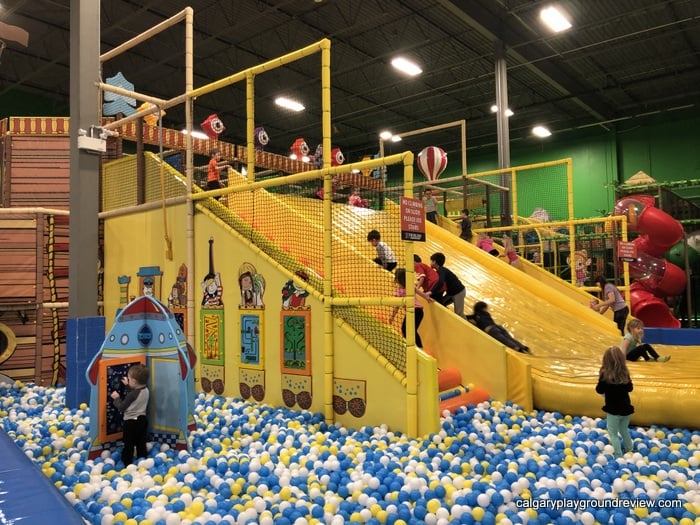 The tall triple slide dumped into this area as well.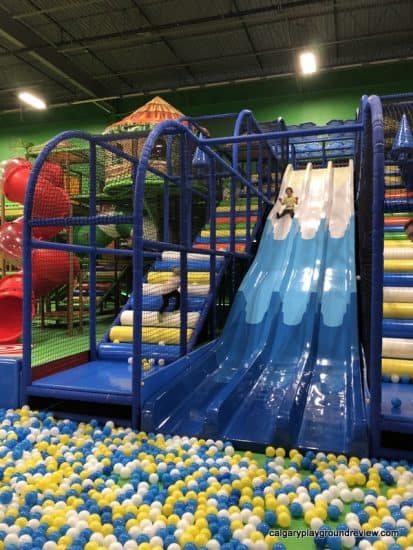 One of the coolest slides was this tube slide.
It must have been fun because hauling the tubes up the stairs seemed like a lot of effort.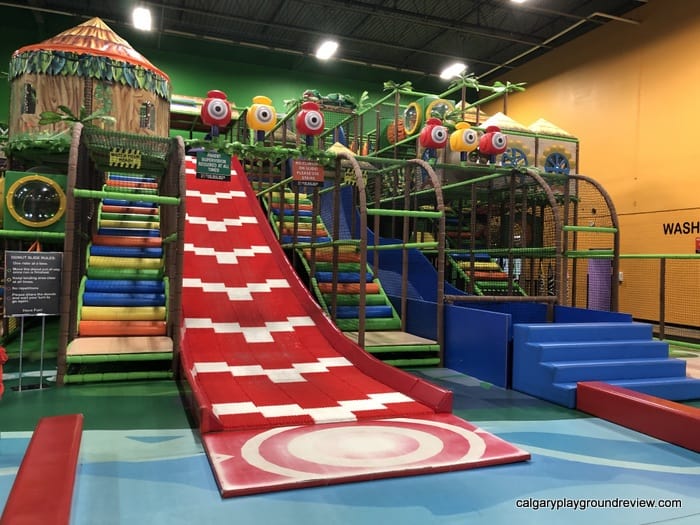 The climbing ramp was also pretty cool. You try to run as high up the ramp as you can and then slide down.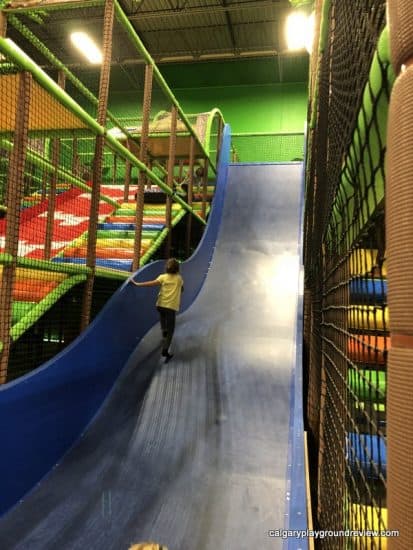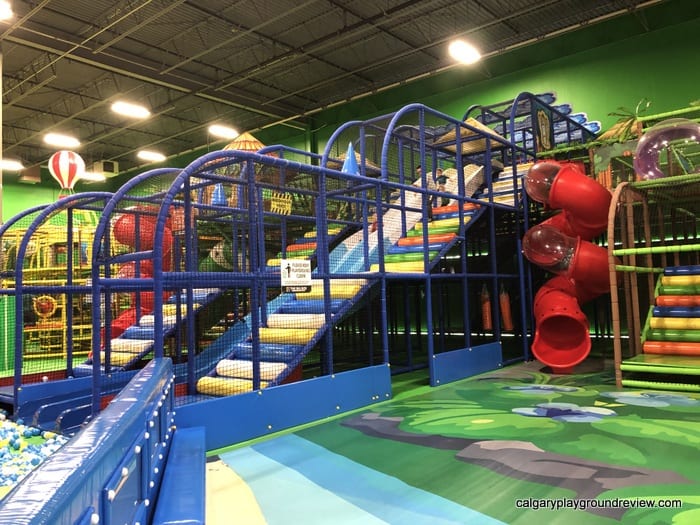 Other Big Box Features
The other features can all be accessed without paying for admission to the leisure lagoon and are not included in the leisure lagoon admission price.
Arcade
The arcade has a mix of redemption and arcade games, a couple of toddler ride/games and claw games where you are guaranteed to win.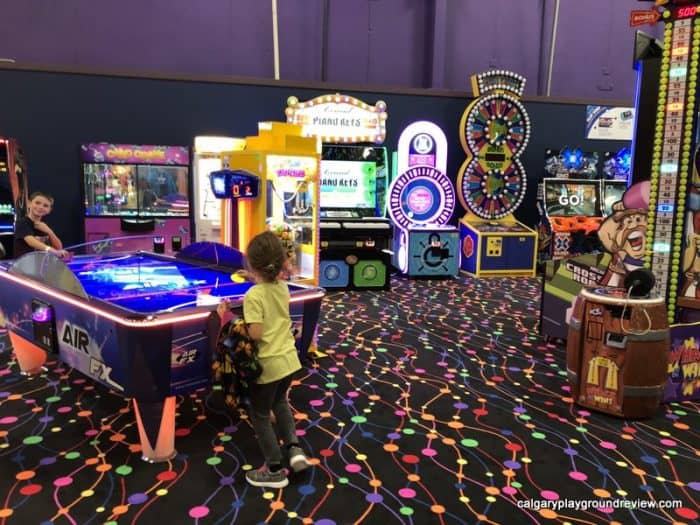 On-The-Fly – Indoor Aerial rope course
The indoor aerial rope course is aimed at teenagers and young adults – recommended for 10+. Kids 7-12 must be accompanied by an adult. Minimum height requirement of 55″ tall and must wear closed toe shoes.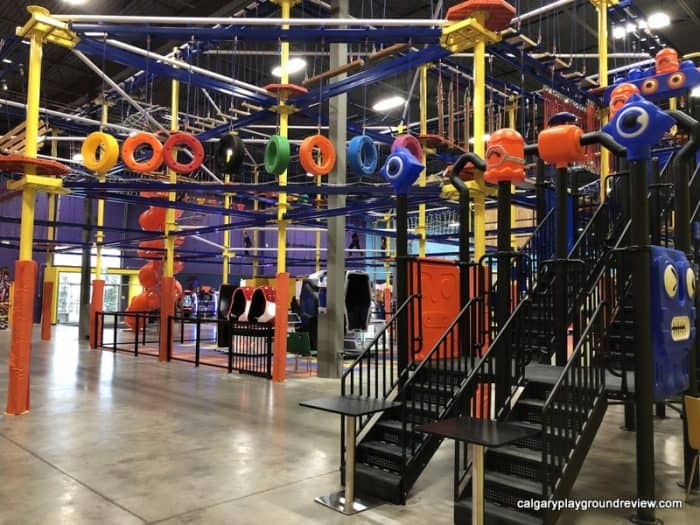 On our return visit, only my oldest (10) was tall enough for the rope course. He enjoyed it, but thought it would have been more fun with a friend.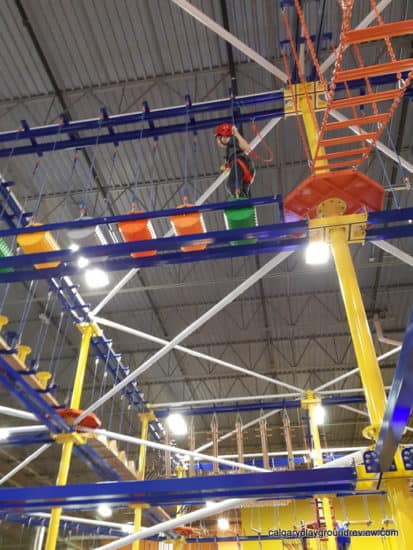 You get strapped into a harness, (like a climbing harness) and can stay up on the aerial rope course as long as you like. But when you get off, your turn is over.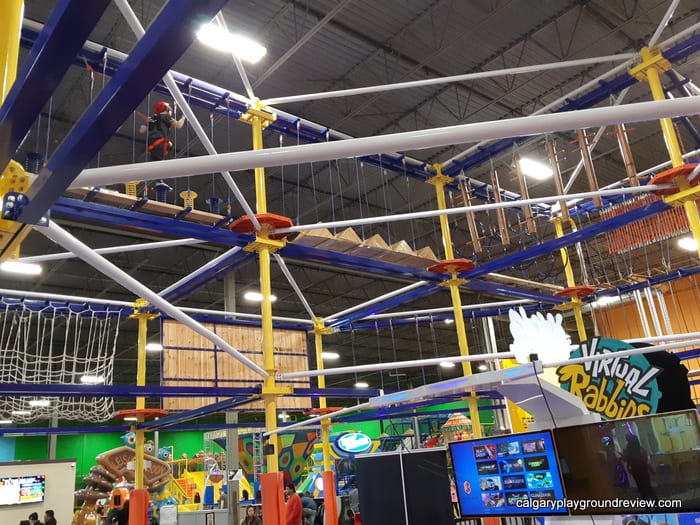 Virtual Box
Virtual reality gaming- three kinds of VR equipment to choose from that cater to different age groups.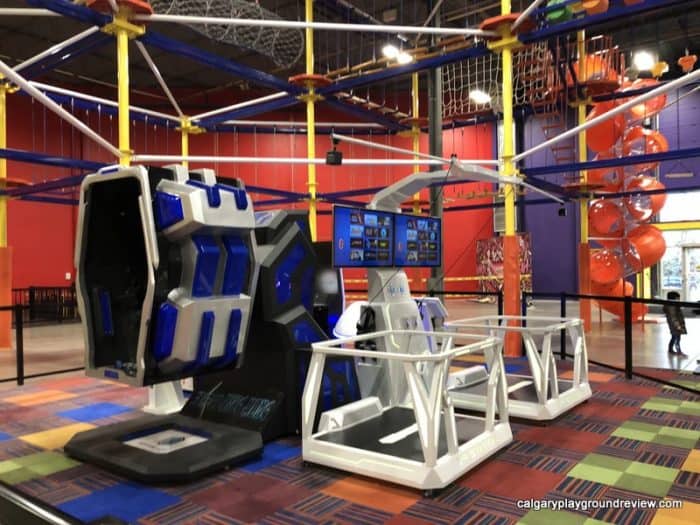 We haven't tried any of the VR equipment yet but my kids really want to.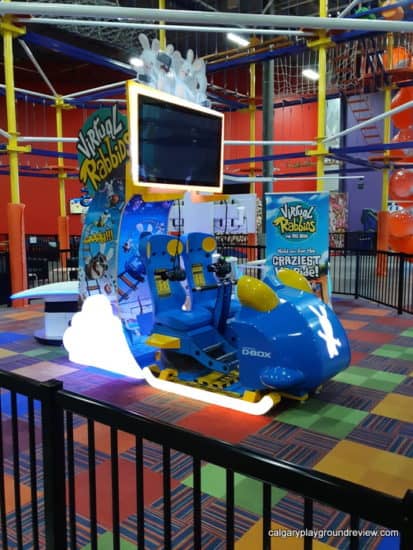 Happy Bumper Cars
Electric bumper cars – when we were there they had 4 cars operating at one time. Must be 5 years old to drive alone. Kids 3- 7 years can drive with an adult.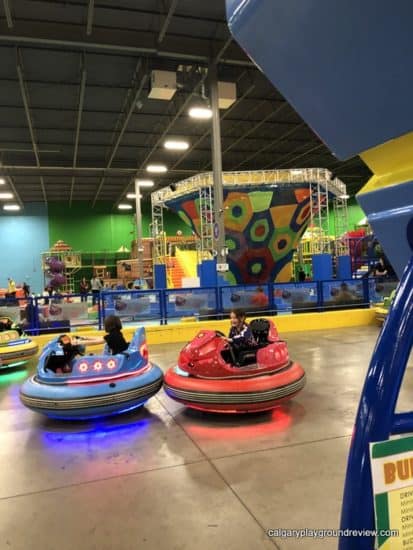 We tried these on our last visit, we had a 4 year old, two 5 year olds, two 7 year olds and an 8 year old and nearly all of them said it was the best part of their visit.
The 4 year old did have to ride with an adult and my just turned 5 year old had a little trouble getting used to the controls at first, so that is something to keep in mind when planning your visit.
My kids all had a great time at The Big Box and can't wait to go back. The facility can easily cater to a wide variety of ages from really little kids to big kids and entertainment for hours.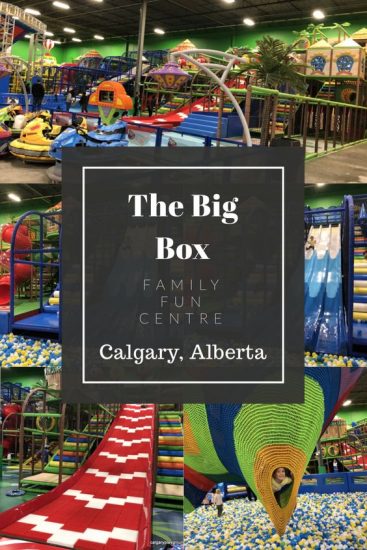 Please Note: 
We do our best to ensure the information on Calgary Playground Review is accurate, however information and events are subject to change. Please contact the organizations directly to avoid disappointment.
Can you help make this article better?
If you have noticed an error, have additional information or would like to share a comment you can:
E-mail us at calgaryplaygroundreview@gmail.com
Find us on Facebook: CalgaryPlaygroundReview
Find us on Instagram: YYCdana
Tweet us: YYCdana
We are not affiliated with any venues, attractions or organizations. Please message them directly if you have questions or concerns.