Location: Community: Crescent Heights – 617 1 St. NE.  map
Parking: There is short term free street parking to the East of the park. There is also a parking lot just south of 7th avenue.
Surrounding Park Area: There is  some flat grassy areas and tennis courts. There is currently construction to the North of the playground.
Rotary Park Fish Spray Park
Typically opens mid-June until Labor Day. Open 9am-9pm June-July and 9am-7pm Heritage Day to Labor Day.
Gordie's Review (2 years old): It was cold!
Age Range: all ages
Ground Cover: cement and rubber
Features: Multiple spray park features. Washrooms are open seasonally.
Stroller/wheelchair access:  the entire spray park is wheelchair accessible as long as you don't mind getting it wet!
Shade: minimal
Seating: There was only one bench while we were there, but picnic tables and benches are planned
Overall assessment: This spray park just opened on June 1, 2011. While we were there, there was still a barrier around the grass as they had just laid new sod, but that should come down eventually when the grass is more established. There is also a temporary fence around the spray park area. There are a couple of picnic tables there but they were behind the barrier and won't be able to be used until the fence around the grass is removed.
The water park operates on vibration sensors so if the water is off during operating hours it's not closed, it's just that no one is there. The spray park runs rain or shine and only closes if there is lightening. The two short posts and the tall tower with the buckets are just need to be tapped to turn the various spray equipment back on.
The water is chemically treated and re-circulated to conserve water and keep it clean for the kids to play in.  There is an attendant there at all times to maintain and monitor the water quality who is also trained in first aid.
We went to this spray park on a kind of cool day which is why Gordie is wearing his raincoat. Although it was a little chilly we had the spray park all to ourselves. Gordie had a lot of fun touching the water sprays with his fingers and splashing in the puddles. I really liked the flooring. It doesn't feel slippery at all and Gordie and I both felt comfortable with him walking around without holding my hand.
The buckets and spray 'tunnels' will appeal to older kids but there are lots of small sprays that even the littlest kids will feel confident playing with.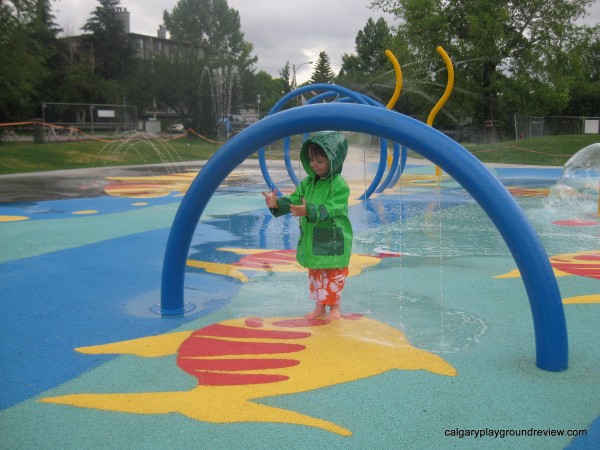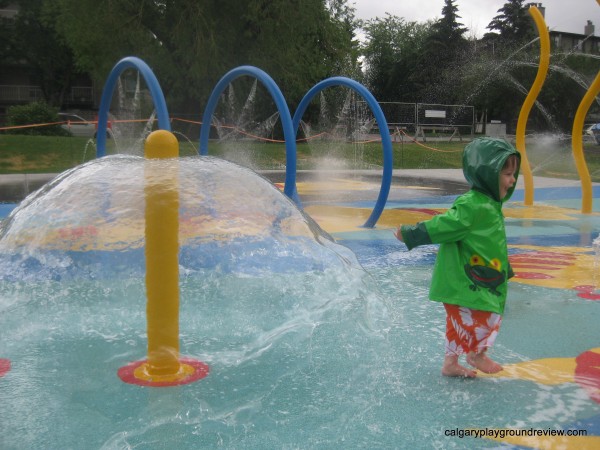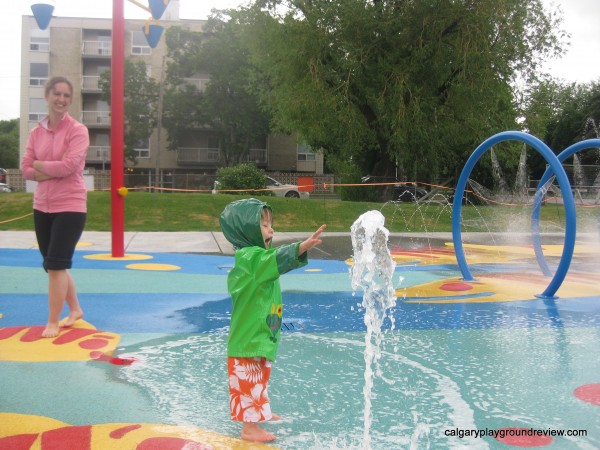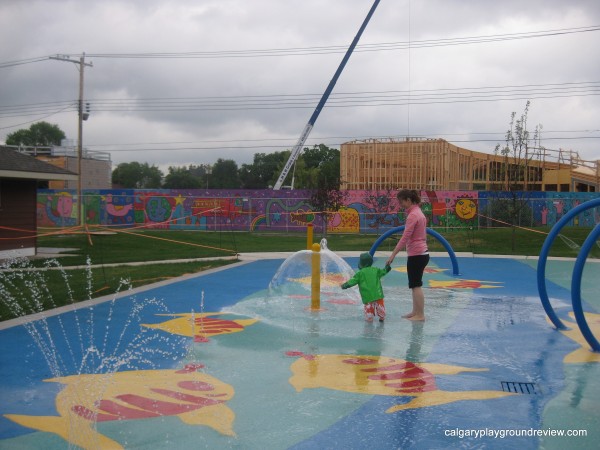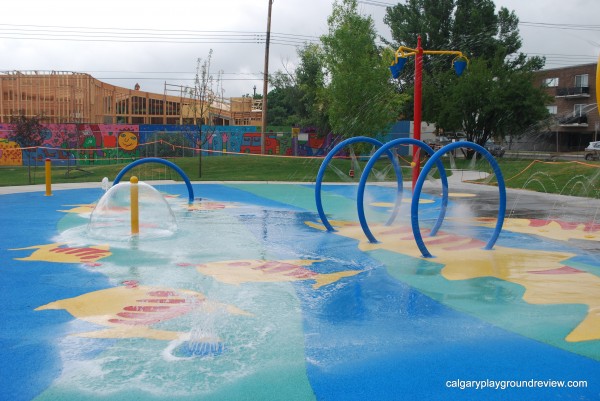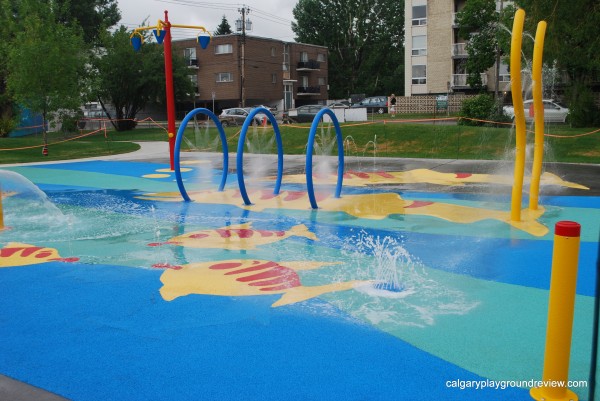 Rotary Park Playground

Gordie's Review (2 years old) –  The bridge!
Age Range: Good for all ages.
Ground Cover: Pea Gravel.
Features: large preschool play structure with 3 slides; large school-aged playstructure/climbing area with 2 slides and a rock wall; 5 swings (2 baby, 1 tire); motor-cycle bouncer with side car; teeter-totter; dinosaur climber; play jeep and digger.
Shade: Some shade around the play area
Seating: 5 benches and 2 picnic tables. More picnic tables in the surrounding park area.
Stroller/wheelchair access:No access inside the play area except to the first level of the pre-school play structure. There are fun things to do there though including two great musical features.
Overall assessment: This is a really nice playground. My only complaint is the pea gravel around the preschool area which makes it difficult for crawlers or early walkers to get around. The playground has a nice amount of variety and offers entertainment for all ages.
The preschool play structure is one of the best designed ones I've seen. It had a lot of appeal for Gordie last year when he was still an early walker with the ramps, steps, bridges and panels. This year though he still loved it. Often times the preschool structures are not particularly challenging, but this one has a number of different ways to climb up that will be appropriately challenging for preschoolers. It has some other really nice features too. In many playgrounds the musical activity boards end up broken, but this one has two (including 'bongos') that work really well. It also has the best 'telephones' that I have ever seen on a playground. Gordie's favorite thing this time though was to run up the ramp, up the stairs and across the bridges to play with the race car panel and then run back to the bottom and do it all over again. This playground held his attention better than any other so far this year.
The school-aged climber was great, in large part because it was just too advanced for Gordie. This means that little kids won't get into situations that are dangerous and it will be challenging for kids much older than Gordie.
I also really like the two seater bouncer that would be great for siblings. This playground is definitely worth a trip especially in the summer months when the spray park is open.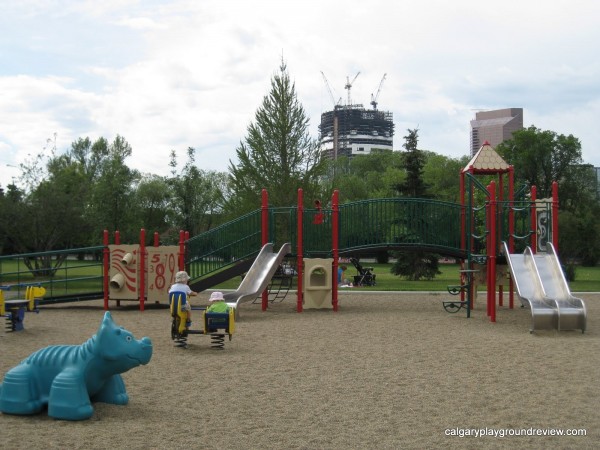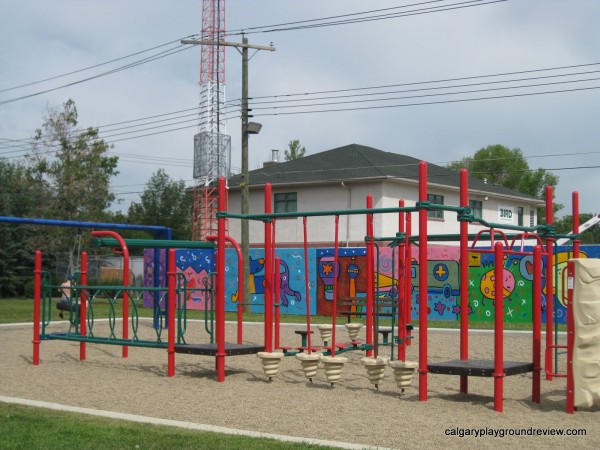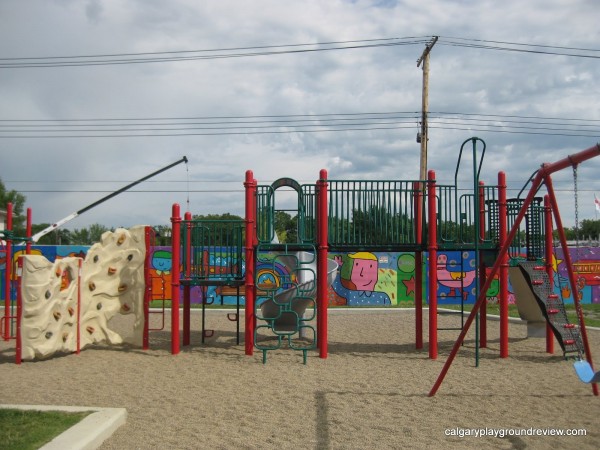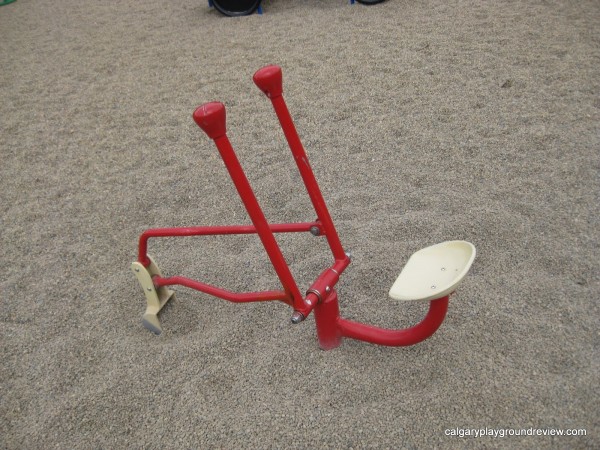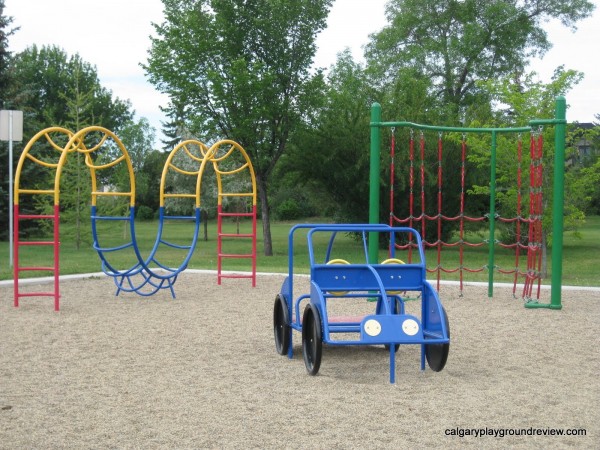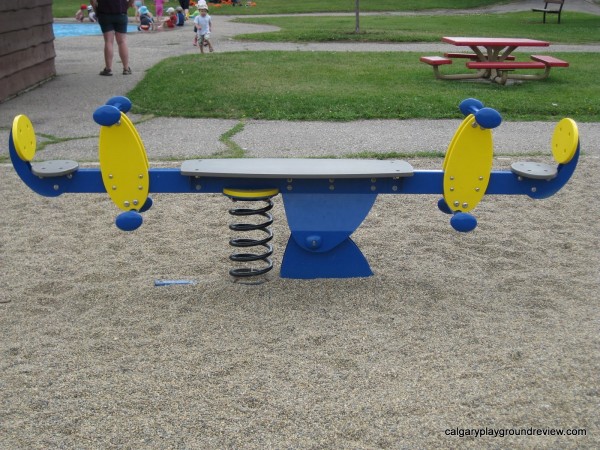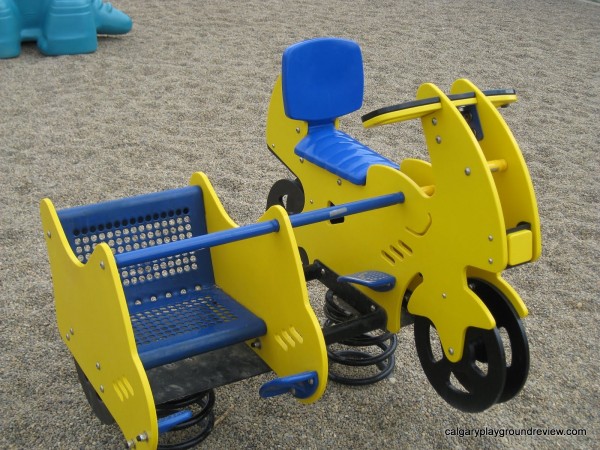 Have you been to these playgrounds? Have a suggestion for a playground review? Would you like to write a guest review? Write your thoughts in the comments.