Location map Official Park Info
Community: Fish Creek Provincial Park – Bow Bottom Trail S.E. or Sun Valley Boulevard S.E. off Highway 22x.
Parking: There are 2 parking lots on the Northern side and 1 on the Southern side of the Lake. The South parking lot may not always be open and is not connected to the North parking lot. It is blocked so you have to go around.
Sikome Lake typically opens late June.
Sikome Lake is typically open from Mid or late June to the September long weekend. Check Alberta Parks website for hours.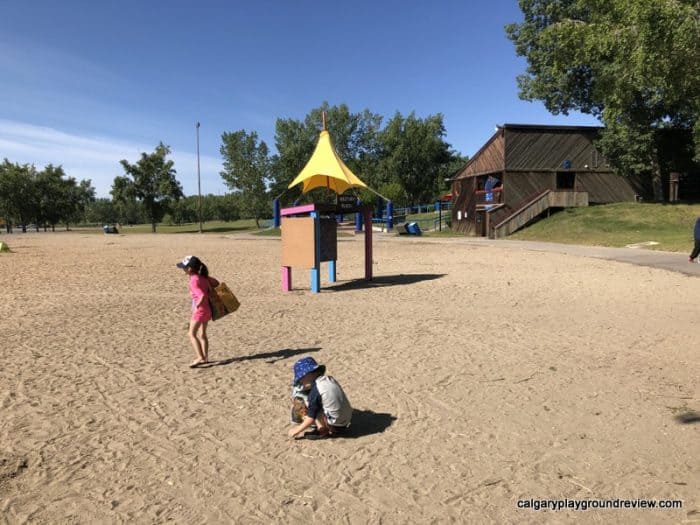 Summer Features: Artificial lake (tested, filtered and chorine treated) with a sand bottom and sand shoreline.
Playgrounds: There are 3 playgrounds, a toddler playground at the North end of the park, a 5-12 playground on the East side and a small playground on the South end.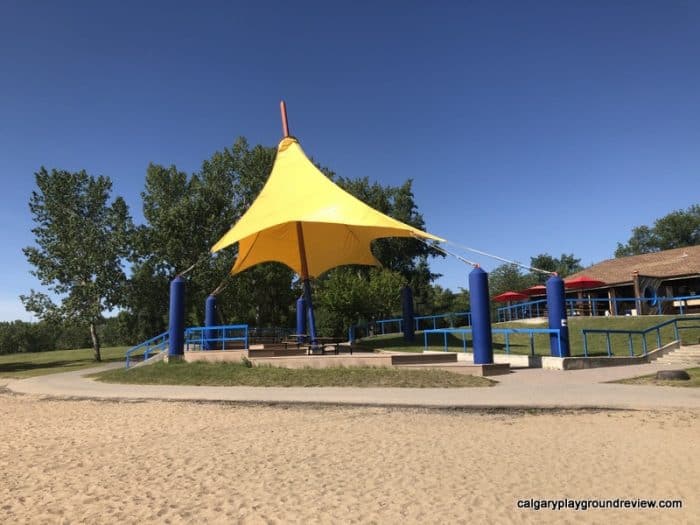 Amenities: Seasonal washrooms, change rooms, showers. There is a concession from 11am-6pm and a Beach Shop where you can get most of your beach needs. There are a limited number of life jackets available to borrow.
Seating: There are a few benches and picnic tables but you'll probably want to plan to set up on the ground.
Admission: Family $10, Adult $5, Child (6-17) $3, Child (0-5) Free – additional rates and season passes are also available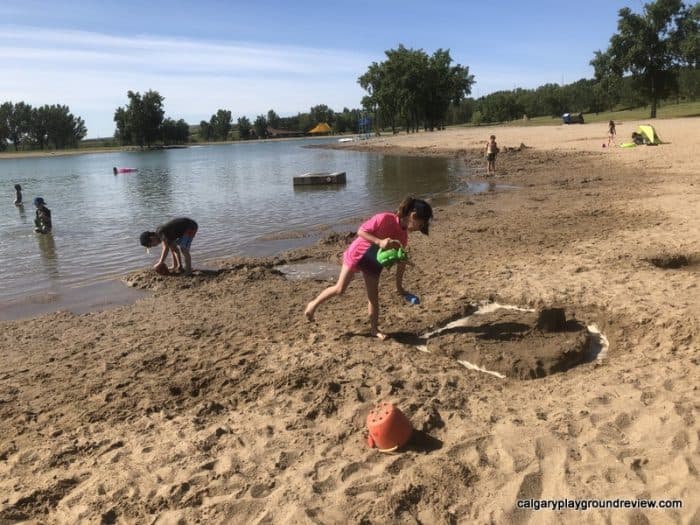 Overall: Sikome Lake (officially known as Sikome Aquatic Facility) is basically a giant swimming pool with a sand bottom. At its deepest the lake is 7 feet so it is warmer than most lakes. The water is tested, filtered and chorine treated to ensure it is safe to swim.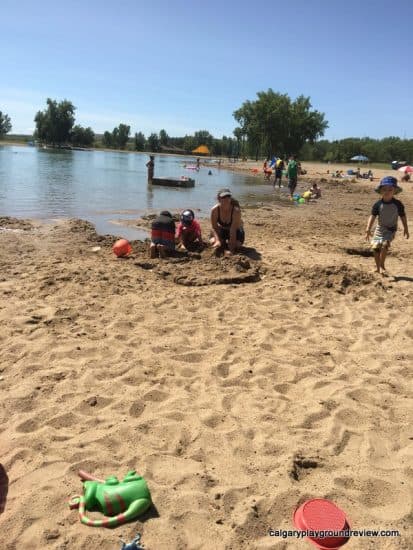 There are aquatic staff on site whenever the Lake is open, however there are no lifeguards on duty. The aquatic staff provide public education, patrol the beach, search for missing persons, provide first aid and water rescues. The aquatic staff are not traditional lifeguards and parents must be responsible for their childrens' safety. Use of the facility is at your own risk.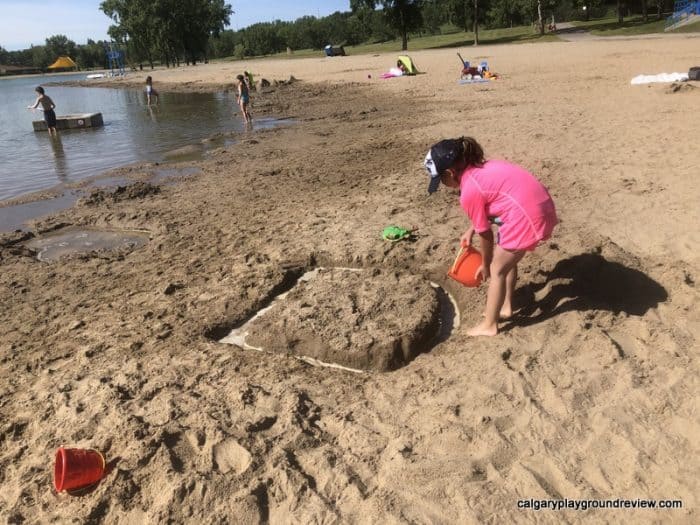 There are three parking lots – two on the North side and one on the south side – you can access an enterance from each parking lot. First they will search your bags for glass containers and other prohibited items.
Then you will go on to pay for your day pass. You can get a stamp for same day re-entry. No refunds are given for inclement weather. If the lake closes due to weather conditions, the lake will re-open 30 minutes after the storm passes. You can pay with cash, credit or debit.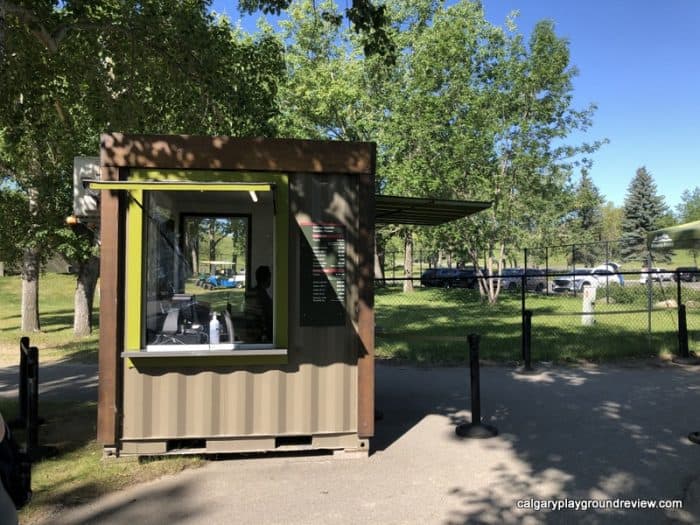 Floaties and plastic toys are allowed at Sikome Lake but hard bottomed boats, scuba equipment, large rafts, mermaid fins, paddle boards, bikes etc are not. See their website for a full list.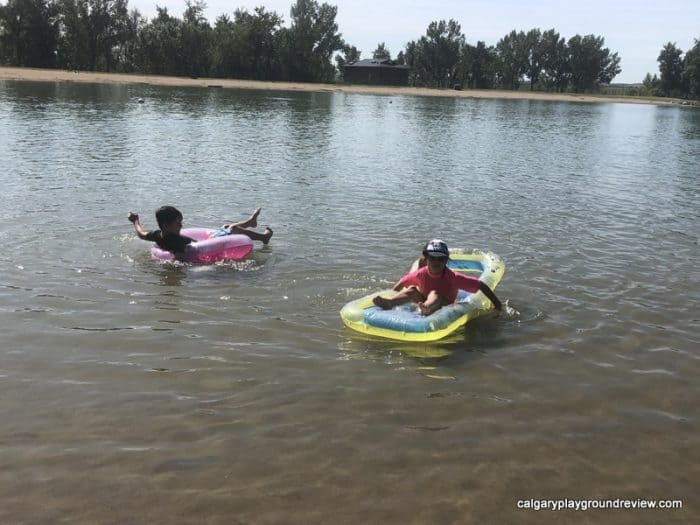 The website is a little unclear as to how they define "small inflatables" but they sell large inner tube style floaties, mat style floaties and some large shaped floaties. We went on a quiet day during the week and even saw people using 5-person islands and quite large shaped floaties and two person inflatable boats with paddles.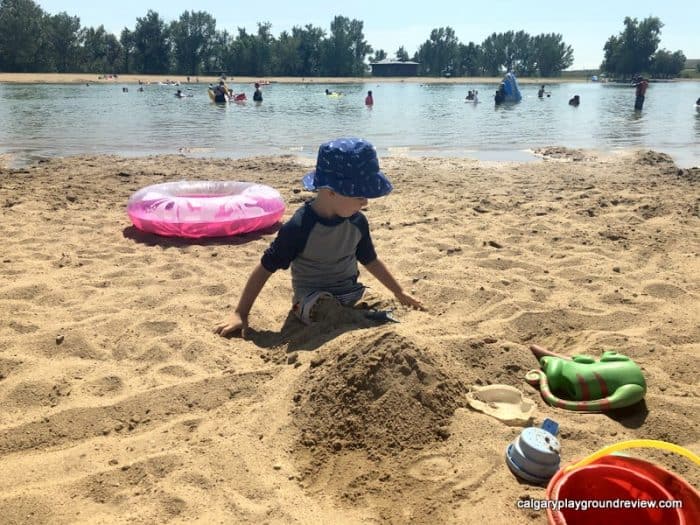 There is some shade inside the fenced area, but its not very close to the water so that will probably not be a good option if you have small children. If you have a beach umbrella or other shade you can bring, I would highly recommend it. Tents and large shades are supposed to be on the grassy areas.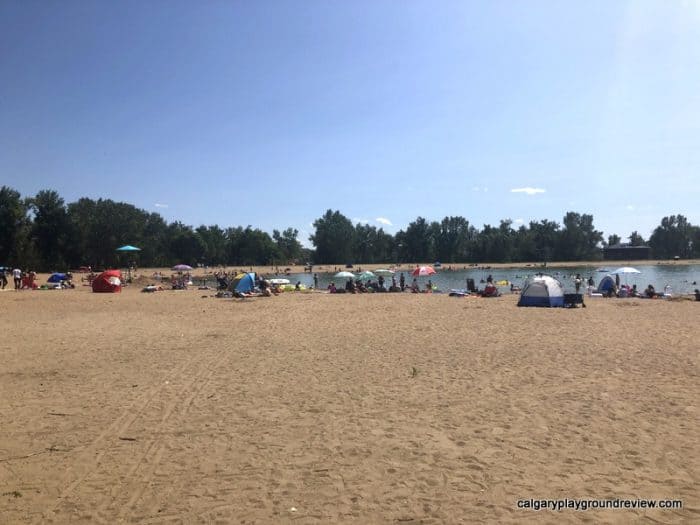 You can bring in your own food, you can even use a propane-fuelled BBQ in the grassy area inside the facility. If you want to pick up food, there is a Tim Horton's, McDonalds, Subway and DQ just before the park off BowBottom Trail.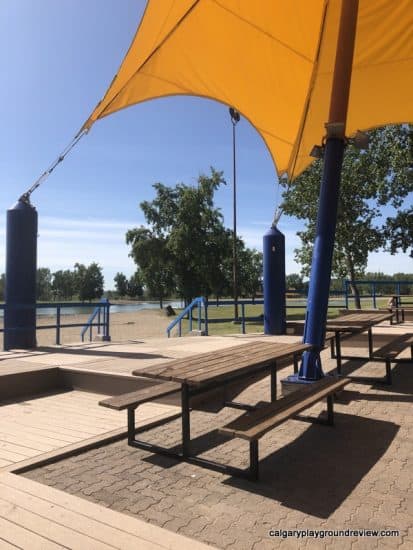 There is also Annie's Cafe near the Fish Creek Interpretive Centre (past the Ranche Restaurant). It is a few minutes walk from the parking lot at the Interpretive Centre. They have gourmet sandwiches, soup, salad, baked good and ice cream. They are open throughout the summer.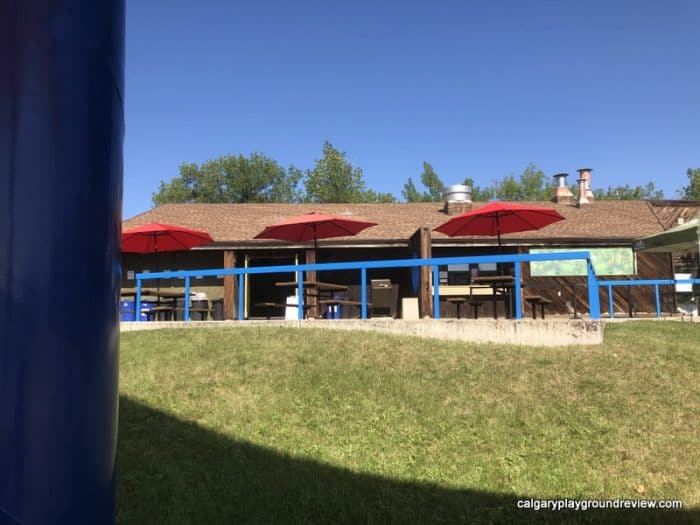 At the Beach shop, you can find almost anything you would want for a day at the beach including floaties, umbrellas, swim diapers, sunscreen, beach towels and more.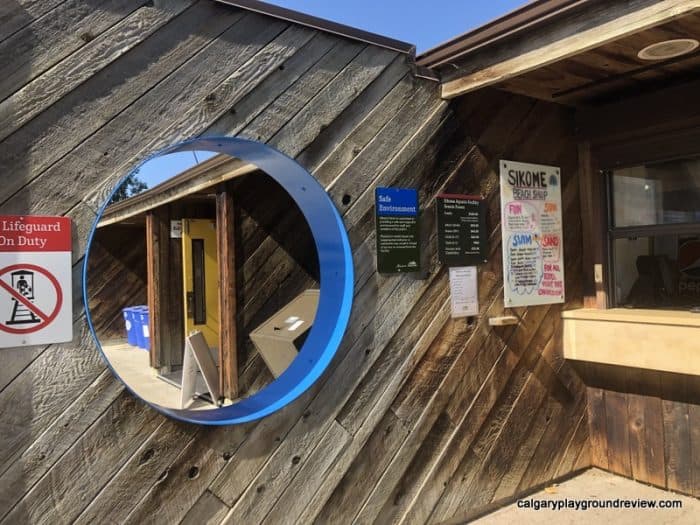 The concession is located beside the Beach Shop – it is fairly limited but has snacks and drinks and is open from 11am-6pm.
Playgrounds
The toddler playground is located on the grassy area near the North parking lot, the school-aged playground is located on the sand on the East side of the lake and the third playground is located on the south side of the lake.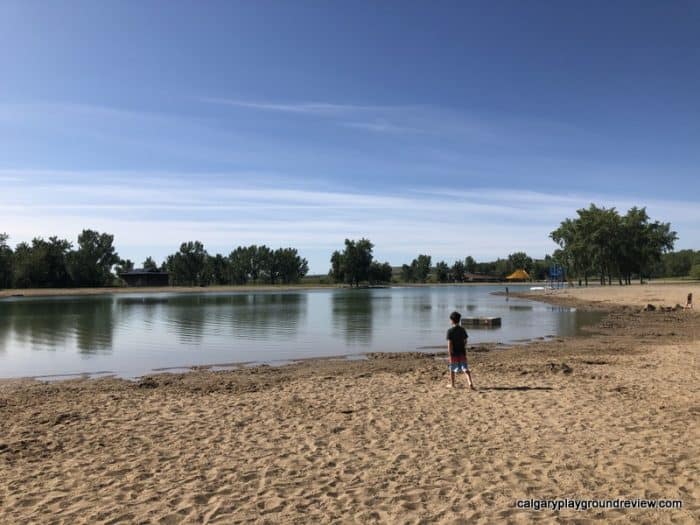 We always have a great time as Sikome Lake. This is the closest you can get to a sandy beach in Calgary and you don't even have to leave the city limits.
Please Note: 
We do our best to ensure the information on Calgary Playground Review is accurate, however information and events are subject to change. Please contact the organizations directly to avoid disappointment.
Can you help make this article better?
If you have noticed an error, have additional information or would like to share a comment you can:
E-mail us at calgaryplaygroundreview@gmail.com
Find us on Facebook: CalgaryPlaygroundReview
Find us on Instagram: YYCdana
Tweet us: YYCdana
We are not affiliated with any venues, attractions or organizations. Please message them directly if you have questions or concerns.