Location    map                                               Official Park Info
Community: Fish Creek Provincial Park – Bow Bottom Trail S.E. or Sun Valley Boulevard S.E. off Highway 22x.
Parking: There are 2 parking lots on the Northern side and 1 on the Southern side of the Lake.  The South parking lot may not always be open.
Opening June 24 for 2017 season
Sikome Lake is typically open from Mid-June to the September long weekend 10am-7:30pm. (9pm fridays and saturdays and long weekend sundays)
Summer Features: Artificial lake with a sand bottom and sand shoreline.
Playgrounds: There are 3 playgrounds, a toddler playground at the North end of the park, a 5-12 playground on the East side and a small playground on the South end.
Amenities: Seasonal washrooms, change rooms, showers. Food trucks and carts may be available.
Seating:  There are a few benches and picnic tables but you'll probably want to plan to set up on the ground.
Admission – New for 2016: Family $10, Adult $5, Child (6-17) $3, Child (0-5) Free – additional rates and season passes are also available
Overall: Sikome Lake (officially known as Sikome Aquatic Facility) is basically a giant swimming pool with a sand bottom. At its deepest the lake is 7 feet so it is warmer than most lakes. The water is tested, filtered and chorine treated to ensure it is safe to swim.
There are aquatic staff on site whenever the Lake is open, however there are no lifeguards on duty. The aquatic staff provide public education, patrol the beach, search for missing persons, provide first aid and water rescues. The aquatic staff are not traditional lifeguards and parents must be responsible for their childrens' safety. Use of the facility is at your own risk.
There is some shade inside the fenced area, but its not very close to the water so that will probably not be a good option if you have small children. If you have a beach umbrella or other shade you can bring, I would highly recommend it.
You can bring in your own food, you can even use a propane-fuelled BBQ in the grassy area inside the facility. If you want to pick up food and aren't certain there will be food trucks or carts, there is a Tim Horton's, McDonalds, Subway and DQ just before the park off BowBottom Trail. There is also Annie's Cafe near the Fish Creek Interpretive Centre (past the Ranche Restaurant). It is a few minutes walk from the parking lot at the Interpretive Centre. They have gourmet sandwiches, soup, salad, baked good and ice cream. They are open throughout the summer.
We had a great time and I am so glad we went. This is the closest you can get to a sandy beach in Calgary and you don't even have to leave the city limits. Gordie was super excited to go to a beach and it is the only place we've been this summer that he has specifically asked to go back to.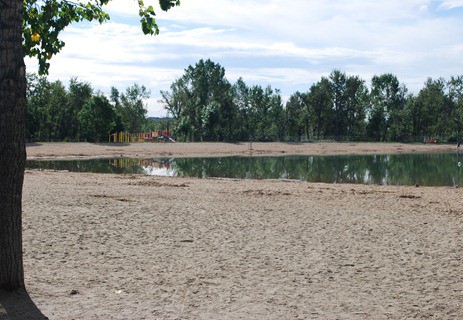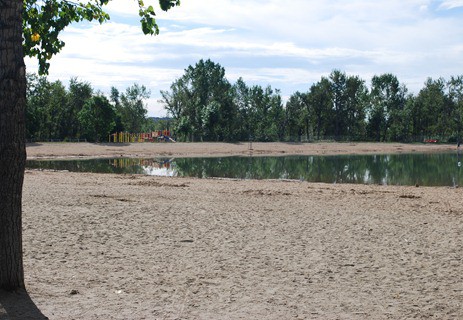 View to the SE – you can see the school-aged playground at the back.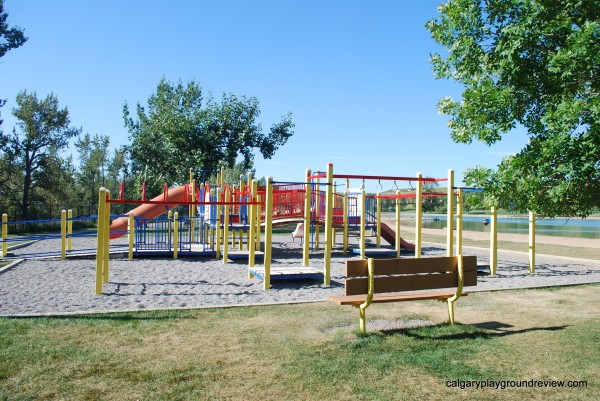 School-aged playground up close.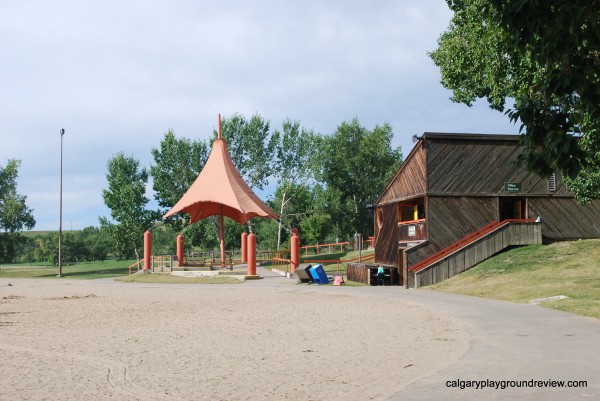 Main Washroom/Change Room/Concession Area and Shaded picnic spot.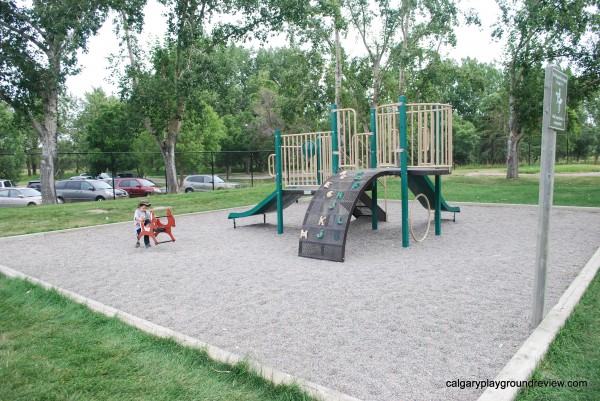 Toddler playground near the North parking lot.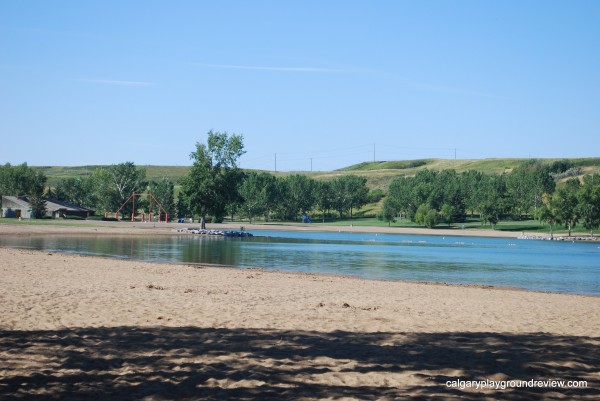 View to the south entrance.