Location    http://www.northhillcentre.com/
Address: 1632 – 14 Avenue NW, –  (by Sears)
Gordie's Review (18  months old) – The bead maze was great!
Cost: Free
Supervision: Unsupervised.
Age Range: Recommended for ages 5 and under.
Surface: Carpet. I'm not sure if it is a safe fall surface but it is a bit squishy. Although the apple and the car can be climbed the play area rules say that children should not stand on or jump off anything in the play area.
Footwear: Shoes
Play Area Features: Car and apple tunnel play structures; bead maze; 9 panels.
Security Features: The play area is open on both sides, however it is quite small so this is usually not a problem.
Seating: There is a love seat at one end of the play area and a few child sized chairs that can be used in a pinch.
Additional Kid Friendly Services: Mother and Father baby changing room with comfortable chair for feeding at the Safeway side of the mall along with the family washroom.


Overall Assessment: This is a small play area but it still serves its purpose. It gets pretty full when more than 3 families are there, but it's not unusual to have it all to yourself either. You also don't have to sign in for a specific time so you can use it when it's convenient for you. Gordie had a great time with the bead maze and crawling in and out of the apple tunnel. It's a great place to take little ones for a little play while you shop especially during the cold winter months.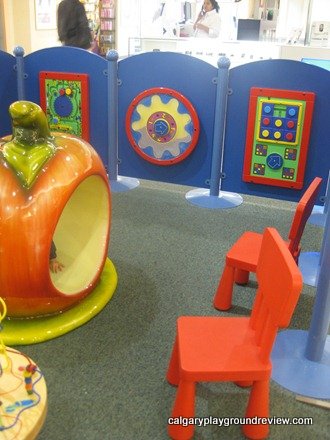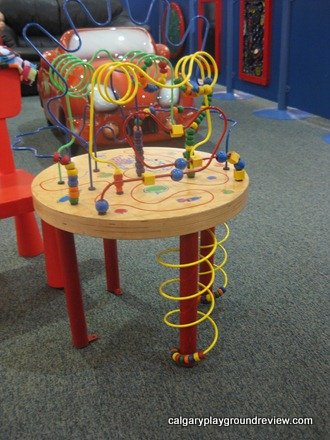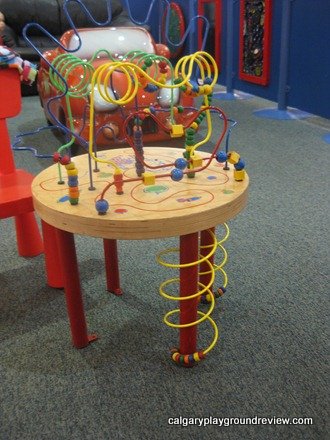 Have you been to this play place? Have a suggestion for a playground review? Would you like to write a guest review? Write your thoughts in the comments.