Location: 169 Canada Olympic Road SW – at Canada Olympic Park
Gordie's review (7 years old): "I liked the games and stuff."
Nicky's review (4 years old): "I liked the balance thing" [from the changing gallery room]
Robbie's review (14 months old): Really enjoyed just playing with the balls in the changing gallery room
Day Pass Cost: General $12, Youth (4-18) $8, 3 and under – free, Family $35.
Annual Pass Break Even point: General 5 visits, Youth 4 visits, Family 3 visits
Parking: free parking lot
Food Services: Vending machine and seating area
Age Range: All ages.
Stay Length: 60-120 minutes.
Overall: Although this was our first visit to Canada's Hall of Fame, we had been to the Alberta Hall of Fame and Museum in Red Deer last summer and were hoping it would be as least as good.
We were not disappointed, it was fun for the kids with beautiful eye catching displays. I found the staff to be really helpful and seemed to genuinely care and want you to have a good experience.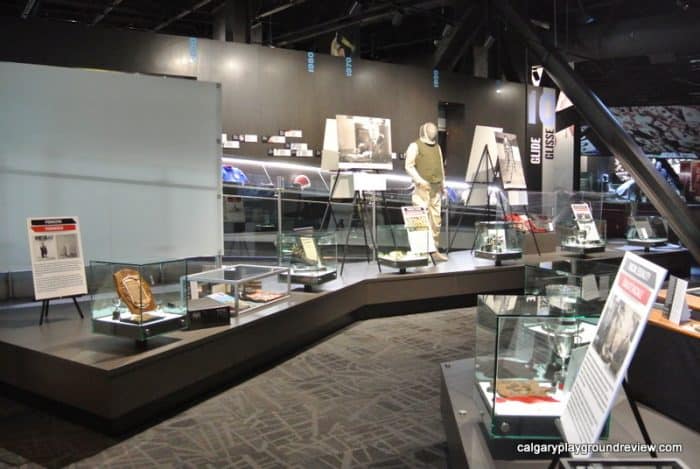 We went on a weekday morning during Spring Break. I found it pretty stress free to take the kids because although there are some things that you are asked not to touch like the statues, for the most part everything is well protected in glass cases. And each area has things that you can touch and interact with making it a lot of fun.
You first enter into the Grand Hall where you can find the Wall of Fame and see great sporting stories all around.  To the left you'll find the Riddell Family Theatre which plays an 11 minute film "Canada's Greatest Sport Moments" which plays every 30 minutes.
It was highly recommended by the guide at the front so we made a point of seeing it. I'm really glad we did – the film was fast paced and I may have even teared up a little. It held the attention of my 4 and 7 year old easily.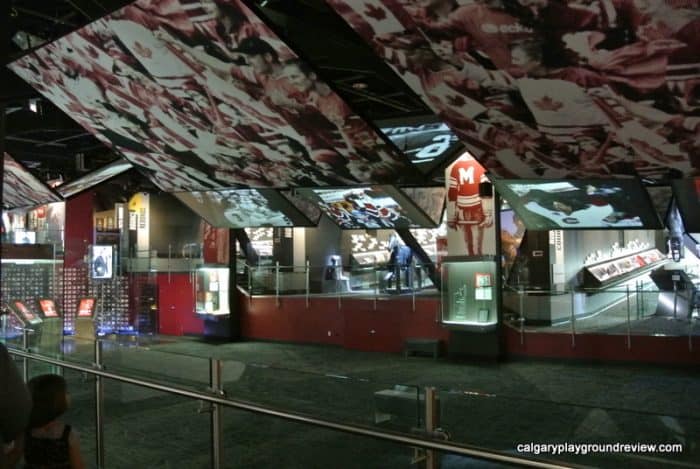 You go around the museum in a loop with Winter Sports on one side and Summer Sports on the other.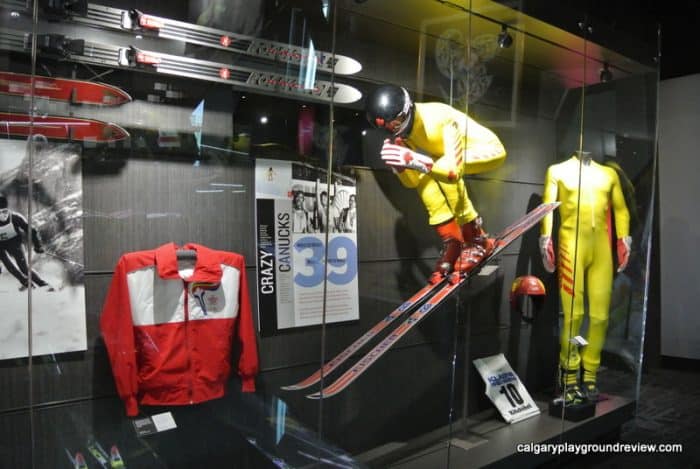 They really give you a lot to look at with things place high and low and sometimes even in the floor.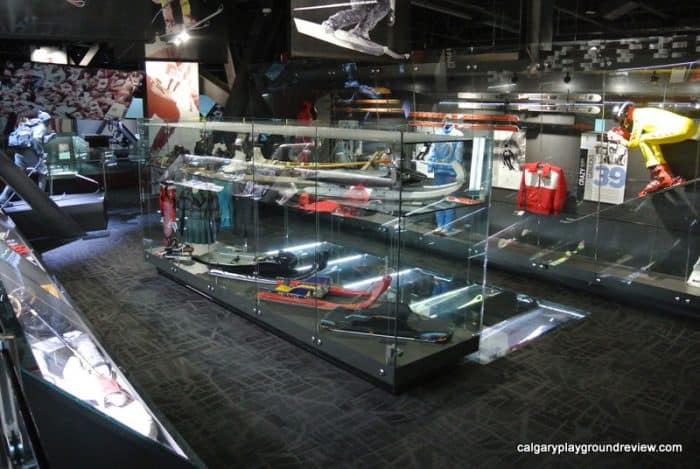 They also have flooring from some of the different kinds of sports which I thought was pretty neat.
They have a lot of different interactive elements which my kids loved. In this one, you push down on the bar and get to pretend you are ski jumping.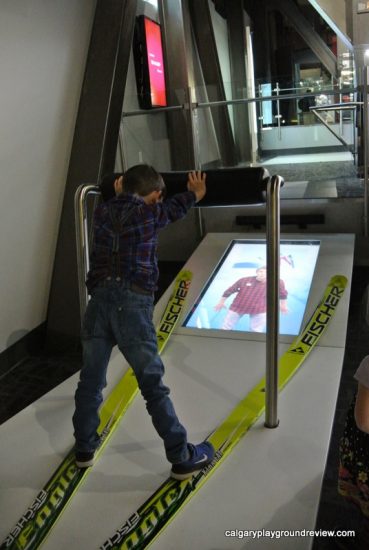 In this one you got to try out shadow boxing.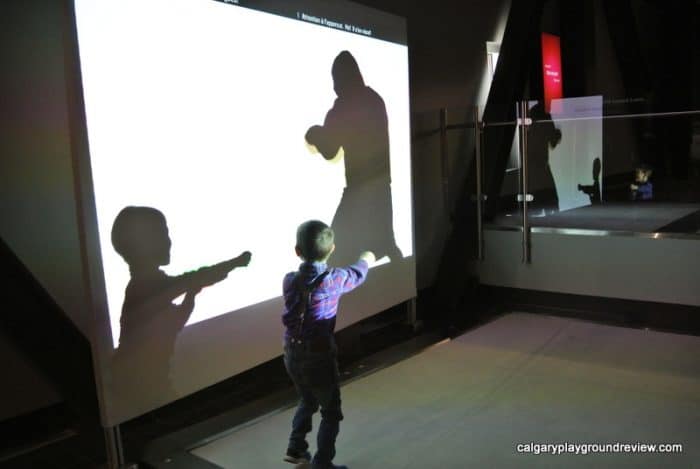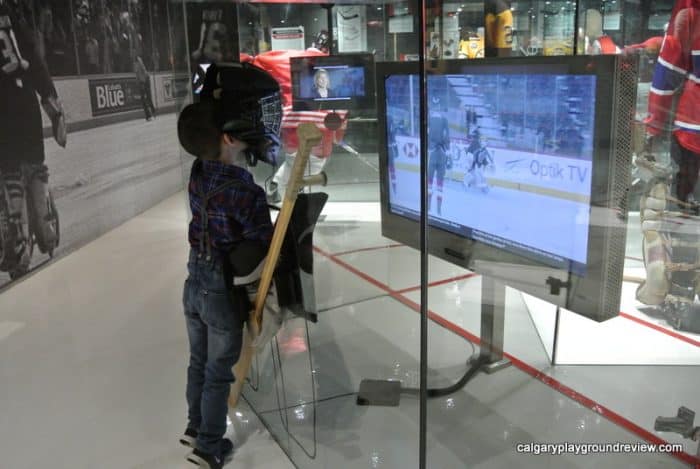 Here you got to pretend to be a goalie. The helmet makes the screen look 3D and the glove gives you some feedback.
They have a similar baseball version too.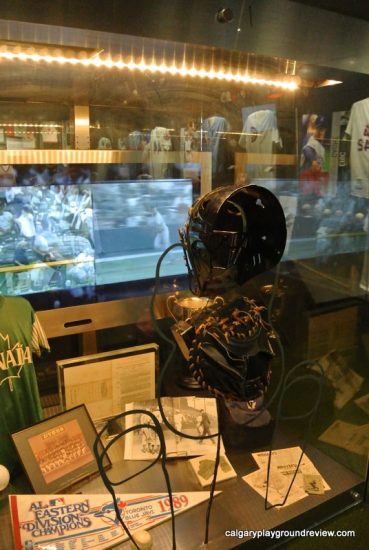 You can also try out rowing.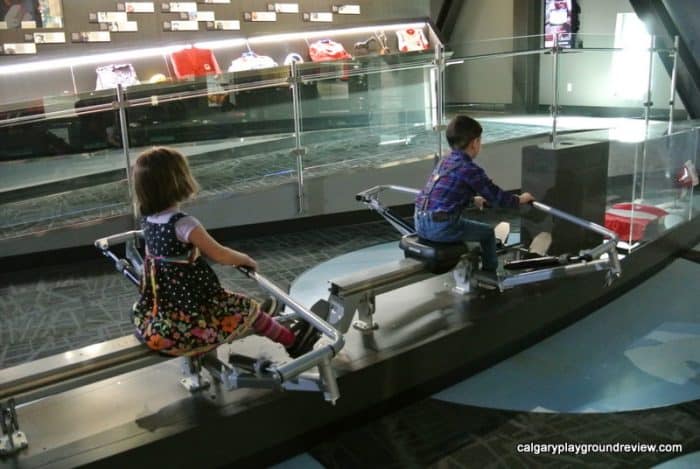 Sort of simulate being a racecar driver.
And wheelchair racing.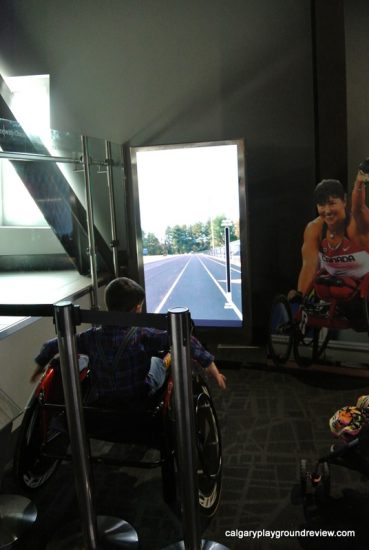 You can try out sports announcing.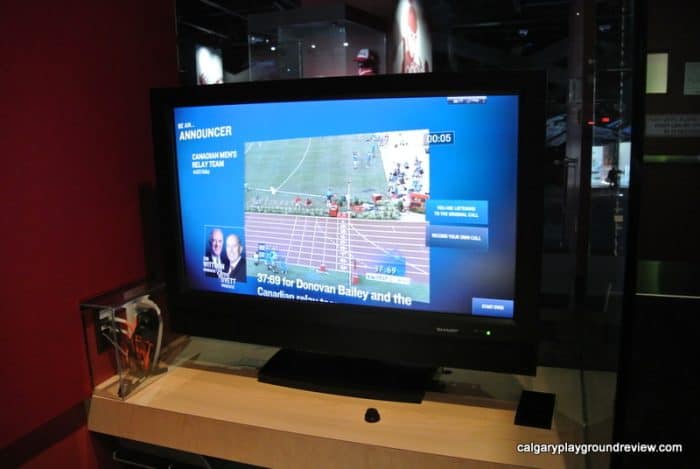 And live reporting. This one took a minute for us to get a handle on but it was super cute. There is a teleprompter that you are supposed to read in front of the green screen.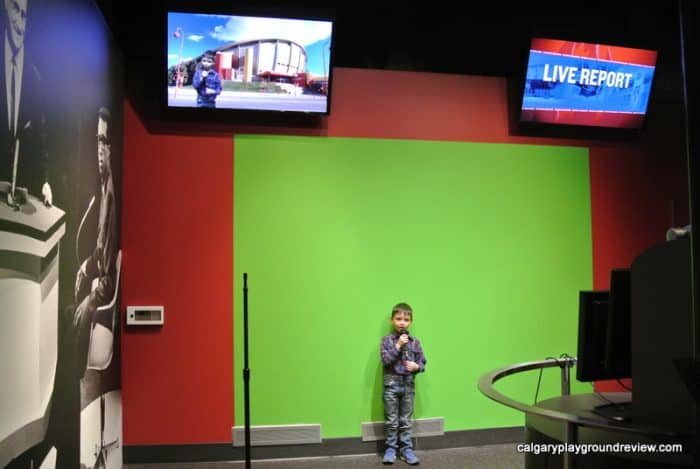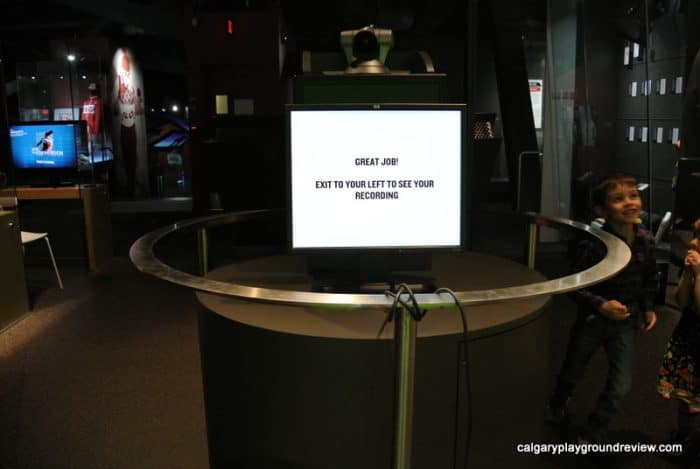 It gives you a practice run and then records the second time around. It will then play it back to you on the second screen and you can record a video of it on your phone if you want.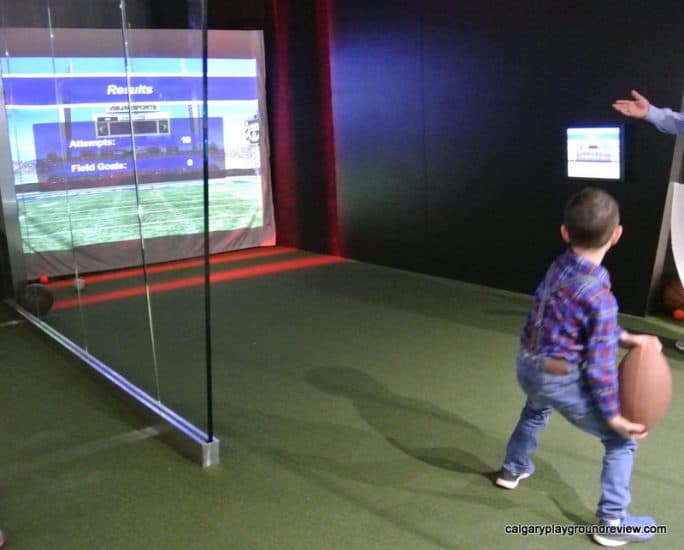 There is a netted area where you can play games with real equipment by throwing or kicking it at the screen like football and soccer.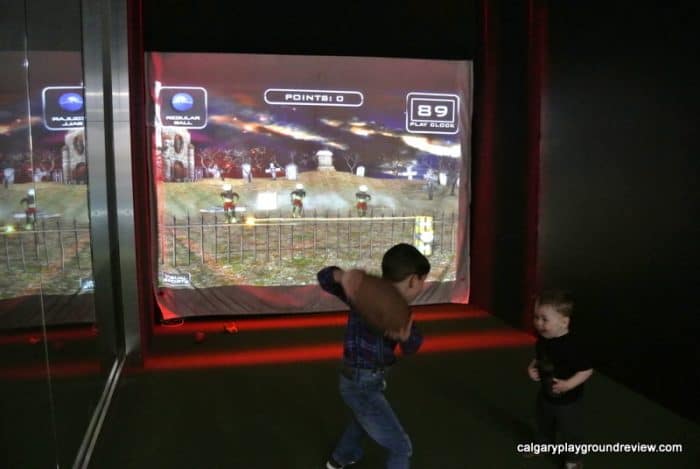 You should totally try out zombie dodgeball because it is hilarious and fun. The final area is the Changing Gallery which features different exhibits and can be different from visit to visit.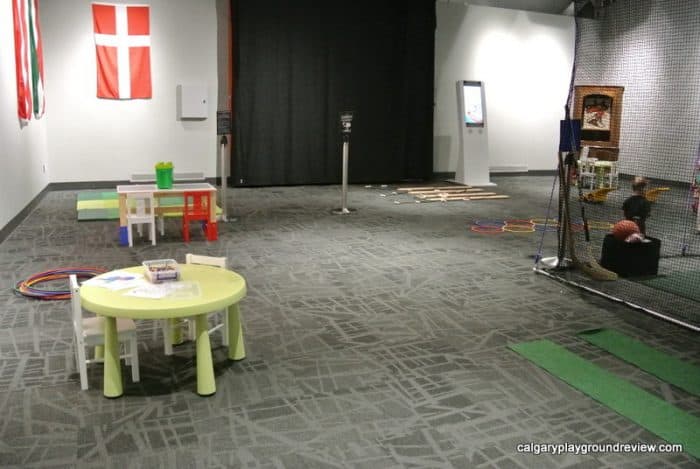 On our visit there were a lot of different things set up for the kids.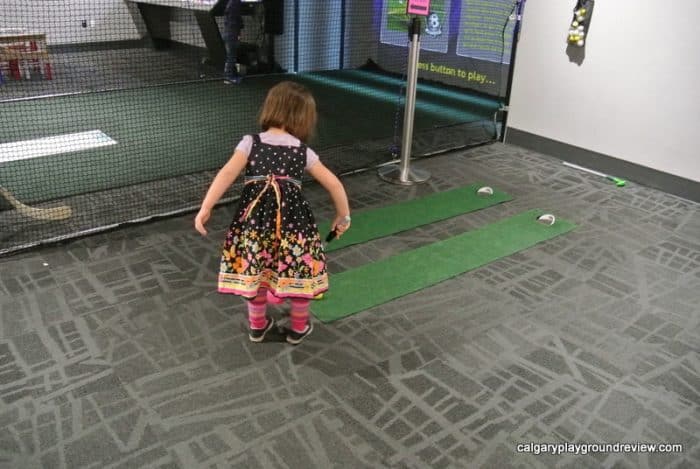 Like putting.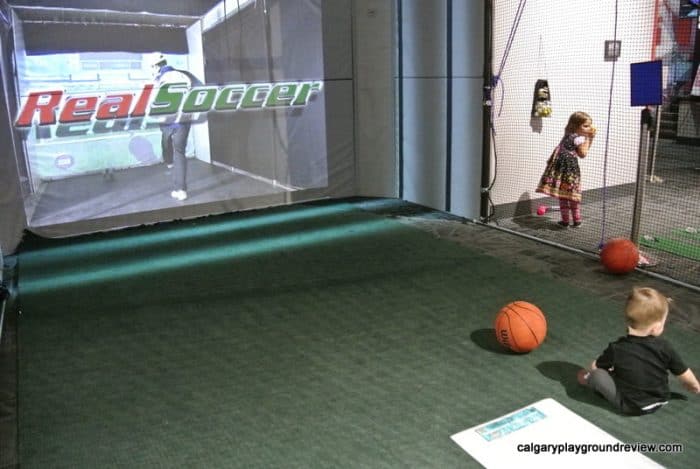 Another one of those interactive screens.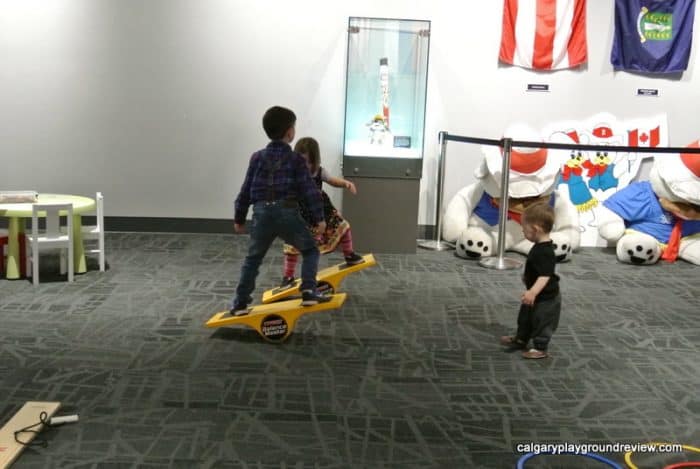 Balance boards that my kids loved.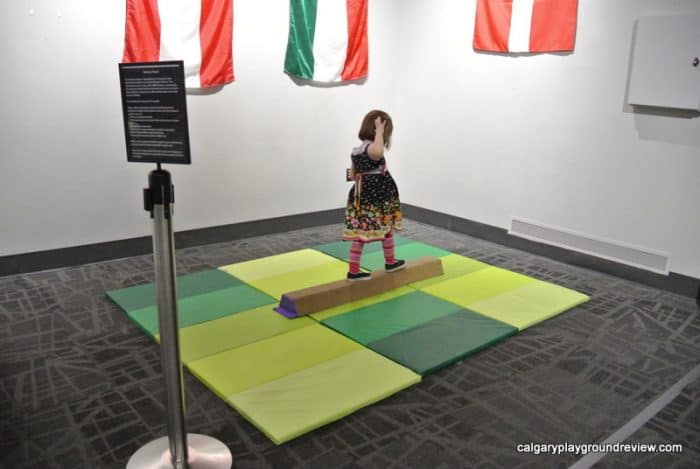 A balance beam and other things including hoops, coloring, duplo and puzzles.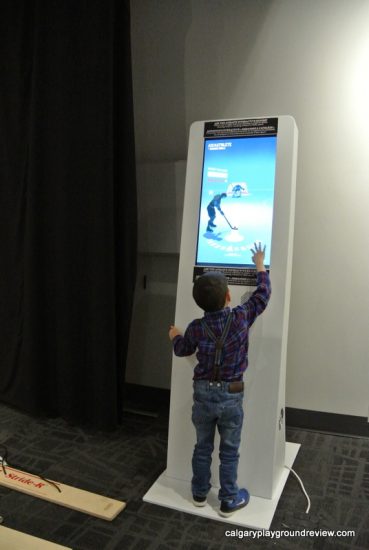 Throughout the museum there were different screens where you can see video clips or ones like the one above where you could learn a little bit about different sports and then try out the skills you were taught on the screen.
And of course there are many many different amazing and impressive sports artifacts. We went through Canada's Sports Hall of Fame fairly slowly and were there for about 2 hours.
I was really impressed and to be quite honest, although I love watching the Olympics, I am not really that interested in sports. I highly recommend taking your kids to Canada's Sports Hall of Fame.
Please Note: 
We do our best to ensure the information on Calgary Playground Review is accurate, however information and events are subject to change. Please contact the organizations directly to avoid disappointment.
Can you help make this article better?
If you have noticed an error, have additional information or would like to share a comment you can:
E-mail us at calgaryplaygroundreview@gmail.com
Find us on Facebook: CalgaryPlaygroundReview
Find us on Instagram: YYCdana
Tweet us: YYCdana
We are not affiliated with any venues, attractions or organizations. Please message them directly if you have questions or concerns.