Like many families in Alberta, we are on a strict budget this year. We cannot afford to get on a plane and fly anywhere. Instead, we are driving to some awesome family-friendly attractions right here in Alberta.
We started out with a weekend in Lethbridge. Here are the things you should not miss!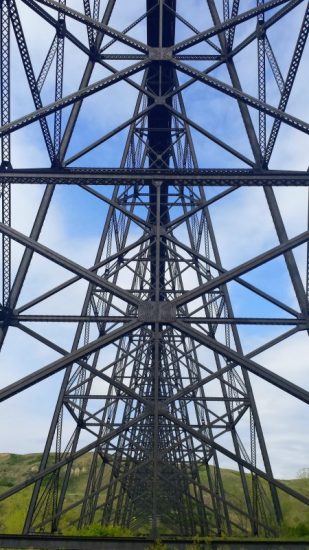 Fort Whoop-Up is a bit like Heritage Park, with two major differences. First, the fort was American, and started out as a trading post for whisky. That's right – they were the bad guys, a fact that the costumed guides love to point out.
Second, they do stagecoach rides! This was definitely the highlight of the visit for my kids (4 and 2). They were fascinated by the horses and wagons, and they loved the ride through the parkland surrounding the fort.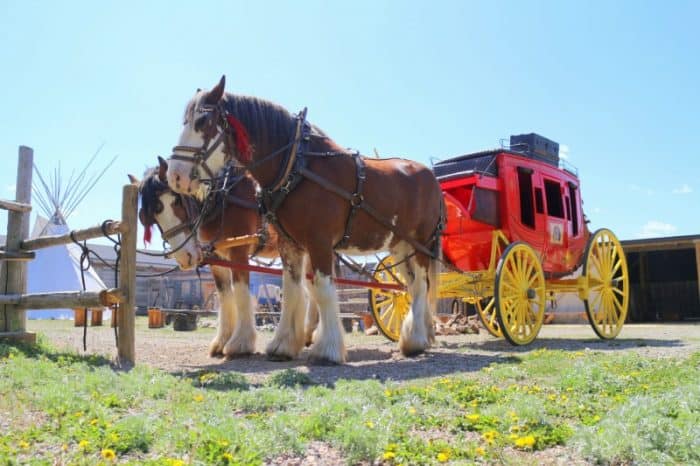 The interior galleries at Fort Whoop-Up shouldn't be missed, but the real magic happens when you exit into the Fort itself. You can explore the grounds, pet a goat or two, and climb the tower for a better look at the surrounding hills.
There are also daily cannon firings, pony rides by request, and guided tours. This is a sure-fire hit for families with kids of any age!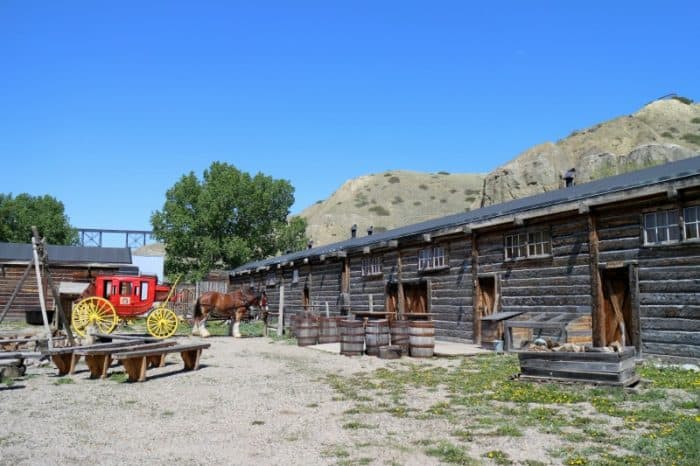 The Helen Schuler Nature Centre is another amazing attraction for families. The nature reserve includes three unique ecosystems: prairies, coulees, and floodplains. You may run across some local wildlife – we spotted a whole family of deer!
On top of that, this is the location of the famous (and beautiful) High Level Bridge. It's still in use, so if you're lucky, you'll see a train crossing.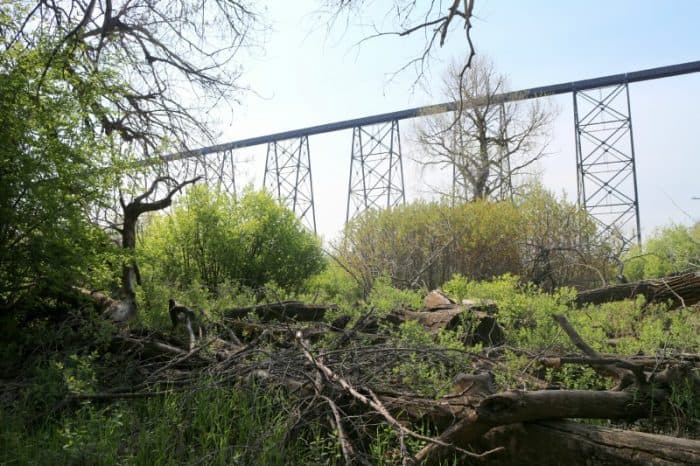 The Nature Centre itself has lots of activities for kids, including colouring and the opportunity to hold a snake! Admission to the Nature Centre is free.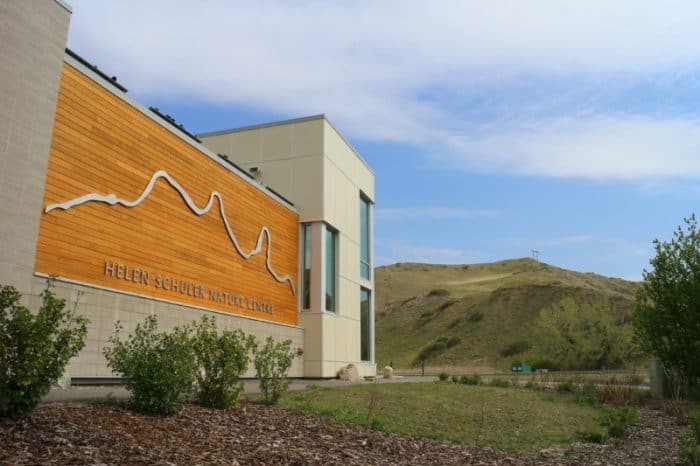 There are also plenty of self-guided trails in the reserve. We went for a beautiful walk there, and eventually discovered a rocky beach by the river. The kids are very into rocks right now, so they loved this. We spent a long time here, looking for rocks and watching for trains on the bridge.
Nikka Yuko Japanese Garden
My kids were ridiculously grumpy the day we went to Nikka Yuko, but it was still one of my favourite places. The garden is so incredibly serene and beautiful, I felt calm even with my arms locked around my writhing, whiny toddler.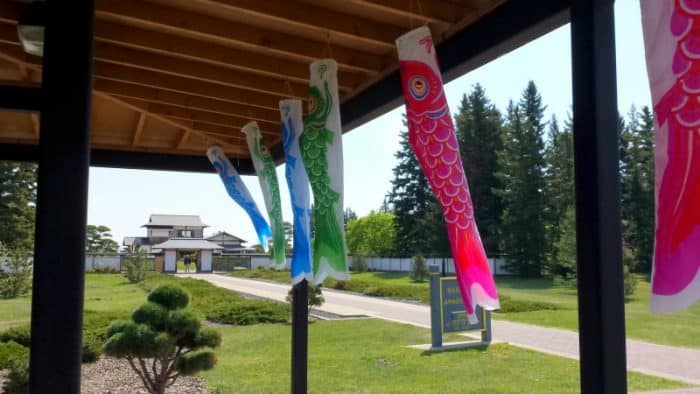 The garden was built as a symbol of international friendship with Japan, and has been visited twice by Japanese royalty. There will be 3 princesses visiting in the next few years, which my daughter found very exciting.
I highly recommend a tour of the garden, because there are so many cool things you will miss without a guide. Nikka Yuko uses a "hide and reveal" design, which means every time you turn around, you see a new focal point that was previously hidden.
At one point in our tour, I actually gasped as we rounded a corner. It was literally breathtaking. My kids' favourite part was a huge bell, which they rang over and over and over while our tour guide smiled ever-so-patiently.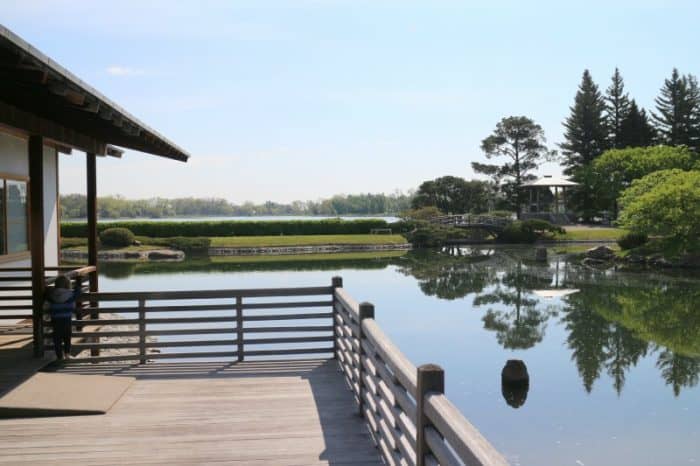 The entire garden was designed with an extreme eye for detail – a humongous rock beside the waterfall was moved in tiny increments until the designer finally felt that it was perfectly positioned.
The central building was manufactured in Japan, then disassembled and moved to Canada. I don't normally associate precision with relaxation, but this place is magic. I want to live there.
Check the website, because you may get to see a tea ceremony or drum performance, or even get chopstick lessons!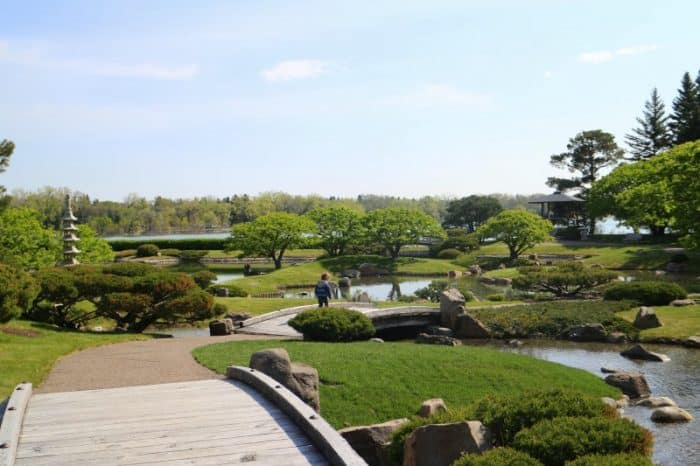 The Alberta Birds of Prey Centre was another of my favourite places. It's technically in Coaldale, but the town is only about 10 minutes outside of Lethbridge, so it was not a long drive.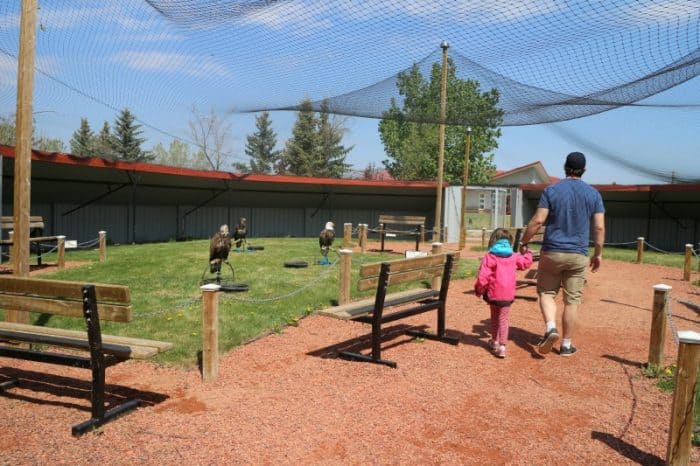 The Alberta Birds of Prey Foundation rescues and rehabilitates raptors. As you walk down the shale pathway, you'll come face-to-face with eagles, hawks, falcons, and owls. I have spent a lifetime visiting zoos and aviaries, and I have NEVER gotten this close to large birds, especially without a fence between us. It was amazing.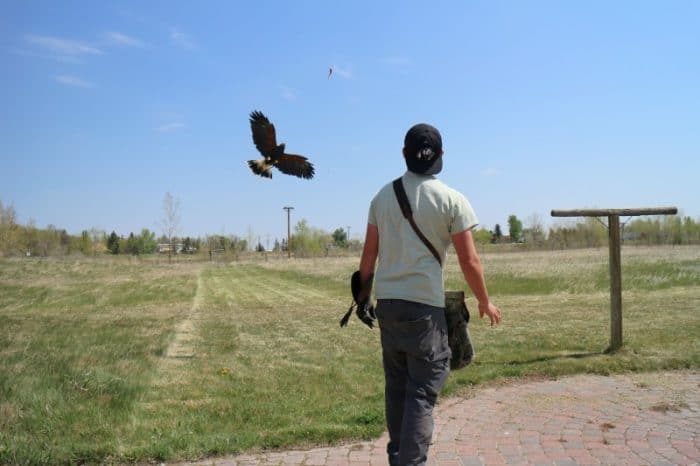 The raptors are leashed to their perches (with a little room to fly), which means you get a totally unobstructed view. They are just a few feet away from you! I could have stared at these birds all day if I didn't have two toddlers in tow.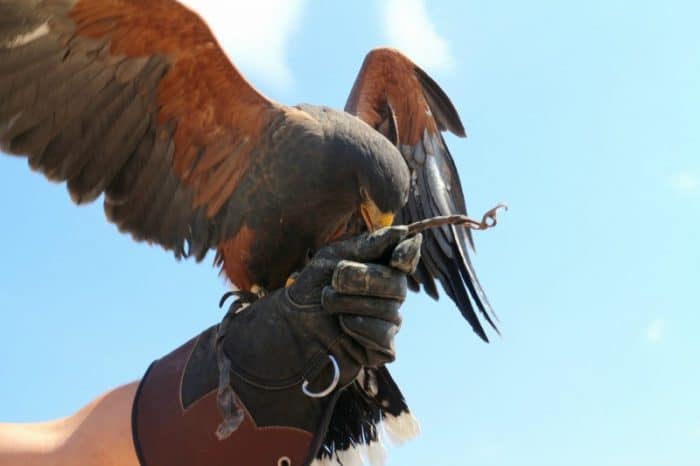 As it was, the kids had a great time examining all of the birds. They actually insisted on sitting down to watch a falcon flap around its enclosure for ten minutes. With their attention span, that's practically a lifetime.
We were also lucky enough to see a flying demonstration with one of the birds – it was COMPLETELY SILENT as it flew and snatched food out of the air. It was so cool! I will have to go back to the Birds of Prey Centre. Their website says you can HOLD AN OWL for a picture, which I didn't get to do. Obviously, I need to do that.
We were only in Lethbridge for a weekend, so we missed a few fun things. If you have more time than we did, you should also check out the Southern Alberta Art Gallery. SAAG is a family-friendly gallery, which hosts kids' camps and has regular activities planned for children. I'm definitely going to check it out next time we're in town!
Hotels & Accommodation
We stayed at the Lethbridge Lodge for our trip, and it was great. Staff were very friendly, and the room came with a free hot breakfast buffet! Breakfast is my favourite meal, so I was very excited about this. It's also right next to A&W, and kiddie corner from McDonald's.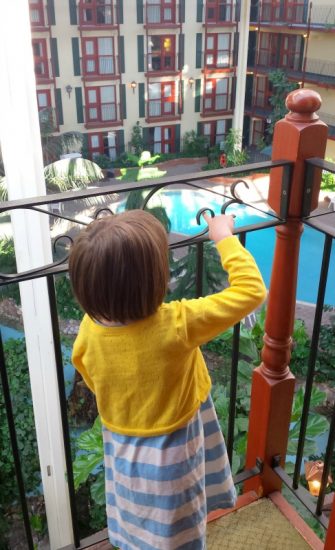 My kids loved the central court in the hotel, which has some stone pathways, greenery, and a waterfall. They called this area the "zoo" and begged to go there every morning after breakfast.
They happily ran back and fourth over the small bridge and searched the foliage for monkeys. There were no monkeys, but they were still happy!
We had a fantastic time on our trip to Lethbridge, and it was a relatively short drive from Calgary. I highly recommend it if you are looking for a budget-friendly family vacation.
There are also some really awesome playgrounds in Lethbridge – click here to read about them!
Disclosure: In order to facilitate these reviews, we were provided with accommodation in Lethbridge, and some free admission to attractions. Thank you to Chinook Country Tourist Association for facilitating our trip!
Katie is a freelance writer based in Calgary.
Please Note: 
We do our best to ensure the information on Calgary Playground Review is accurate, however information and events are subject to change. Please contact the organizations directly to avoid disappointment.
Can you help make this article better?
If you have noticed an error, have additional information or would like to share a comment you can:
E-mail us at calgaryplaygroundreview@gmail.com
Find us on Facebook: CalgaryPlaygroundReview
Find us on Instagram: YYCdana
Tweet us: YYCdana
We are not affiliated with any venues, attractions or organizations. Please message them directly if you have questions or concerns.