Thanks to iFLY for letting us try out indoor skydiving so we could share our experience!
Location: Deerfoot City – 811 64 Ave NE
https://calgary.iflyworld.com/
Age Range: Starting at 3 years old
Cost: Flights start at $59.95 per person with two 1 minute flights for first time flyers. Additional time and experiences and group discounts are available.
What is it like when you arrive?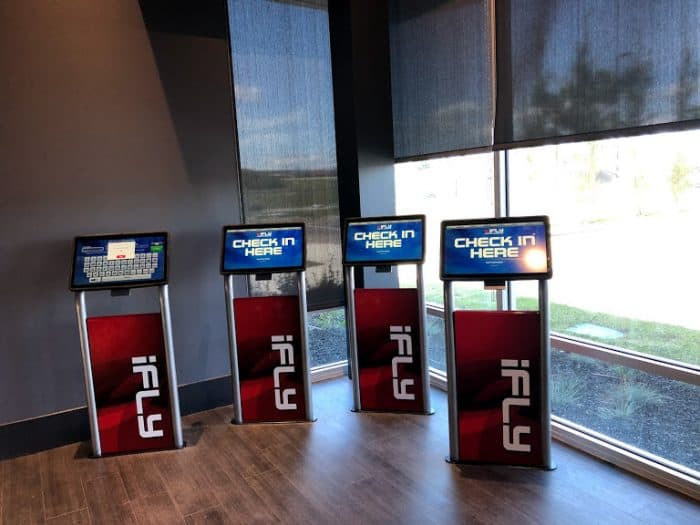 If you have already booked your experience online, you can check in at the stations inside the door. Here you will fill out your waivers. Once you've checked in you can move to the front desk.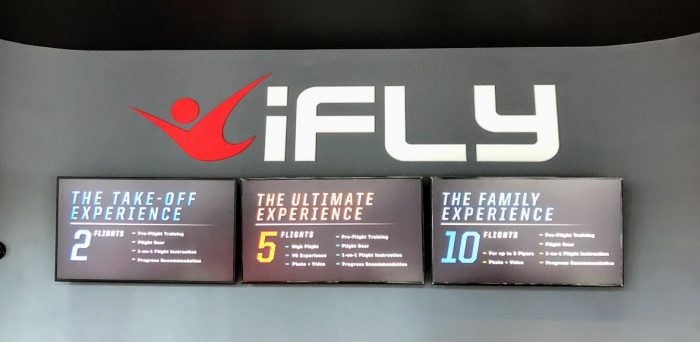 At the front desk they will finish getting you processed and weigh you on a platform in front of the desk so they can calibrate the wind tunnel to your size.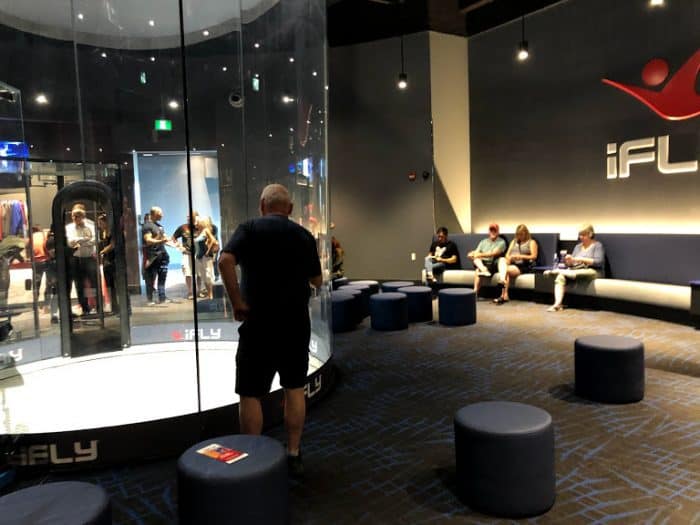 Immediately inside is the wind tunnel itself. There is a seating area so your friends and family can watch your flight and if you arrive early you can watch the group before you have their flights.
If you aren't familiar with the experience or are going with kids, I think it would be well worth it to watch the group before you go through to get a feel for it before it is your turn.
I also recommend having someone there to take photos for you as you have to pack all your things away as you are getting into your flight suits. If everyone in your group is flying together you will be limited to the photos you can buy from the facility. If you are flying in a large group, you will probably be split up into more than one flight group so this would be less of an issue.
How Long is First Time Flight?
A flight is one minute long (which is 1.5 times longer than a typical tandem flight when you sky dive). You can get packages with 2 or 4 flights. We had 4 flights but they grouped them so we went into the wind tunnel twice for 2 minutes.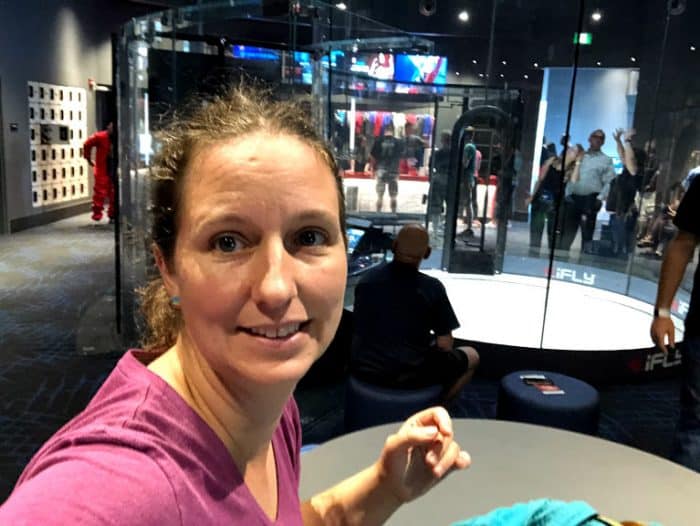 What Happens Before Your Flight?
You wait for your turn in the viewing area until they come around to collect your group. There were 6 people in our group.
You then go to a training room where you watch a short video and they go over the basics of how to hold your body, how to enter and exit the wind tunnel and some hand signals that they will use inside the tunnel.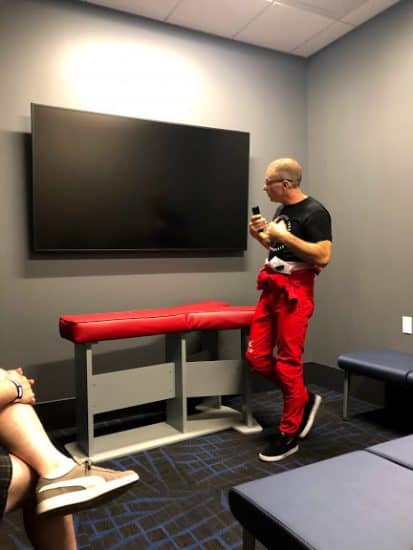 After the training, you will get your flight suit on and pack away all your things. They have free lockers you can use. Everything in your pockets, your phone, jewelry including rings or anything else that may fall off should be taken off at this point. They have special helmets you can use if you wear glasses and very small earrings will be tucked inside your helmet so those can stay.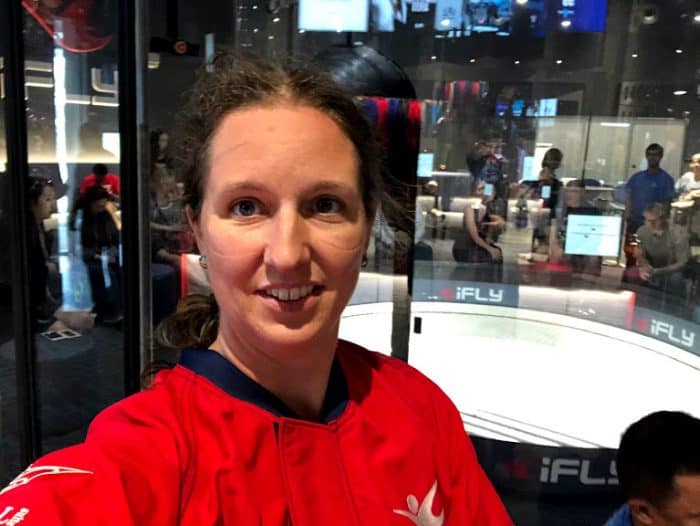 When everyone is suited up and the group in front of you is finished, your group all files in to the seats just outside the wind tunnel. Your group takes turns – everyone does their first flight and then everyone does their second flight.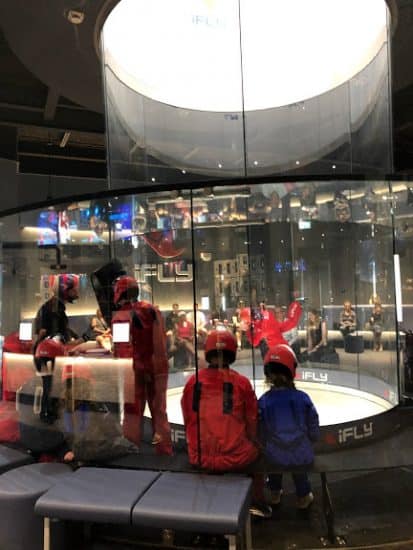 What is Your Flight Like?
There are two staff members assisting with your flight. One on the controls (they may also give you hand signals to help with your positioning) and one inside the tunnel with you. Your goal on your first flights is to learn how to balance and float in the tunnel. Your trainer holds on to you, helps you work on your positioning and prevents you from bonking your head into the wall.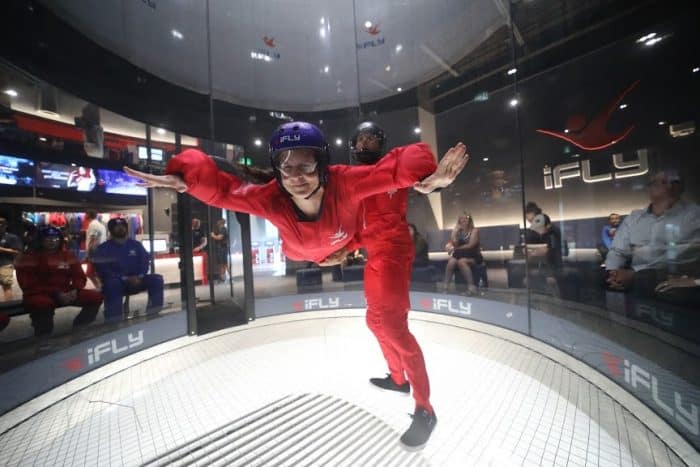 The wind tunnel is quite loud (not surprisingly) and quite a physical experience too. It was less scary than I expected – there isn't much falling sensation but you can really feel it in your body after you exit the tunnel. Two minutes sounds short but it really wasn't! My stomach and arm muscles were sore for the next two days!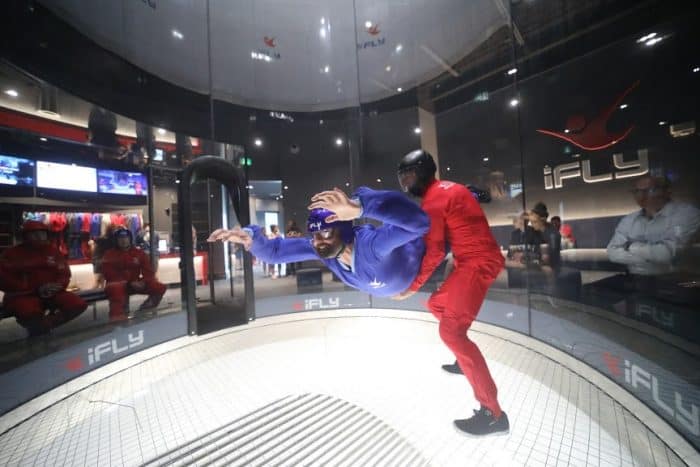 If you figure out how to maintain your balance and relax, you can start to try to balance on your own. They are really good at calibrating how much support you need. Even kids as young as 3 and most people with physical disabilities can enjoy the experience.
Afterwards you have the opportunity to purchase photos from your flight and buy a return ticket with 4 flights (4 minutes of flying time) that you could use yourself or give to one other person at a lower than usual price.
Overall, I'm really glad I did it – it was a really cool experience and I can see why people go back again and again. And I'm kind of a chicken, so if I can do it, you probably can too.
Please Note: 
We do our best to ensure the information on Calgary Playground Review is accurate, however information and events are subject to change. Please contact the organizations directly to avoid disappointment.
Can you help make this article better?
If you have noticed an error, have additional information or would like to share a comment you can:
E-mail us at calgaryplaygroundreview@gmail.com
Find us on Facebook: CalgaryPlaygroundReview
Find us on Instagram: YYCdana
Tweet us: YYCdana
We are not affiliated with any venues, attractions or organizations. Please message them directly if you have questions or concerns.