Thanks to The CORE Shopping Centre for providing us with a gift card to facilitate this post!
One of my favourite things to do with the kids, is take them on a downtown adventure. There is something about being in amongst the huge skyscapers that kids always seem to love. So when The CORE Shopping Centre asked us to find the best summer treats at the mall, I jumped at the chance.
The mall is right along the c-train line making it a great destination for a combined c-train/downtown adventure but if you prefer to drive there you can get cheap parking in the two public parkades – free after 4pm during the week and free on the weekend for the first three hours, $2 flat rate thereafter (so only toonie for a whole day of fun!).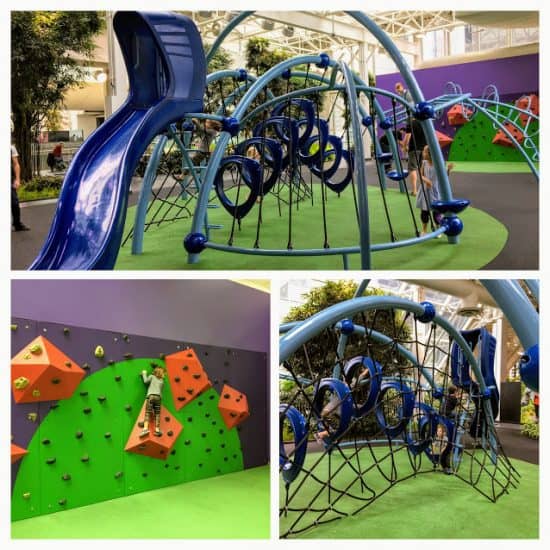 One of our favourite places to visit downtown is the Devonian Gardens, which you can find on the 4th floor of The CORE. Unfortunately, the gardens themselves are still closed, but the playground has reopened.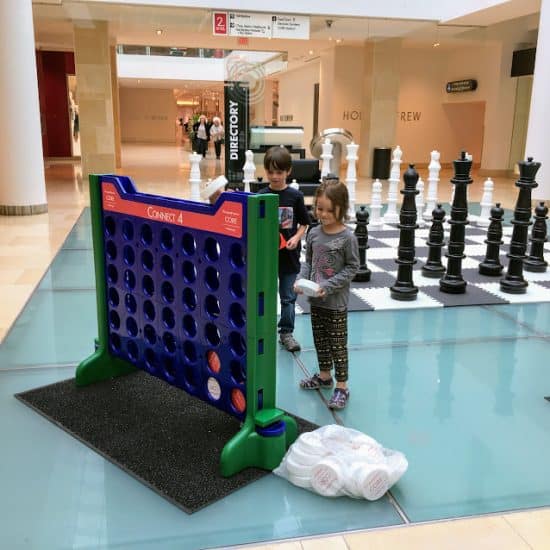 They also had a giant chess set and connect 4 set up the day were visited. The kids thought this was awesome even if their adherence to the rules was pretty minimal.
The Best Summer Treats: the contenders
We ended up visiting 7 different places in our search for the best summer treats in The CORE. And basically ended up calling that lunch.
Froshberg Gelato at Crepe Delicious
After spending some time at the playground we started off our food adventure at the nearby Crepe Delicious for some gelato. With 9 sorbetto and 9 gelato flavours, it was hard to choose, but we ended up getting a scoop of Ferrero Rocher gelato and a double scoop of lime and strawberry sorbetto.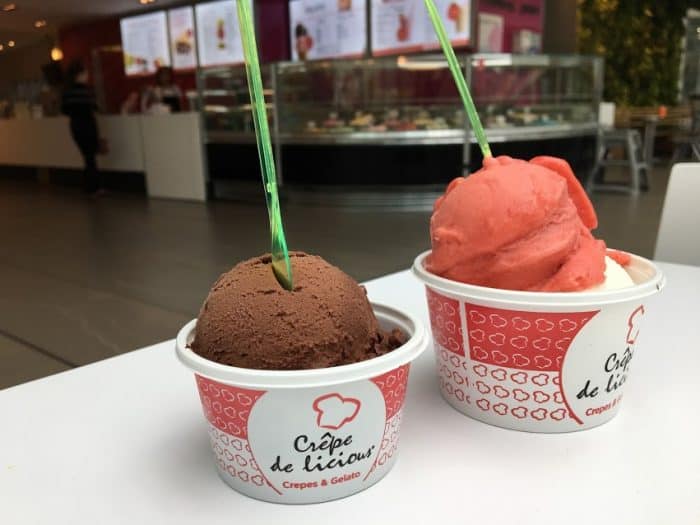 Mangoland
Mangoland is located right nearby so we headed there next. We tried the fruit splash and original mango strips. My kids loved the fresh fruit in the fruit splash but found the vinegar and pepper (which are optional) on the mango strips to be a bit too much for them. On the other hand, I loved them.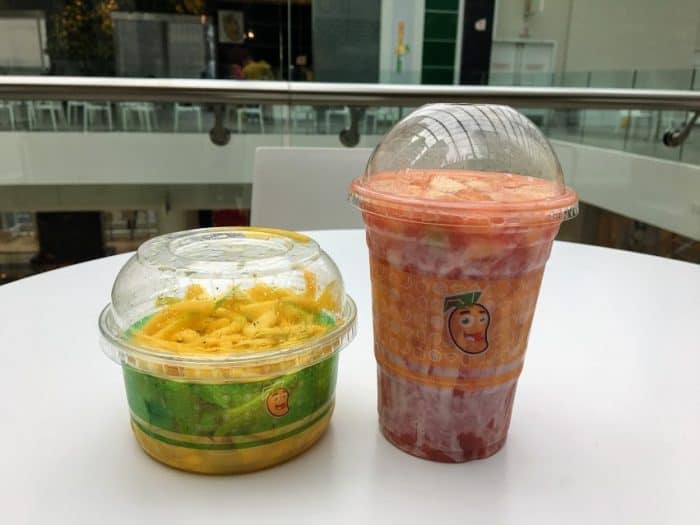 Monplaisir
Next up on the 4th floor was French macarons at Monsplasir. We tried an assortment – lavender, strawberry, dark chocolate, raspberry and Nutella. They were everything a macaron should be – chewy but soft, sweet but not too sweet. They are a bit of a splurge but worth it.
Cookies by George
We then headed down to the third floor for some cookies by George for some M&M cookies and an ice cream sandwich. I had no idea they made ice cream sandwiches – any two cookies you want sandwiched between a thick layer of vanilla ice cream. The photo does not do it justice.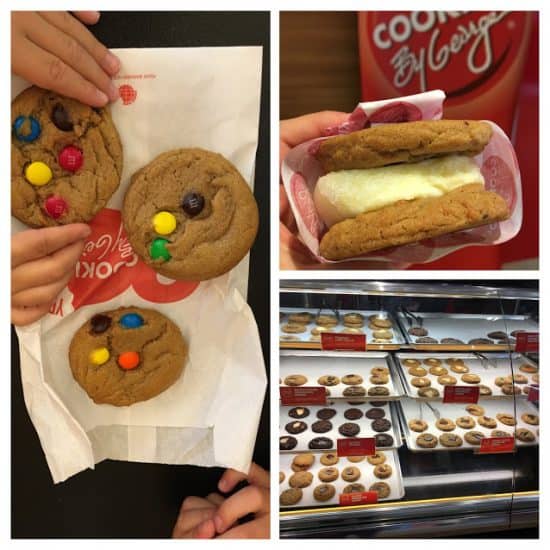 Caffe Trieste
This one may be a bit more for the parents than the kids, but as a parent I really appreciate a good cup of coffee. Caffe Trieste definitely delivers. And they don't just serve coffee either! We split a chocolate croissant and it was awesome.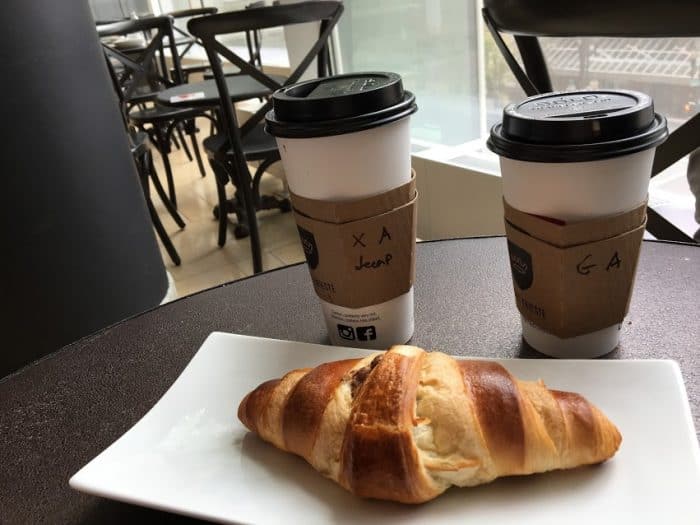 Purdy's
At Purdy's we got smiley face chocolate lollipops and one of their ultimate ice cream bars. They take a vanilla ice cream bar, dip it first in white chocolate, then twice in dark chocolate and then cover it in toasted almonds. Right in front of you.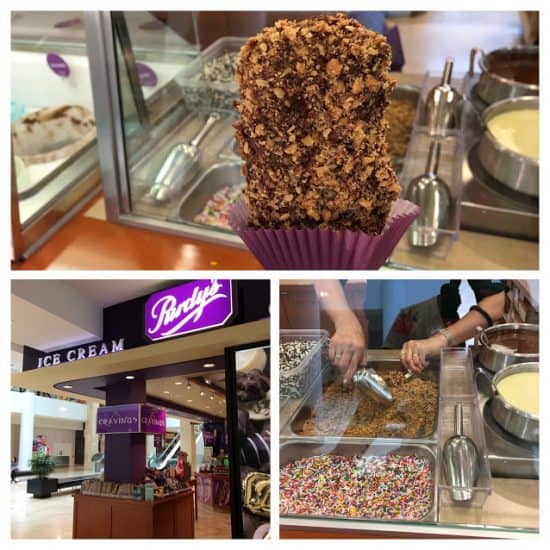 Eve Cafe in Simons
Our last stop was at the Eve Cafe located on the second floor of the Simons department store. The cafe is cozy with a lovely ambiance. It had an upscale feel but was still casual enough that I felt comfortable there with my three young kids.
We ordered a scoop of Calgary's own Fiasco Gelato served in a cute little mug. I'm looking forward to going back and trying other things on their menu.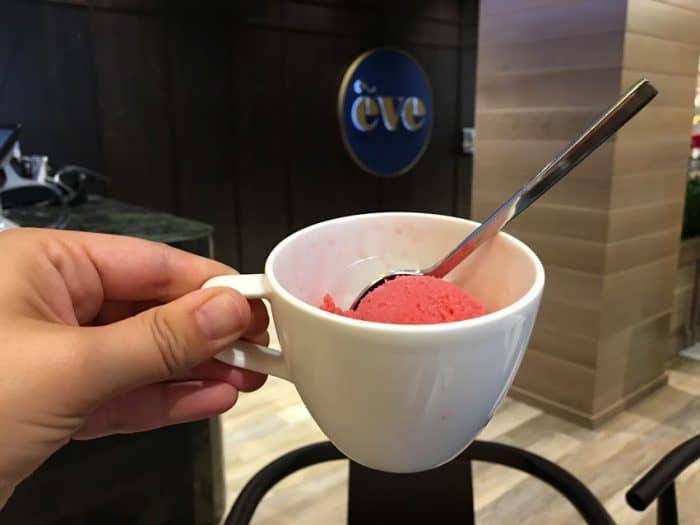 The Verdict
With a family of five, it's no surprise that we did not reach a consensus as to the best summer treat at The CORE. Actually, everything was so good that it was even hard to decide for ourselves. We did all manage to settle on one or two favourites though.
Stephen: "Purdy's ultimate ice cream bar and Caffe Trieste's chocolate croissant."
Dana: "Mangoland's mango strips because they were so sweet, fresh and tangy and Monplaisir's Nutella macarons"
Gordie (8): "The gelato at Eve Cafe and Froshberg Gelato. I can't choose!"
Nicky (5): "I liked all of them! Okay, [Purdy's] chocolate smile lollipop."
Robbie (2): "Um, the cookie [from Cookie's by George]."
Please Note: 
We do our best to ensure the information on Calgary Playground Review is accurate, however information and events are subject to change. Please contact the organizations directly to avoid disappointment.
Can you help make this article better?
If you have noticed an error, have additional information or would like to share a comment you can:
E-mail us at calgaryplaygroundreview@gmail.com
Find us on Facebook: CalgaryPlaygroundReview
Find us on Instagram: YYCdana
Tweet us: YYCdana
We are not affiliated with any venues, attractions or organizations. Please message them directly if you have questions or concerns.