Thanks to Alisha from Learning from my Kids for this guest review!
Location map http://www.shakerscalgary.com/
Address: 9900 Venture Ave SE (It is located outside of the city)
Cost: Free entrance. Climbing tower $9 for 3 climbs, Laser tag $9, Arcade Games $1-$4, Inflatable Village – $10, 4 lanes of mini bowling $9 per person for a 10 frame game.
Unlimited attraction pass $34.95 per person for ages 2 and up year round. Annual passes are available.
Age Range: All ages
Footwear: Socks for inflatable village.
Features: Inflatable Village; Lazer tag; Climbing tower; Redemption Games.
Additional Services: Seasonal attractions: Go Karts $9; and Mini-golf $9 (opening is weather dependent – some years they open as early as February).
Food Services: Fast food style concession and snacks.
Keenan's Review (11 years old) – "I loved it, it was so fun!"
Ryan's Review (8 years old) – "It is so cool!"
Ewan's Review (6 years old) – "Awesome! I loved the Laser Tag"
Audrey's Review (2 years old) – "Bounce House!"
Overview:
In addition to the review post below, Alisha and her family put together a video review of Shakers Fun Centre.
My family and I have visited Shakers many times in the past. We have always felt that it is a great time, but we felt that it was catered for older kids. When Shakers opened their Inflatable Village in February we decided it was time for another visit.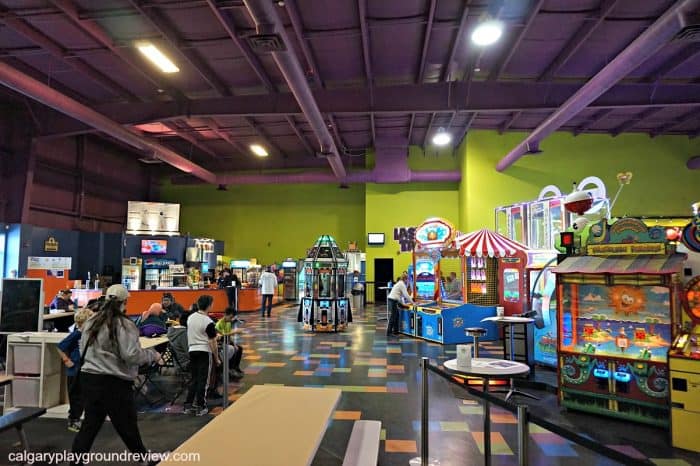 I have 4 kids, a 10yr old, 8yr old, 6yr old, and 2yr old. We arrived at Shakers at 2pm on a Saturday. The first thing that we noticed was that the large indoor playground was missing and that the birthday party section was moved to where it used to be.
This was a great decision on Shakers part as it really opened up the space and made it easier to navigate. It also allowed for an area for eating next to the concessions. I really liked how it allowed people to move around more freely.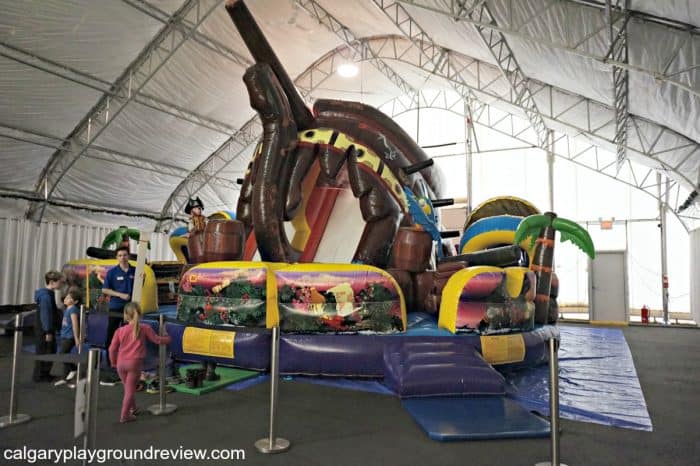 As soon as we got in the door and grabbed our wristbands and game cards, the kids were desperate to try out the Inflatable Village. We had no idea what to expect, but when we walked through the entrance to the village we were pleasantly surprised at the set-up.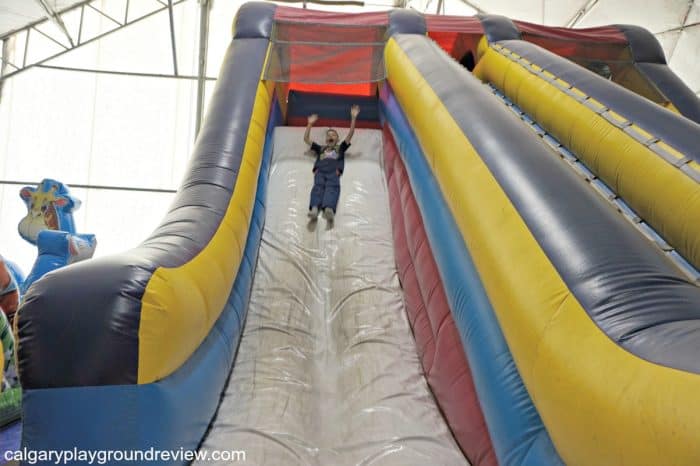 What I absolutely love about the Inflatable Village is that it is a very controlled and safe environment. There are 4 giant blow ups each with a staff member and measuring stick.
Each child has to wait in line, and only the amount of kids recommended in each bounce house were allowed in. This is so important for safety, and I really appreciated it.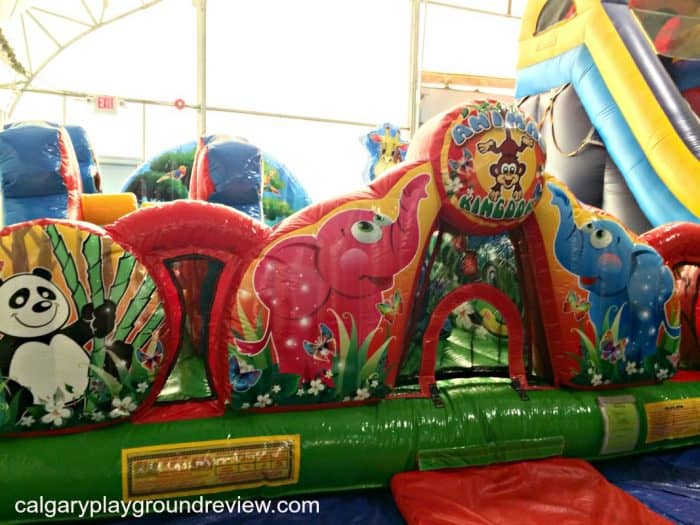 I absolutely love that they have a bounce house for toddlers as I feel that this is something that will make us come much more often. My 2 year old can play safety, without fear of being overtaken by older children. Also, my bigger kids can play in the main area at the arcade games while she bounces to her hearts content.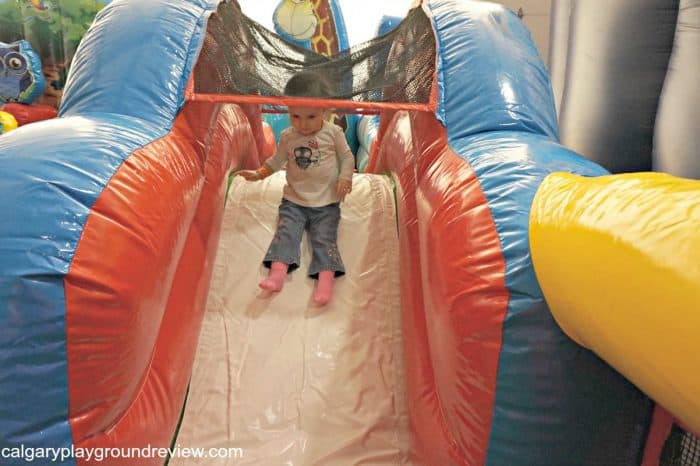 I also love that they have a seating area for adults, so I could bring a friend and have a coffee date while the kids enjoyed the facilities. Next to the Animal Kingdom toddler bouncer is the giant slide, next to that is an enclosed basketball bouncer called Tropical Island.
The largest bouncer is across the room from the toddler one. It is designed like a pirate ship, and is incredibly impressive needing 4 blowers to keep it inflated. I really like how Shakers has placed the village in it's own room, it really adds value to the attraction.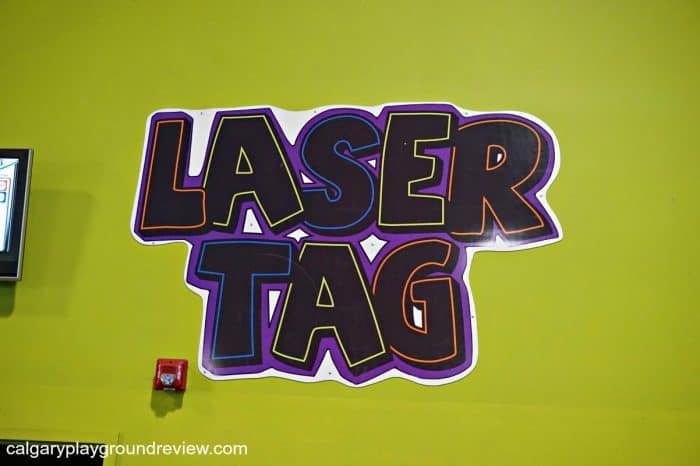 After an hour in the Inflatable Village the boys and their dad had a round of Laser Tag. My sons absolutely loved their time playing against each other, and I like that my 5 year old was permitted to participate as well. Daddy won, but I feel he had an unfair advantage.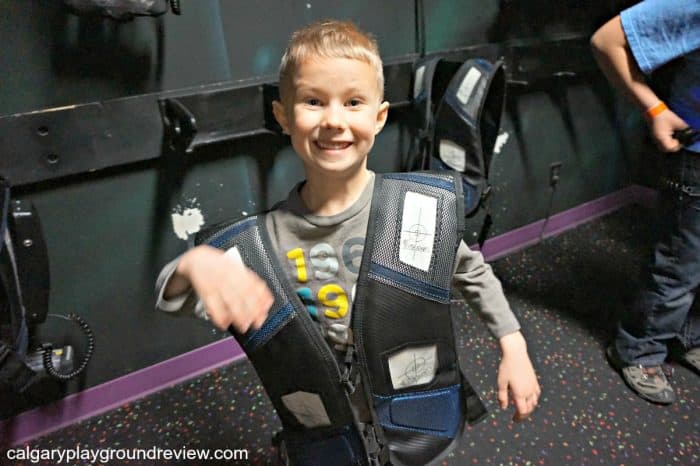 After a couple rounds of Laser Tag, the boys ran to the arcade. The games are in the centre of the space and there are so many to choose from. Each of the boys had $10 placed on their cards, and with each game costing $1 – $4 they had plenty of credits to play for an hour.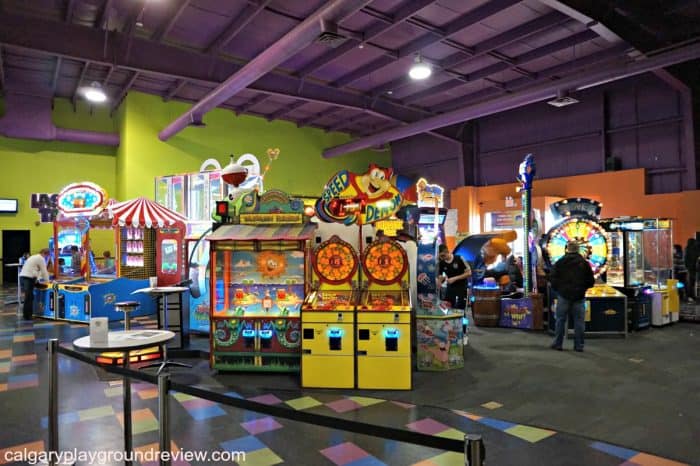 The boys favourite game was the simulator where you can choose to ride in 1 of 6 different scenarios. The seats vibrate, and move, while air is blown at their faces. They certainly had a blast. We spent a lot of time at this particular ride. The line up was about 4 people long, so we spent time chatting about what they wanted to do next while we waited for their next turn.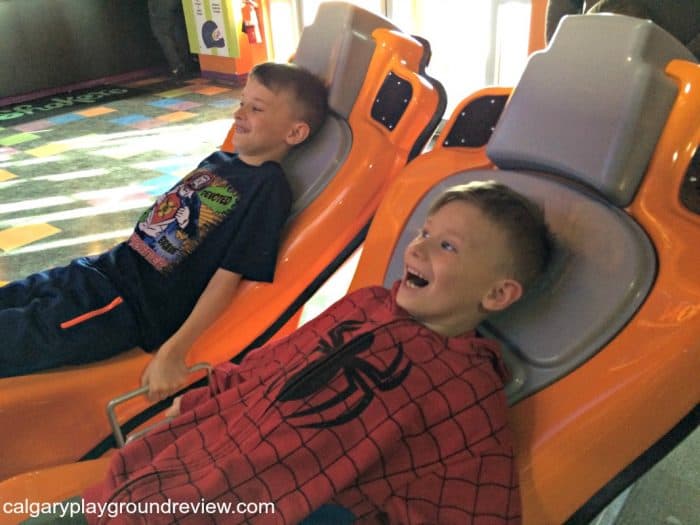 There are so many games that are very realistic and advanced.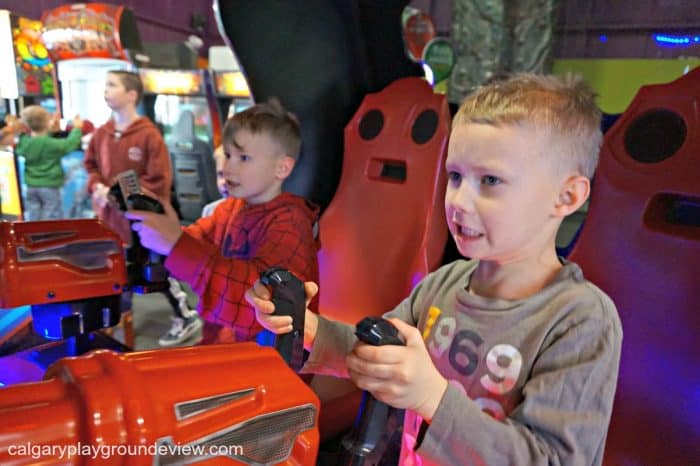 However, there are also games that are retro and easy for younger kids to play. I feel that Shakers does a really good job at making it so a variety of ages can play a lot of different games.
Personally I am more of a Skee Ball kind of person, so I made sure that the boys tried that game at least once. A couple games that we will try when we go back will be the basketball and the foosball table. We just ran out of time before we could get to them.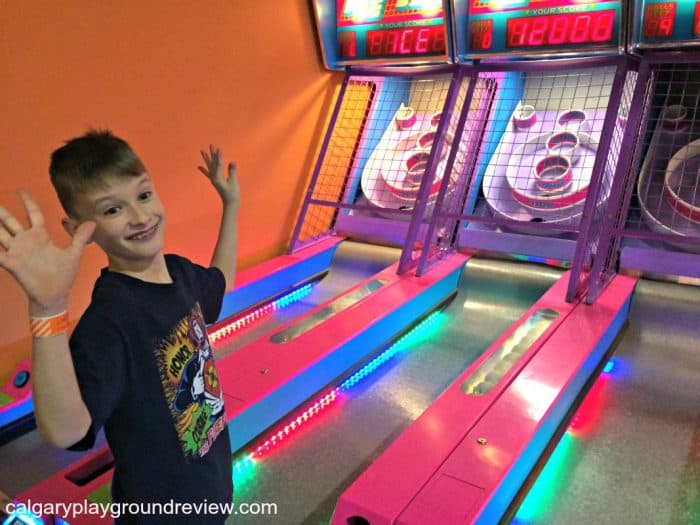 My 6yr old really liked the Wack-A-Shark game, my 8 year old liked the dancing one, and the 2 year old like the Lizard/ Bug game. I have to admit that I got a little competitive with this game as I wanted to win her a prize.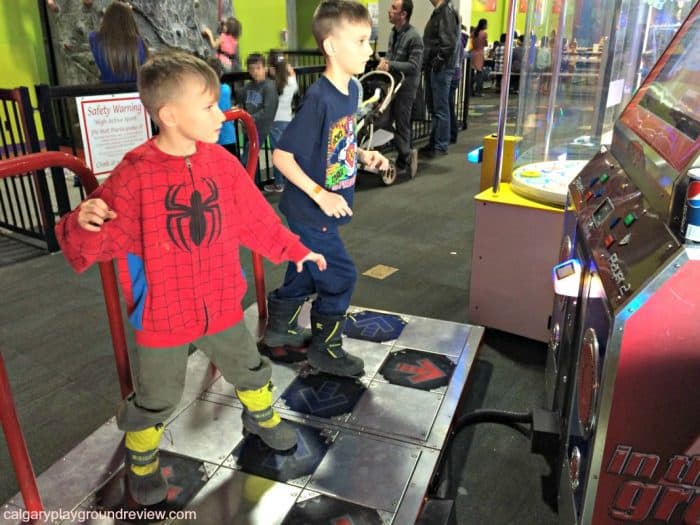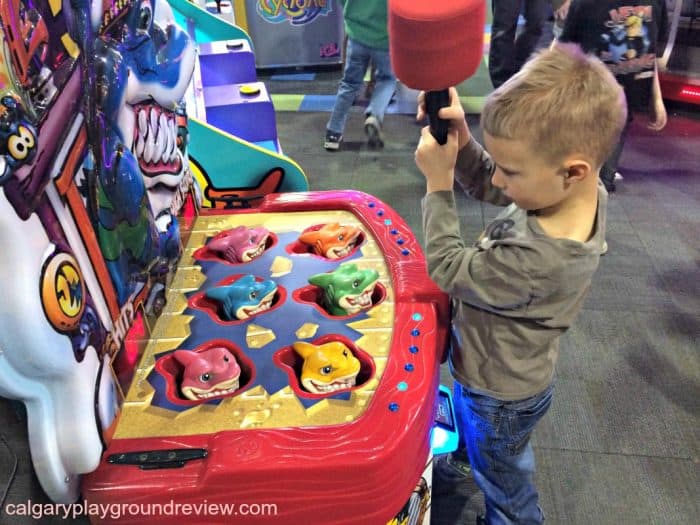 After we spent some time gaming together, the boys wanted to end the day with a climb on the climbing wall. Each child gets 20 mins to climb, so the wait can be a little while, but it is so worth it.
All my kids really enjoyed it, and even made it to the top. With the allotted time, they were able to climb up 3 different times. Also, if you ask, the staff will allow the children to switch which rope they are on (with staff supervision and checks of course).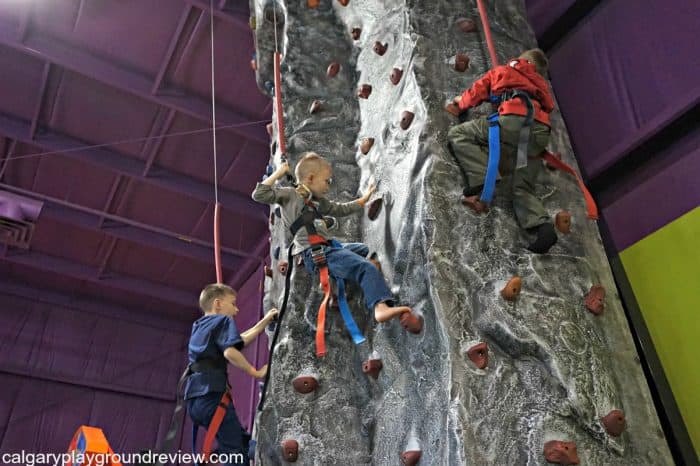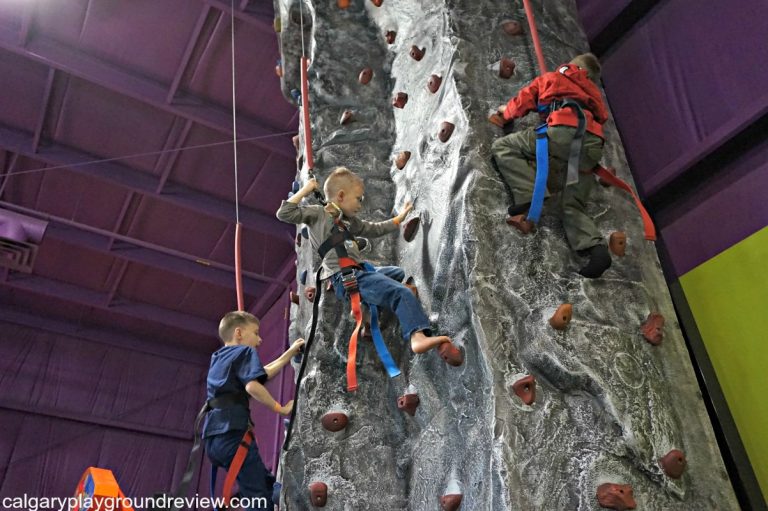 While the boys were on the wall my husband took our littlest back to the Inflatable Village. It was really nice for her to be able to do something fun for her, while she waited on her brothers.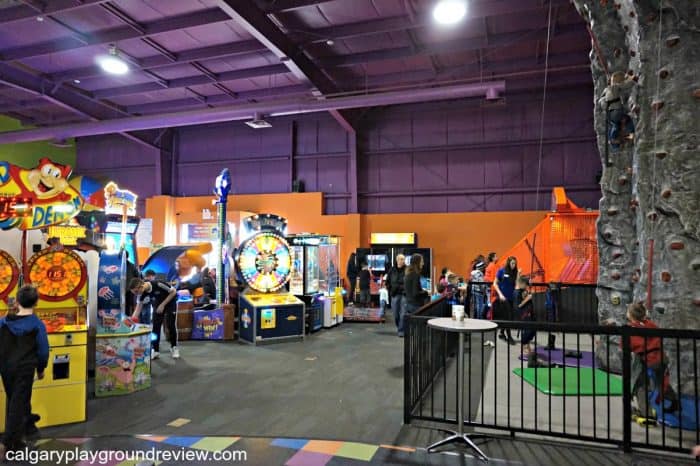 In the end the boys had spent all of the money on the game cards, and so we took them to the wall of prizes to see what their 600 credits would get. They decided on squishy brains, and to save the rest for a lava lamp.
Shakers can put all points on one card so that you can come back and keep saving up your points. They also recycle the old cards instead of throwing them out, which was a great bonus for a eco minded mom like me.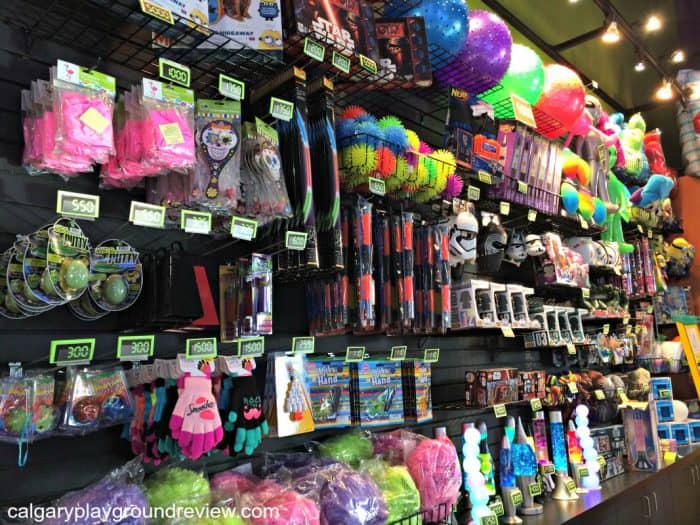 We really had a great time at Shakers and we will definitely be going back again. We can't wait to try the go-carts out in the summer.
Have you been to Shakers? What did you think?
Thanks to Shakers for providing access to Shakers Fun Centre to facilitate this review.
Please Note: 
We do our best to ensure the information on Calgary Playground Review is accurate, however information and events are subject to change. Please contact the organizations directly to avoid disappointment.
Can you help make this article better?
If you have noticed an error, have additional information or would like to share a comment you can:
E-mail us at calgaryplaygroundreview@gmail.com
Find us on Facebook: CalgaryPlaygroundReview
Find us on Instagram: YYCdana
Tweet us: YYCdana
We are not affiliated with any venues, attractions or organizations. Please message them directly if you have questions or concerns.