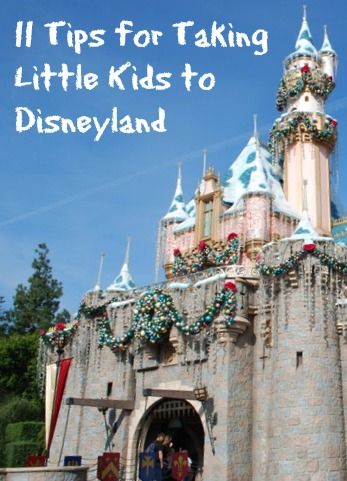 Is It Worth It?
After taking our two kids to Disneyland, the short answer is yes.
I think people have three main concerns about taking their kids to Disneyland when they are little:
1. There won't be enough for their age level,
2. It will be a lot of work to take them and
3. They won't remember going.
I can say without a doubt that there is a ton for even toddlers to do in Disneyland. Nicky loved meeting the characters and there were a lot of rides we could take her on that she loved.
It is a lot of work to take little kids to Disneyland but that's true of taking them pretty much anywhere. I found the hardest most exhausting part for me was the plane ride.
Gordie (at almost 5) is old enough so he will probably remember a little bit about going to Disneyland for the first time, but Nicky (at under 2) won't. But that's true of wherever you take them when they are small.
If you are only planning on taking them once, it might make sense to wait but otherwise, there is no harm. I totally enjoyed the experience of taking little kids to Disneyland and they had an amazing time too.
Everything is so magical when they are little and no one does magical better than Disneyland. I would do it again in a heartbeat.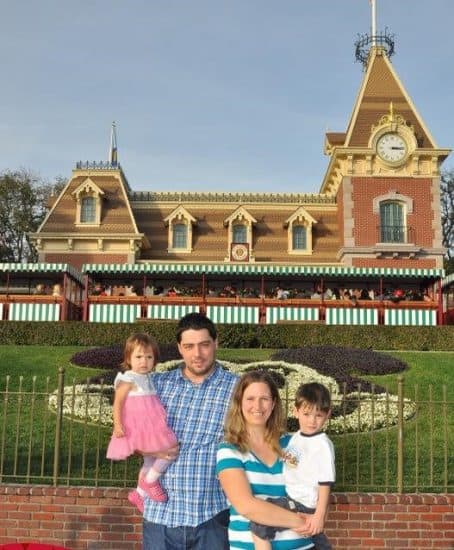 11 Tips for Taking a Toddler and a Preschooler to Disneyland
1. Strollers and Carriers
Even if your preschooler doesn't normally need a stroller anymore there is a good chance that you will find one helpful in Disneyland. Disneyland is big and you can end up doing a lot of walking in a day.
Being able to put your preschooler in  stroller can also make it quicker to get from one place to another and save more of their energy for doing fun things instead of walking from place to place.
Unless you really need it, I wouldn't recommend a double stroller though because it'll make it hard to get through the crowds. Depending on the type of stroller you have a Stroller clip or carabiner can be useful.
What worked for us is taking a smaller stroller (we used the Baby Jogger City Mini) that in a pinch both kids can sit in with the seat reclined and a couple of baby carriers. Gordie was under the weather for part of our trip so he ended up using the stroller even more than we had expected.
I was really grateful to have the baby carriers (I had an Ergo and a wrap) that I could use with Nicky. They also saved my arms from having to carry Nicky around the park when she was feeling a little overwhelmed.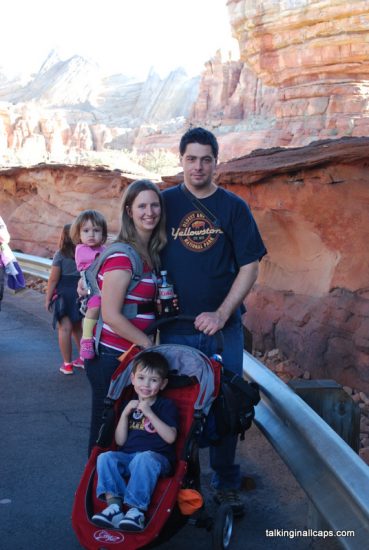 2. Don't Rush
There is so much to see and do in Disneyland you can easily find yourself hurrying through the park trying to do as much as you can. As tempting as that can be, your kids won't thank you for it in the end.
No matter how efficient you try to be, you are going to leave with things you'd like to do still on your list. You and your kids will have a better time if you leave some breathing room in your day.
Stop and try on some silly hats, hang around on main street enjoying a treat or let your kids push all the buttons they can find in Toontown. Going a bit slower also opens you up to seeing musical performers or characters that pop up around the park that you would miss if you were rushing through.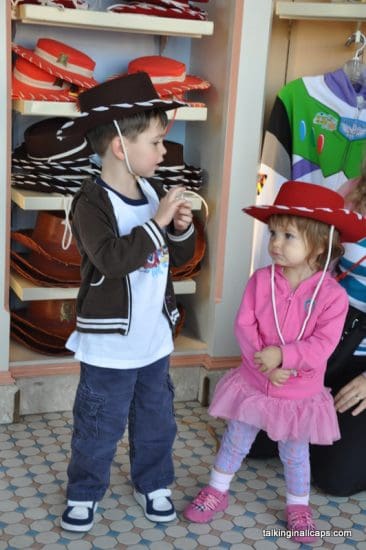 3. Plan to Nap on the Go
Even if you are staying at one of the Disneyland hotels, going back to the hotel for an hour nap is going to take more than twice that amount of time out of your day. On top of that, your little one may not fall asleep as quickly as they do at home (or even at all).
Plan to have your child nap on the go – a stroller that reclines with a large sunshade is helpful for this or a carrier that you can comfortably wear while they nap.
Even if your child only naps at home, they will likely fall asleep at some point during the day – probably a bit later than usual. Nicky had only napped at home for months but still had a shortened nap every day we were in the park either in the stroller or the carrier.
At the same time, don't be afraid to go back to the hotel for a rest if your kids really need it. Even the nearby non-disneyland hotels are close enough to take a mid-day break if necessary.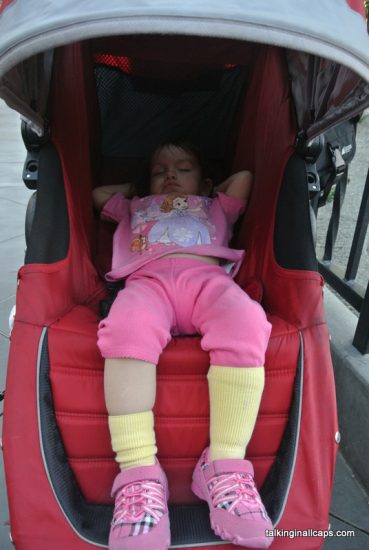 4. Say Yes Sometimes
You are inevitably going to spend a lot of time in Disneyland saying no – toys, treats, and more are everywhere. Saying no is necessary but don't forget to yes sometimes too.
Go the ride for a second time, change your plans and do something that caught your kid's eye on the way, buy a silly hat or get them a ridiculous light up toy that you would never buy if you were at home. It's okay to indulge them a little and it can be a lot of fun too.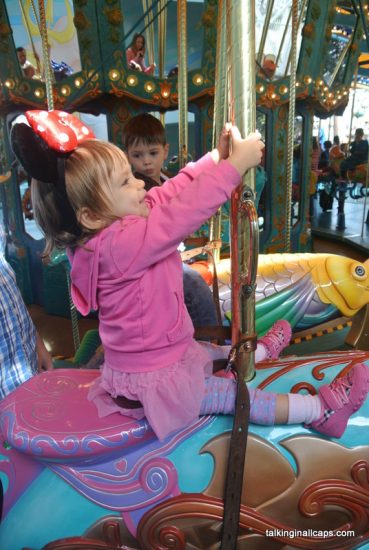 5. Recognize When They Are Done Even If You Are Not
At some point during the day your kids are going to crash. Especially if you only have a day or two in Disneyland this my be long before you were hoping to leave the park. Try to recognize when they have had enough and leave wanting more instead of doing one more thing.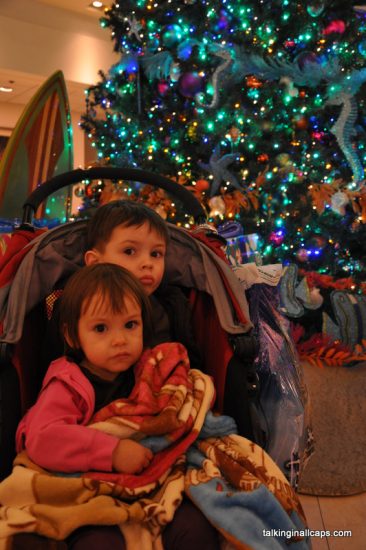 6. Let Them Walk in Line
Your first instinct may be to try to contain your kids while they are in the line, but letting them walk for as least some of the line can help make the wait go faster. Obviously you don't want them to be disruptive, but you are not going to be the only parent dealing with restless kids.
Disney recognizes this too –  newer lines often have different things to look at and a lot of room to move around without having to worry about your kids getting lost. The Pixie Hollow line is a great example as you go through the line you can look for all the different fairy statues.
Some of the rides, like Peter Pan, also have games you can play in line using the Disney Play App.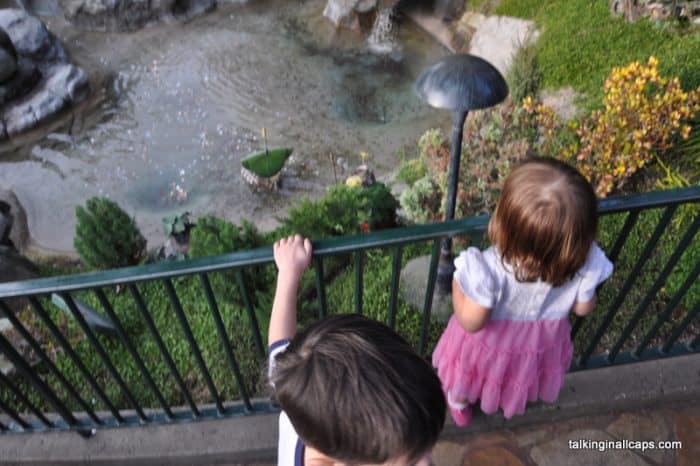 7. Bring Snacks and Refillable Drinking Cups
The food at the Disneyland Resort isn't cheap but the items with the highest mark up is the snacks and drinks. There are lots of fountains throughout the park where you can refill water bottles.
Having snacks and drinks on hand can help prevent hangry (hungry angry) children, save time and save you money too. If you do need to buy snacks in addition to the treat carts they have carts with healthier options, like fruit and hummus and crackers.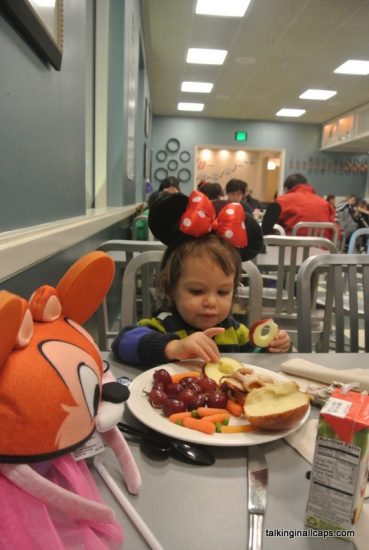 8. A Ride's Height Requirement Does Not Indicate Age Appropriateness
The height requirement of the rides in Disneyland are there for safety reasons. The rides may still be more thrilling or spooky than is appropriate for your child.
For instance the Pirates of the Caribbean Ride and the Haunted Mansion both have no height restriction. Babies and toddlers may not have a problem on these rides but they may scare preschoolers.
This can vary a lot from child to child as well. Some 4 or 5 year olds love roller coasters and some much older kids find them too scary.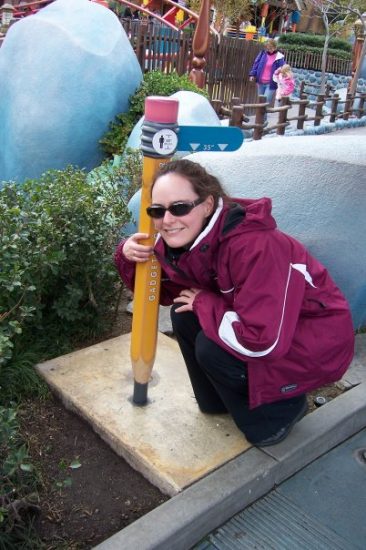 9. Pay Attention to the Expected Wait Times
Each ride and attraction with have a sign out front telling you the expected wait time. You can also find this information on the Disneyland App on your phone. In general they are pretty accurate although sometimes they seem to over state a ride's wait time and sometimes the app can have a slight delay.
Expect the character greet wait times to be accurate even if the line seems short. The lines go slowly – they let you take your time with the characters and don't rush you.
Wait times can range from 5 minutes to over an hour. If you see a ride or attraction that your family wants to go on with a less than 20 minute wait go on it right away. If you come back later the line may be longer.
I found that at this age, my kids could handle a line with a maximum wait time of about 40 minutes. If the line was longer than that we just moved on and I chose carefully for which rides or attractions we were willing to wait that long for.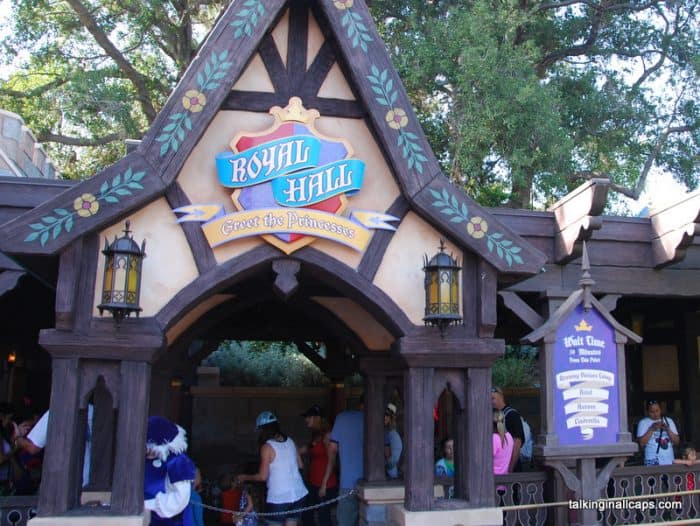 10. Talk to Cast Members
Finally, don't forget to talk to the cast members. They can help you find the closest washroom, nearest place to buy a new shirt and help you decide whether a particular ride is right for your child.
Even if you don't need something specific, you might stumble on a great experience that you would have otherwise missed just by striking up a conversation.
11. Dress for the Weather
Disneyland can be quite warm and sunny even in December so don't forget your hat, sunglasses and sunscreen. However, it cools down a lot when the sun goes down even in the warmer months. This was around 5pm when we were there in late December/Early January.
Think about bringing along light jackets and a blanket even if you won't need them for most of the day. You can also buy all of these things at the park if you forget something.
Please Note: 
We do our best to ensure the information on Calgary Playground Review is accurate, however information and events are subject to change. Please contact the organizations directly to avoid disappointment.
Can you help make this article better?
If you have noticed an error, have additional information or would like to share a comment you can:
E-mail us at calgaryplaygroundreview@gmail.com
Find us on Facebook: CalgaryPlaygroundReview
Find us on Instagram: YYCdana
Tweet us: YYCdana
We are not affiliated with any venues, attractions or organizations. Please message them directly if you have questions or concerns.