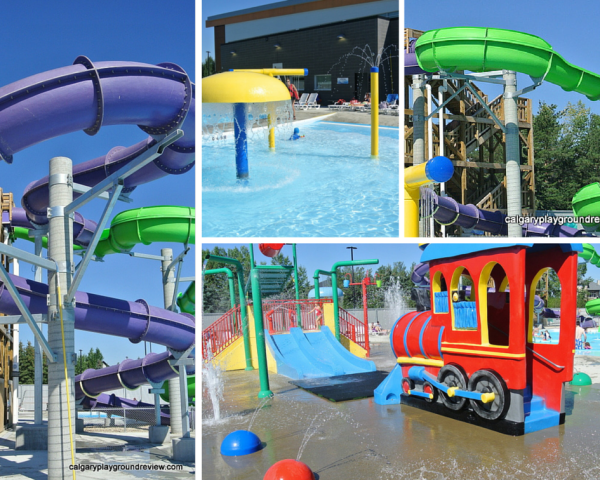 Address: 4500 Womacks Rd, Blackfalds, AB (15 minutes North of Red Deer)
https://www.blackfalds.com/tourism-recreation/abbey-centre/outdoor-aquatic-centre
Cost: $19.50 for a family day pass. This includes access to the indoor play area 
Season: Typically open May long weekend until Labour Day weekend
Hours: 10am-9pm weekends, 9am-9pm weekdays (check website to confirm)
Temperature: Jr Olympic pool – 28C, Leisure pool – 30C, Hot Tub 38.5-39C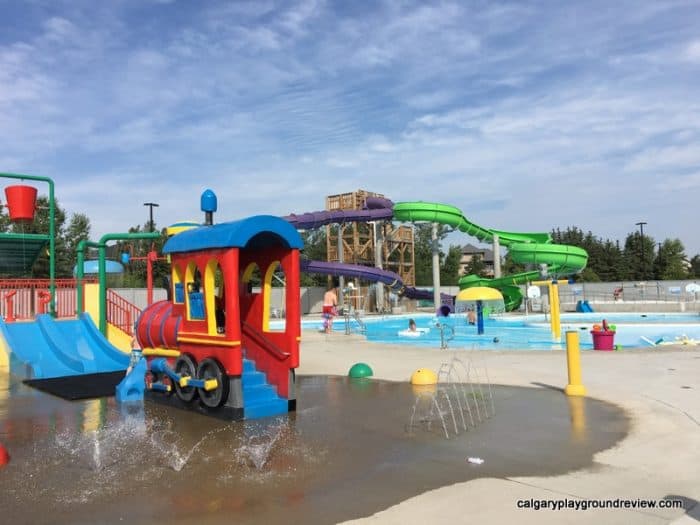 Just 90 minutes North of Calgary, this outdoor pool is one of the best water parks near Calgary. This was our second visit and it has been one of the most fun places we have ever gone as a family.
Features:
The pool has just about everything you could want. There are two water slides – the purple is a fast fully enclosed slide and the green is a slower, open topped slide. They pop out into the recreation pool at a depth of 1.1 meters. My kids really enjoyed the green slide but decided against the purple slide.
There is a spray park with a train feature and slides on the deck. On the opposite side near the water slides there is a Jr Olympic pool with a diving board and a small climbing wall and a hot tub with a ramp entrance.
In the middle is a leisure pool – It has a zero depth entrance with spray features and pool toys available. The rest of the pool is 1.1 meters at its deepest point and is .6 meters and .9 meters in other places. There is also a lazy river, two small slides and basketball hoop. There is a toddler pool attached to the recreation pool near the spray park.
Our review:
We spent most of our time in the recreation pool. It was perfect for our kids (2, 5 and 8) – it was deep enough so they could try things like jumping into the water, floating and trying to swim, but shallow enough to give them confidence. If my kids could pick one thing to do in the Red Deer area as a day trip – they would pick this pool hands down.
Tips:
Don't forget sunscreen!
Your admission covers the indoor play area too so check it out if you need a break from the pool (socks required for kids and adults)
You are allowed to take one of your kids down the water slides with you
Life jackets are not allowed on the water slides or in the hot tub
It tends to be less busy if you go early. We found the water to be nice on our visits even at 10am. Dinner time may also be less busy.
There is a concession and eating area pool side with snacks, drinks and meals. You can also bring in your own food to eat there.
There is a great dinosaur themed playground just outside that is free to access