Updated to include the new spray park (originally posted July 10, 2011)
Location    map
Community: Airdrie – Chinook Winds Regional Park http://www.chinookwindspark.com/
Parking: There is a road up to a free parking lot near the playground.
Surrounding Park Area: This playground and spray park are part of the huge Chinook Winds Regional Park complex. The park area is still being developed. There is currently a skate park, a number of baseball diamonds and a hockey rink with boards that contains basketball courts in the warmer months. A seasonal concession with washrooms is opening this summer (2012) located between the spray park and playground.
Shade: The trees in the park are still young and do not provide a lot of shade. There is limited shade provided by the climbers themselves at the playground and almost none at the spray park.
Spray Park
Gordie's Review (3 years old): What did you like at the park? "playing with the water."
Age Range: all ages.
Ground Cover: textured cement flooring.
Features: many small sprays; two water cannons; 2 tall water dumping towers; musical piano sprayer; hoop sprayer.
Accessibility: The spray park is completely accessible as long as you don't mind your wheelchair getting wet!.
Seating: I don't actually remember any seating, but it this park gets pretty busy anyway. Expect to bring a picnic blanket and set up on the ground.
Overall assessment: I had a hard time taking pictures of the spray park because it was super busy! There is not a lot of shade or seating, so it would be a good idea to bring something with you if you think you might want it. I found it a little difficult to monitor kids at the spray park and playground at the same time. They are pretty close together, so your kids will want to play on both of them, but the concession and (temporary?) blue fence beside it blocks some of the view.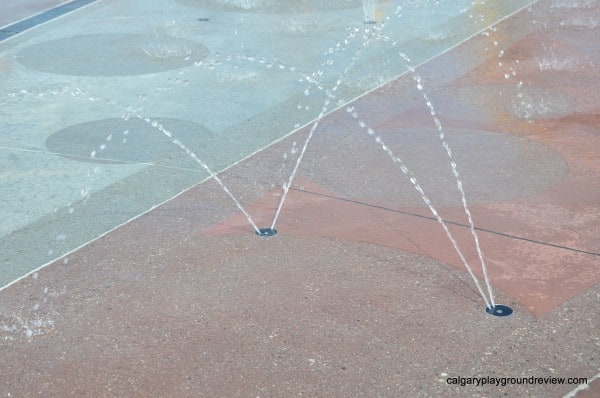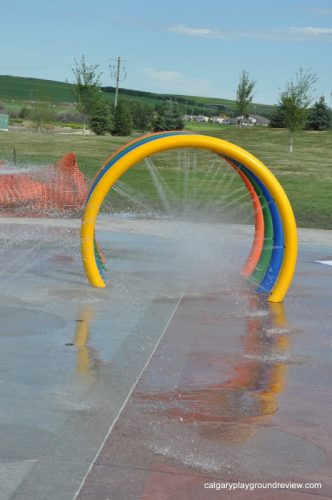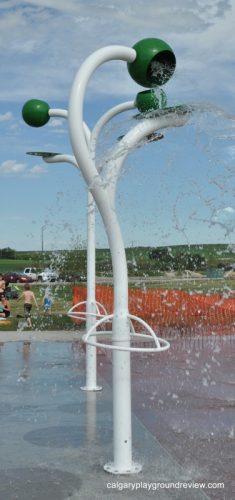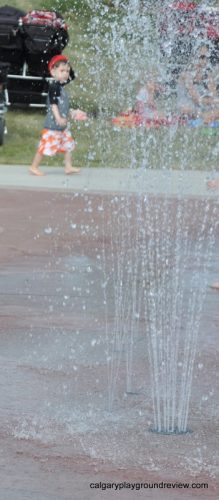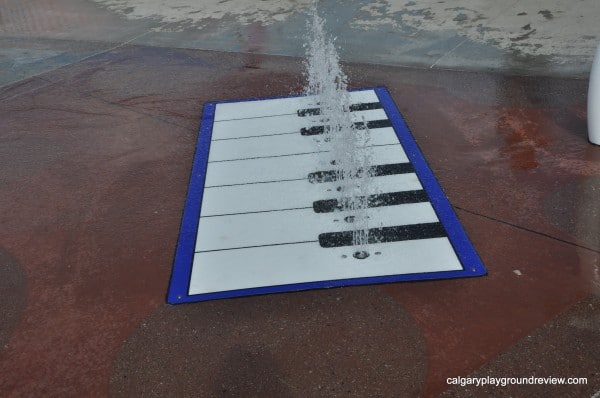 Playground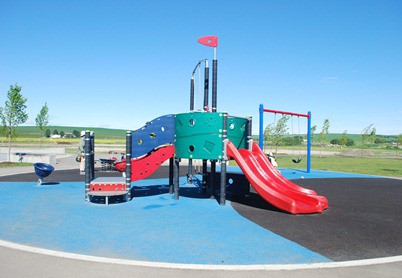 Gordie's Review (2 years old): What did you like at the park? "My friends."
Age Range: 2-10.
Ground Cover: recycled tire.
Features: preschool structure with steering wheel and double slide; school-age structure with slide and climbing wall; wave balance beam; 2 bowl spinners; tri-motorcycle bouncer; 4 swings (2 saucer swings); 2 stand spinners; large ring spinner; surf board.
Accessibility: The ground floor of this playground is completely accessible. Although there is nothing that could be directly accessed from a wheelchair, you could get right up to the play on all items. There are also many items that could be accessed by people who could be transferred or just had low motor skills. There are many things that swing, spin or bounce for children who benefit from those types of vestibular motion. The large school-aged climber has stairs so older children with low motor skills could still get to the top.
Seating: There are seating walls (long blocks of cement) but no picnic tables or benches yet.
Overall assessment: We met some friends at this playground on what may have been the windiest day ever. Despite the wind, we had a great time. You may find that younger kids require a little more assistance on some of the equipment than some other playgrounds but there is so much you can do together you probably won't mind. The ring spinner, saucer swings and wave balance beam are all adult friendly and the bowl spinners and motor cycle bouncers can also be used by smaller adults.
Have you been to this playground? Have a suggestion for a playground review? Would you like to write a guest review? Write your thoughts in the comments.